aka '77
---
Crew
Director/Screenplay – Patrick Read Johnson, Producers – Peter Bowers, Steven G. Dalbec, Leigh Jones, Gary Kurtz, John Lau, James Gagliano McClain, Michael Pawlak & Fred Roos, Photography – David Blood, Music – David Russo, Visual Effects – Michael Pawlak & Daniel Robert Smith, Miniature Supervisors – Scott Lawrence Alexander & Warren Zoel, Production Design – Dawn R. Ferry. Production Company – Moonwatcher.
Cast
John Francis Daley (Pat Johnson), Colleen Camp (Janet Johnson), Steve Coulter (Bill Holmes), Emmi Chen (Linda Augustyniak), Katie Jeep (Robin Braden), Austin Pendleton (Herb Lightman), Justin Mentell (Tony Vesuvio), Gwen Streitmatter (Jody Johnson), Kevin Stephens (Steven Spielberg), Eric Miles (Jay Johnson), Tim Beringer (Eric Johnson), Mark Buenning (Donny Allen), Neil Flynn (Dr Callan), Nancy Oda (Mrs Augustyniak), Michael Pawlak (Douglas Trumbull), David Shin (Greg Jein)
---
Plot
Pat Johnson grows up in Wadsworth, Illinois, a town with a population of 750, during the 1970s. Pat is passionately determined to be a film-maker. He and his best friend Bill Holmes spend all their time building props and miniatures and making amateur Super 8 copies of his favourite films in the backyard. As he hits his teens, Pat becomes involved with Linda Augustyniak. Always, his horizons remain on Hollywood. He most wants to contact Douglas Trumbull, the visual effects supervisor on 2001: A Space Odyssey and director of Silent Running, in the belief that Trumbull will give him some career advice. After Pat tries in vain to call Trumbull, Pat's mother calls up Herb Lightman, the editor of American Cinematographer, and arranges for Pat to fly out to Hollywood and for Herb to introduce him to Trumbull. They visit Trumbull's studio during the making of Close Encounters of the Third Kind where Pat meets Steven Spielberg and then Trumbull, only to find he is too nervous to say anything. Pat also gets to visit the Industrial Light and Magic facility and is granted a screening of uncompleted scenes for an upcoming film called Star Wars. Pat returns home to Wadsworth, fired up with enthusiasm for Star Wars and wanting everybody in his class to see it when it premieres on May 25, 1977.
---
Patrick Read Johnson is a name that has come across my desk here at Moria several times. Johnson first directed the alien invaders comedy Spaced Invaders (1990) and went onto several other films, including the John Hughes-written Baby's Day Out (1994), the nerd romantic comedy Angus (1995), the R.L. Stine-adapted tv movie When Good Ghouls Go Bad (2001) and co-directing the Christian film The Genesis Code (2010). None of these have outstanding reputations – Johnson's most well-known credit was the story for DragonHeart (1996). Prior to that, Johnson had a career working in visual effects, in particular building miniatures with credits on films such as King Kong Lives (1986), Dead Heat (1988), Bill and Ted's Excellent Adventure (1989) and Warlock (1989)
5-25-77 is Johnson's recounting of a transformative event from his teenage years. As the film depicts, Johnson was able to make a visit to Hollywood in the hope of getting advice on how to become a filmmaker from Douglas Trumbull, who had conducted the special effects for 2001: A Space Odyssey (1968) and then broke through as a director with Silent Running (1972). Johnson met Trumbull during the shooting of effects for Close Encounters of the Third Kind (1977). More importantly, Johnson was able to visit Industrial Light and Magic during the shooting of Star Wars (1977) where he was given a screening of some of the uncompleted footage and returned home fired up with an enthusiasm for the film.
The film comes backed by some undeniably interesting names, including being produced by Gary Kurtz, the producer of Star Wars and The Empire Strikes Back (1980); Fred Roos, the producer of The Godfather Part II (1974), Apocalypse Now (1979) and most of Francis Ford Coppola's films; and executive produced by 1970s/80s prog rocker Alan Parsons of The Alan Parsons Project fame, from whom Johnson has shot several videos, who lends several tracks to the film.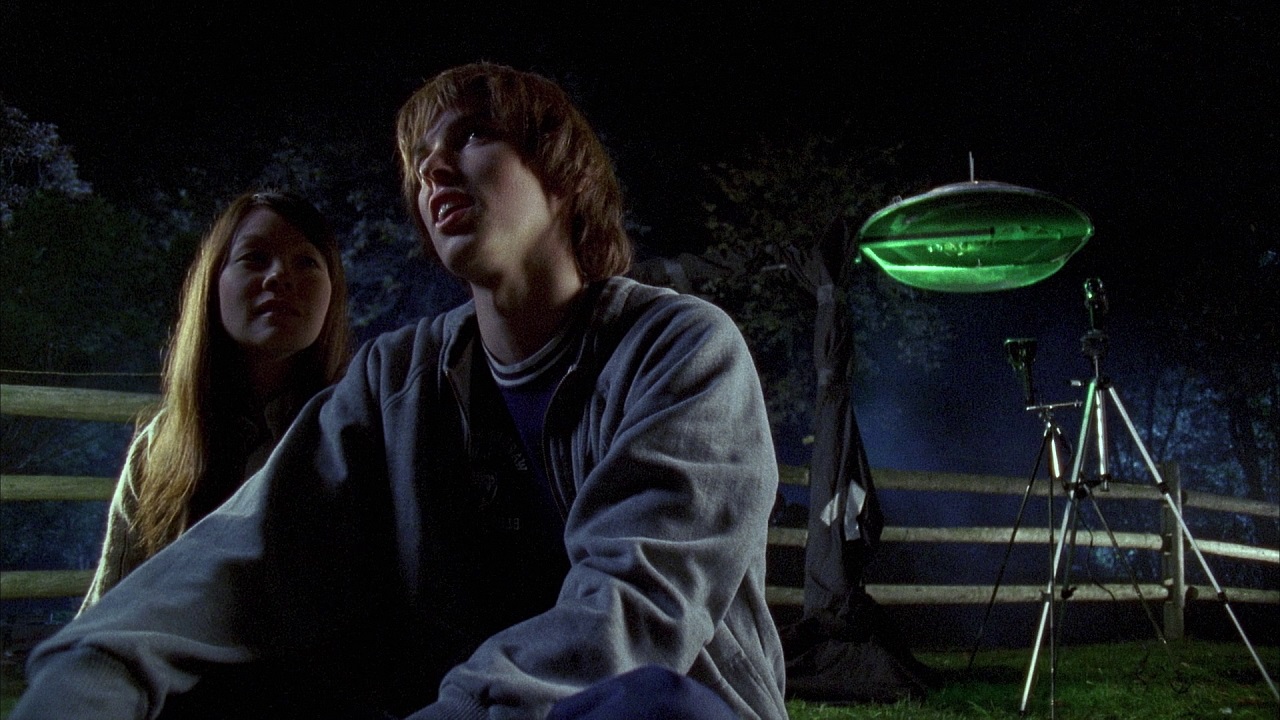 5-25-77 has been in production for a phenomenally long time. Patrick Read Johnson shot the film between 2004 and 2008. Earlier unfinished versions of it had screened at various Star Wars anniversary celebrations in 2007 and 2017. The finished film finally premiered in October 2022. Sadly it came at a point when many of those involved had passed away, including producer Gary Kurtz and actor Justin Mentell, as well as a number of the figures portrayed in the film, including Douglas Trumbull and Greg Jein.
The film is deeply rooted in fan lore. I am a few years younger than Patrick Read Johnson and grew up on the other side of the world but I am very familiar with the fannish hagiography that surrounded people like Douglas Trumbull and John Dykstra when Star Wars and Close Encounters came out. Like Johnson, I can vividly recall the experience of being transformed by Star Wars – I didn't get any tour of the ILM facility but my experience was somewhat analogous to Johnson's. I bought a copy of the Star Wars novelisation while passing through an airport, which came with a centre spread of colour photos from the film, and later obtained some of the advance magazines. I spent the next few months until the film's local release in December of 1977 regaling all my schoolmates about this amazing film that was coming out. And like Johnson, I had the passionate yearning to travel beyond a tiny town where I grew up and reach the near mythical land of Hollywood and make my own films. It feels in large part that Johnson is placing something of the story of my own childhood up on the screen.
The earlier sections have some hilarious scenes with Johnson making his own home versions of 2001 A Space Odyssey, Planet of the Apes (1968), Duel (1971), Jaws (1975) and tv's Space: 1999 (1975-7). The scenes are hilarious for Johnson's recapturing of the ethic of DIY home-filmmaking. Everything from their attempts to shoot a shark scene in the pool leaving the intake clogged with artificial gore to a horse repainted as a zebra, wardrobes repainted as black monoliths, ape masks baked in the oven, and the mother's unfazed expressions at walking into the bathroom to find the best friend with guts hanging out.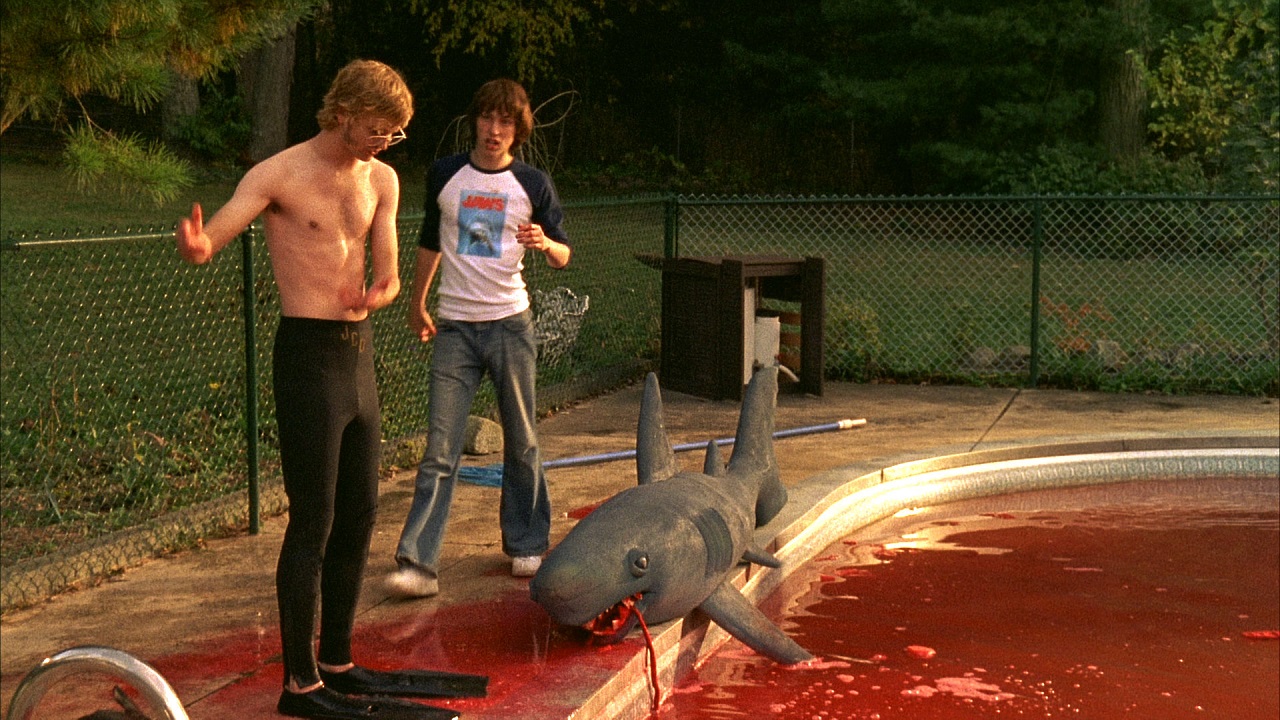 This is a film so entered into its fannish space that it can conduct namedrops to people like Trumbull, have appearances from a Steven Spielberg-lookalike talking technical detail about effects, and even appearances from Close Encounters model maker Greg Jein and an unnamed John Dykstra lookalike taking the young Pat on a tour of the Industrial Light and Magic facility. I loved the wonderful little nerd discussions that John Francis Daley as Johnson's teenage stand-in has analysing the shots in Duel and Jaws. Or his impassioned offering of an analysis of the meaning of 2001 that actually makes sense of the ending. Or the scene where the hero develops an attraction to a girl after seeing her read the 2001 novelisation.
5-25-77 would make a great double-bill with Steven Spielberg's own more fictionalised recounting of his youth in The Fabelmans (2022). Both films came out around the same time – The Fabelmans premiered at TIFF in September 10, 2022 and went into general release on November 11 of that year. While 5-25-77 had had several work-in-progress screenings since 2007, it made its first completed appearance in October 11, 2022. You suspect that Patrick Read Johnson was seeking to get his film out to take advantage of the timing of Spielberg's film.
The two films would also make a great double-bill in the sense that they are mirrors of one another – there's a peculiarly recursive effect at work where in The Fabelmans we see Spielberg's teenage stand-in Gabriel LaBella's Sammy Fabelman being given advice by David Lynch's John Ford, while in 5-25-77 we see Spielberg (about eight years on from where we left him in The Fabelmans) in exactly the same position giving advice to the young Patrick Johnson. Johnson also ventures into mention of some of the areas that I was disappointed that Spielberg dropped from his own autobiography and has Spielberg discussing his early science-fiction film Firelight (1964) and its influence on Close Encounters. While it felt as though Spielberg wanted to forget his on beginnings as an enthusiastic genre filmmaker in The Fabelmans, Patrick Read Johnson embraces his nerdish enthusiasm.
Even aside from that, both films have remarkably similar plots that follow the young filmmaker who finds his artform in the midst of a divorce of his parents; the depiction of the same amateur filmmaking efforts using friends and classmates; similar scenes of being a nerd facing school bullies; the same discoveries of first loves (although Spielberg seemed too coy to ever show the young hero's loss of virginity); both heroes venturing to Hollywood and meeting their revered mentor to ask advice. About the only difference is that The Fabelmans ends with the young Spielberg arriving in Hollywood and (lowered) horizons awaiting, while the visit to Hollywood is the springboard for 5-25-77's main story about how Star Wars changed the life and circumstances of Johnson.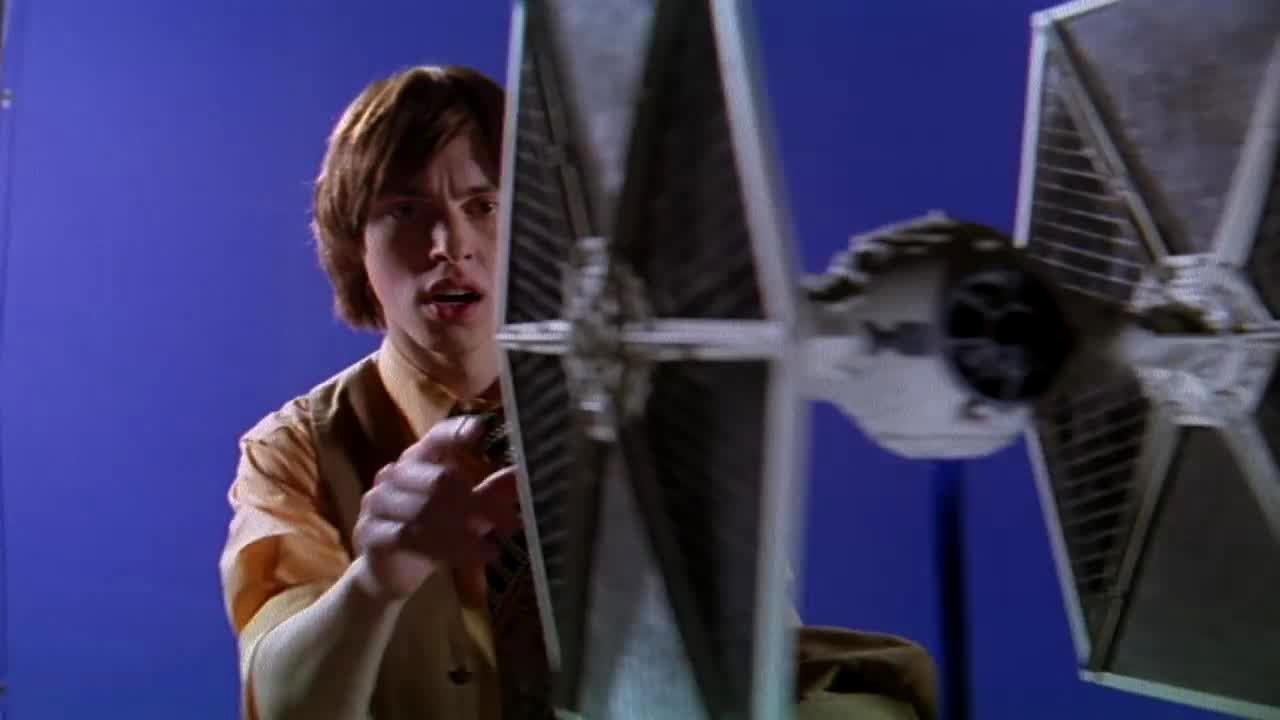 In this latter hour or so of the film, 5-25-77 becomes a perfectly realised Coming of Age Story. There is a little too much running around on the day where the young Johnson tries to make the premiere but you cannot fault the mix of fannish passion that spills over, the tender stories of first loves, the yearning for travelling beyond the limited horizons and expectations of a small town, or the sense of the adult Johnson's voice coming through in some of the dialogue and offering mature insight/analysis. In between, Johnson gets plentiful opportunity to indulge his art with fantasy scenes that conduct detailed replications of 2001 and Duel, not to mention a fabulous sequence where a depressed John Francis Daley wanders through the town as model versions of the ships from 2001 and Silent Running come crashing down around him.
There are some great performances throughout. The greatest revelation for me was a standout one from Colleen Camp as Johnson's mother – Camp is an actress who has spent far too much time in throwaway bit and supporting roles and it is great seeing her in something where she can let her acting muscle go, be it calling up the editor of American Cinematographer to a song-and-dance number about credit cards.
I do have some issue with the naming convention. I grew up in the substantially greater part of the world where the writing of date numbers goes day/month/year rather than month/day/year, which is almost exclusively a US-only convention. It always feels odd reading things that way – it makes more logical sense to me going from smaller (day) to larger (month then year) then putting the month first. You keep wondering why Read didn't have an awareness of how this would transpose to other territories and name the film something more neutral like 'May 25, 1977', although the film did circulate for some time under the title '77.
---
Trailer here
---