---
Crew
Director – Asif Akbar, Screenplay – Asif Akbar & Bernard Selling, Producers – Asif Akbar, Jacov Bresler, Michael J. Henderson, J.J. Rogers & Max Wasa, Photography – Jeff Reyes, Music – Erick Schroder, Visual Effects Supervisor – Nicholas Acosta & Mark Newton, Special Effects – Leavitation (Supervisor – Amos Carter), Makeup Effects – Chenoa Garcia & Myke Michaels, Production Design – Chad Quick. Production Company – Film Life Factory, LLC/XVIII Entertainment, LLC.
Cast
Gary Daniels (Jack Adams), Marshal Hilton (Alexander Biggs), Courtney Akbar (Laura Lee Adams), Louis Mandylor (Viktor Khol), Max Wasa (Vivian), Spice Williams-Crosby (Dr Katherine Rice), Michael Paré (Allen Smith), Luke G. Crosby (Subject A/Mehta), Randy Wayne (Young Alexander Biggs), Orson Chaplin (Charlie Biggs), Omi Vaidya (De Ray Ramesh), Christopher Showerman (Dr Kevin Green), Elise Adreon (Sophia Biggs), Dominique Swain (Julie Adams), Jim McClelland (Sheriff Fred)
---
Plot
Alexander Biggs, the head of the multi-national Biggs Aerospace, has built a ship that has travelled to the stars. The ship now returns bringing back an alien, which they label Subject A. Biggs' scientists are startled in examining Subject A to find that it has the DNA of Biggs' former military comrade-in-arms Jack Adams. Jack and his teenage daughter Laura Lee are celebrating his fiftieth birthday on his ranch when Biggs' men arrive and insist that Jack come to talk to Biggs. Biggs makes Jack the offer of a job and an international trip but Jack declines. Biggs then orders his security to shoot up Jack's ranch, which forces Jack to flee into hiding and then reluctantly accept Biggs' offer. In the 1980s while on duty in the Middle East, Biggs was contacted by aliens who healed him from lower body paralysis following an IUD explosion and gave him the backing to form his company. As Jack now discovers, Biggs wants him to join an expedition into space to explore a new planet.
---
Astro comes from director Asif Akbar who was born in Bangladesh and raised in the US. Akbar has made three films My Foreign Desh (2008), Road to Las Vegas (2009) and Smoke Filled Lungs (2016), all non-genre works, as well as an episode of the multi-director horror anthology Morbid Stories (2019) and the documentary Top Priority: The Terror Within (2012).
Astro is a film that boggles the mind in terms of bad filmmaking. There are some films that would be helped no end by those making them immersing themselves in some real world science or even hiring some seasoned science-fiction writers. A perfect example would be Plan 9 from Outer Space (1959) or Irwin Allen tv series like Voyage to the Bottom of the Sea (1964-8), Lost in Space (1965-8) and Land of the Giants (1968-70) – none of which give any impression of talking knowledgeably about their subjects. Astro is another of those films.
The script throws together a handful of incoherent cliches about alien visitors, transcendental states of consciousness and adds a sinister aerospace entrepreneur as villain. The results become frequently laughable. A few minutes in we get scenes of the spaceship in flight where the CGI seems to be making an effort but doesn't quite get there. It is a poor choice for effects shots so early in the show where they only send a signal that we are watching a film that is quite a distance away from A-budgeted. The aliens are represented by no more than people with gold greasepaint on their faces.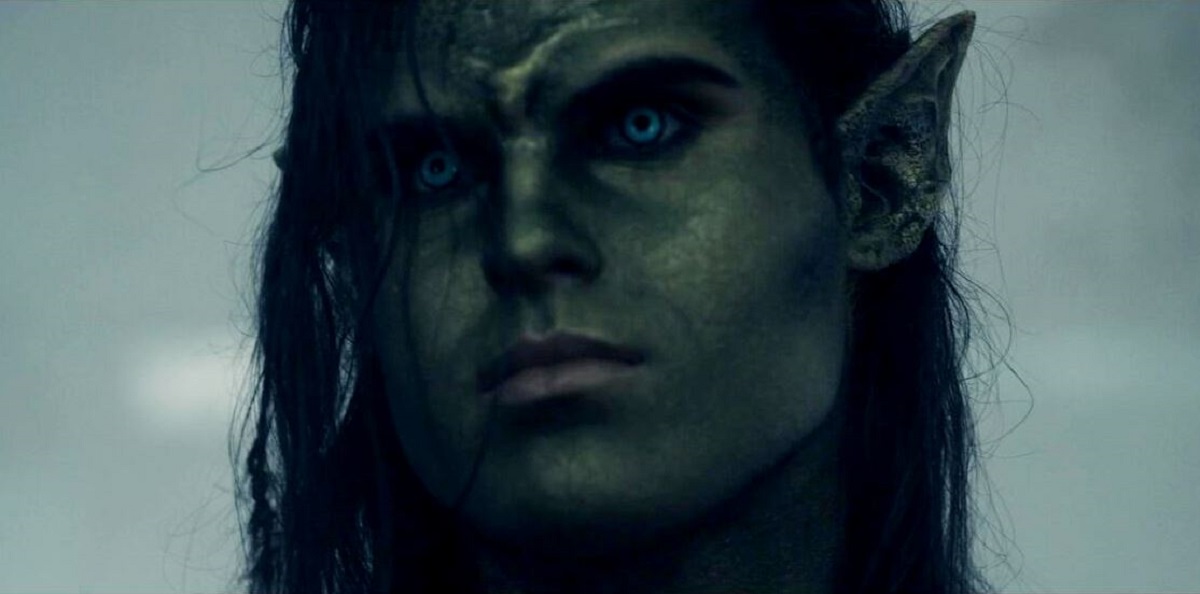 The dialogue reduces you to laughter. Gary Daniels is introduced to the alien that promptly announces "I'm your starchild, Jack Adams."
Especially ridiculous are the scenes when Louis Mandylor's alien starts discussing alien sex with Marshal Hilton –
"Where we come from sex is more of a spiritual and mental union rather than just physical."
"So how do you have babies?"
"With the power of the mind."
The story is all over the map. The film opens with space expeditions and a captured alien. This is then forgotten as we spend time on the ranch of Gary Daniels where for a time the film appears to take on action movie stripes. Even then things just get downright bizarre when Daniels' daughter (Courtney Akbar – relative of Asif?) is wounded during the shootout and gets visions of her late mother's angel (Dominique Swain) telling her that is not her time yet – the angel never makes any appearance again.
For a film that throws in aliens, a sinister tech entrepreneur, transcendental consciousness and brings together several former action stars, Astro manages to be incredibly dull. The pace is maddening, while the incoherence of the plotting plunges this to real bad movie stakes. The film at least tries to earn some seal of legitimacy by shooting in Roswell, New Mexico.
Asif Akbar also casts people from an action background. In the lead is Gary Daniels, a British-born kickboxing champion who appeared in a number of video-released martial arts films throughout the 1990s. There is also Michael Paré and Louis Mandylor who have had numerous B movie and action roles, as well as Spice Williams-Crosby, best known as a stuntwoman and as a Klingon in Star Trek V: The Final Frontier (1989), who plays one of the project's scientists.
---