---
Crew
Director – Lazar Bodroza, Screenplay – Dimitrije Vojnov, Based on the Short Story by Zoran Neskovic, Producers – Jonathan English & Aleksandar Protic, Photography – Kosta Glusica, Music – Nemanja Mosurovic, Visual Effects – Fried Pictures (Supervisor – Vuk Tatalovic) & Pr1mer Studios (Supervisors – Vladan Buric, Ivan Milanovic), Special Effects Supervisor – Muhamed M'Barak Toske, Production Design – Aljosa Spajic. Production Company – Balcanic/Mir Media Group/Film Center Serbia.
Cast
Sebastian Cavazza (Milutin), Stoya (Nimani 1345), Marusa Majer (Social Engineer), Kirsty Besterman (Voice of The Computer)
---
Plot
The year 2148. The astronaut Milutin is selected by the Ederlizi Corporation to be the one who will fly the first mission to Alpha Centauri. As he will be flying solo, it is decided that he needs a companion for the journey and so the female android Nimani 1345 is built according to what Milutin finds desirable. The mission is launched. Soon after, Milutin activates Nimani. He experiments with her various programmable personality functions and engages in a good deal of sex. Milutin then becomes obsessed with Nimani being able to transcend her programming and think freely but he does not have the level of programming access to do so. His obsession with breaking her from her programming begins to endanger the mission.
---
A.I. Rising was a directorial debut for Serbian director Lazar Bodroza. Bodroza founded the Belgrade-based Metaklinka design studio, which has won awards.
There have been a rising body of films throughout the 2010s concerned with the development of Artificial Intelligence. These include defining works like Spike Jonze's Her (2013) and Alex Garland's Ex Machina (2015), as well as a host of other offerings that include The Machine (2013), Automata (2014), Chappie (2015), Uncanny/Android (2015), Morgan (2016), tv's Westworld (2016-22), Tau (2018), Zoe (2018), Life Like (2019), Archive (2020), After Yang (2021), Finch (2021) and Outside the Wire (2021). (For a more detailed overview of the genre see Films About Artificial Intelligence).
A.I. Rising immediately establishes itself as a smart and intelligent entry amid these. There do seem some initial confusions between Nimani being a cyborg and an android, although she is quite clearly the latter. The film is essentially a drama that plays out between two characters – human astronaut Sebastian Cavazza and the android girl played by Stoya (real name Jessica Stoyadinovich – an American-Serbian actress/director known in the alt.porn field. This is a film in which she spends substantial sections of the show nude).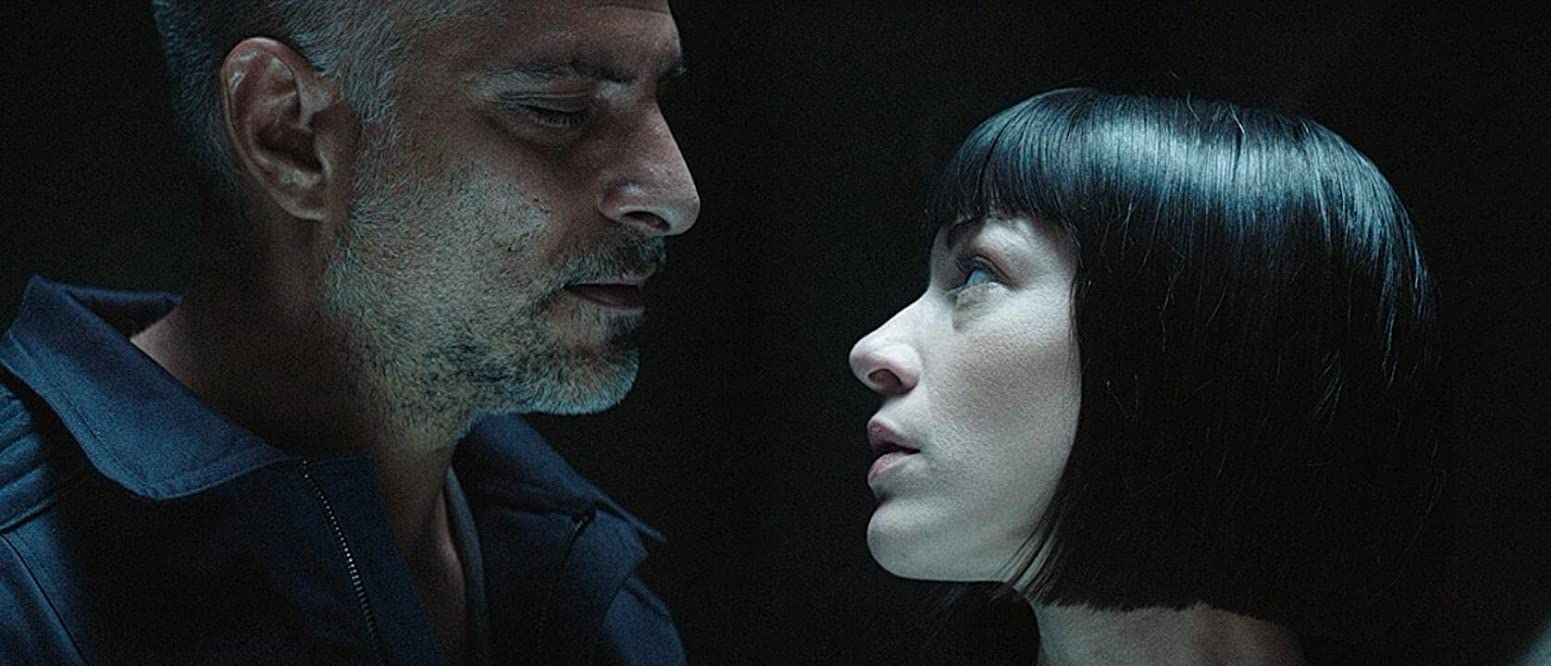 The film is less a dramatic plot that goes from A to B with twists and turns in between than it is a series of extended montages of scenes with Sebastian Cavazza and Stoya together. There is quite a bit more focused on them having sex than you would get if this were an American film. The most fascinating parts involve Sebastian Cavazza playing around with her programming and altering her personality via his control menu – in one scene, he switches her from shy to having an argument and then make-up sex. The most interesting scenes come towards the end as he switches off her programming in search of an authentic experience, which leads to the dramatic climactic scenes where he is racing to save her life.
Lazar Bodroza is not that concerned with the space mission. There are some okay exterior shots of the ship, and one or two where he remembers to have the two in zero gravity. But this is not an effects vehicle or a big scrupulously realistic science film like Gravity (2013) or The Martian (2015). The way the opening is sketched out with talk about capitalism and socialism, not to mention having the mission take off from the Baikonur Cosmodrome, the premiere launch site during the heyday of the USSR, makes one almost think that Bodroza yearns for the good old days of the Soviet science-fiction film.
---
---