---
Crew
Director – Garo Setian, Screenplay – Rolfe Kanefsky, Matthew Schaffer & Garo Setian, Story – Rolfe Kanefsky & Garo Setian, Producers – Dan Bowen, Allen Copeland, Esther Goodstein, Charlie Klinakis, Robert Parigi, Anahit Setian, Garo Setian & Ted Smith, Photography – Michael Su, Music – Joel Christian Goffin, Visual Effects – Adam Lima & Jason R. Miller, Auto Created by Robert Miller & Evil Ted Smith, Art Direction – Eldar Erlich. Production Company – Hungry Monster Entertainment/Push Worldwide/The Goods/Dan Bowen Productions/Capital Arts Entertainment/Thriller Films.
Cast
Elissa Dowling (Jenny Hanniver), Jeff J. Knight (Auto), Jim Tasker (Voice of Auto), Sadie Katz (Susan Williamson), Parry Shan (Alan Hon), Graham Skipper (Devin), Sarah French (Linda), Jeff Rector (Bill), Anahit Setian (Marci), Marv Blauvelt (Mel), Josh Fallon (Rick)
---
Plot
Jenny Hanniver stays on after closing at the company where she works in order to use their software to edit her own music video. While there she is befriended by Auto, the robot that has been employed by the company. She and Auto form a friendship where Auto soon demonstrates a number of behaviours that are beyond its programming capacity. Jenny then learns that the company's head Susan Williamson is planning to fire most of the workforce and replace them with robots. When Auto overhears that it is due to be shut down and replaced by a more advanced model, it does not take this well. It reverts to its prior programming as a former military robot and regards everyone in the warehouse as hostile.
---
There has been a large upsurge in films about androids and artificial intelligence during the latter half of the 2010s. See the likes of Her (2013), The Machine (2013), Automata (2014), Chappie (2015), Ex Machina (2015), Uncanny/Android (2015), Morgan (2016), tv's Westworld (2016-22), A.I. Rising (2018), Tau (2018), Zoe (2018), Life Like (2019), Archive (2020).and Outside the Wire (2021), even several A.I. comedies with Jexi (2019), Superintelligence (2020) and BigBug (2022). (For a more detailed overview of the genre see Films About Artificial Intelligence).
Amid these A.I. films, Automation promptly turns out to be one of the worst, Part of the reason for this is that it is a B-budget A.I. film. Most of the action takes place around only what looks like a commercial factory/warehouse of which the filmmakers have managed to obtain the use – there is no production designer credit for the film, for instance, meaning no constructed sets.
There is a major plausibility issue with the film right out of the starting gate in that the writers demonstrate they simply know nothing about Artificial Intelligence. You have a service robot that has been given waaay more decision-making and learning capacity than is needed for the job. It'd be the equivalent of outfitting your pocket calculator with an artificial personality or the word processor I am writing this on with the ability to go out and make friends. As is said in the film at one point: "He's firing a fucking laser. We don't need that for shipping and receiving."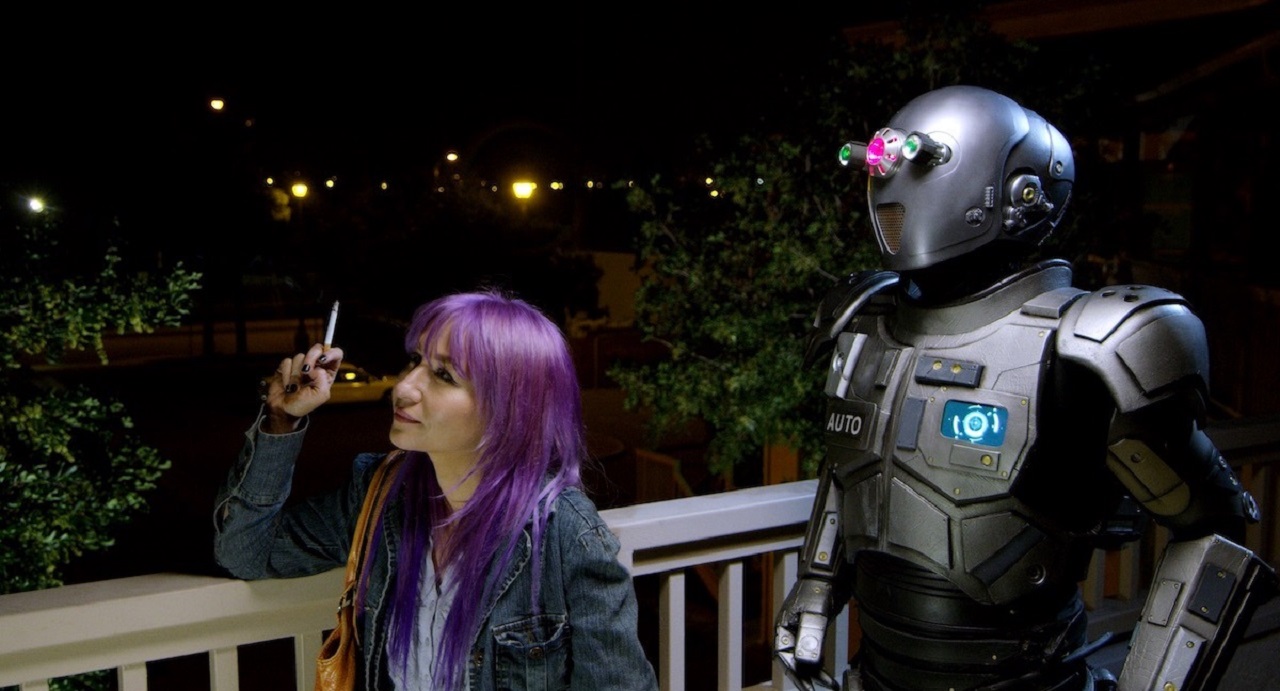 Elsewhere, the robot wanders around making various human value judgements such as calling things "most pleasing", "pretty" or voicing upset. While these are things we do all the time, they are arbitrarily applied, subjective value judgements we opine and not in any way easy to quantify. Not to mention the robot also starts learning the meaning of friendship and treating Elissa Dowling as a friend, expressing loyalty and having zero problem with the idea of lying to its superiors. Again these are not things you would want to have programmed into a service robot (or even for that matter a military robot).
The robot predictably goes amok after learning it is about to be replaced. In one of the more absurd twists in a non-believable film, it is revealed that the robot was previously a military robot and had been repurposed – a cliche that has been regularly used throughout cinema from Short Circuit (1986) and Class of 1999 (1990) to Eve of Destruction (1991) and Outside the Wire.
Garo Setian is a former editor who has mostly worked on trailers and Making Of shorts. He makes his feature-length debut here. Setian's wife and co-producer Anahit also plays the role of the company's secretary in the film. Co-writing with Setian is that of Rolfe Kanefsky, a director of a number of softcore and horror films including Nightmare Man (2006) and Party Bus to Hell (2017).
---
Trailer here
---