aka Perfect Human
---
Crew
Director/Screenplay – Josh Janowicz, Producers – Ryan R. Johnson, Sunil Perkash & Martin Sprock, Photography – Benjamin A. Goodman, Music – Katy Jarzebowski, Visual Effects Supervisor – Chris Haney, Special Effects Supervisor – Brian Schuley, Production Design – Timothy Whidbee. Production Company – Saboteur/Sprockefeller Pictures.
Cast
Addison Timlin (Sophie), Drew Van Acker (James), Steven Strait (Henry), James D'Arcy (Julian), Mark Famiglietti (Ronald Gitts), Justine Hall (Rosa)
---
Plot
Husband and wife James and Sophie receives news that he has inherited a good deal of wealth following the death of his parents. They move in to take over the family estate. James struggles to manage the family business and introduce a series of green measures. Sophie meanwhile finds she is unable to handle having attentive servants and dismisses them both with two years pay. She then finds that she is unable to manage the estate on her own. James comes up with a solution – that of obtaining a life-like android. They purchase the android Henry who proves dutiful in everything he does. However, as both of them bond with Henry – James over racquetball, Sophie in sharing a reading of Dickens and both as they engage in philosophical discussions – they find this is having an effect on Henry. Sophie begins to have sexual dreams of Henry and this provokes jealousy in James.
---
Life Like was a directorial debut for Josh Janowicz who had previously had some minor credits as an actor in small bit parts in films such as Charlie's Angels: Full Throttle (2003) and Complicity (2013). Jankowicz subsequently went on to write the survivalist drama Last Survivors (2021).
Ever since the mid-2010s, there have been a number of films taken up a renewed interest in Artificial Intelligence themes and/or concerning Androids. These include defining works like Her (2013) and Ex Machina (2015), as well as a host of other offerings that include The Machine (2013), Automata (2014), Chappie (2015), Uncanny/Android (2015), Morgan (2016), tv's Westworld (2016-22), A.I. Rising (2018), Tau (2018), Zoe (2018), Archive (2020), After Yang (2021), Finch (2021), Outside the Wire (2021). The Artifice Girl (2022), M3gan (2022) and The Creator (2023), even several comedies with Jexi (2019), Superintelligence (2000) and BigBug (2022), as well as Automation (2019) and Outside the Wire that you felt should have been comedies.
I began to have difficulty getting into Life Like from its opening scenes. Leads Drew Van Acker and Addison Timlin have been chosen for their pretty good looks. The plot then requires that they get an injection of instant wealth, which kills the film for any kind of relatability issues to the average viewer. Addison then has guilt about having servants, wanting to treat them as regular people even when they seem perfectly happy doing their jobs, and dismisses them – only to then find she has nobody to help maintain the vast estate, In any other film, this would be the basis for some kind of comic meltdown; in any real world setting, she would be sitting back enjoying being waited on. Rather here though, this is simply the implausible set-up the film needs before it can introduce its premise – the idea of a perfectly servile life-like android that is happy to work around the house.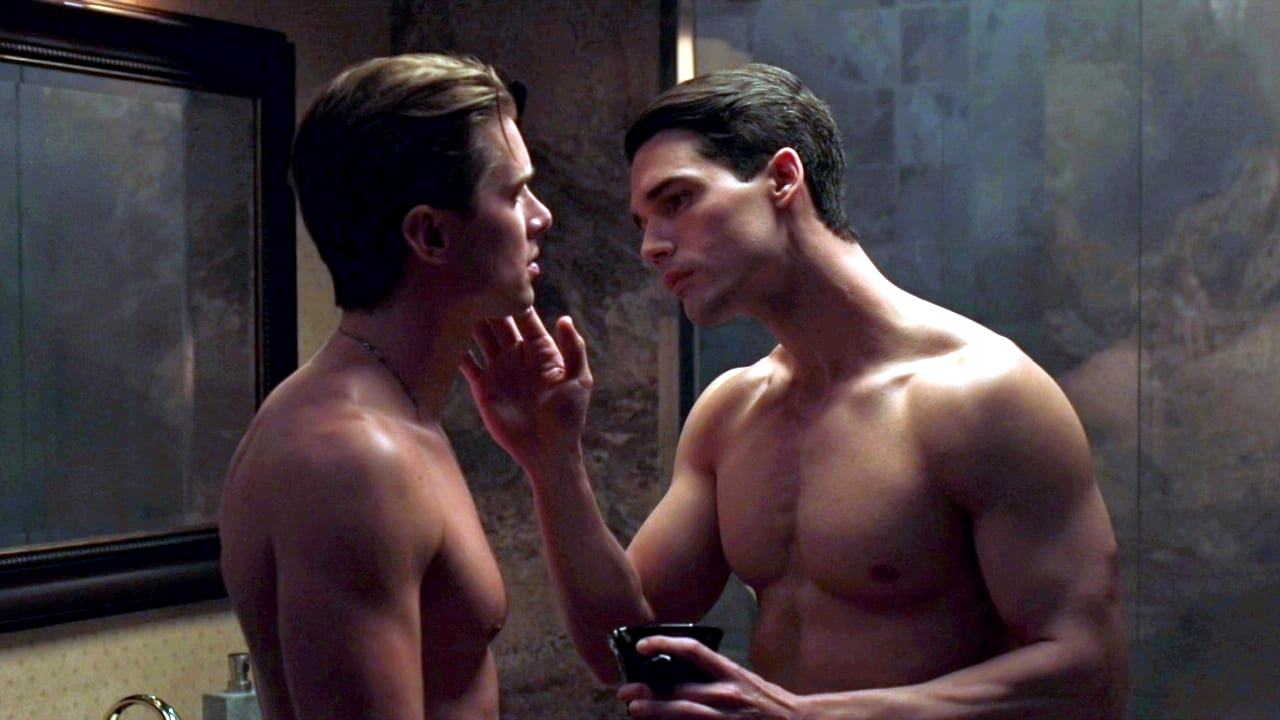 Once Steven Strait's android Henry is moved into the house, things improve none. The couple's preferred dealings with Henry involve game of racquetball, reading and discussion of Charles Dickens, and philosophical debates about the existence of a God and the meaning of lust. Things certainly do get interesting about the time that tensions grow between Van Acker and Timlin over Henry's attentions with she having erotic fantasies about making out with Henry. This is followed by a surprise scene where Van Acker gets out of the shower nude and Henry comes to shave him but Van Acker instead orders Henry to kneel down and perform oral sex on him.
I started to have major issues with the film's depiction of an android. Henry seems far too anthropomorphic, including having dreams and developing an attraction to Addison Timlin. Not to mention that such a development of lifelike androids seems to exist in a vacuum away from the far wider technological consequences of such an advance – surely such a breakthrough would be widely celebrated in the media and they employed in other areas of industry. There is of course a reason for this.
And unfortunately this reason kills off the film's entire plausibility. [PLOT SPOILERS] The end reveals that Henry is not in fact an android but has been raised to believe he is ever since he was a child by James Darcy's mad doctor. At no point does the film actually give any credible reasons why Darcy would wish to create such a ruse (it is stated that Henry was raised to believe this since he was a child but that does not explain who or what the other androids Darcy has on display are). It also seems a scheme dependent on some impossible to believe coincidences – that the android might not ever get cut and bleed, that it might sneeze or sweat during the racquetball game, that it might not age, that they might observe its chest moving as it breathes, it ever get ill or (as we see here) experience emotional reactions to a situation and thus give itself away.
---
Trailer here
---