---
Crew
Director – Barry Sonnenfeld, Screenplay – Barry Fanaro & Robert Gordon, Story – Gordon, Based on the Comic Book Created by Lowell Cunningham, Producers – Laurie MacDonald & Walter F. Parkes, Photography – Greg Gardiner, Music – Danny Elfman, Visual Effects Supervisor – John Berton, Visual Effects/Animation – Industrial Light and Magic, Additional Visual Effects – Pacific Title and Digital (Supervisor – David Sosalla), Rhythm and Hues (Supervisor – Bill Westenhofer), Sony Pictures Imageworks (Supervisor – Ken Ralston) & Tippet Studio (Supervisor – Scott Soulter), Special Effects Supervisor – Thomas L. Fisher, Makeup Effects – Rick Baker, Production Design – Bo Welch. Production Company – Amblin Entertainment/MacDonald-Parkes Productions.
Cast
Will Smith (J), Tommy Lee Jones (K), Lara Flynn Boyle (Serleena), Rosario Dawson (Laura Vasquez), Johnny Knoxville (Scrad/Charlie), Rip Torn (Zed), Tim Blaney (Voice of Frank), Patrick Warburton (T), Tony Shalhoub (Jack Jeebs), Jack Kahler (Ben), John Alexander (Jarra), David Cross (Newton), Colombe Jacobsen (Hailey)
---
Plot
Men in Black agent J has been paired with a variety of other agents ever since K's departure, all with unsatisfactory results. J investigates after the killing of an alien disguised as a human that runs a pizza parlour. There J is attracted to witness Laura Vasquez and breaks protocol to not neuralyze her. J finds that behind the murder is the intergalactic tyrant Serleena who has arrived on Earth in search of the all-powerful Light of Zarthar. However, the only person that knows where the Light is is K and so J goes to where K is now working in a post-office in Massachusetts with all memory of his time in the Men in Black having been neuralyzed. As Serleena invades Men in Black headquarters, J tries to bring K's memory back. Succeeding in doing so, K then realises that he has blanked the memory of the Light's location from himself. They set out to follow a trail of clues that K has left for himself, before the Light blows up and destroys the Earth within twelve hours.
---
Men in Black (1997) was a huge worldwide box-office sensation, earning some $250 million in domestic box-office rentals and emerging the top-earning film of the year second only to Titanic (1997). All the essential creative team – stars Will Smith, Tommy Lee Jones and Rip Torn, director Barry Sonnenfeld, Industrial Light and Magic on effects and musician Danny Elfman – reteamed for this sequel. Alas, while Men in Black had a quirkily offbeat sense of humour and an originality to its premise that made it enjoyable, if undeservous of all the kudos, then Men in Black II is an unqualified disaster.
Barry Sonnenfeld is a highly erratic talent. A former cinematographer, Sonnenfeld made his directorial debut with The Addams Family (1991), apparently because he was the only person available after the original director dropped out, and continued with its sequel Addams Family Values (1993), two perfectly enjoyable films where he and his cast seemed to be having a good deal of fun with all the arch Goth mock-kinky purrings. Sonnenfeld continued with the deft-witted Get Shorty (1995), featuring John Travolta in one of his best performances.
After that however, Sonnenfeld started on the long road downhill. Men in Black, which was next up for him, was enjoyable largely due to Ed Solomon's script, but underneath that Sonnenfeld's tendency for loud silly slapstick usually involving special effects scenes was something that started to frequently get out of the bag. This reached its nadir in Sonnenfeld and Will Smith's next pairing, the universally detested Wild Wild West (1999) and the subsequent likes of Sonnenfeld's flop nuclear weapon comedy Big Trouble (2002), the non-genre RV (2006) and Nine Lives (2016).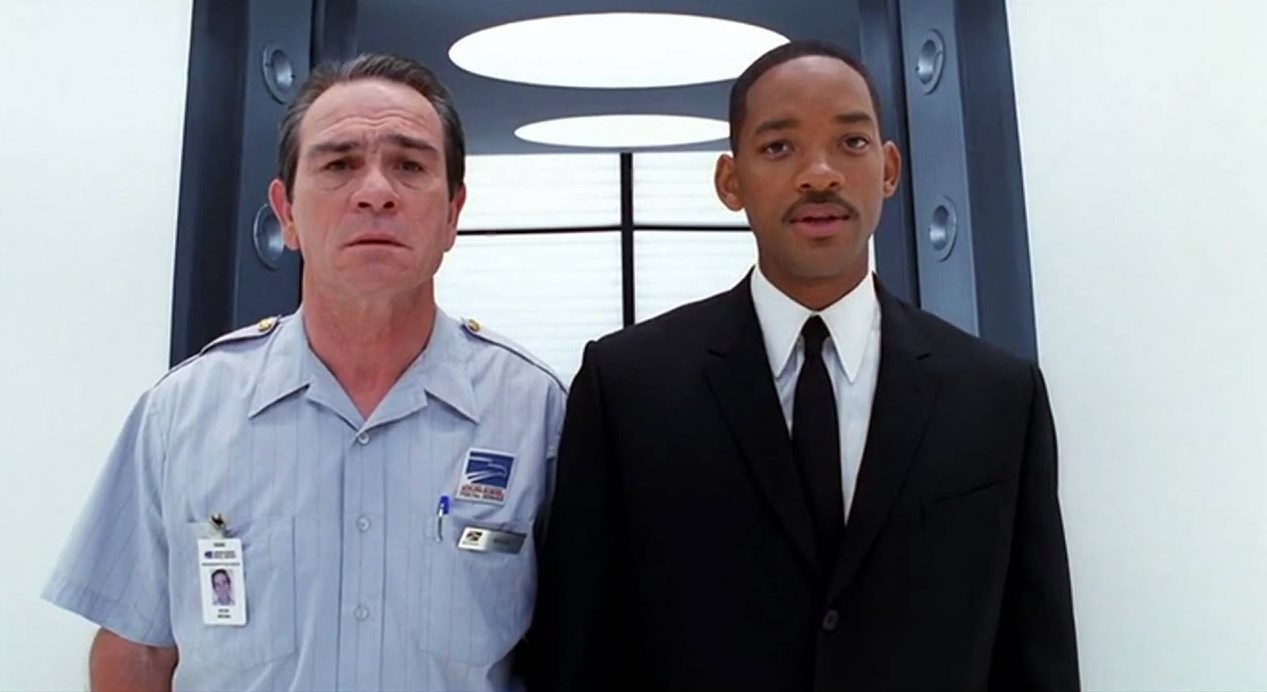 The good news is that Men in Black II is not as big a disaster as Wild Wild West was. The bad news is that Barry Sonnenfeld has pumped up all the irritating things about Men in Black – silly slapstick, special effects inanities – and sought to recapture none of the things that did work – the charms of Ed Solomon's script. While up to about Get Shorty, Sonnenfeld was a director of some promise, by now he has turned into a director who seems to only be making live-action cartoons. There is nothing to Men in Black II other a series of visual sight gags – and ones that so frequently rupture the envelope of credibility that the characters could all but be leaving silhouettes behind them as they go flying through walls.
Almost everything that happens in the film has been designed as a giant cartoonish jack-in-the-box effect – Sonnenfeld does little else except introduce things and then have an alien or some gadgets shown to be hiding beneath. In the opening scene, Will Smith and new partner Patrick Warburton harass a plant peeping up out of a grille only for it to burst out as a giant worm; Lara Flynn Boyle is constantly turning into a mass of tentacles; a guy in a coat becomes a horde of mini flying heads; a small family apartment is revealed to secretly house an even larger room with an arsenal of big guns; cars sprout gadgetry, even inflatable autopilots; Johnny Knoxville manifests a second head; everyone in the Post Office excepting Will Smith is revealed to be an alien creature; every fight is interrupted by people pulling their faces off to reveal aliens hiding beneath. In the cutest gag, a bus station locker is revealed to house a mini-alien biosphere waiting in religious awe the return of Tommy Lee Jones to reclaim his watch.
The effect is not unakin to a host of bad sequels and copies of A Nightmare on Elm Street (1984) that kept blurring the line between reality or dream or, as here, constantly having pop-up tentacular aliens hiding beneath whatever we see, that the constant overkill contrarily reduced the effect to meaninglessness. One also quibbles with the sheer physics of its sometimes – like how a tiny slug could not only transform into Lara Flynn Boyle but manage to pack in enough tentacles to fill an entire room.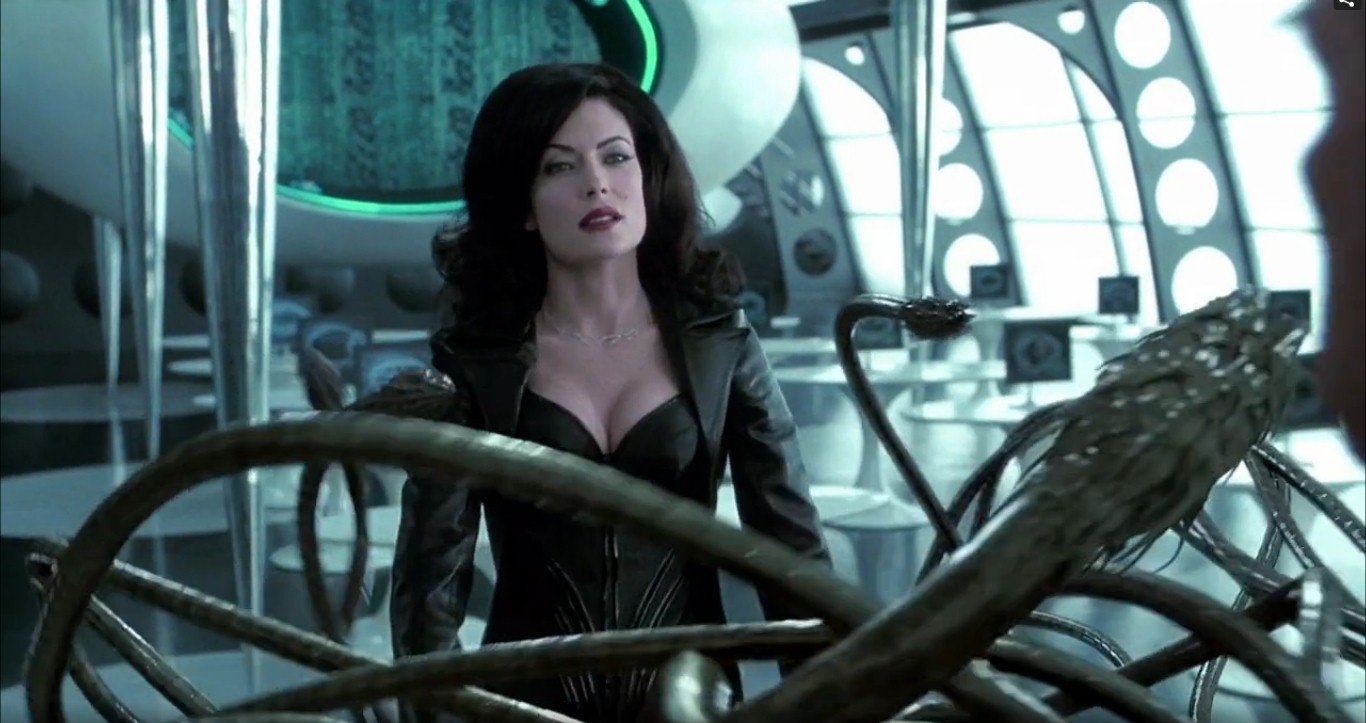 The plot seems only haphazardly sketched to hold things together. While Ed Solomon wittily turned the paranoia of tv's The X Files (1993-2002, 2016=8) and tabloid myth on its head in the first film, Men in Black II strains at science-fiction cliches of intergalactic dictators, world-threatening menaces and mysterious artifacts, all delivered up without any apparent sense of irony. Lara Flynn is a vampish menace of no depth.
Although the most irritating part about the film is the eventual revelation of the identity of the Light of Zarthar – the script has been written with the arbitrary threat of a world-destroying countdown for the sole purpose of driving the plot, the eventual unveiling of which has an irritable flick-of-the-hand casualness to it that is infuriating.
The film also contains some blatant commercial product placements – MIB passport control is filled with a series of booths for various companies including Sprint and Burger King, with Sonnenfeld at one point even panning down a line of aliens most of which are chewing Burger King burgers.
The only one who gets into the liveliness of the miscalculated and cynically commercially motivated exercise is Will Smith who gives it the old team effort and puts all his effortless charisma into the show, showing just what it is that makes him a star.
Ten years later, a further sequel followed with the slightly better Men in Black 3 (2012), whileMen in Black: International (2019) was a continuation with a new cast.
Barry Sonnenfeld's other genre films as director include The Addams Family (1991) and Addams Family Values (1993), Men in Black (1997), Wild Wild West (1999), the nuclear weapon comedy Big Trouble (2002), Men in Black 3 (2012) and Nine Lives (2016). Sonnenfeld also produced the witty spoof James Bond tv series Secret Agent Man (2000), the live-action superhero spoof The Tick (2001-2), the tv series Pushing Daisies (2007-9) about a man with resurrection powers, the Lemony Snicket tv series A Series of Unfortunate Events (2017-9), the revival of The Tick (2017-9) and Schmigadoon! (2021- ) about a magic town that operates like a musical, and on cinema screens the Gothic children's film Lemony Snicket's A Series of Unfortunate Events (2004), the Disney animation spoof Enchanted (2007) and its sequel Disenchanted (2022), the animated Space Chimps (2008) and Men in Black: International (2019).
(Winner for Worst Sequel/Remake at this site's Best/Worst of 2002 Awards. No. 7 on the SF, Horror & Fantasy Box-Office Top 10 of 2002 list).
---
---