aka Slapstick
USA. 1982.
Crew
Director/Producer – Steven Paul, Screenplay – Kurt Vonnegut Jr, Based on his Novel Slapstick, or Lonesome No More, Photography – Anthony Richmond, Musical Themes – Michel Legrand, Music Conducted by Armand Migiani, US Score – Morton Stevens, Visual Effects – Private Stock Effects Inc (Supervisor – C.N. Comsky), Additional Visual Effects – MGM Labs, Special Effects – William D. Nipper & Tim O'Connell, Prosthetics – Robert Zraick, Makeup Effects – Zraick, Steve Laporte & Ve Neill, Production Design – Joel Schiller. Production Company – The S. Paul Co.
Cast
Jerry Lewis (Wilbur Swain/Caleb Swain), Madeline Kahn (Eliza Swain/Letitia Swain), Marty Feldman (Sylvester), John Abbott (Dr Frankenstein), Pat Morita (Ambassador Ah Fong), Samuel Fuller (Colonel Sharp), Jim Backus (US President)
---
Plot
Billionaire Caleb Swain's wife Letitia gives birth to two unbelievably ugly twins, Wilbur and Eliza. They are handed over to a mortician for care. Ten years later, the world is in the middle of an energy crisis. A UFO containing the miniaturised Chinese ambassador appears, telling the Swains that the US's greatest resource is the twins, who are actually geniuses of alien origin that have only been pretending to be mindless idiots. The President appeals to the twins to do what is needed to make America great again but they have problems in that they can only be geniuses when they are in close proximity. However, when they start kissing – the complexity of the problems requiring as much contact as possible – Caleb and Letitita are shocked and have them locked away.
---
Kurt Vonnegut Jr (1922-2007) was one of the great living American satirists. Through works like Player Piano (1952), The Sirens of Titan (1959), Mother Night (1962), Slaughterhouse Five; or the Children's Crusade (1969) and Breakfast of Champions (1973) to name but a handful, Vonnegut charted the cruel indifference of the universe and the stupidity of the human condition with bitter hilarity. Much of Vonnegut's work frequently crosses over into science-fiction, although he himself disliked being labelled as an sf writer.
Alas, Kurt Vonnegut has fared less well on the cinema screen, with versions of Slaughterhouse Five (1972), Harrison Bergeron (1995), Mother Night (1996) and Breakfast of Champions (1999) all being fumbled in various ways and at the very least missing the bite and complexities of Vonnegut's written word. Slapstick; or Lonesome No More (1976) is generally recognied as one of Vonnegut's lesser books – Vonnegut himself gives it merely a 'D'.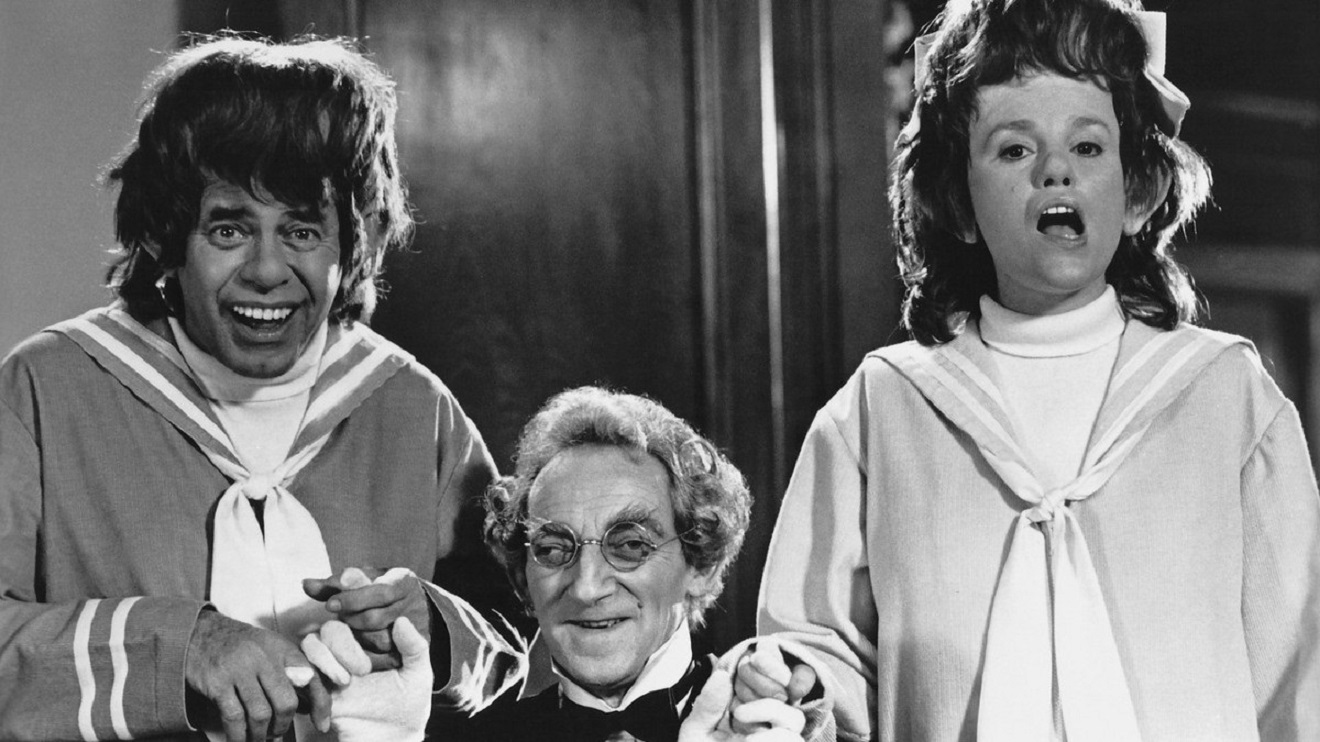 However, even lesser Vonnegut is light years better than this film version of the book. The film throws out a good deal of the book, particularly many of the more science-fictional elements. In the book, for example, Wilbur is writing in a decayed future where he has become the President of the US after everybody else either died off or was disinterested in the job and where he lives in the ruins of the Empire State Building. Like most Vonnegut screen adaptations, the film misses the unique essence of Vonnegut – Vonnegut specialised in a sadly ironic pessimism, his is a comically absurd outlook where human endeavour seems foolish in the face of an uncaring universe.
Kurt Vonnegut may or may not have written the film version of Slapstick – he is credited with the screenplay on the version simply entitled Slapstick, while another version entitled Slapstick of Another Kind credits director Steven Paul. Whatever the case, the film is so far removed from the joyous absurdity of Kurt Vonnegut's universe that one finds Vonnegut's involvement hard to believe. Where Vonnegut surrenders to a wry hopeless despair; the film never emerges from the juvenile slapstick chaos of food fights – Steven Paul regards the sight of someone having a portrait smashed over their head and then wandering around with their head poking out where the portrait's head should be as the funniest thing imaginable. The film occasionally rises to create a certain degree of pathos for the two separated twins in its latter half but mostly it exists down at the level of custard pie fights – its major set-pieces involve only the twins running about causing chaos. The results are sad.
---