---
Crew
Director/Screenplay – Eric Demeusy, Story – Eric Demeusy & Jason Mitcheltree, Producers – Eric Demeusy, Andrea Dondanville & Kyle McIntyre, Photography – Jason Mitcheltree, Music – Jermaine Stegall, Visual Effects – R79 Digital (Supervisor – Eric Demeusy), Special Effects Supervisor – Amos Carver, Production Design – Christian Snell. Production Company – Shout! Studios/Demeusy Pictures.
Cast
Ryan Masson (Isaac Cypress), Highdee Kun (Sara), Christian Prentice (Zed), Don Scribner (Carl Meisner), Shaw Jones (Agent Graves), Max Cutler (Beck), Kylie Contreary (Greeta), Sarah Navratil (Christine)
---
Plot
Isaac Cypress works at the Jet Propulsion Laboratories in Pasadena. Isaac detects unusual communications during his search of space for signals. He is out walking when he sees a UFO. Isaac then fails to turn up at work for three days and when he reappears his memory of what happened is blank. In trying to remember, he reviews the video footage he was taking at the time and discovers he encountered an alien creature. He uploads the video to a news site and immediately becomes the subject of curiosity seekers. This includes Sara, a girl who also had an encounter. Isaac also discovers that the abduction has left him with strange powers. A therapist proposes to authenticate Isaac's experience but instead has Isaac dragged away by government agents. Isaac uses his powers to escape the facility with Sara. On the run and hunted, they travel to British Columbia and attempt to contact former abductee Carl Meisner who has deciphered messages sent by the aliens announcing that they are about to return.
---
Proximity was a feature-film debut for Eric Demeusy who had previously made several short films and worked as a digital effects compositor on tv shows like Game of Thrones (2011-9) and Stranger Things (2016- ).
Eric Demeusy takes a full-on dive into UFOs conspiracy theories. There are all the familiar aspects – alien abductions; abductees left with implants; the Men in Black who here are sinister government agents attempting to suppress knowledge; recovered memories; mysterious messages from the stars picked up by NASA; alien Greys and so on. (See Films About UFOs).
In his treatment of these, there is not much that Eric Demeusy does to vary from cliche. Mostly it feels as though the film crosses over ground overly familiar through assorted seasons of The X Files (1993-2002, 2016-8), all having been dragged out to just short of a two-hour running time. There is the odd eerie moment – like where Ryan Masson's doctor does an x-ray and reveals that his entire wrist bone has been severed and then reattached, plus the later employment of a laser bracelet that allows people to remove their limbs in such manner. The film does pick up somewhat in the latter sections with the trio of characters on the run where Eric Demeusy delivers some passable tension as we watch the group trying to avoid surveillance – going off the grid, wearing masks to avoid the visual recognition software used by the pursuing robots.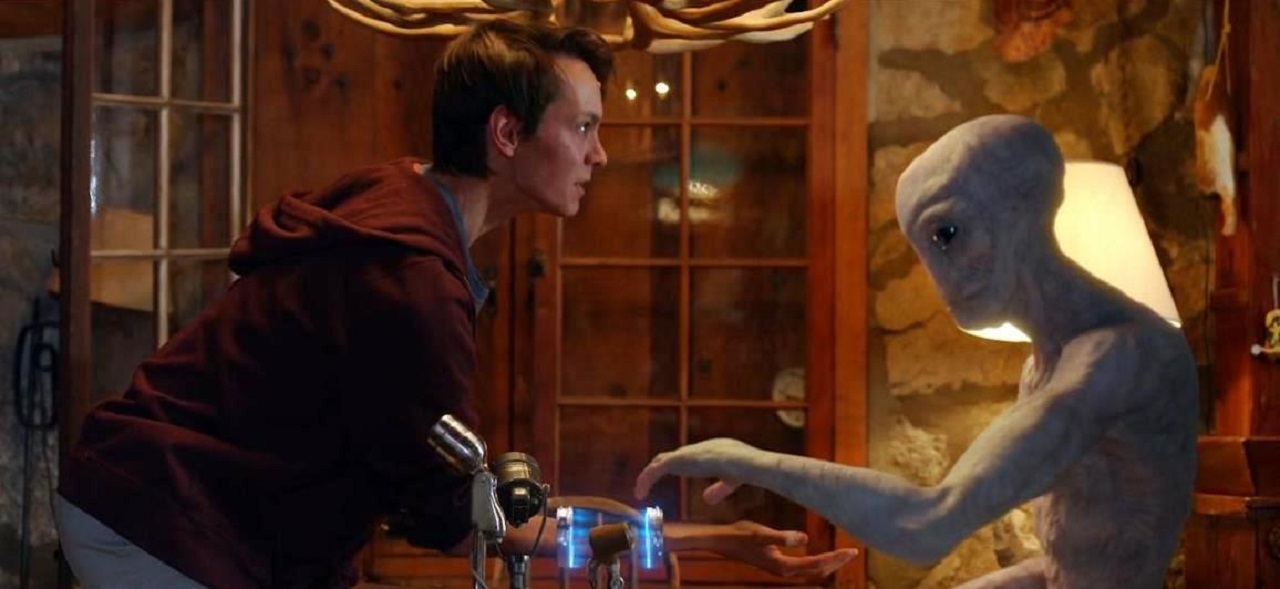 The film is also filled with unintentionally ridiculous scenes – like where the communications from the aliens are translated and come out in perfect English pronouncements. Even the scenes where the group try to avoid surveillance seem ridiculous – it is not until some way into their pursuit that Don Scribner's old timer has to remind them to turn off their phones, for instance. There's also the amusing scene to me as a resident of British Columbia when the group manage to take a cross-territory journey by steam train – something that doesn't exist in the province outside of novelty tourist attractions.
Although the scene that kills the entire film is the one where the group ask the aliens what their purpose is in coming there and they reply "We search for something greater beyond our understanding, we search for the origin of the universe." The scene comes replete with cutaways that show figures of a glowing bearded figure reaching down to worshippers, whereupon the aliens state "He is a link to the origin of everything. In our observation, He is the greatest common factor in humans," as the humans respond in awe "Who is it? Jesus."
---
Trailer here
---