---
Crew
Directors – Matt Peters & Christina Sotta, Screenplay – Ernie Altbacker & Mairghread Scott, Story – Mairghread Scott, Producer – Amy McKenna, Music – Frederik Wiedmann, Animation – Tiger Animation (Animation Directors – Kyongcho Choi, Hoon Jeong, Dongnam Kim & Byeongsan Park). Production Company – Warner Bros. Animation.
Voices
Matt Ryan (John Constantine), Jerry O'Connell (Superman), Taissa Farmiga (Raven), Jason O'Mara (Batman), Rosario Dawson (Wonder Woman), Stuart Allan (Damian Wayne/Robin), Rainn Wilson (Lex Luthor), Ray Chase (Etrigan), Shemar Moore (Cyborg), Tony Todd (Darkseid), Rebecca Romijin (Lois Lane), Hynden Walch (Harley Quinn), Liam McIntyre (Captain Boomerang), Roger R. Cross (Swamp Thing/John Stewart), Camilla Luddington (Zatanna), Christopher Gorham (The Flash), John DiMaggio (King Shark), Sachie Alessio (Lady Shiva)
---
Plot
The Justice League discover that Darkseid is planning an attack on Earth. They decide that the only hope is to stop this is to launch an assault on Darkseid's homeworld Apokolips. John Constantine joins them as they travel there but Darkseid and his paradooms are waiting and defeat them, killing several of the Justice League. Two years later, Earth has been devastated by Darkseid's assault. Darkseid has enslaved Batman and is draining the molten core of the Earth. Superman, who has been neutralised by Kryptonite, and Raven track a drunken Constantine down in the ruins of London and ask his help casting a spell to locate Damian Wayne. With Damian's aid, they gather the help of Suicide Squad, now commanded by Harley Quinn. They create a plan to break in to Lex Luthor's headquarters to access a Boom Tube in order to transport a team to Apokolips to defeat Darkseid. However, Darkseid has transformed the captured members of the Justice League into cyborg-augmented slaves and turns them against their former comrades.
---
Justice League Dark: Apokolips War was the 38th of the DC Universe Original Animated Movies. It follows the likes of Superman: Doomsday (2007), Batman: Gotham Knight (2008), Justice League: The New Frontier (2008), Green Lantern: First Flight (2009), Superman/Batman: Public Enemies (2009), Wonder Woman (2009), Batman: Under the Red Hood (2010), Justice League: Crisis on Two Earths (2010), Superman & Batman: Apocalypse (2010), All-Star Superman (2011), Batman: Year One (2011), Green Lantern: Emerald Knights (2011), Batman: The Dark Knight Returns Part I (2012), Justice League: Doom (2012), Superman vs. The Elite (2012), Batman: The Dark Knight Returns Part II (2013), Justice League: The Flashpoint Paradox (2013), Superman Unbound (2013), Batman: Assault on Arkham (2014), Justice League: War (2014), Son of Batman (2014), Batman vs. Robin (2015), Justice League: Gods and Monsters (2015), Justice League: Throne of Atlantis (2015), Batman: Bad Blood (2016), Batman: The Killing Joke (2016), Justice League vs Teen Titans (2016), Batman and Harley Quinn (2017), Teen Titans: The Judas Contract (2017), Batman: Gotham By Gaslight (2018), The Death of Superman (2018), Suicide Squad: Hell to Pay (2018), Batman: Hush (2019), Justice League vs The Fatal Five (2019), Reign of the Supermen (2019), Wonder Woman: Bloodlines (2019), Superman: Man of Tomorrow (2020), Superman: Red Son (2020), Batman: Soul of the Dragon (2021), Batman: The Long Halloween Part One (2021), Batman: The Long Halloween Part Two (2021), Injustice (2021), Justice Society: World War II (2021), Batman and Superman: Battle of the Super Sons (2022), Catwoman: Hunted (2022), Green Lantern: Beware My Power (2022), Batman: The Doom That Came to Gotham (2023), Justice League: Warworld (2023) and Legion of Super-Heroes (2023).
Justice League Dark: Apokolips War is a follow-on from Justice League Dark (2017), which introduced the Justice League Dark, an offshoot of the Justice League made up of DC's occult and supernatural heroes. Apokolips War was sold as a Justice League Dark film and features some of the Justice League Dark team from that film – John Constantine, Zatanna, Etrigan. That said, it could just as easily have served as a general Justice League film. John Constantine is the central character but could have been replaced by another member of either league with little difference.
Apokolips War feels as though it has been assembled around the characters that are in the current DC spotlight. Suicide Squad is popular following the live-action film Suicide Squad (2016) and now get to be another superhero team defending the Earth, while that film's breakout character of Harley Quinn (who isn't even a member of the Squad on the comic-book page) is promoted to head the squad while the squad's traditional head Amanda Waller is killed off. (Certainly, Hynden Walch voices the part of Harley with glee and steals the show whenever she is around, particularly the scenes where she gleefully bashes the heads of a host of opponents in with a mallet).
Also present are the Teen Titans who are enjoying a revival with the tv series Titans (2018- ) and are now added to the mix, while the character of Raven is brought to the fore and gets quite a reasonable character workout. Aquaman's wife Mera becomes a member of the Justice League (Aquaman himself only appears in the background but gets no lines), while Black Manta gets to become a member of Suicide Squad after both appeared in the live-action Aquaman (2018).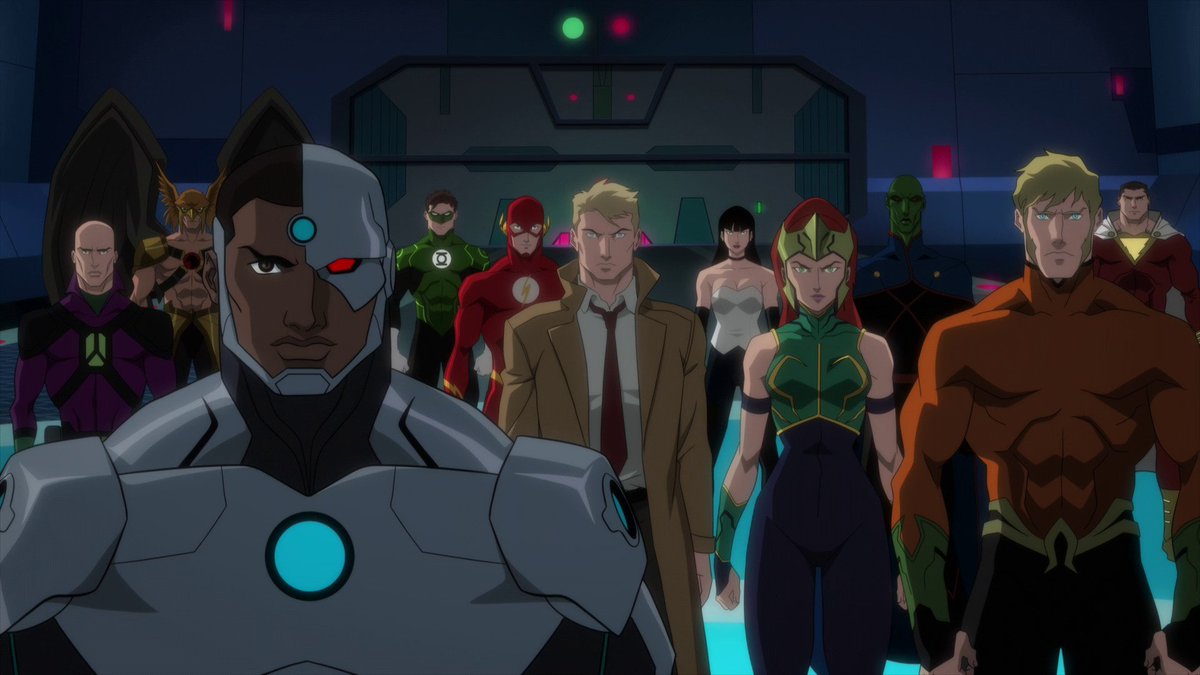 Apokolips War seems to have been intended as the DC Universe Original Animated Movies' equivalent of Avengers: Endgame (2019), bringing together just about every character that the animators can. Aside from those listed in the voice cast above, there are a host of other superhero characters that have non-speaking appearances. The problem I had with this is that it feels as though the film has been conceived as a free-for-all superheroic punch-up rather than one where you could believably see the same characters fighting on the same side. I mean, I could buy maybe Harley and Captain Boomerang fighting for good but it felt a stretch of the imagination seeing characters like King Shark, Bane and Black Manta suddenly switching sides to fight alongside the good guys.
That however doesn't get me as much as seeing the regular superheroes wrenched out of shape. A neutered Superman worked okay but what got me was seeing a Superman readily willing to kill Darkseid during the climactic scenes. One of the worst parts is seeing Batman enslaved and made to work as Darkseid's lieutenant. You keep wondering – is this really the Dark Knight, the World's Greatest Detective, someone always driven by moral purpose having been easily turned into the bad guy of the show's bitch with a flick of the scripting pen?
There's also Wonder Woman, perhaps the greatest woman character in comic-bookdom, who is turned into a mindless cyborg slave of Darkseid. It seems a sad neutering of such a powerful character – not to mention that it has to be Constantine who uses the Lasso of Truth to free her. Even Lois Lane gets wrenched out of shape to become a gun-wielding freedom fighter. Oh and Lex Luthor also turns up as a member of the Justice League, which he was appointed to sort of in Reign of the Supermen. Doomsday from The Death of Superman has also been retconned as one of Darkseid's creations.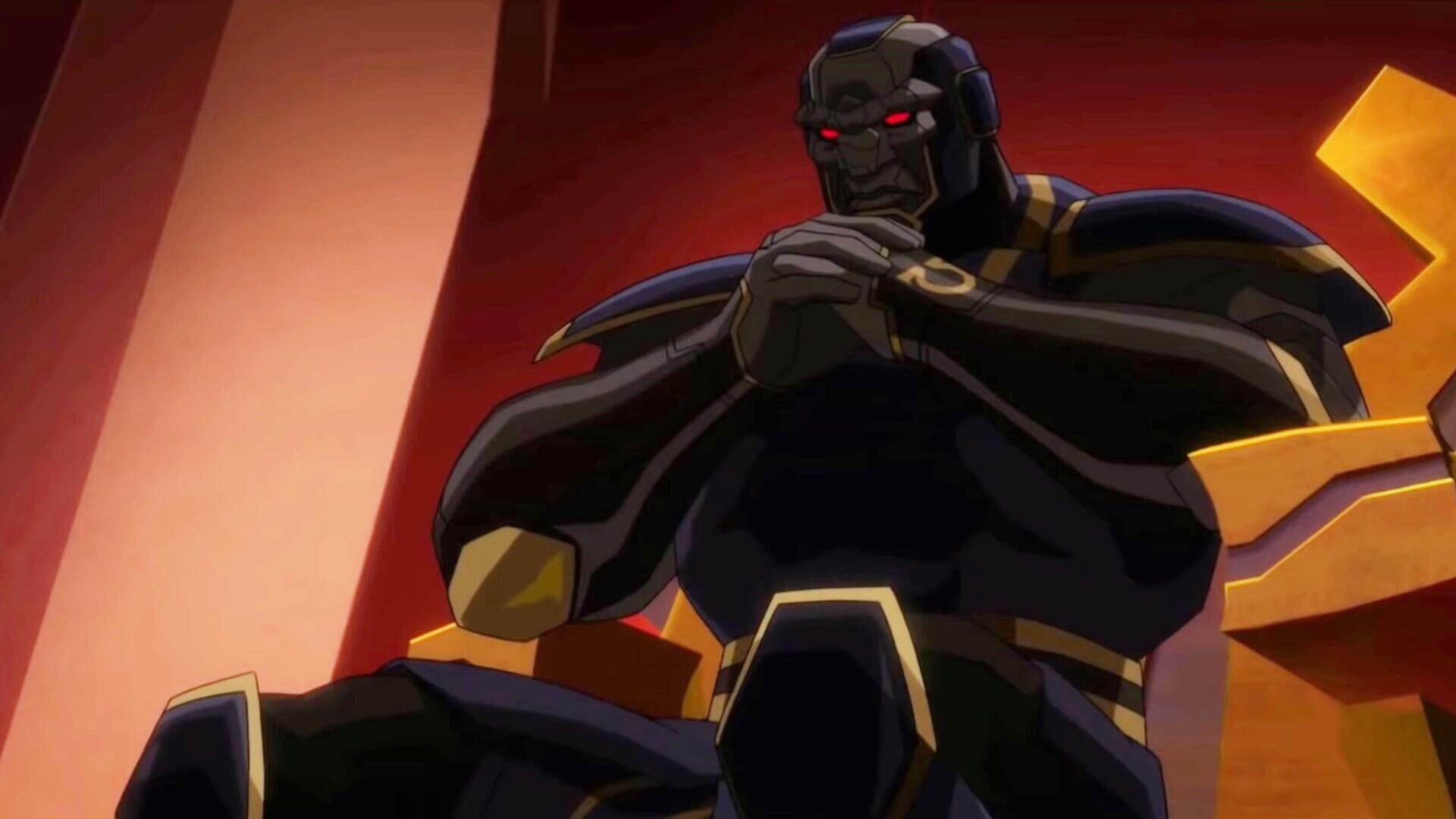 One of the worst parts is the climactic scenes where the assault team have to face off against cyborg-augmented versions of Wonder Woman, Mera, Martian Manhunter and Hawkman – it seems a gimmick battle for no other reason than to pit said characters against one another. There must be more creative ways to do something like that. Darkesid is maybe one of the greatest super-villains in DC canon – do a Google on 'Top DC super-villains' and he always ranks in the Top 5 or so. None of the film versions so far have captured the majesty with which Jack Kirby conceived Darkesid back in The Fourth World saga and here Darkesid is no more than a Darth Vader copycat who shoots zigzag bolts from his eyes.
You know when you watch a show that has major members of the Justice League killed in the first few minutes and others throughout that by the end they are going to have to do some handwave plotting to restore the status quo. And that is exactly what Apokolips War does – and using exactly the same plotting sleight of hand that Avengers: Endgame did in allowing The Flash to go back in time and reverse the Flashpoint Paradox. (Which hopefully means that the much disliked New 52 continuity might get erased from the continuity of the DC Universe Original Animated Movies).
The other bit I have to nitpick in the final scenes is the idea of Earth without 30% of its molten core. The Earth's molten core is no more than regular matter compressed under pressure so what you are actually talking about is Earth with 30% less of its mass. This would have devastating effects. It would essentially mean that the Earth would be like a balloon with some of its air leaked out. The outer crust would crumble inwards to fill the void left by what had been removed. This would cause mass devastation – huge earthquakes and volcanic eruptions. And that is not to mention the question of where all the water covering the current surface would go, which probably result in some kind of Waterworld (1995) scenario with the oceans rushing in to cover all of the landmass. Gravity would be lighter and the other question might be that an Earth with 30% less mass would mean that its atmosphere would start leaking out of the troposphere at a far greater rate than it currently does. Not that anybody would likely survive the devastation to be able to breathe it.
---
---