---
Crew
Director – Olivier Megaton, Screenplay – Karl Gajdusek, Based on the Graphic Novel Created by Rick Rememder & Greg Tocchini, Producers – Jesse Berger, Jason Michael Berman & Barry Levine, Photography – Daniel Aranyo, Music – The Liminanas & David Menke, Visual Effects Supervisor – George A. Loucas, Visual Effects/Animation – Baked Studios, Special Effects Supervisor – Anthony Stone, Production Design – Sebastien Inizan. Production Company – Radical Studios/Mandalay Pictures.
Cast
Edgar Ramirez (Graham Bricke), Anna Brewster (Shelby Dupree), Michael Carmen Pitt (Kevin Cash), Sharlto Copley (William Sawyer), Terence Maynard (Chucky), Brandon Auret (Lonnie French), Patrick Bergin (Rossi Dumois), James Richard Marshall (Posner), Neels Clasen (Sifell Turner), Lionel Newton (Jack Morgan), Daniel Fox (Rory Bricke), Leandie Du Randt Bosch (Connie Dumois), Robert Hobbs (Police Sergeant)
---
Plot
The year 2025. It is a matter of days before the USA activates the ARI Signal, which will cause mental pain to anyone thinking criminal thoughts. Graham Bricke receives news that his brother Rory has committed suicide in prison. Bricke is then approached by Kevin Cash, the black sheep son of a powerful crime family, saying that he was in prison and was witness to the fact that Rory was killed by the authorities. He proposes a revenge scheme that involves them robbing the mint of billions and escaping across the nearby border into Canada just before the ARI Signal is activated, creating the last big heist before crime becomes impossible. At the same time as Bricke gets involved with Kevin's girlfriend, the hacker Shelby Dupree, he becomes aware that the scheme they are trying to mount is filled with betrayals.
---
This is a film based on the three-issue graphic novel The Last Days of American Crime (2009-10) by Rick Rememder and Greg Tocchini. The graphic novel was produced and then developed as a film by Radical Studios, who have done similar things with comic-books to film such as Hercules (2014) and Abattoir (2016), as well as produced the non comic-book Oblivion (2013).
During its development, the film was announced under several different directors and stars before finally emerging under French director Olivier Megaton. Known to his mother as Olivier Fontana, Megaton appeared with French thrillers like Exit (2000) and The Red Siren (2002) before having international success with high-profile action films like Transporter 2 (2008), Colombiana (2011), Taken 2 (2012) and Taken 3 (2015). This was his first genre film.
The Last Days of American Crime premiered on Netflix where it promptly received headlines for being one of the few films to have a 0% Rotten Tomatoes score. It also received a backlash for coming out with its theme of police control right at the time when the US was in uproar over the police murder of George Floyd. (Although that seems more a kneejerk reaction than anything else – this is a film that portrays some police violence but certainly does not promote it, while the sympathies it champions are actually with a group of criminals that set out to defy the system).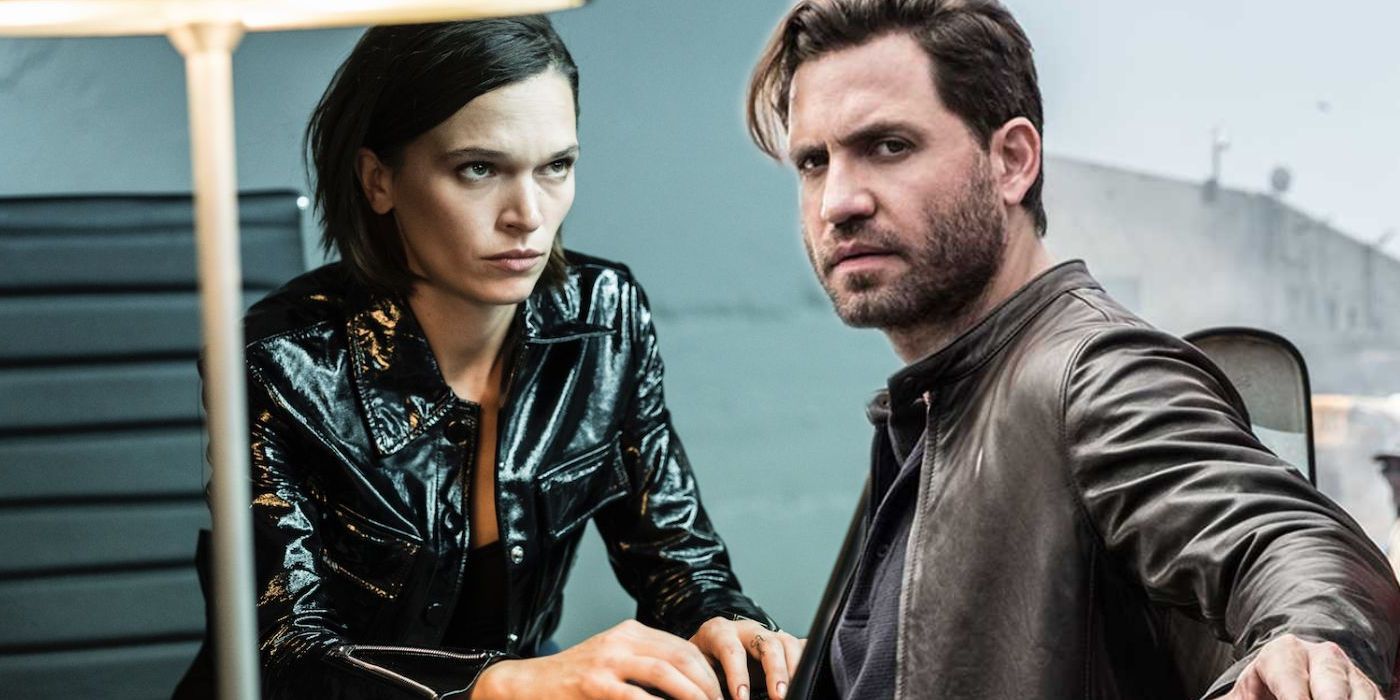 The Last Days of American Crime belongs to a dying genre of film these days – the action film. The type of action film that populated the 1980s, 90s and 00s starring the likes of Arnold Schwarzenegger, Sylvester Stallone, Jean-Claude Van Damme, Steven Seagal et al seems to have almost completely vanished from cinema screens in the 2010s. There are still various ones being made – the various Fast and the Furious films, the aforementioned Transporter and Taken films – but in all cases they are works that are based on pre-existing franchises that started before 2010. The actual original standalone action film has become a rarity – even in the arena of the direct-to-digital release. One can only speculate why – that the genre has been supplanted by the enormous popularity of the superhero film? Changing notions of masculinity among millennials?
The Last Days of American Crime is included here because of an absurdly improbable device – the idea that the US would create a device that can mentally police criminal thoughts. You can just see how that would go down among the gun lobby and libertarians protesting their rights. Not to mention how the film carefully evades how this might actually work in practicality. Given that the courts are rife with people trying to define the notion of legality in various incidents, how is the individual meant to do so in the heat of the moment? Or to create a straw example, how would someone wielding a gun be able to draw a distinction between using it for criminal purposes or self-defence, or a police officer between apprehending a suspect or shooting down unarmed African-Americans.
All of that said, The Last Days of American Crime is not really an SF film. It is a heist film that has borrowed a couple of SF idea as part of its backdrop. Otherwise it is the same old action film – a tough, hard-boiled crime-ridden city with a militarised police force, the group of outlaw outsiders come together to conduct the caper of the century, assorted attractions and betrayals within the group. Much of what happens in the film could have been rewritten without the need for any SF elements.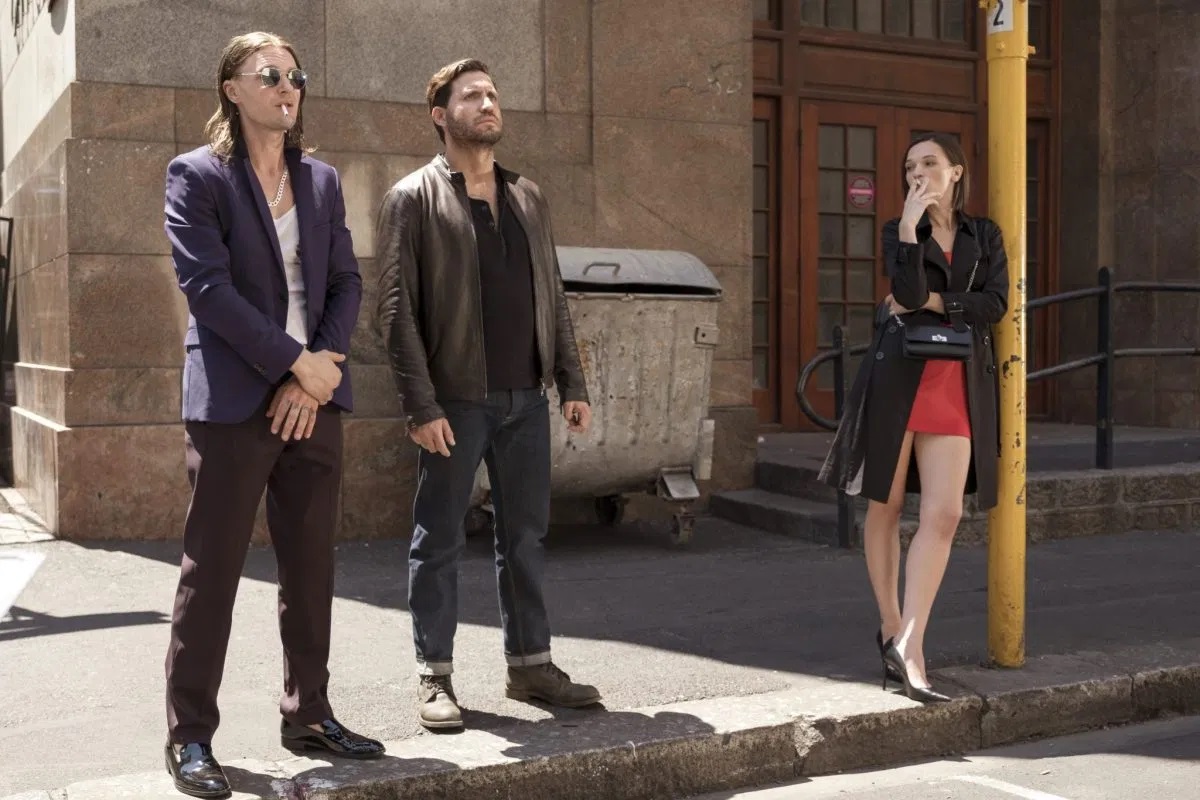 As a caper film, The Last Days of American Crime is routine. It is a film of hard-boiled poses – the point early into the show of a bathroom sex scene between Edgar Ramirez and Anna Brewster left me thinking just what an empty-headed film it was. There is nothing clever to the plot, no dazzling ingenuity to its caper, no unexpected twists and turns. Olivier Megaton stages a few shootouts and vehicle chases but there is nothing that dazzles you with its kinesis or choreography. Edgar Ramirez plays appropriately tight-lipped but Michael Pitt (now billing himself as Michael Carmen Pitt) plays badly over-the-top, none the more so than a scene where he goes to meet his father (an unrecognisably aged Patrick Bergin). All of which seems par for the course for the average video/dvd released action film of the 90s/00s. Dragged out to 149 minutes (just short of 2½ hours) here, the results become buried under the weight of their own self-importance.
As a current resident of the country, one of the more amusing aspects is the film's view of Canada. Throughout Canada is held up as the place to escape to. When finally arrived at, the border crossing proudly proclaims 'The Land of the Free', something no Canadian border crossing ever does. (Plus if it were a real Canadian border crossing, the wording should mandatorily be in both English and French). Quite clearly, it is a view of Canada as some utopian alternative to a nightmare vision of the USA where the authoritarian state has gone out of control. In actuality, the escapees, especially ones who burst through in a heavy truck, would be quickly apprehended and returned whence they came whereas in the film's fantasy someone can burst through the border (which doesn't seem guarded on the other side) and then walk away freely without anybody appearing to notice or care, least of all the local authorities.
---
---