---
Crew
Director – Josh Boone, Screenplay – Josh Boone & Knate Lee, Producers – Simon Kinberg, Karen Rosenfelt & Lauren Shuler Donner, Photography – Peter Deming, Music – Mark Snow, Visual Effects Supervisor – Olivier Dumont, Visual Effects/Animation – Method Studios (Supervisors – Mat Krentz & Craig Wentworth), Visual Effects – Double Negative (Supervisors – Russell Bowen & Neil Eskuri), MPC (Supervisor – Bryan Litson) & Zero VFX (Supervisors – Dan Cayer & Troy Moore), Special Effects Supervisor – Mark Hawker, Makeup Effects – KNB EX Group, Carey Jones, Julie Leshane & Vincent Scicchi, Production Design – Molly Hughes. Production Company – Kinberg Genre/Sunswept Entertainment/TSG Entertainment.
Cast
Blu Hunt (Dani Moonstar), Maisie Williams (Rahne Sinclair), Anya Taylor-Joy (Illyana Rasputin), Charlie Heaton (Sam Guthrie), Alice Braga (Dr Cecilia Reyes), Henry Zaga (Roberto de Costa), Adam Beach (Dani's Father)
---
Plot
Native American Dani Moonstar is the only survivor when her reservation is attacked by a monstrous creature that kills everybody including her family. Dani is taken to an institute run by Dr Cecilia Reyes where various people with mutant abilities are held until they can learn to control their powers. Also present is the Scottish Rahne Sinclair who can change into animal form; the Russian Illyana Rasputin who can teleport and manifest an energy sword; Sam Guthrie who has flying abilities; and the Brazilian Roberto de Costa who can turn his body into fire. Among them, only Dani has no idea what her abilities are. As the group bond and get up to various hijinks, they find that creatures are stalking them and tapping into their deepest fears, while Dr Reyes's purpose may not be all that it seems.
---
The New Mutants was the eleventh and what will now be the last of 20th Century's Fox's X-Men films. The series had begun with Bryan Singer's X-Men (2000) and successfully continued through X2 (2003), X-Men: The Last Stand (2006), X-Men Origins: Wolverine (2009) and then the reboot/prequel series X: First Class (2011), X-Men: Days of Future Past (2014), X-Men: Apocalypse (2016) and X-Men: Dark Phoenix (2019), as well as distaff works like The Wolverine (2013), Deadpool (2016), Logan (2017) and Deadpool 2 (2018). This will be the final entry in the 20th Century Fox series (now listed as 20th Century Studios on the credits following the studio's acquisition by Disney and Disney's desire to distance itself from the Fox News brand). Under Disney, the X-Men will be rebooted and reintegrated into the continuity of the MCU.
The New Mutants was filmed in 2018 but, like Dark Phoenix, its release ended up being caught up in the buyout of 20th Century Fox by Disney in 2019. Disney purportedly saw little potential in Josh Boone's vision of the film and declined to finance planned reshoots. The film was set for release in March of 2020 but this ended up being cancelled due to the Corona Virus shutdown of theatres. The film was eventually theatrically released in August of 2020 and earned only $23 million (the lowest grossing of any of the X-Men films) due to people avoiding theatrical venues.
The original The New Mutants was a spinoff of X-Men comic-books and premiered in 1982, co-created by X-Men creator Chris Claremont. The focus in the comics is on a group of five teenage mutants at the Xavier Academy (four of these mutants appear here along with Ilyana Rasputin/Magik, who is meant to be the sister of Colossus from the Deadpool films, who was introduced later). Claremont's original run continued until 1991. The New Mutants was relaunched with a different line-up of characters in 2003-4, 2009 and 2019. Bobby De Costa/Sunspot had previously appeared on screen in X-Men: Days of Future Past played by Adan Canto.
The film comes from Josh Boone who had previously only made the romantic films Stuck in Love (2012) and the hit The Fault in Our Stars (2014), while Boone is also director-writer of the tv mini-series remake of Stephen King's The Stand (2020-1). Boone was purportedly unhappy at not being able to craft the film he wanted to make. In release, The New Mutants received a critical drubbing.
The New Mutants resembles 20th Century Fox's much maligned reboot of Fantastic Four (2015), which I did find some laudable aspects to praise about it. Like Fantastic Four, this strips away what has gone before and aims to give the film much more of a character-driven focus. There are no superhero costumes, just characters in regular clothes, and none of them are ever referred to by the common nicknames they go by – Magik, Cannonball, Mirage, Wolfsbane, Sunspot.
Moreover, there are no big special effects sequences and superheroic battles until after the one-hour mark. Fantastic Four's downfall was that it did the superheroes as characters bit passably well but then tried to give us a standard superheroics at the end, which felt hurried. There is the same problem here. Not so much hurried but that a big effects sequence feel grafted on at the end mostly because this is a superhero film and that's what's expected of the genre.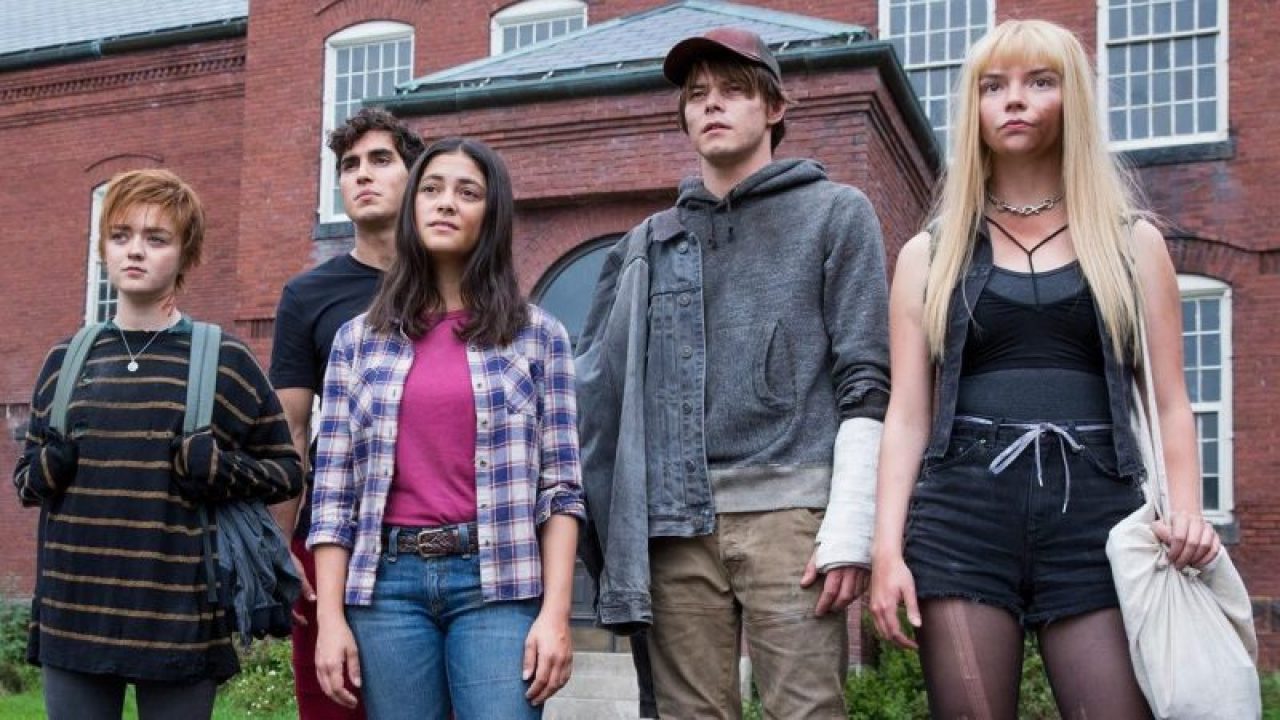 The film resembles less any of the other X-Men films and more a superheroic version of The Breakfast Club (1985). There's a fairly generic asylum setting, which is up too no good just because and not much explanation about this. (You get the feeling at times that this is what M. Night Shyamalan's damp squib Glass (2019) could have been). In the comics, Cecilia Reyes is actually a superhero but here is rewritten as a villain working for The Essex Corporation where Jon Hamm would have been introduced as the villain Mr Sinister in a post-credits scene in the cancelled reshoots.
The film is peopled by at least two of the most talented young actresses in their early twenties – Maisie Williams and Anya Taylor-Joy. Maisie Williams was a delight on tv's Game of Thrones (2011-9) and has launched a film and tv career elsewhere, Here she has a fairly standard role with occasionally remembered Scottish accent and thrown into a generic lesbian romance with Blu Hunt. The show is largely stolen by Anya Taylor-Joy who has been a consistently talented face from The Witch: A New-England Folktale (2015) through Split (2017) to The Queen's Gambit (2020). She does an enormously entertaining job of playing cold and bitchy and winning the show over.
All of that said, The New Mutants never much goes anywhere. It could well be because of the releasing studio's lack of faith in the film. Even so, the assembled material is engaging enough when the assorted characters are on screen, produces some okay effects sequences when it finally does. It is by no means a terrible superhero film; on the other hand, it's greatest crime is that it is simply an unremarkable one.
---