---
Crew
Director – Dick Clement, Screenplay – Ron House, Alan Shearman & Diz White, Based on the Play Bullshot Crummond by Ron House, Alan Shearman and Diz White, Producer – Ian La Frenais, Photography – Alex Thomson, Music – John Du Prez, Special Effects – Jon Punker & Alan Whibley, Production Design – Norman Garwood. Production Company – Handmade Films.
Cast
Alan Shearman (Captain Hugh 'Bullshot' Crummond), Diz White (Rosemary Fenton), Ron House (Count Otto von Bruno), Frances Tomelty (Lenya von Bruno), Ron Pember (Dobbs), Michael Aldridge (Professor Rupert Fenton), Mel Smith (Crouch), Christopher Good (Lord 'Binky' Brancaster)
---
Plot
Professor Rupert Fenton is kidnapped by the evil ex-WWI German flying ace Count Otto von Bruno who wants his formula for synthetic fuel. And so the professor's daughter Rosemary enlists the aid of ex-British flying ace turned crimesolver Captain Hugh 'Bullshot' Crummond. Both are attracted to one another as they plunge into a battle of wits against the nefarious von Bruno.
---
This is a long overdue send-up of the school of British boy's heroes that began with Biggles and H.R. 'Sapper' McNeil's Bulldog Drummond. The film here is adapted from Bullshot Crummond (1974), a stageplay that was first performed in the US and made a virtue of trying to recreate absurd adventure film effects on stage. All of the principal actors, who also wrote the script – Ron House, Alan Shearman and Diz White – repeat their roles in the film.
The idea is mainly to stock the film with a good many stiff upper-lip caricatures, a maximum amount of sexual innuendo and to play it all as loud and noisy farce. Everything gets rather shrill and hysterical but the film has a way of working at one in its scatterbrained way until you eventually surrender to the giddy, manic nonsense.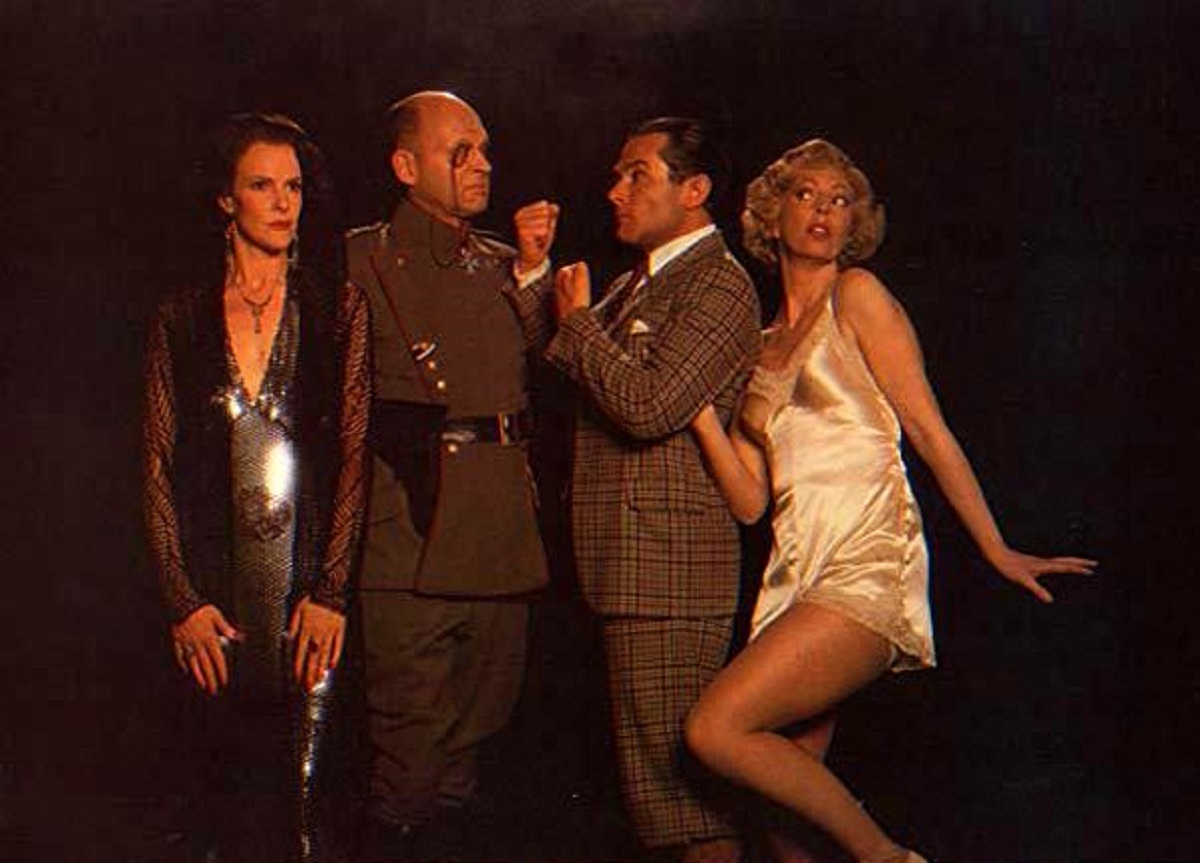 In any other film, Alan Shearman's bumblingly resolute Crummond and Diz White's lisping, eyelid-batting Rosemary would be the height of silliness but scenes like the one with Shearman hanging onto a trellis as White spouts suffragette lines or wrecking an entire hotel room in a chase for a spider and a hunt for Ron House are so silly they actually become entertaining.
The dialogue cleverly parodies the inflated nobility and British sense of decency of the originals. The plot conducts a series of cliffhangers and escapes from the jaws of death that are so over-the-top that they are positively hilarious – Alan Shearman escapes from being trapped in a toilet by a forcefield with a stick of dynamite in his mouth, neutralising the forcefield with his batman's silk tie and a belch of brandy gas; or driving off a giant octopus by imitating the call of a killer whale. The only thing that hampers the film is its lack of decent budget.
---
---