---
USA. 1982.
Crew
Director – Jerry Belson, Screenplay – Jerry Belson, Monica Johnson, Michael Leeson & Harvey Miller, Producer – Lawrence Gordon, Photography – Philip Lathrop, Music – Barry De Vorzon, Visual Effects – R. Greenberg Associates, Special Effects – Dewey G. Grigg, Makeup – Mark Busson, Production Design – Peter Wooley. Production Company – Titan Productions.
Cast
Mark Blankfield (Dr Daniel Jekyll/Hyde), Bess Armstrong (Mary Carew), Krista Erickson (Ivy Venus), Michael McGuire (Carew), Tim Thomerson (Dr Knute Lanyon), Peter Brocco (Hubert Howes)
---
Plot
Genius surgeon Daniel Jekyll quits surgery, despite many pleas to stay, in favour of research. There he tries to develop a drug that he believes will harness man's animal instinct. Going to sleep in the lab, he sucks a straw up his nose with his snoring and then accidentally snorts up the drug, which transforms him into a sexually insatiable swinger.
---
The Strange Case of Dr Jekyll and Mr Hyde (1886) is the most-filmed ever horror story. In Jekyll and Hyde … Together Again, Robert Louis Stevenson gets the Airplane (1980)-styled farcical treatment. A few years earlier had seen the not-terribly-funny spoof Dr Heckle and Mr Hype (1980) but Jekyll and Hyde … Together Again is by far the more amusing.
The idea of Dr Jekyll who now snorts his drug up like it was coke and turns into a Mr Hyde who is a swinger with giant afro – his transformation even sprouts rings and gold chains, as well as a permanent erection that hisses when doused with water – is an appealing twist.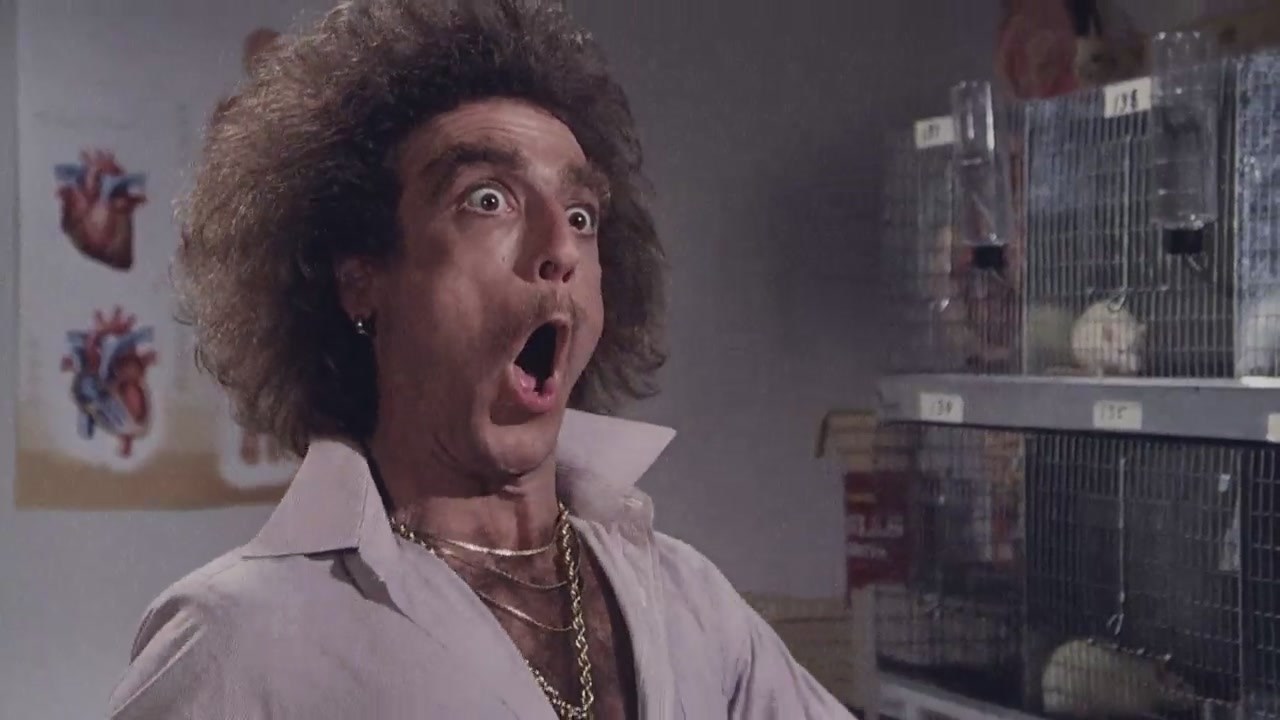 The film snaps along merrily, unconcerned whether a gag works or not. Some of the gags are funny – like where Jekyll grabs a car, uses the woman passenger's Mace as breath-freshener and jams her into the sliding roof where her screaming is taken for an ambulance siren, or the parody of Raiders of the Lost Ark (1981) where a line moving across a map represents a Transatlantic train journey.
At its worst, Jekyll and Hyde … Together Again offers a preponderance of scatological and racist cheap shots – Jekyll has to remove a foreign object from a patient's vagina, which turns out to be an Oriental man. Mark Blankfield's performance as Hyde is very bizarre indeed. At the end, Robert Louis Stevenson is appropriately seen spinning in his grave.
---
---