---
Crew
Director – Tim Burton, Screenplay – Jonathan Gems, Based on the Topps Gum Card Series Created by Len Brown & Woody Gelman, Producers – Tim Burton & Larry Franco, Photography – Peter Suschitzky, Music – Danny Elfman, Visual Effects – Industrial Light and Magic (Supervisors – David Andrews, Michael Fink & Lee Mitchell), Digital Effects – Warner Digital Studios, Special Effects Supervisor – Michael Lantieri, Production Design – Wynn Thomas. Production Company – Warner Brothers.
Cast
Jack Nicholson (President James Cole/Art Land), Pierce Brosnan (Professor Donald Kessler), Sarah Jessica Parker (Natalie Lake), Annette Bening (Barbara Land), Jim Brown (Byron Williams), Martin Short (Jerry Ross), Glenn Close (Marsha Dale), Lukas Haas (Richie Norris), Paul Winfield (General Casey), Rod Steiger (General Decker), Tom Jones (Himself), Michael J. Fox (Jason Stone), Sylvia Sidney (Florence Norris), Danny DeVito (Rude Gambler), Lisa Marie (Martian Girl), Natalie Portman (Taffy Dale), Jack Black (Billy Glenn Norris), Joe Don Baker (Glenn Norris), Pam Grier (Louise Williams)
---
Plot
Hundreds of flying saucers from Mars near the Earth. It is presumed they must be peaceful because they are an advanced species. However, upon landing, the Martians incinerate the envoy that peacefully greets them and then start gleefully slaughtering humanity en masse.
---
Certainly one of the more eccentric filmmakers at work in the American mainstream, Tim Burton always stamps his own bizarre quirkiness on every film he makes from Beetlejuice (1988) through Batman (1989), Edward Scissorhands (1990) and Ed Wood (1994). No Tim Burton film (at least up until this point) had ever been a disappointment, although what can perhaps be said of Mars Attacks! is that it was the slightest of Burton's films up to that point. What one cannot deny is that Mars Attacks! is a good deal of fun.
Mars Attacks! draws on the famous (or more accurately notorious) Topps gum card series. These consisted of 55 cards that were released in 1962. These prompted parental outrage because of their lurid and gory images of Martians invading the Earth, torturing people, unleashing deadly rayguns and giant robots. The parental outrage was such that it ended up causing the card series to be withdrawn. (Nowadays, the cards are collectors' items, worth more than $1000 apiece).
The film comes across almost as a science-fictional version of Gremlins (1984), with Tim Burton revelling in the same sense of gleefully malicious humour that Joe Dante delighted in. The Martians are a wonderfully evil bunch of creations – sewing people's heads onto dogs, crisping animals and people, always with an evil cackle – and the film delights in the sheer anarchy unleashed.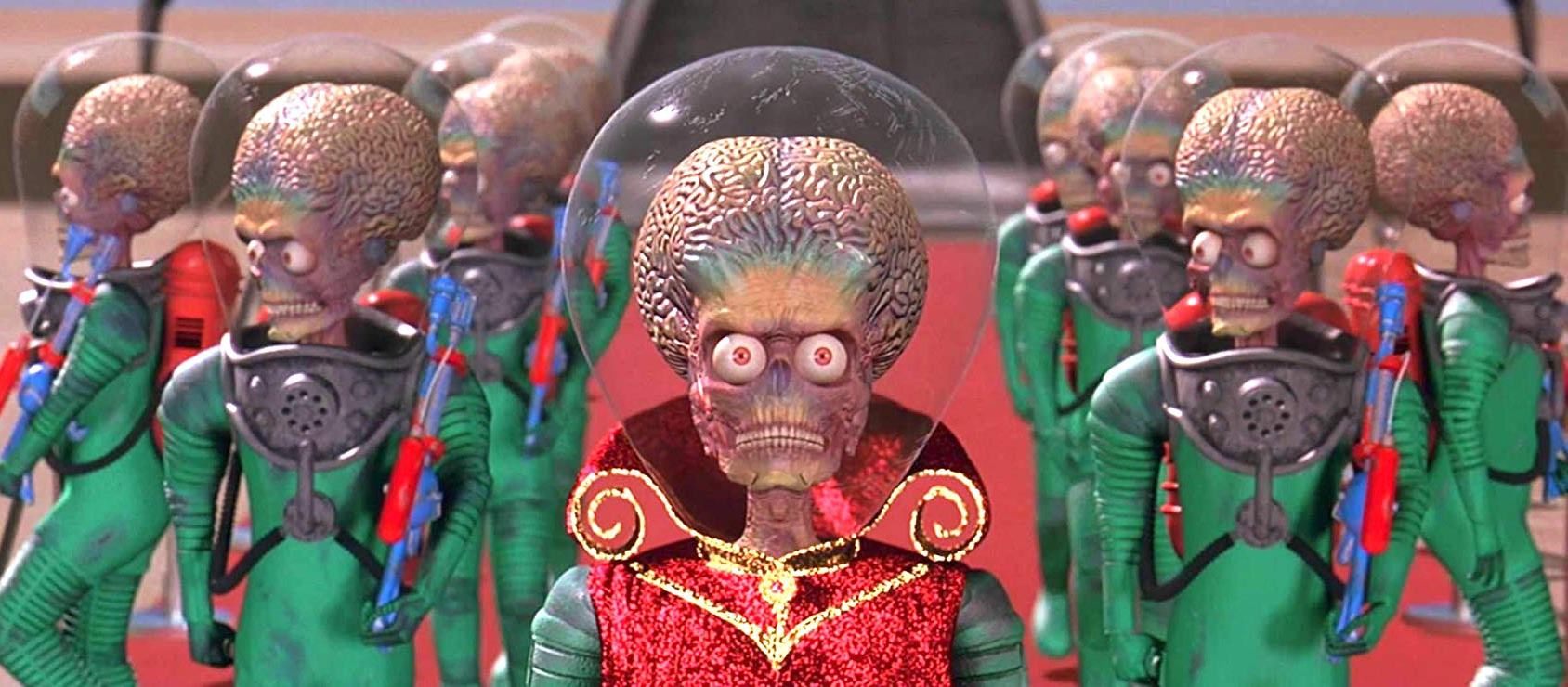 The special effects are very impressive. Although, there is something odd in this peculiar fad for retro science-fiction when one realizes that top-drawer Industrial Light and Magic effects are being employed for the purpose of creating flying saucers that look like bad effects out of 1950s science-fiction movies, and when normally seamless CGI effects are deliberately designed to move with the jerky gait of stop-motion animation.
On the minus side, Mars Attacks! lacks much enervation when the Martians are not on screen. The film affects the same disaster movie structure that Independence Day (1996), which only came out a few months earlier, did – of a large ensemble of characters dealing with the menace in a variety of locations. Tim Burton has assembled a huge big name cast. Everybody seems to have regarded the exercise as a comedy and deliver deliberately broad performances. The film lacks much in the way of a plot – it consists of not much more than Tim Burton's cornball set-ups. The method of despatch of the Martians at the end is a steal from Attack of the Killer Tomatoes (1978).
The best way of viewing Mars Attacks! is as anathema to the deadpan pomposity of Independence Day. The two films were both in production at the same time so it is more a case of coincidence of timing rather than exploitation of theme. Despite itself, the situation feels not unlike back in 1975 when Roger Corman jumped in and sent-up the self-important Rollerball (1975) with Death Race 2000 (1975) and made a far more enjoyable film than his source of inspiration.
If it wasn't the case, one might not be mistaken in thinking of Mars Attacks! as a parody of Independence Day. Where Independence Day reverentially brings out a parade of American landmarks and intends us to be shocked as they are blown to pieces, Mars Attacks! shows us the Martians posing for a photo as the Taj Mahal is blown up in the background; recrafting Mount Rushmore with their own faces; and playing bowls with the statues on Easter Island.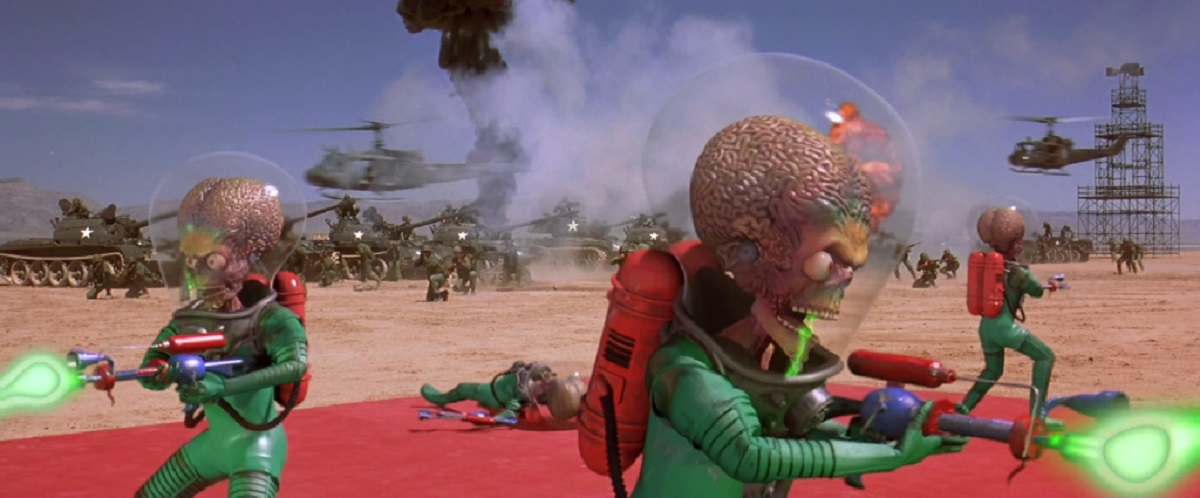 Where Independence Day stands still for The President to give a rousing patriotic speech, Mars Attacks! has The President give a noble and stirring speech pleading for togetherness and understanding only to have the Martin leader's hand come off when The President shakes it, crawl around his back, stab him and then sprout a flag through his chest. When the invasion is over, Tim Burton sends-up passover scenes by having the survivors emerge from a cave accompanied by doves, deer and raccoons all lying down in harmony. And when it comes to the great speech about rebuilding the world, all Lukas Haas has to offer is a vague: "I think you should go and rebuild and all that … And I think people should use more tepees."
Tim Burton's other films of genre interest include the kitsch Pee-Wee's Big Adventure (1985); the bizarre ghost story Beetlejuice (1988); Batman (1989); the genteel artificial boy fairy-tale Edward Scissorhands (1990); Batman Returns (1992); Ed Wood (1994), a biopic of the world's worst director; the ghost story Sleepy Hollow (1999); the remake of Planet of the Apes (2001); Big Fish (2003) about an habitual teller of tall tales; Charlie and the Chocolate Factory (2005); the stop-motion animated Gothic Corpse Bride (2005); the horror musical Sweeney Todd: The Demon Barber of Fleet Street (2007); Alice in Wonderland (2010); the film remake of the tv series Dark Shadows (2012) the stop-motion animated Frankenweenie (2012); Miss Peregrine's Home for Peculiar Children (2016); and the live-action remake of Dumbo (2019). Burton also produced Henry Selick's darkly brilliant stop-motion animated fantasies The Nightmare Before Christmas (1993) and James and the Giant Peach (1996); as well as the live-action conte cruel Cabin Boy (1994), Batman Forever (1995) the animated 9 (2009), Abraham Lincoln, Vampire Hunter (2012) and Alice Through the Looking Glass (2016). The Death of "Superman Lives": What Happened? (2015) is a fascinating documentary about Burton's failed Superman Lives project.
(Nominee for Best Special Effects at this site's Best of 1996 Awards).
---
---