---
Crew
Director – Enki Bilal, Screenplay – Enki Bilal & Pierre Christin, Producer – Maurice Bernart, Photography – Philippe Welt, Music – Philippe Eidel & Arnaud Devos, Visual Effects – Excalibur, Special Effects – Patrick Collandre, Production Design – Michele Abbe-Vannier. Production Company – AFC/Charles Gassot/Telema/FR3 Films Production/La Sept/Sofica Investimage/Centre National de la Cinematografie.
Cast
Jean-Louis Trintignant (Holm), Carole Bouquet (Clara), Benoit Regent (Nikolai), Maria Schneider (Muriel Orsini), Roger Dumas (Zarka), Yann Collette (Orsini), Jean-Pierre Leaud (Solal), Philippe Morier-Genoud (Destoop), Jezabelle Amato (The Matron), Svetozar Cvetkovic (Marko), Hans Meyer (The President)
---
Plot
It is in the future. With the city in the midst of war, several top politicians and businesspeople have taken refuge at a hotel built in an underground bunker where they are tended by android servants. The rebels on the surface manage to obtain a key to the bunker. When their infiltrator is shot while trying to get there, Clara takes the key and enters the bunker. Arriving in the hotel, she is immediately treated with suspicion as to how she got there. The group is also puzzling over the absence of The President and other key figures. One of the group Nikolai arrives but this is a rebel infiltrator who has been surgically altered. As they wait inside the bunker, the group must put up with the worn-down and increasingly malfunctioning androids and the fact that the heating has gone off.
---
I was moderately intrigued by the name of Enki Bilal after seeing Immortal (ad vitam) (2004) a few years ago. It wasn't a great film but it had an undeniable imagination in the depiction of its future that made me interested to check out other material from Bilal. Born in the former Yugoslavia, Enki Bilal grew up in France from an early age. Rather than a filmmaker, Bilal is better known as a graphic novel artist and writer, having been publishing science-fiction works since the 1970s, including stories printed in the influential French magazine Metal Hurlant. Bilal made his directing and writing debut with Bunker Palace Hotel and went onto Tykho Moon (1996), although none of these had attained a particularly high-profile in the genre press or anywhere else up until Immortal (ad vitam).
Enki Bilal creates a fascinating world in Bunker Palace Hotel. The exteriors of the surface world look like an old Soviet Politburo country slowly collapsing at the edges. (The film was shot on location in Belgrade, Bilal's place of birth). Everybody drives big old 1950s sedan cars giving a distinctly retro feel. Various VIPs congregate at the titular underground hotel where they are tended by androids that seem to be malfunctioning and falling apart, even to the point of breaking bones while giving massages, while in the later sections the heating goes off and everybody is left huddled in freezing conditions. At the same time, there seems to be war in the streets above and rebel factions acting with cryptic purpose. There is mention of the rebels speaking a language that has been forbidden, which turns out to be Russian.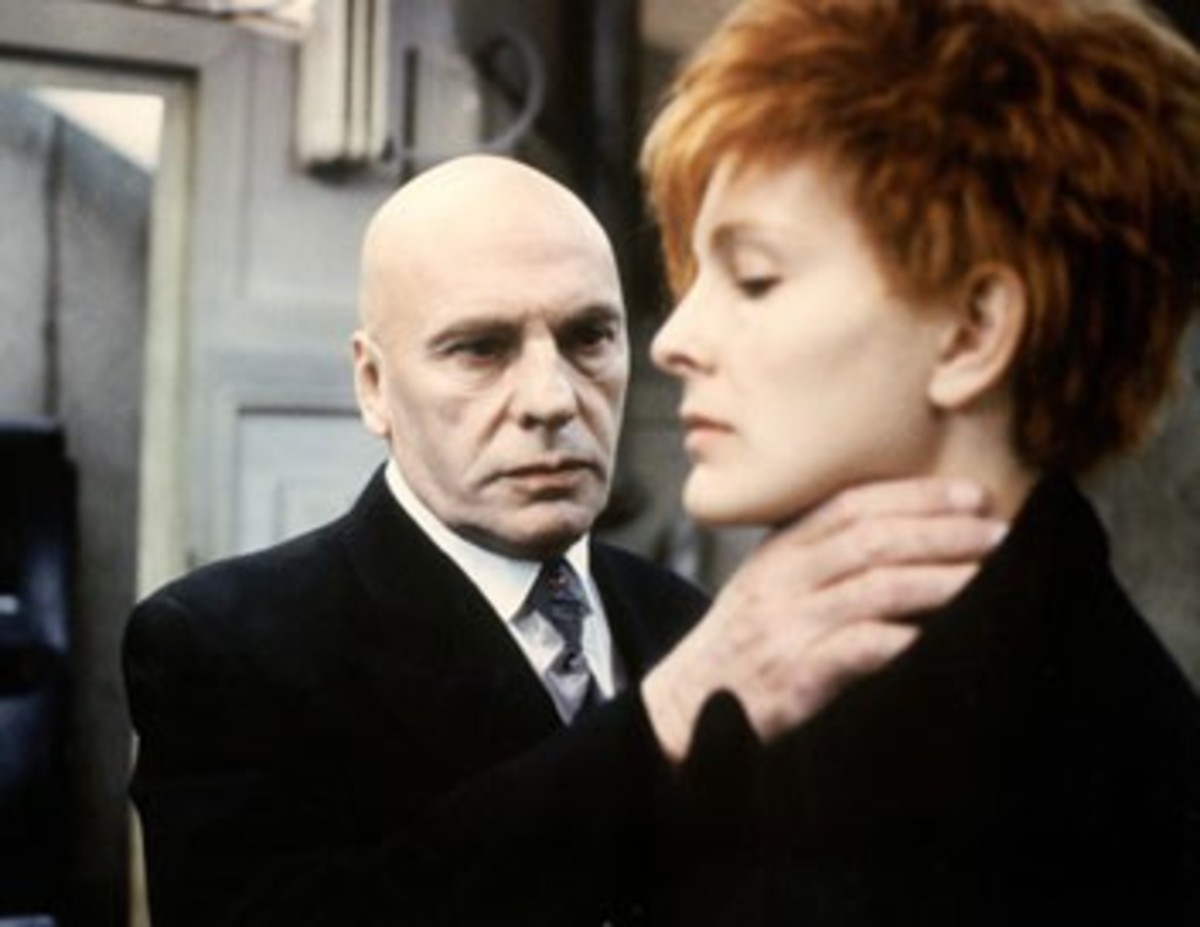 Enki Bilal has managed to bring together a reasonable cast of French actors – Jean-Louis Trintignant, former James Bond girl Carole Bouquet and Maria Schneider from Last Tango in Paris (1973) – that gives you a certain expectation of a class production. Alas, Bunker Palace Hotel is a film where you spend more than half the running time trying to get a grasp on its world, to understand the social conditions of its backdrop and to figure out who the characters are and their relationship to one another. The dialogue is filled with cryptic conversations and you spend most of the film trying to glean what is going on.
My patience for this cryptically arty type of film that leaves you guessing wears a little thin these days. What you could accuse Bunker Palace Hotel of being is a film with a fascinating background in which nothing interesting happens.
---
---