---
Crew
Directors – Marc Caro & Jean-Pierre Jeunet, Screenplay – Marc Caro, Jean-Pierre Jeunet & Gilles Adrien, Producer – Claudie Ossard, Photography – Darius Khondji, Music – Carlos D'Alessio, Special Effects – Jean-Baptiste Bonetto, Yves Domendjoud & Olivier Gleyze, Art Direction – Marc Caro. Production Company – Constellation/UGC/Hachette Premier.
Cast
Dominique Pinon (Louison), Marie-Laure Dougnac (Julie Clapet), Jean-Claude Dreyfus (Clapet), Karin Viard (Mademoiselle Plusse), Sylvie Laguna (Aurore Interligator), Rufus (Robert Cube), Ticky Holgado (Claude Tapioca), Anne-Marie Pisani (Madame Tapioca), Chick Ortega (The Postman), Jacques Mathou (Roger Cube), Howard Vernon (Mr Potin)
---
Plot
It is some time in the future where society has started to collapse around the edges. The circus performer Louison takes a room in the apartment block owned by the butcher Clapet, which is advertised with free rent in return for odd jobs. He encounters various of the building's offbeat tenants, including the toy-making Cube brothers; Aurore Interligator who hears voices urging her to commit suicide; and Mr Potin who lives in a room filled with frogs and snails that he dines upon, among others. What Louison does not know is that the offer of free rent is an enticement to lure people in, which Clapet then butchers and sells off as meat to the other tenants. However, Clapet's shy, bespectacled daughter Julie falls in love with Louison and determines to save him from his fate, something that requires her to make a deal with the Trogolodists, the vegetarian terrorists that live in the sewers.
---
When this French film came out it, took the whole world away with its sheer freshness and vitality. Delicatessen served to announce the presences of directors Marc Caro and Jean-Pierre Jeunet, who (Jeunet at least) have subsequently become major names in international cinema.
As much as anything, Delicatessen surprises one with its refusal to be classified within any genre. Thematically it skirts at being everything from a post-apolcayptic film (with the Post-Holocaust interestingly portrayed as post-WWII in setting, all beautifully shot amid dusky ruined exteriors) to a gore comedy (although the gore in itself is little and for all that is a film about cannibalism, everything is conducted with a surprising lightness of hand), yet it is not easy to make a case for Delicatessen being either a science-fiction or a horror film.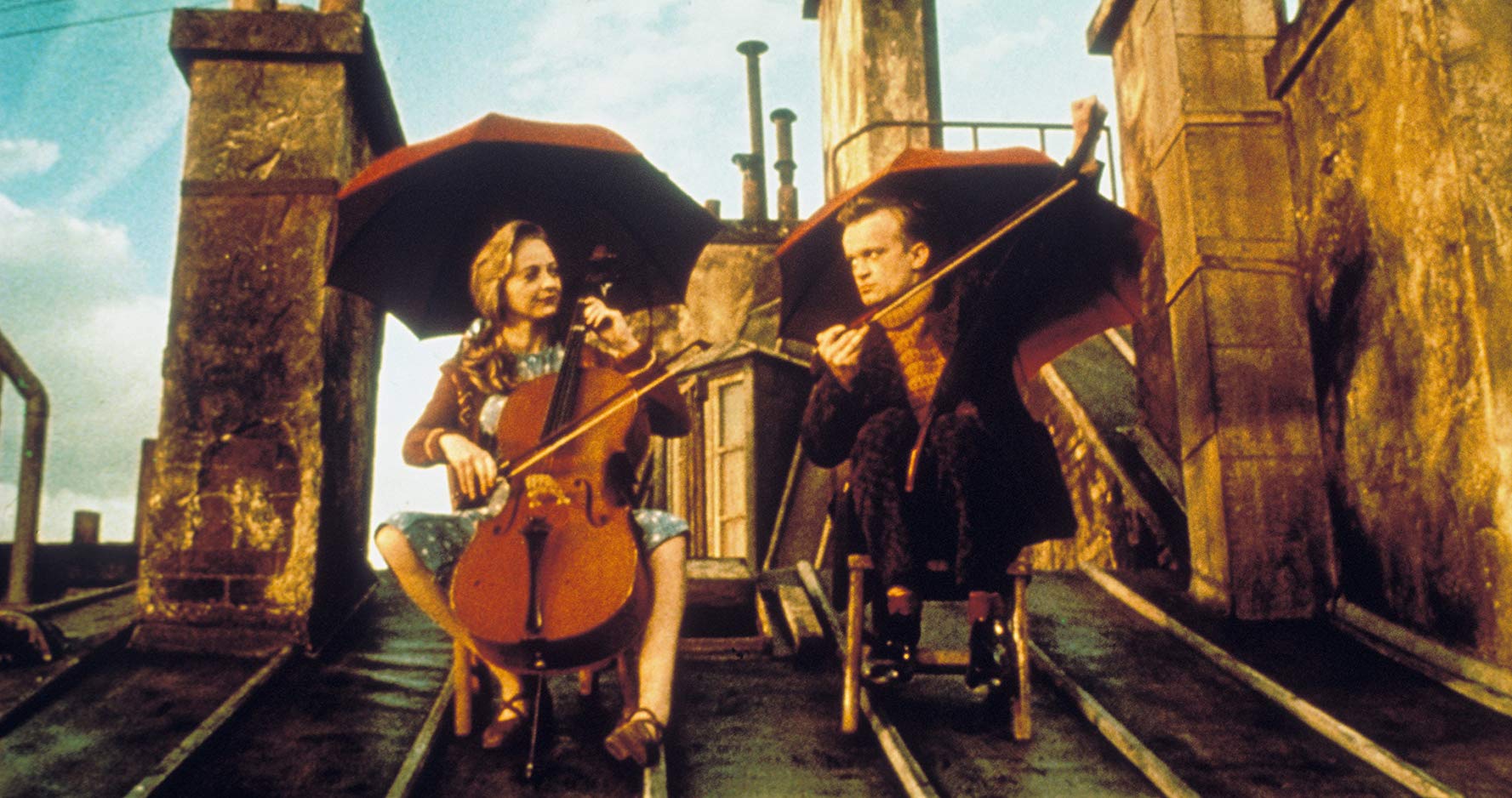 For debuting directors, Jean-Pierre Jeunet and Marc Caro show an impressively assured grasp of comic timing. For the pure pleasure of it, they set up goony little nonsense symphonies – of everybody in the building simultaneously bowing cellos, Dominique Pinon painting the roof while springing off his tied braces, the two brothers drilling their animal noise speakers, all in choreographed symphony to Jean-Claude Dreyfus and Karin Viard's love-making, and with the braces, cello strings and speakers all breaking at the point of Dreyfus's orgasm. Or of Dominique Pinon and Karin Viard's dance while bouncing on a bed to test loose springs, the two of them keeping time to a song playing on the tv.
There a delicious sense of black humour present, particularly in Sylvie Laguna's bizarre attempts to commit suicide with Rube Goldberg-type set-ups such as connecting her doorbell to a sewing machine that sews through a piece of cloth that will pull a lamp into the bath (which fails when the power goes off); or a candle balanced in a sink that will burn through a cord holding up a giant weight (which is undone when an impact overturns the candle in the water); and particularly her climactic attempt to use a combination of pills, gas, shotgun, Molotov cocktail and hanging, which farcically fail all at once.
At the centre of the film is the romance between monkey-faced Dominique Pinon and innocently lovely Marie-Louise Dougnac, which plays with a genuine sweetness amid the film's eccentricities. The marvellous little sequences with her rehearsing things so she can operate without her glasses when he comes to afternoon tea and the dance of errors that results when he fails to sit in the right place; of the two playing cello and musical saw together; or he twisting bubbles in mid-air for her are genuinely enchanting. It is a film that sparkles with freshness and originality.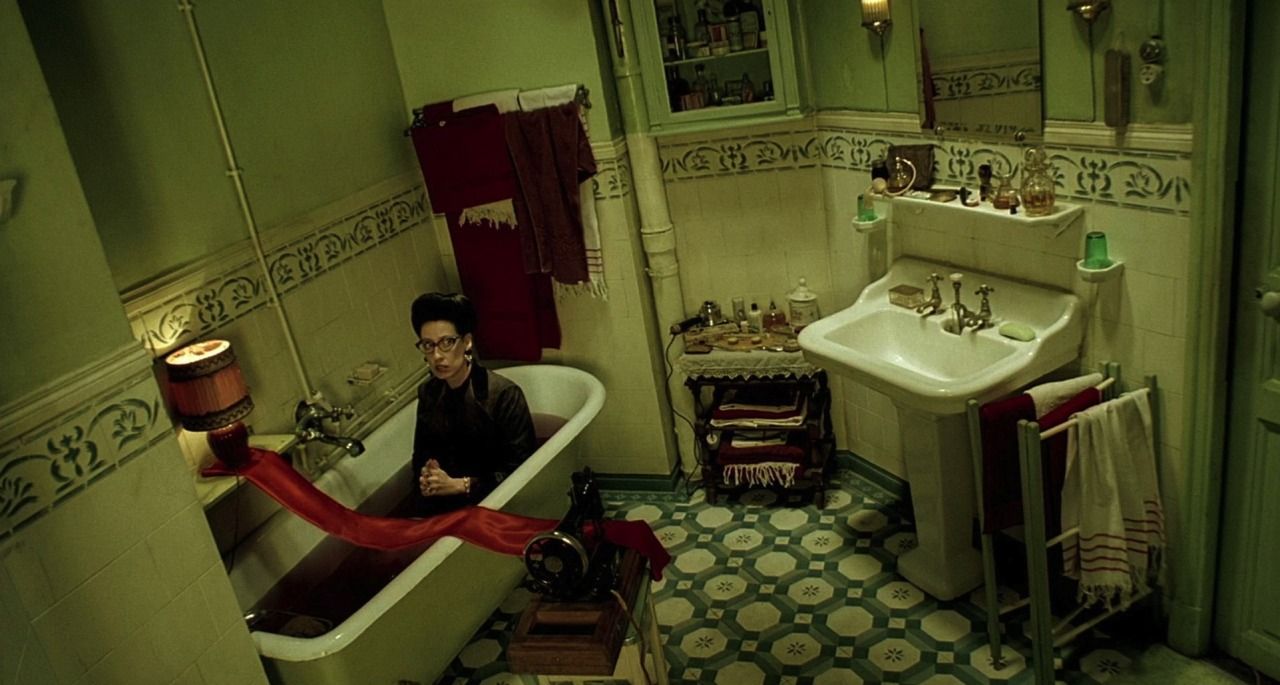 Marc Caro and Jean-Pierre Jeunet next went onto make the equally eccentric and unclassifiable The City of Lost Children (1995), which is far more of an overt science-fiction film. On his own, Jean-Pierre Jeunet was lured to the US mainstream to make the disappointing Alien: Resurrection (1997) and then returned to France to make the non-genre fable and worldwide arthouse hit Amelie (2001), followed by the Wartime film A Very Long Engagement (2004), the surreal caper film Micmacs (2009) about a wounded man taking revenge on weapons manufacturers, The Young and Prodigious T.S. Spivet (2013) about a bright boy's journey across a hyper-real US, and the A.I. rebellion comedy BigBug (2022).
Marc Caro has only directed one other film subsequent to The City of Lost Children with Dante 01 (2008) set in a space station asylum, although he has operated as a designer for other films.
---
---