USA. 1989.
Crew
Director – Steven M. Lisberger, Screenplay – Tony Kayden, Story – Bill Bauer, Producer – Gary Kurtz, Photography – Frank Tidy, Music – Elmer Bernstein, Visual Effects Supervisor – Brian Johnson, Production Design – Andrew McAlpine. Production Company – Entertainment Film Productions.
Cast
Bill Paxton (Matt Owens), Bob Peck (Byron), Mark Hamill (Will Tasker), Kitty Aldridge (Belitski), Eleanor David (Ariel)
---
Plot
Civilization has been razed by earthquake and flood and what remains is scoured by a fierce wind known as the Slipstream. Cocksure hustler Matt Owens snatches Byron, a prisoner wanted for murder, from two law enforcement officers, determined to obtain the bounty himself, and flees down the Slipstream. Byron turns out to be an android wanted for killing its master. The two form an odd friendship as they flee the pursuing cops and pass through the strange societies along the Slipstream.
---
Slipstream was an ignominious flop when it came out. It could have been a success, it certainly marshals enough elements that should have worked in its favour – a fair size budget, a good cast. It also comes from Steven Lisberger, who made the excellent Tron (1982), and, as the advertising campaign prominently tells one, "the producer of Star Wars (1977)", Gary Kurtz.
On the other hand, when you sit down to see Slipstream you can understand why it was not a hit. The plot is a picaresque ramble that lacks any focus. The encounters with the various societies have a lumpy disconnected feel that gives the impression that some of the plot was ditched to bring the film in under budget or prescribed running time. The characterizations are often simplistic cliches.
On the other hand, even if it never knows what sort of story it is telling, there are times that Slipstream is at least made with a quaint appeal. The background pictures of a post-holocaust world where society has become airborne with communities littered up and down the slipstream is an appealingly fresh twist on the tedious proliferation of Mad Max 2 (1981) clones that were littering videostores at the time – one just wishes the film could have done something more with it. The Turkish locations are well photographed and the flying scenes conducted with some exhilaration.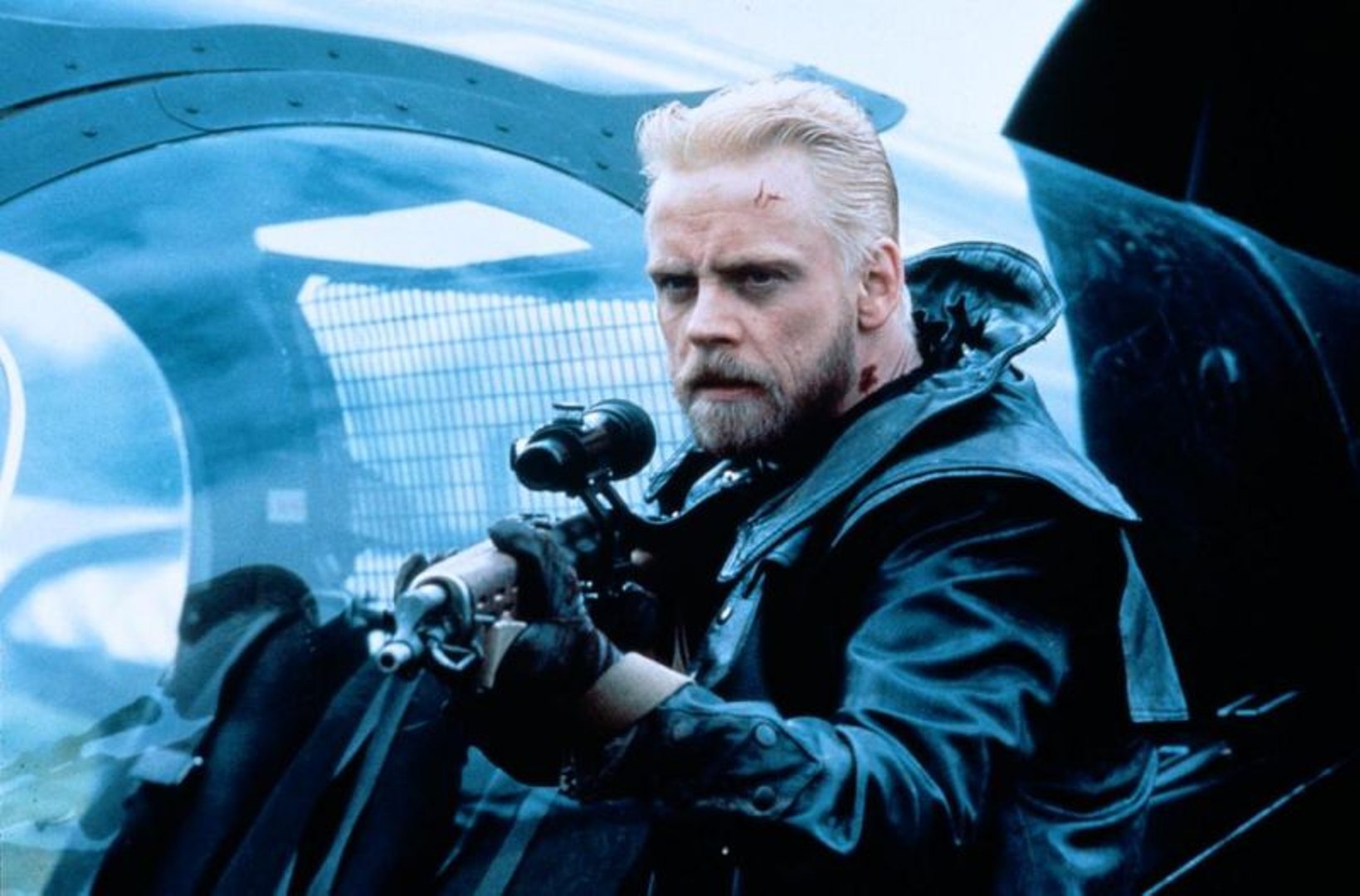 The one bonus of the film is its cast (although it does criminally misuse top name stars like Ben Kingsley and F. Murray Abraham who have about half-a-dozen lines apiece between them). Mark Hamill's fine performance as the single-mindedly ruthless bounty hunter is a role surely designed once and all to kill off his typecasting in boyish youthful roles following the Star Wars films. Kitty Aldridge is a fine actress who has never gained the exposure she should have, although here the innocence behind her cynicism and her eventual giving into Bill Paxton is too easily tipped. Paxton plays a hick yee-hah role of likeable irritation. The part of the android discovering human traits part is dreadfully twee but the immaculately polite and pressed Bob Peck does a decent job of it as he wanders through the film with a deadpan saintliness.
Slipstream should not be confused with two other genre films with the same title neither of which are related – the time travel film Slipstream (2005) and Slipstream (2007) with Anthony Hopkins who becomes caught up in a labyrinth of dream and reality.
Disappointingly, Slipstream would be the last directorial film made by Steven Lisberger. His only other film as director was the earlier animated Animalympics (1979), which had been designed to tie in with the 1980 Moscow Olympics and flopped when the US boycotted the Olympics over the Russian invasion of Afghanistan. Throughout the early 00s, he was attempting to get his vision of Tron 2.0 off the ground, although this eventually merged into Tron Legacy (2010) with Lisberger only retaining producer credit.
---
---