---
USA. 1995.
Crew
Director/Screenplay – Michael Moore, Producers – David Brown, Michael Moore & Ron Rotholz, Photography – Haskell Wexler, Music – Elmer Bernstein & Peter Bernstein, Special Effects – Trans Image Special Effects (Supervisors – Bob Hall & Arthur Langevin), Production Design – Carol Spier. Production Company – Propaganda Films.
Cast
John Candy (Sheriff Bud Boomer), Alan Alda (The President), Rhea Perlman (Honey), Kevin Pollak(Stuart Smiley), Rip Torn (General Dick Panzer), Kevin J. O'Connor (Roy Boy), Bill Nunn (Kabral), G.D. Spradlin (R.J. Hacker)
---
Plot
The new liberal US president's popularity is flagging at the polls so he thinks it might be a good idea to try and revive the Cold War. When the former Russian republics decline interest, advisers come up with the idea of starting a Cold War with Canada. They begin a media war to paint Canada as sinister and anti-American. A group of workers laid off from a munitions manufacturing plant in Niagara Falls, led by Sheriff Bud Boomer, decide to cross the border and trash Canadian soil but one of their number, Boomer's girlfriend Honey, is left behind and captured. This becomes a cause for America to declare war. Boomer and associates decide to take matters into their own hands and mount an undercover military operation to go to Toronto to recapture her. Meanwhile, munitions manufacturer R.J. Hacker has sold the Hellstorm system, which can fire all nuclear missiles in the USA, to the Canadians after The President cut funding of his programs and installs it in Toronto's CN Tower. He now activates it in a bid to make The President pay up.
---
Michael Moore first gained attention with the festival circuit hit Roger & Me (1989), a documentary that took a comedic look at the devastation in Moore's hometown of Flint, Michigan when the Ford Motor Company made the decision to move their operations out of the country and effectively gutted the town's economy and employment. Since then with his tv series' TV Nation (1994-6) and The Awful Truth (1999-2000), several books, Michael Moore has become a leftist provocateur, using the documentary form as a light-hearted way of stabbing into the underbelly of the rich and stupid. Subsequent to Canadian Bacon, Moore had a huge cinematic hit with his gun control documentary Bowling for Columbine (2002) and the even bigger controversy of the anti-George W. Bush documentary Fahrenheit 9/11 (2004), as well as subsequent works like Sicko (2007), Capitalism: A Love Story (2009), Where to Invade Next (2016), Michael Moore In Trumpland (2016) and Fahrenheit 11/9 (2018). Moore has also made acting appearances in the likes of Edtv (1999) and Lucky Numbers (2000). Canadian Bacon was Michael Moore's first (and so far only) work of fiction, although the film failed to find distribution and languished on the shelves for several years before it was eventually released straight to video where the only footnote it had at the time was in being John Candy's last film.
Part of Canadian Bacon's problem in finding a release can be seen in the specificity of the film's humour. Although the film is American financed, a good many of the jokes are targeted at Canadian culture rather than American. (Moore himself had a Canadian grandfather). Most Americans, who tend to regard Canada as akin to Alaska – ie. why does anybody want to go there? – did not in all likelihood get the film. As someone who has lived in both countries, I found some of the humour hilarious – jokes about nationalised medicine, the cleanliness of Canadian cities, the laidback amiability of Canadians, the accent – "we have ways of making you pronounce the letter 'o'" (oddly there are no jokes about "eh?", although this is fairly much a film whose cultural jokes are based around the East Coast of Canada – Ontario/Quebec), the French/English language police (although the film makes an error here in having the group pulled up by the language police on a journey from Niagara to Toronto (which would have to be through Ontario), whereas the language police only operate in French-speaking Quebec). Occasionally there are sharp digs at America too: "The [Jesse] Helms Amendment specifically forbids the use of the Omega Force against Caucasians."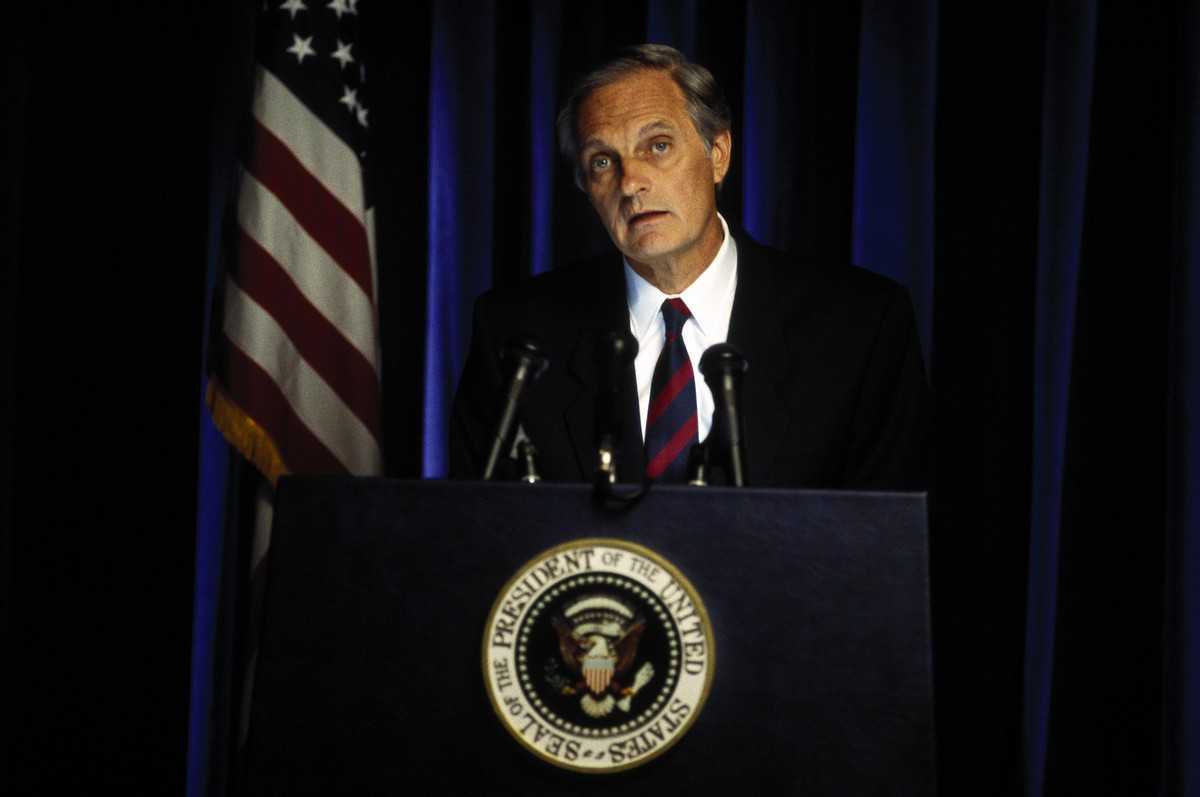 Thematically, Michael Moore is in familiar liberal territory railing against the social devastation caused in small towns when big business shuts down operations as he did in Roger & Me. There is a good blackly ironic opening with Tex Ritter's God Bless America Again playing on the soundtrack contrasted against Kevin J. O'Connor taping himself up with duct tape so as to drive his car over Niagara Falls, only for the car to stall at the railing and he left having to hop over while taped up. Moore then cuts away to tv coverage of the plant closure: "I believe you can still pick up bargain short-range missiles and armaments on the auction block," to mention of the leap in the suicide rate and how the sheriff's department is being offered $25 for talking jumpers down and $50 for retrieving the bodies, which then immediately cuts to John Candy and Rhea Perlman shouting "Jump" as Kevin O'Connor teeters on the rail.
Moore never sustains such a blackly comic bite throughout the rest of the film and much of it tends to an unsubtle shrillness with the cast playing at a loud and hysteric pace. Some of the climactic moments with Kevin Pollak's advisor arrested as he tries to tell what is happening and Alan Alda's President on the phone talking to the Canadian Prime Minister's wife in pidgin French hit a blackly funny note that occasionally heads in the direction of a Dr Strangelove or, How I Learned to Stop Worrying and Love the Bomb (1964).
---
---