---
Crew
Director/Screenplay – Marshall Brickman, Story – Marshall Brickman & Thomas Baum, Producer – Martin Bregman, Photography – Adam Holender, Music – Stanley Silverman, Visual Effects – Werner Kroopman, Miniatures – Eion Sprott, Production Design – Stuart Wertzel. Production Company – Orion
Cast
Alan Arkin (Professor Simon Mendelssohn), Austin Pendleton (Dr Carl Becker), Judy Graubart (Lisa), Madeline Kahn (Cynthia Mallory), William Finley (Dr Aaron Chandler), Max Wright (Dr Hundertwasser), Wallace Shawn (Dr Eric Van Dongen), Jayant (Dr Barundi), Fred Gwynne (General Korey), Adolph Green (Commune Leader)
---
Plot
The Institute for Advanced Concepts is a top secret think tank composed of five scientists who are responsible for many things that people are not aware of – such as fixing the Nielsen Ratings so that tv shows nobody watches become hits and arranging with the Chinese to substitute a duplicate of Nixon. They decide to conduct a study of people's reactions to see what would happen if an alien arrived. They select a man who is an orphan, Professor Simon Mendelssohn, and place him in an isolation tank for 197 hours. Simon emerges a mental vegetable that they are able to hypnotise him into believing he is an alien. The Institute are then infected by a gas of their own invention that lowers the IQ. Simon makes an escape with one of their tv vans and starts broadcasting his own eccentric philosophy.
---
Simon was the directorial debut of Marshall Brickman, a former co-writer with Woody Allen on the likes of Sleeper (1973), Annie Hall (1977), Manhattan (1979) and the subsequent Manhattan Murder Mystery (1993).
Marshall Brickman makes a promising debut and Simon is an interestingly offbeat comedy. The institute scenes are delivered with a drolly satirical wit with Brickman throwing in obscure jokes about physics and creativity. Typical is a theological panel debate on tv where a priest argues (about the appearance of Simon): "This is clear proof that there is a God," and an atheist counters: "This is clear proof there is a no God," followed by a rabbi: "You're both wrong. This is clear proof that there is a God and He doesn't know what He is doing."
There are a number of genre parodies. Although the film predates the release of Altered States (1980) by several months, it conducts a highly amusing skewering of its isolation tank sequences. Alan Arkin has an hilarious sequence where he mimes the whole of evolution in five minutes, even taking time out to conduct a parody of the bone sequence in 2001: A Space Odyssey (1968). There is an hysterically deadpan sequence with Austin Pendelton making love to a computer – it could almost be an outtake from Sleeper. There is also an amusing encounter with a cult that worships tv who read a list of spinoffs from TV Guide as though they were a list of Biblical lineages and sing commercial ditties as hymns.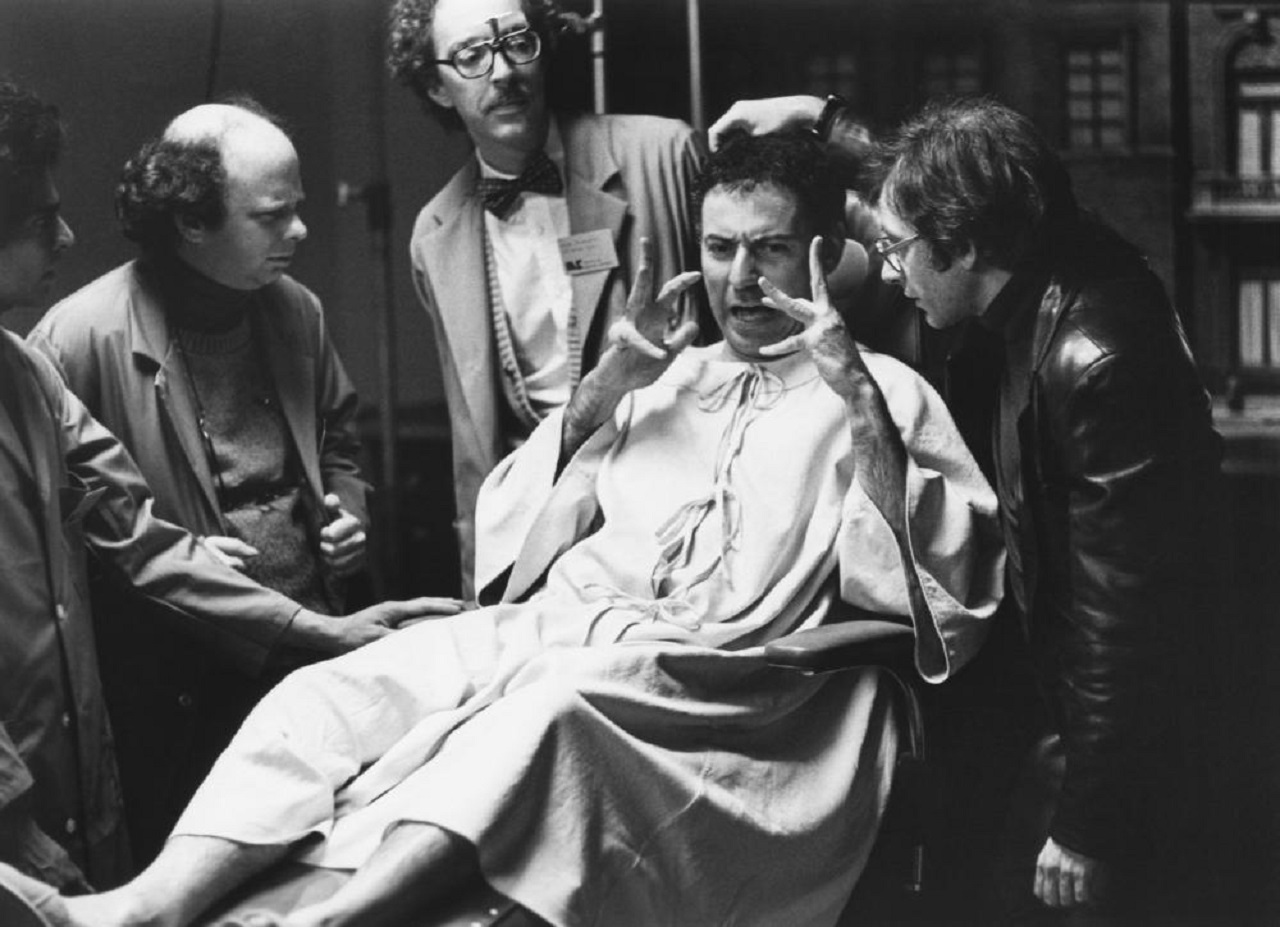 Brickman directs with a deadpan that leaves you unsure whether you should be laughing or what – the film suggests Woody Allen as directed with the black obliqueness of a Stanley Kubrick. On the other hand, Simon also only works intermittently. Many gags fall flat and Alan Arkin's schtick is never that funny. There is also no plot to the film – it is more akin to the disconnected subject hopping of a stand-up comic jibing at the petty irritations and absurdities of life. At the end, the film peters out without reaching any conclusion.
Marshall Brickman made two subsequent films, both of which fall within genre interest:– Lovesick (1983), a not terribly funny comedy about a psychologist who falls in love with his patient and gets advice from Freud's ghost; and The Manhattan Project/Deadly Game (1986), a film that should have been a comedy, about a teenager who builds an atomic bomb as a class science project. In more recent years, Brickman's name rose to prominence again as co-writer of the hit musical Jersey Boys (2005).
---
---