---
Crew
Director – Brandon Trost, Screenplay – Simon Rich, Based on His Short Story Sell Out, Producers – Evan Goldberg, Seth Rogen & James Weaver, Photography – John Guleserian, Music – Nami Melumad, Original Themes – Michael Giacchino, Visual Effects Supervisor – Adam Rowland, Visual Effects – FuseFX (Supervisor – Derek Ledbetter), Mammal Studios (Supervisor – Gregory P. Oehler) & Nviz, Special Effects Supervisor – Russell Tyrrell, Production Design – William Arnold. Production Company – Point Grey Pictures Ltd/Warner Max.
Cast
Seth Rogen (Herschel Greenbaum/Ben Greenbaum), Sarah Snook (Sarah Greenbaum), Molly Evensen (Clara), Eliot Glazer (Christian), Sean Whalen (Scientist)
---
Plot
Schlupsk, Eastern Europe, 1919. Herschel Greenbaum is a poor Jewish peasant. He marries Sarah and the two dream of a better life. Their village is then raided and burned to the ground by Cossacks. The two of them set out to America, arriving in New York. Sarah becomes pregnant while Herschel gets a job as a rat catcher at a pickle factory. However, while dealing with tenacious rats, Herschel falls into a vat of pickles. This is sealed just before the factory is closed down as unsafe. One hundred years later in the present day, two teen kids enter the abandoned factory and Herschel is awoken. He is regarded as a miracle of science. He then learns he has a great-grandson Ben who is the same age as he is. Herschel goes to stay with Ben, a mobile app developer who is not enjoying much success, but finds him to be very different, having no interest in traditional Jewish ways. This results in an argument and Herschel storms out, determined to do things on his own. Via dumpster diving, Herschel is able to build a cart and salvage pickles past their use-by date, which he bottles and sells on the street. Word of mouth grows and these become a great success. Jealous of the attention that Herschel is getting, Ben sets out to sabotage his endeavours.
---
Seth Rogen has attained an A-list name in the last few years. The Canadian-born Rogen first appeared on the short-lived tv series Freaks and Geeks (1999-2000) followed by the breakout hit with the Judd Apatow film Knocked Up (2007), and then wrote and made appearances in the Apatow produced Superbad (2007) and Pineapple Express (2008). Rogen has since gone onto star in a slew other films such as Zack and Miri Make a Porno (2008), Funny People (2009), 50/50 (2011), The Guilt Trip (2012) and Neighbors (2014), as well as voiceover work in Kung Fu Panda (2008), Monsters vs Aliens (2009), Paul (2011) and The Lion King (2019).
At the same time as appearing in front of the camera, Rogen also worked as a comedy writer on the tv series Undeclared (2001-2) and Da Ali G Show (2003-4). Rogen's scripts for Superbad and Pineapple Express have been side-splitting, although he fell on his face as writer/star of the disastrous adaptation of The Green Hornet (2011) and wrote the fairly meh The Watch (2012). Rogen and Evan Goldberg, his writing partner and friend since high school, bounced back, making their debut as co-directors of the hilarious Biblical Apocalypse comedy This is The End (2013), followed by the subsequent notoriety of The Interview (2014) and then as writers/producers of the outrageously entertaining animated Sausage Party (2016). Around the same time, Rogen and Goldberg also produced the comic-book adapted tv series Preacher (2016-9), the time travel comedy Future Man (2017-20) and the superhero series The Boys (2019- ).
For An American Pickle, Rogen stars and he and Goldberg produce. Directorial duties have been turned over to Brandon Trost who makes his feature film debut here. Trost is a cinematographer who has credits on films like Pulse 2: Afterlife (2008), Crank 2: High Voltage (2009), Pulse 3 (2009), The Lords of Salem (2012) and Extremely Wicked, Shockingly Evil and Vile (2019). Trost has shot most of Rogen's films since This is The End. Trost is also the brother of Jason Trost, a director of low-budget genre films with All Superheroes Must Die (2011) and How to Save Us (2014). Screenwriter Simon Rich rose from writing for Saturday Night Live (1975- ). The tv series Man Seeking Woman (2015-7) was based on his book, while he also created the afterlife comedy Miracle Workers (2019- ). The script is based on his short story.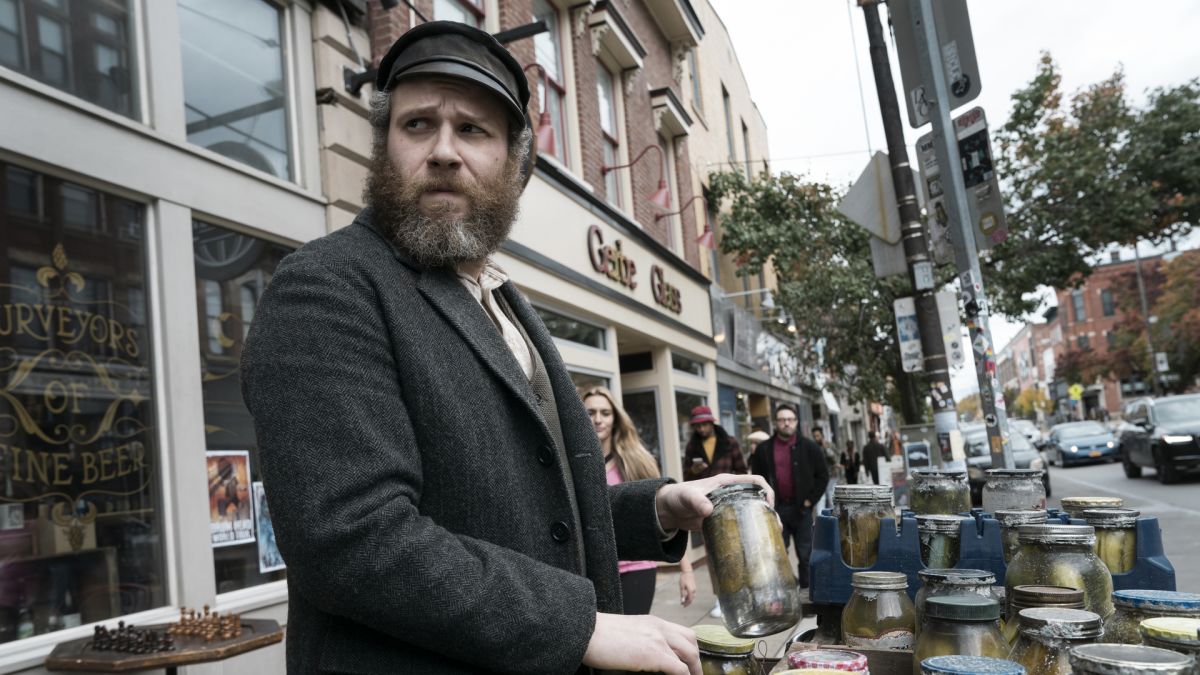 An American Pickle is essentially a cryogenic sleeper awakes film. There have been several films on the subject from the assorted adventures of Buck Rogers and Captain America to Sleeper (1973), Late for Dinner (1991) and Forever Young (1992). (For an overview of the theme see Films About Cryogenics and Suspended Animation). The film amusingly deals with the improbable premise of Seth Rogen by being pickled alive in brine by a scene where Rogen tells how the scientist explained how everything logically worked to the dubious assembled members of the press, has the press nod in agreement as all the while his voiceover obscures any of the actual details.
After it gets Herschel awoken in the present-day, An American Pickle proceeds as a standard comedy. All part and parcel of the sort of film that Seth Rogen has made his career out of so far. That said, it is also a surprisingly subdued film. While a comedy, it is short of major side-splitting, bellyaching laughs for the most part. Moreover, when you compare it to the two major previous Seth Rogen written/starring films reviewed here – This is The End, Sausage Party – the outrageous go for the gonads humour of those other films has been tamed way down.
If anything, you get the impression that An American Pickle is about Seth Rogen finally deciding to embrace Jewish tradition. Like the Ben character, he comes from a family of Russian-Jewish immigrants – his parents met on a kibbutz is Israel, he attended a Jewish elementary school in Vancouver and he had his first comedy breaks at a Jewish summer camp. This is a background that has never been part of Rogen's work before. Here though the film has a surprisingly traditional message about the atheist Ben eventually joining in and saying the kaddish, learning to honour departed family and of a message about family togetherness.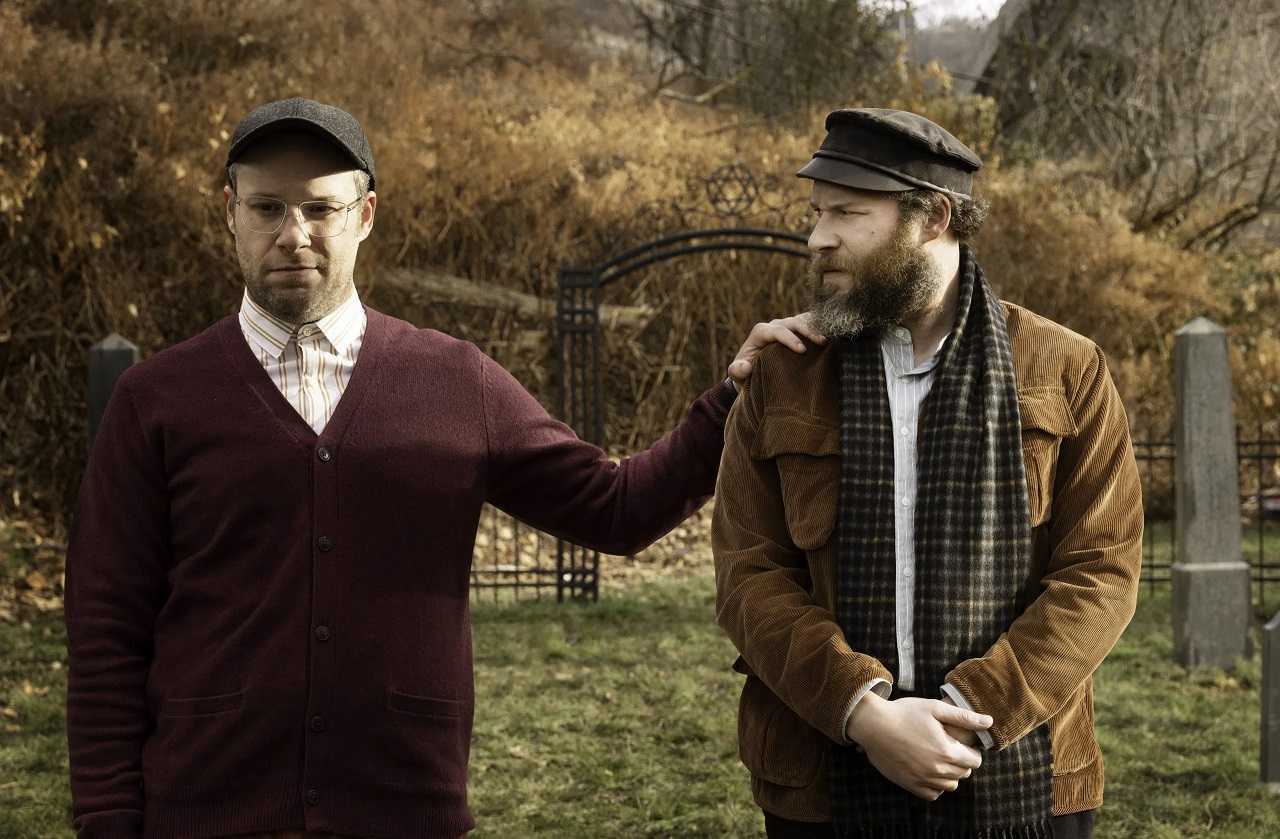 This comes in between a message where Herschel equally learns that a hardline traditionalist approach to Judaism – condemnation of 'sodomites', the banishing of women while menstruating – is not acceptable in the modern world. Indeed, the scenes where Herschel's plain-speaking on such matters has him both vilified and praised as an online celebrity, as all while he fails to understand what is going on a la Peter Sellers' Chauncy Gardner in Being There (1979), are perhaps the most biting and Rogen-esque moments in the film.
One has always viewed Seth Rogen as a comedy star who plays the same essential persona in his films rather than an actor who absorbs into different roles and plays a different character each time. What must be said is that Rogen does a fine job in the two roles he plays here. He joins the likes of Jeremy Irons in Dead Ringers (1988), Michael Keaton in Multiplicity (1996), Eddie Murphy in The Nutty Professor (1963). Tatiana Maslany in tv's Orphan Black (2013-7), James Franco in tv's The Deuce (2017-9) and other actors who have played multiple roles in a single film alongside themselves. Rogen does a fine job in crafting two distinctive characters and the screen opticals that allow the two characters to interact are flawlessly achieved.
The script does come with some plausibility issues – like how Herschel manages to create a major business without any ID (IRS would surely have a meltdown). I also fail to believe that he could manage to create a successful business around selling pickles to the tune of earning $250,000 solely using pickles he has obtained by dumpster diving – at no point do we actually see Herschel growing any of them himself. Although the biggest plausibility hole was surely the end where he manages to exchange identities with Ben and have Ben deported following a high-profile trial. Surely any court would demand proof of Ben's claims with things like DNA and fingerprints, especially when there is a known double floating around (which nobody, least of all Ben's defence team, actually seems to bother to go and check out)?
---
---