UK. 1963.
Crew
Director – John Krish, Screenplay – Rex Carlton, Story – Jeffrey Stone, Producer – Albert Fennell, Photography (b&w) – Reg Wyer, Music – Edward Williams, Art Direction – Harry Pottle. Production Company – Independent Artists.
Cast
John Neville (Dr Mark Davidson), Philip Stone (Professor John Lancaster), Gabriella Lundi (Julie Davidson), Patrick Newell (Major Clarke), Jean Marsh (Miss Ballard), Warren Mitchell (Professor Munro)
---
Plot
Dr Mark Davidson attains a new position at the Royal Institute of Space Research after his predecessor Professor Munro dies in mysterious circumstances. He overhears government investigator Major Clarke talking about how scientists from all over the world, who have been researching the ability to transmit matter via thought, have been similarly killed and that they believe it is an alien force at work. The department begins to question Davidson's wife Julie who he met on vacation in Switzerland only two months earlier but appears to have no record prior to this. Davidson and others begin to find increasingly stranger things about Julie – she sleeps with her eyes open, is observed picking up a hot oven dish with her bare hands, that tears burns her face – which suggest that she may be an alien.
---
British science-fiction gained a popularity during the 1950s. The British were slower to catch onto the alien invader fad than the Americans were, nevertheless produced a number of strong efforts. Following negligible earlier efforts such as Devil Girl from Mars (1954) and Stranger from Venus (1954), the works that shaped the genre were Hammer's Quatermass films – The Quatermass Xperiment (1955), Quatermass 2 (1957) and the later Quatermass and the Pit (1967) – themselves adapted from a popular series of tv serials. Others soon followed including the likes of X the Unknown (1956), The Trollenberg Terror/The Crawling Eye (1958), Village of the Damned (1960), The Earth Dies Screaming (1964), The Night Caller (1965), Invasion (1966), Night of the Big Heat (1967), They Came from Beyond Space (1967), The Body Stealers (1969) and on tv UFO (1970-1) and Doctor Who (1963-89), which seemed to feature England invaded by aliens about every second episode.
Unearthly Stranger is one of these British alien invasion films and has gained a minor reputation. The film opens on a particularly good atmosphere of paranoid tension (all shot in black-and-white as the most paranoid thrillers of this era and many of the abovementioned works were) with John Neville urgently recording a message into a tape machine and running through the streets of London. John Krish directs in striking contrasts between sweating faces and the background, or of John Neville outlined against a spiral staircase. This presages well for the film.
Unfortunately, the best directorial aspects of the film come in these opening moments. As soon as the film drops into flashback to show us the events leading up to this, the paranoid urgency of the opening is forgotten and it becomes dull and prosaic. Worse, the low-budget shows through and what we get is an alien invasion film that is mostly centred around a set of everyday offices that suggest little of the research centre where we are supposed to be (apart from a big photographic blow-up of the lunar surface placed on the wall of one office).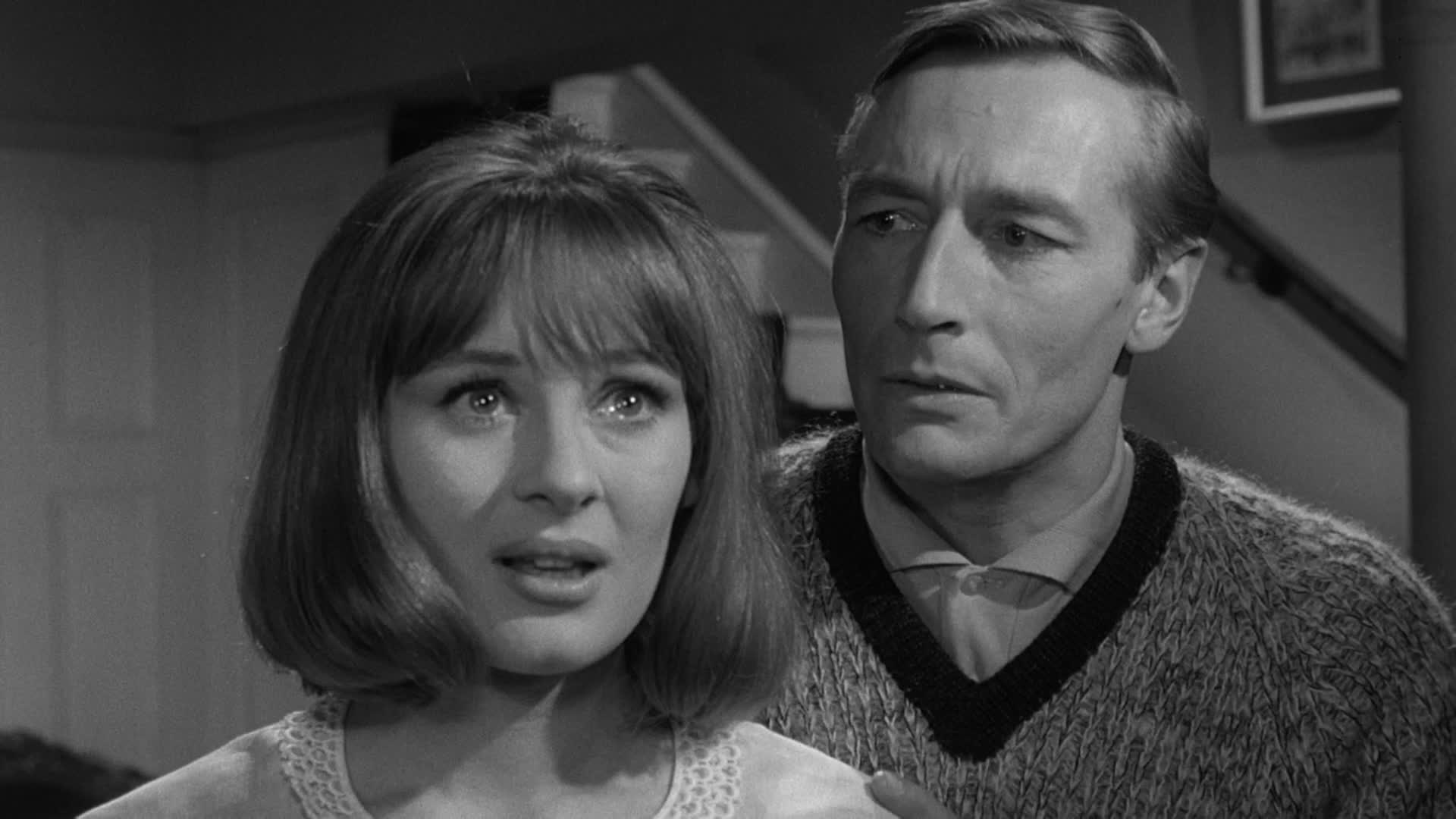 Despite this, the film achieves an atmosphere of unearthly alienness. There are the uncanny scenes where John Neville goes into the bedroom and finds Gabrielle Lundi sleeping with her eyes open. Or where colleague Philip Stone stays for dinner and wanders into the kitchen to see Gabrielle Lundi nonchalantly taking a casserole dish out of a hot oven with her bare hands. One of the most well-remembered scenes is where the wife's tears burn her skin but what most people do not remember is the fact that this is something only described to us, not depicted. You could compare Unearthly Stranger to the US body snatcher classic I Married a Monster from Outer Space (1958), which had a fairly similar plot but for the fact that the alien invaders were all men. The unusual spin Unearthly Stranger puts on it is that the central alien invader played by Gabriele Lundi is portrayed quite sympathetically and shown as emotionally wavering in her mission. The film does arrive at an effective ending with [PLOT SPOILERS] John Neville surrounded by a bunch of char women with scarves on their heads coldly looking down on him with the suggestion that the alien infiltration has reached every corner of society (and is apparently all-female in that we never see any male invaders).
Beyond these sporadic scenes, Unearthly Stranger works unevenly. John Neville plays the scientist hero. Being more familiar with Neville in his senior years in works like The Adventures of Baron Munchausen (1989) and tv's The X Files (1993-2002, 2016-8), it is unusual seeing him much younger here. Neville also has aristocratic features and diction, which tends to make him more suitable for roles as members of the British nobility or senior establishment figures and he seems miscast playing an average ordinary newlywed man. The plot is also one that does require him to be awfully thick – despite all the talk of alien infiltration and that his wife is behaving strangely, he fails to connect the dots and realise that she might be an alien until well towards the end of the film.
Unearthly Stranger was one of the early films of John Krish who never went on to do anything notable. Krish made several other films, perhaps the most famous of which was the non-genre comedy The Decline and Fall of a Birdwatcher (1968) and worked in television. Perhaps the most interesting names on the credits are those of producers Albert Fennell and Julian Wintle who worked together on the classic witchcraft film Night of the Eagle (1961) and soon after this joined the tv series The Avengers (1962-9).
---
---