---
Crew
Director – Lawrence Kasdan, Screenplay – Lawrence Kasdan & William Goldman, Based on the Novel by Stephen King, Producers – Lawrence Kasdan & Charles Okun, Photography – John Seale, Music – James Newton Howard, Visual Effects Supervisor – Stefan Fangmeier, Visual Effects – Asylum, Industrial Light and Magic & Pacific Title and Digital, Special Effects Supervisor – William H. Orr, Creature Effects Supervisor – Crash McCreery, Prosthetic Effects – Steve Johnson's XFX Inc, Production Design – Jon Hutman. Production Company – Castle Rock Entertainment/Village Roadshow/NPV Entertainment/Kasdan Pictures.
Cast
Thomas Jane (Dr Henry Devlin), Damian Lewis (Professor Gary Jones), Morgan Freeman (Colonel Abraham Curtis), Jason Lee (Jim 'Beaver' Clarendon), Timothy Olyphant (Pete Moore), Tom Sizemore (Captain Owen Underhill), Donnie Wahlberg (Douglas 'Duddits' Cavell), Eric Keenleyside (Rick McCarthy), Andrew Robb (Young Duddits), Mike Holekamp (Young Henry), Giacomo Baessato (Young Gary), Reece Thompson (Young Beaver), Joel Palmer (Young Pete), Darrin Klimek (Corporal Maples)
---
Plot
Four men who have been friends since childhood meet up together again for a weekend at a remote cabin in the wintry Maine woods. They come upon a man who is ill and try to help him. As they tend the man, his bowels explode as a creature forces its way out of his stomach. At the same time, the military under Colonel Abraham Curtis start rounding up all civilians and quarantining the area. Curtis heads a special covert unit that has been charged with stopping alien menaces and is ruthlessly determined to stop these parasitic creatures, which live by inhabiting host bodies. However, the creature from the dead man takes over the body of one of the friends Gary Jones. It escapes the military cordon and sets out toward the highway with the intent of infecting the rest of civilization. Jones, trapped inside his own body, and the other friends realize that the means to defeat the aliens may lie with Duddits, an intellectually handicapped boy they saved from bullies as children. Duddits somehow foresaw the alien threat and has left them each with different psychic abilities. At the same time, they must also contend with the crazed Curtis who is prepared to endanger innocent lives to destroy the alien menace.
---
Rob Reiner and his Castle Rock Entertainment production company have had a long association with Stephen King, something that has gone all the way back to Reiner's Stand By Me (1986), which is still probably the best film made from a Stephen King source work. Castle Rock is even named after a fictional town that appeared in a number of Stephen King's books. Reiner and Castle Rock went onto make King adaptations such as Misery (1990), Needful Things (1993), The Shawshank Redemption (1994), Dolores Claiborne (1995), The Green Mile (1999) and Hearts in Atlantis (2001), which are all some of the most celebrated Stephen King screen adaptations of the last decade.
In the director's chair is Oscar-winning screenwriter Lawrence Kasdan. Lawrence Kasdan is the writer/director of the celebrated likes of Body Heat (1981), The Big Chill (1983), Silverado (1985), The Accidental Tourist (1991), Grand Canyon (1991), Wyatt Earp (1995) and French Kiss (1995). Kasdan of course won his genre stripes by starting out as a screenwriter for hire for George Lucas, turning out the scripts for The Empire Strikes Back (1980), Raiders of the Lost Ark (1981) and Return of the Jedi (1983) and later returned to pen Star Wars Episode VII: The Force Awakens (2015) and Solo: A Star Wars Story (2018). Kasdan's solo work has developed a fine ability to draw out excellent performances from his cast, even in small parts, and comes with a welcome intelligence above the films of most of his peers. Body Heat, for instance, is one of the finest examples of a modern film noir. On Dreamcatcher, Kasdan is helped out by Oscar-winning screenwriter William Goldman, who was responsible for the scripts for Butch Cassidy and the Sundance Kid (1969), All the President's Men (1976), Marathon Man (1976), Rob Reiner's The Princess Bride (1987), as well as the aforementioned adaptations of Misery and Hearts in Atlantis.
Dreamcatcher met with a mixed audience response. Though he is the most popular novelist in the world, Stephen King is never an astoundingly original writer. His plots, if you strip them down to bald synopses, rarely ever read as more than B horror movies. The effectiveness of his writing comes all in the characterizations, the wry and witty prose and his understated twists of the plot. That is the problem with Dreamcatcher. Throughout the last three decades, Stephen King has travelled through most horror themes – the plot of Dreamcatcher is the occasion where he essentially revamped Alien (1979) and the genre of slithery-nasty-hunts-people plots. Grafted onto that is a backstory about four childhood friends coming to confront a menace in adulthood that Stephen King had visited before in It (1986) and of course the novella The Body (1982), which became the basis of Stand By Me. The story also features a character that is a variation on the psychically gifted intellectually handicapped boy/man that appeared in The Stand (1978).
All of this works far better in the original King novel. The film has essentially stripped it away to a handful of scenes, none of which gel together on the screen. What is missing is the entirely captivating second half of the book where King creates a suspenseful journey to stop the alien inhabiting Jonesy with multiple parties tracking each other across Maine using a telepathic connection, as all the while the alien begins to find itself becoming prey to the emotions and desires inside its human host. As much of this was dependent on being relayed by telepathy, shared thoughts and inner battles, it goes by the wayside in favour of the most overt and outward scenes.
On screen, the story seems ungainly – there is a standard-issue nasty alien menace that is awkwardly combined with a backstory about psychic powers. The film also visits the plague outbreak genre – in fact, Dreamcatcher is often similar to Outbreak (1995), which notedly also had Morgan Freeman playing a role not too different to the one he plays here.
William Goldman and Lawrence Kasdan's very faithfulness to the book ends up with some uneasy devices on screen. Stephen King is a master of the internal voice but the scenes with Damian Lewis arguing with himself in a British accent seem silly when transliterated to the screen. Other devices like the literal depiction of the metaphorical Memory Library seem oddly out of place in an otherwise straightforward horror story. Morgan Freeman's character is serviced by some sharp dialogue but is ultimately no more than a cliche out-of-control military officer – he seems to behave in a vacuum and we are given no insight into why he is going crazy, or how it is he and his people know so much about the aliens – the way Stephen King wrote the part, you are almost certain he had R. Lee Ermey in mind but Morgan Freeman seems too mellow and nice for such a dangerous role.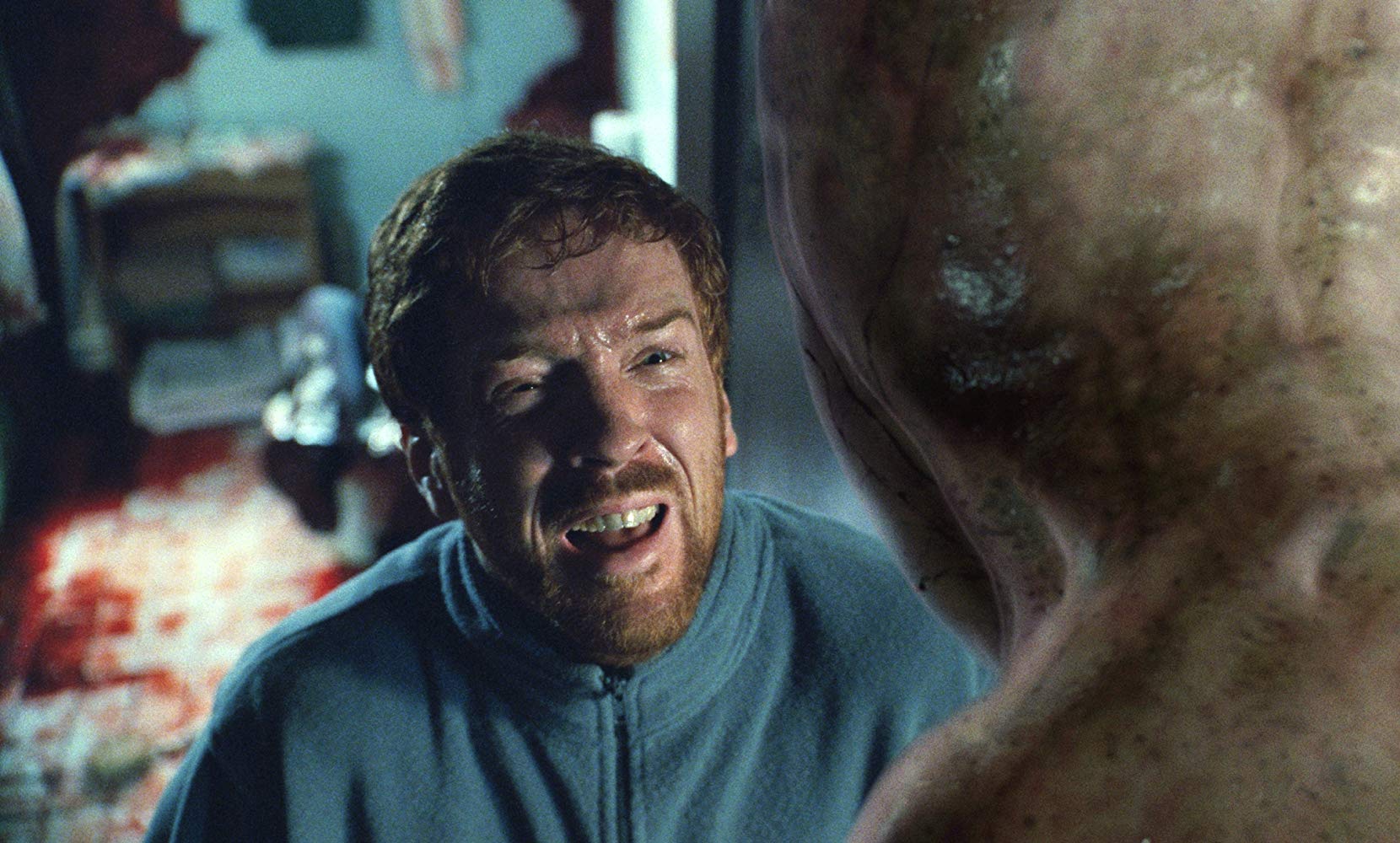 Dreamcatcher has certainly put together with an impressive technical flourish. There are some beautifully photographed snow-laden (British Columbia) exteriors, while Industrial Light and Magic deliver an impressive range of creature effects – in particular, the uncanny appearance of a grey alien to Damian Lewis. Lawrence Kasdan generates a fair degree of suspense in places but Dreamcatcher feels too expansive as a story with too many ungainly literary devices attached to it to come together as a whole.
Dreamcatcher has a surprising number of similarities to M. Night Shyamalan's Signs (2002), which was released seven months earlier. Both are films with ordinary people confronting the arrival of an alien menace in the countryside. In both Dreamcatcher and Signs, the eventual means of defeating the aliens is in the protagonist(s) realization that a supernatural force had somehow foreseen this confrontation and has left them with clues and abilities that they have to now draw together to defeat the alien. Both films in odd ways seem to reflect the moment in Star Wars (1977) where Luke Skywalker realizes that he needs to trust in the supernatural agency of The Force in order to destroy the Death Star. Dreamcatcher, for all its faults, tells the same story more credibly than M. Night Shyamalan did in Signs.
Other Stephen King genre adaptations include:- Carrie (1976), Salem's Lot (1979), The Shining (1980), Christine (1983), Cujo (1983), The Dead Zone (1983), Children of the Corn (1984), Firestarter (1984), Cat's Eye (1985), Silver Bullet (1985), The Running Man (1987), Pet Sematary (1989), Graveyard Shift (1990), It (tv mini-series, 1990), Misery (1990), a segment of Tales from the Darkside: The Movie (1990), Sometimes They Come Back (1991), The Lawnmower Man (1992), The Dark Half (1993), Needful Things (1993), The Tommyknockers (tv mini-series, 1993), The Stand (tv mini-series, 1994), The Langoliers (tv mini-series, 1995), The Mangler (1995), Thinner (1996), The Night Flier (1997), Quicksilver Highway (1997), The Shining (tv mini-series, 1997), Trucks (1997), Apt Pupil (1998), The Green Mile (1999), The Dead Zone (tv series, 2001-2), Hearts in Atlantis (2001), Carrie (tv mini-series, 2002), Riding the Bullet (2004), 'Salem's Lot (tv mini-series, 2004), Secret Window (2004), Desperation (tv mini-series, 2006), Nightmares & Dreamscapes: From the Stories of Stephen King (tv mini-series, 2006), 1408 (2007), The Mist (2007), Children of the Corn (2009), Everything's Eventual (2009), the tv series Haven (2010-5), Bag of Bones (tv mini-series, 2011), Carrie (2013), Under the Dome (tv series, 2013-5), Big Driver (2014), A Good Marriage (2014), Mercy (2014), Cell (2016), 11.22.63 (tv mini-series, 2016), The Dark Tower (2017), Gerald's Game (2017), It (2017), The Mist (tv series, 2017), Mr. Mercedes (tv series, 2017-9), 1922 (2017), Castle Rock (tv series, 2018-9), Doctor Sleep (2019), In the Tall Grass (2019), Pet Sematary (2019), The Outsider (tv series, 2020), The Stand (tv mini-series, 2020-1), Chapelwaite (tv series, 2021- ), Lisey's Story (tv mini-series, 2021), Firestarter (2022), Mr Harrigan's Phone (2022) and The Boogeyman (2023). Stephen King had also written a number of original screen works with Creepshow (1982), Golden Years (tv mini-series, 1991), Sleepwalkers (1992), Storm of the Century (tv mini-series, 1999), Rose Red (tv mini-series, 2002) and the tv series Kingdom Hospital (2004), as well as adapted his own works with the screenplays for Cat's Eye, Silver Bullet, Pet Sematary, The Stand, The Shining, Desperation, Children of the Corn 2009, A Good Marriage, Cell and Lisey's Story. King also directed one film with Maximum Overdrive (1986).
(Nominee for Best Cinematography and Best Makeup Effects at this site's Best of 2003 Awards).
---
---