---
USA. 1987.
Crew
Director – Steve De Jarnatt, Screenplay – Michael Almereyda, Story – Lloyd Fonveille, Producers – Caldecott Chubb & Edward R. Pressman, Photography – Jacques Haitkin, Music – Basil Pouledoris, Makeup – Greg Cannom, Production Design – John L. Moore. Production Company – Orion.
Cast
David Andrews (Sam Treadwell), Melanie Griffith (E. Johnson), Ben Johnson (Six-Fingered Jake), Tim Thomerson (Lester), Pamela Gidley (Cherry 2000), Harry Carey Jr (Snappy Tom), Cameron Miltzer (Ginger), Brion James (Stacey)
---
Plot
Executive Sam Treadwell's beloved Cherry 2000 sex robot short-circuits during a torrid embrace amid the soap suds on his kitchen floor. The Cherry 2000 is outmoded and Sam cannot find an adequate replacement. Heart-broken, his only recourse is a trip across the anarchic desert wasteland to the robot graveyard to find another body to house Cherry's memory chip. To make the peril-laden journey past the wasteland crazies he enlists the aid of female tracker E. Johnson. However, as he and Johnson are forced together on the journey, a mutual attraction grows.
---
For a film to spend two years on the shelves before getting a release usually signifies major problems, but Cherry 2000 is blissful proof to the contrary. While the title may sound like softcore porn, the film is actually a witty and original variant of the Mad Max 2 (1981) school. This was before the post-holocaust film was routinely resurrected for all sorts of kickboxing and killer cyborg wars in the late 80s/early 90s.
Director Steve De Jarnatt is not that interested in the action scenes – there is a novel sequence involving a shootout on top of a car being winched down a dam outlet pipe – but that is about it in the action department. Instead, De Jarnatt brings an offbeat and off-the-wall sense of humour that quite defies description. The film holds a witty satire on 80s consumer commodification – where a sex robot is preferred to the real thing and a one-night stand requires both parties to sign a contract in front of a lawyer. The wasteland crazies are not psychotic gay bikers but are a parody of California swingers who all mouth banal togetherness homilies. There are all manner of throwaway gags – Robby the Robot and Gort make appearances in the background of the robot factory, for instance – and the film is peppered with a number of eccentrically memorable one-liners.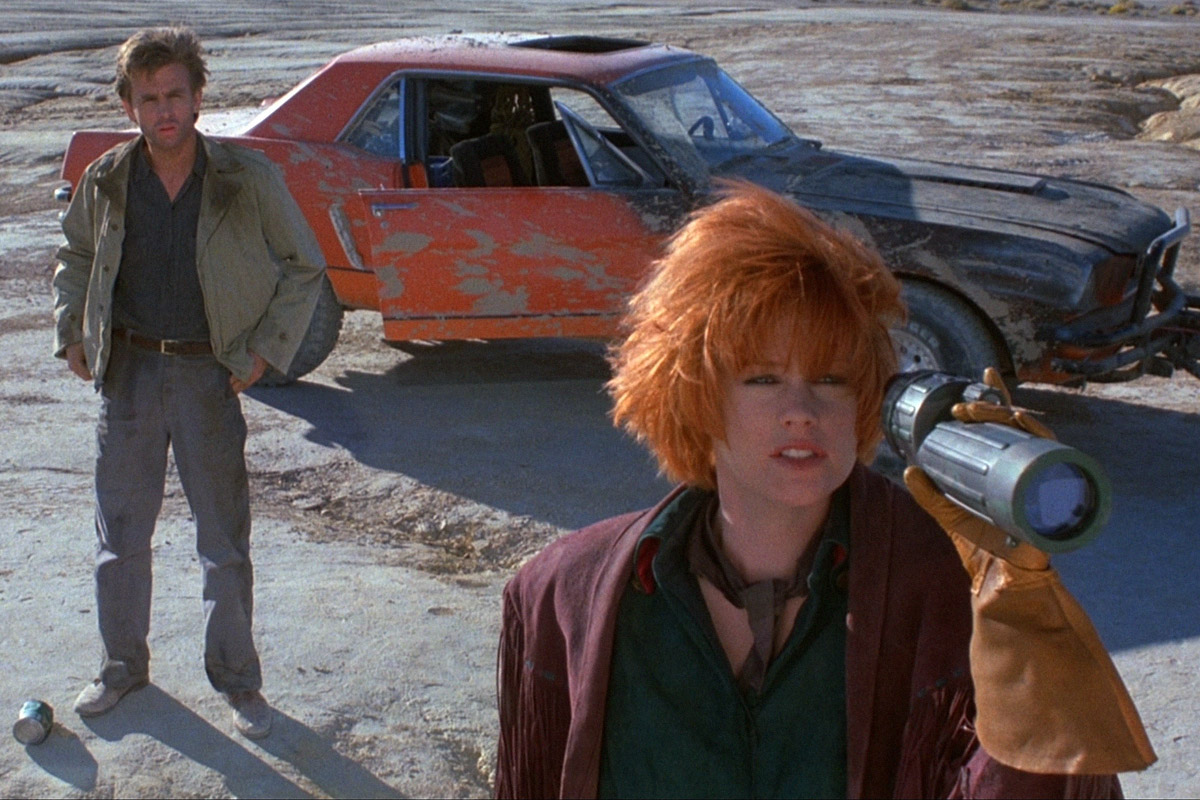 The centre of the film belongs to Melanie Griffith. This was before Griffith drifted into mainstream comedy and still had an edge that made what she did worth paying attention to. She steals the show with her kewpie doll punkette performance in russet-dyed hair, khakis and silky, china-doll voice. Hers and David Andrews's relationship becomes a post-holocaust variation on Bogart and Hepburn in The African Queen (1952), and its charm, along with the quirkily askew sense of humour, makes the film. On the other hand, David Andrews is colourless in his part up against her. Tim Thomerson also does a marvellous job with the psychopathically funny Lester, getting some of the best lines – "Tell the girls to make some sandwiches," indeed.
Cherry 2000 never quite established the cult reputation it seemed eminently capable of doing, largely due to poor release by a distributor that had little faith in it. It has considerable charms.
Director Steve De Jarnett went on to make the worthwhile offbeat nuclear holocaust drama Miracle Mile (1988) but despite the promise showed in both films subsequently vanished as a director with the exception of various episodes of tv series such as American Gothic, ER and Kindred: The Embraced and the tv movie Futuresport (1998), as well as directing episodes of numerous tv series. Screenwriter Michael Almereyda made his own debut as a director with the cultish vampire film Nadja (1994).
---
Trailer here
---