---
USA. 1990.
Crew
Director – Irvin Kershner, Screenplay – Walon Green & Frank Miller, Story – Frank Miller, Producer – Jon Davidson, Photography – Mark Irwin, Music – Leonard Rosenman, Photographic Effects – VCE, Inc. (Supervisor – Peter Kuran), Stop Motion Animation – Phil Tippett, Special Effects – William Greg Curtis & Dale Martin, Robocop Designed and Created by Rob Bottin, Stephen DuPuis & Chris Walas, Production Design – Peter Jamison, Robot Design – Craig Davies. Production Company – Tobor Pictures.
Cast
Peter Weller (Robocop/Alex Murphy), Nancy Allen (Ann Lewis), Belinda Bauer (Dr Juliette Faxx), Gabriel Damon (Hob), Daniel O'Herlihy (The Old Man), Tom Noonan (Cain), Willard Pugh (Mayor Marv Kuzak), Felton Perry (Donald Johnson), Galyn Görg (Angie), Stephen Lee (Officer Duffy), John Doolittle (Schenk), Angie Bolling (Ellen Murphy)
---
Plot
The police department of Detroit City has gone on strike over unpaid wages. This is part of OCP Corporation's plans to demand payment of an outstanding $39 million bill for the police services it provides in a calculated attempt to bring the city to the point of bankruptcy so that it can then foreclose. The police strike has resulted in rampant lawlessness on the streets. The only officer still in action is Robocop who is seeking to combat the rise of the highly addictive drug Nuke. Murphy is haunted by memories of his wife but she then brings legal action to stop him following her. Robocop is considered obsolete and OCP seek to introduce Robocop 2, a giant lethally armed and armoured successor. Dr Juliette Faxx conducts a public poll on what is wanted in Robocop and then uses this to deliberately program him with absurd and conflicting orders that cause a mental breakdown. Meanwhile, OCP launch Robocop 2 built with the brain of a drug lord killed by Robocop, but this proves to unstable and goes amok.
---
RoboCop (1987) was a reasonable hit when it came out. Its mixture of story about a man inside a machine body struggling to find his humanity against corporate control, the deft employment of Cyberpunk tropes and director Paul Verhoeven's pungent social satire and characteristic ultra-violence added up to a hit with audiences. RoboCop 2 was the first of two film sequels. RoboCop 2 was disliked greatly by fans of the original when it came out, although this author begs consideration otherwise as a sequel than stands up well to its predecessor and even does some of the things better.
This time the producers have sought the script input of comic-book writer Frank Miller. In 1990, Miller had just emerged on the scene, having conducted some acclaimed work on revising Marvel's Daredevil in the early 1980s and then moved over to DC to write The Dark Knight Returns (1986), which became the most influential graphic novel of the decade and created the modern dark angst-ridden superhero. Ahead for Frank Miller would be cult independent titles like Give Me Liberty (1990), Hard-Boiled (1990), Sin City (1991-2), Big Guy and Rusty the Robot (1996) and 300 (1998). Film adaptations of these – Sin City (2005), 300 (2007), Batman: Year One (2011), Batman: The Dark Knight Returns Part I (2012), Batman: The Dark Knight Returns Part II (2013) and Sin City: A Dame to Kill For (2014) – later gained Miller a widespread name, even the director's chair of the big screen adaptation of The Spirit (2008).
Miller co-writes RoboCop 2 with Walon Green, screenwriter of The Wild Bunch (1969), Sorcerer (1977), Eraser (1996) and Dinosaur (2000), the director of a number of nature documentaries including the insect takeover film The Hellstrom Chronicle (1971), as well as a tv producer/writer on Hill Street Blues (1981-7), ER (1996-2009) and various incarnations of Law and Order.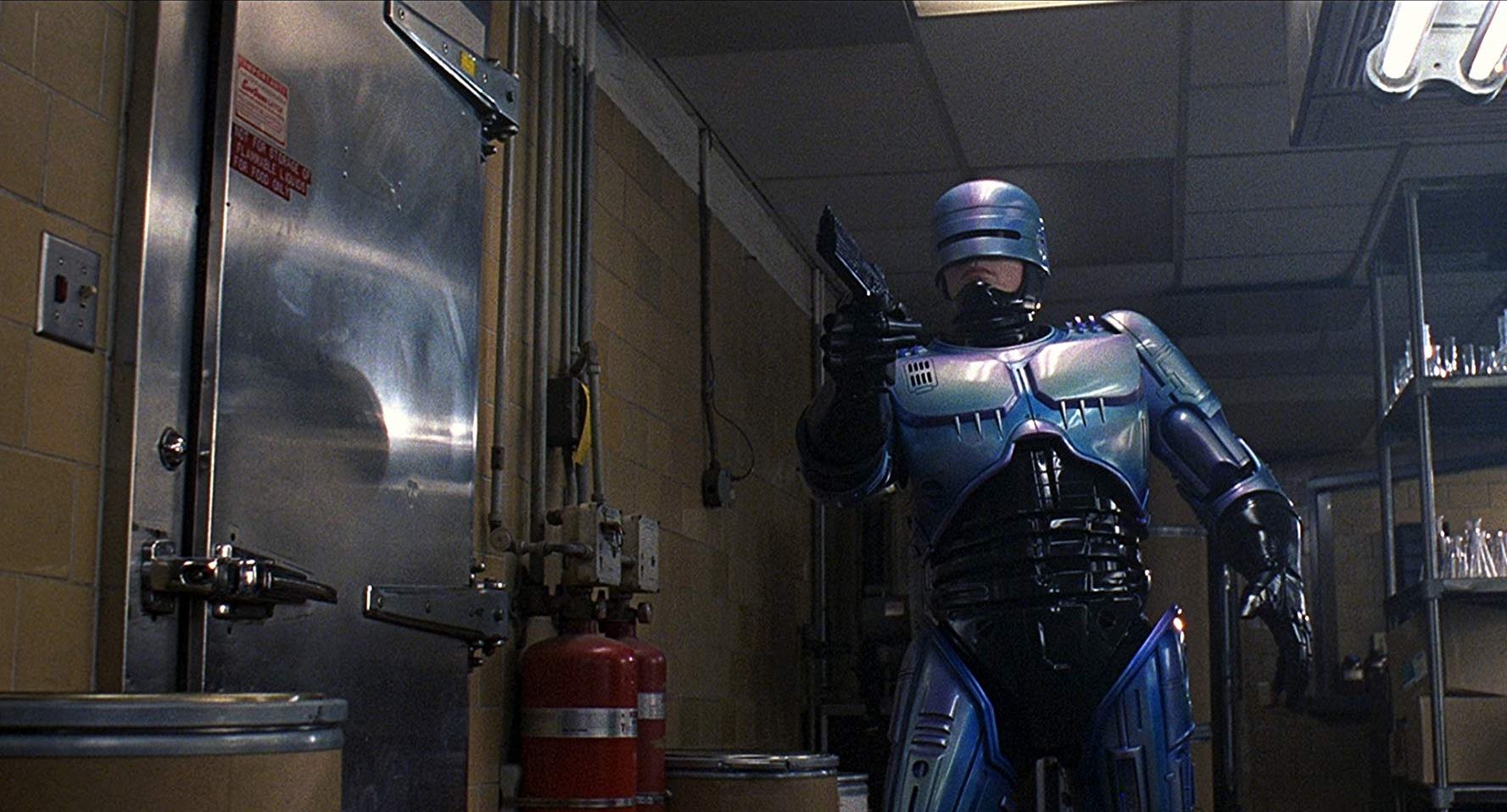 Miller was not happy with production interference on his script and swore off movie work for many years, such that it required considerable persuasion by the respective directors to allow his graphic novels to be filmed in the 00s. His original RoboCop 2 script gained legend and he later allowed it to be adapted in graphic novel form as Frank Miller's Robocop (2003-6).
Irvin Kershner was a director who had emerged in the 1950s and made a variety of dramas such as The Luck of Ginger Coffey (1964), A Fine Madness (1966), The Flim-Flam Man (1967), Up the Sandbox (1972), S.P.Y.S. (1974) and The Return of a Man Called Horse (1976). Irvin Kershner's first brush with genre filmmaking came with the clairvoyance thriller Eyes of Laura Mars (1978) from an early John Carpenter script. Kershner gained a huge boost to his career when George Lucas sought him out as the director of The Empire Strikes Back (1980), which became the most successful sequel in history. Kershner subsequently went onto make the James Bond film Never Say Never Again (1983) and RoboCop 2. Though the last three of these showed Kershner with a fine grasp of the mechanics of big-budget genre filmmaking, he announced his retirement in the mid-1990s at the age of 70, only briefly returning as producer of the psycho-thriller American Perfekt (1997) before his death in 2010.
Despite Frank Miller's unhappiness with the finished product, enough of his material remains to make RoboCop 2 well worthwhile. The script for the first RoboCop was intended as a satire of 1980s corporate economics but Frank Miller's script travels far beyond that. Miller wields the idea of a private enterprise police force that the first film didn't quite know what to do with with considerably more conviction, while darkly escalating the satiric vision. The evil corporation plots a foreclosure on the city – in one wonderful scene, Mayor Willard Pugh is reduced to holding a telethon to raise the money to pay for the police bill and in a moment of cheerful arrogance Gabriel Damon's pre-adolescent drug kingpin steps in offering to pick up the tab. Some of the funniest scenes are when Belinda Bauer sets up a citizen's committee to ask advice on how they can improve Robocop. Most of all, the film gets into an exploration of Robocop's humanity – aided by Peter Weller's affecting performance, one feels for Murphy through the cold-blooded legal debates dismissing him as 'property' and ordering his feelings deprogrammed, or the scene where he insists to his wife that Murphy is dead and he is only a machine.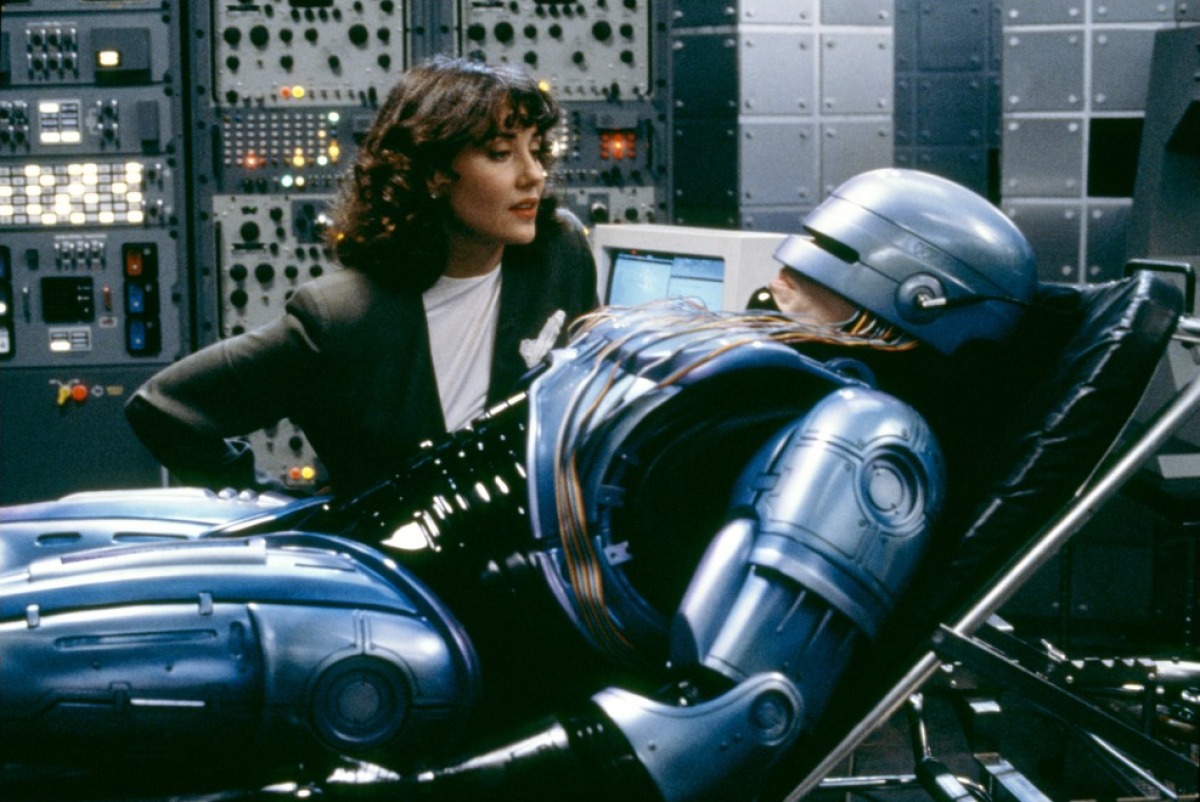 Trimmed of Paul Verhoeven's campier excesses, RoboCop 2 is a darker, leaner vision. The jokey satire is still there – like an opening commercial for a car that electrocutes anyone who tries to steal it. Particularly amusing is a tv ad for Sunblock 5000, which comes replete with a warning from the Surgeon General that prolonged sunbathing can cause cancer: "They say that two minutes in the California sunshine is too much these days after we lost the ozone layer. But that was before there was Sunblock 5000. Just apply a pint to your body, and you're good for hours," says the bikinied babe coating herself from head-to-toe in blue-and-green lotion.
Irvin Kershner marshals an impressive array of artillery – one scene where a gang demobilise Robocop with an electro-magnet and then start dismantling him with buzzsaws and jackhammers is pretty funny. Robocop 2, presented as a giant stop-motion animated Transformer, is an formidable piece of hardware – Kershner even creates an affecting pathos for it in one moment where it encounters former girlfriend Galyn Görg, and she touches hand to armoured pincer before it rips her head off. The climactic battle between the two Robocops is a magnificently staged and still holds up well today, especially when one remembers it was conducted before the prevalence of CGI effects.
There are good performances – particularly from Belinda Bauer in a sexily villainous turn where she steals much of the show. Tom Noonan gives a weirdly messianic performance as the drug kingpin Cain where he, as always, plays like an alien trapped in human skin. The film's most adventurous creation is that of the sublimely confident adolescent crime kingpin Hob played by Gabriel Damon.
The RoboCop saga was continued with the terrible RoboCop 3 (1993) where Peter Weller was replaced by Robert Burke. RoboCop (2014) was a cinematic remake of the original starring Joel Kinnaman. RoboCop was later expanded into a disappointing tv series RoboCop (1994-5) starring Richard Eden in the title role, which lasted for 23 episodes. RoboCop: Prime Directives (2000) was a six-hour tv mini-series sequel, starring Page Fletcher. There were also several animated tv spinoffs – RoboCop (1988-9), which lasted for twelve episodes, and RoboCop: Alpha Commando (1998-9), which lasted for 40 episodes.
---
---