USA. 1987.
Crew
Director – Lance Hool, Screenplay – Doug Lefler, Producers – Lance Hool & Conrad Hool, Photography – George Tirl, Music – Brian May, Special Effects – Joe Quilavin, Production Design – Alex Tavoularis. Production Company – Silver Lion/Yellowpane Ltd.
Cast
Patrick Swayze (Nomad), Lisa Niemi (Karsha), Brion James (Tark), Anthony Zerbe (Damnil), Christopher Neame (Sito), Brett Hool (Jux), John Fujioka (Cord)
---
Plot
A nomadic martial-arts warrior wanders the post-holocaust landscape. He comes to an agricultural farming station where the owner Karsha offers him a job and lodgings. He and Karsha later become lovers. She shows him her secret – an underground reservoir of much-needed water. However, the land baron Damnil comes, wanting to obtain Karsha's land and employing heavies to force her to surrender the property. It is up to the nomad to become the lone defender of Karsha's farm.
---
Patrick Swayze was for a brief time in the 1980s considered a major star. Indeed, Steel Dawn, which was released to video, came out the same year as Swayze's runaway hit Dirty Dancing (1987). Excepting for the massive hit of Ghost (1990), Patrick Swayze thereafter vanished in a series of formula guy films like Next of Kin (1989), Roadhouse (1989) and Point Break (1991). Swayze's lack of acting ability was widely ridiculed and he clearly lacked the range to do anything else and by the end of the 1990s and up until his death in 2009 he was drifting around family fare and tv roles.
Steel Dawn was one of numerous copies of Mad Max 2 (1981) that came out during the 1980s. Most Mad Max copies were happy to borrow from other genres, including the kung fu and samurai film and the Western. Indeed, Mad Max 2 was a Western at heart – with mohawked bikers for Indians, custom cars for horses, a small enclave of remaining civilisation in place of peaceful smalltown ranchers, the post-holocaust landscape for the American frontier and so on. Steel Dawn makes the transplanted Western idea overt – the plot is essentially a reworking of Shane (1953), which featured Alan Ladd as a gunslinger who tries to settle down only to find himself caught in a conflict between a ruthless land baron and peaceful settlers.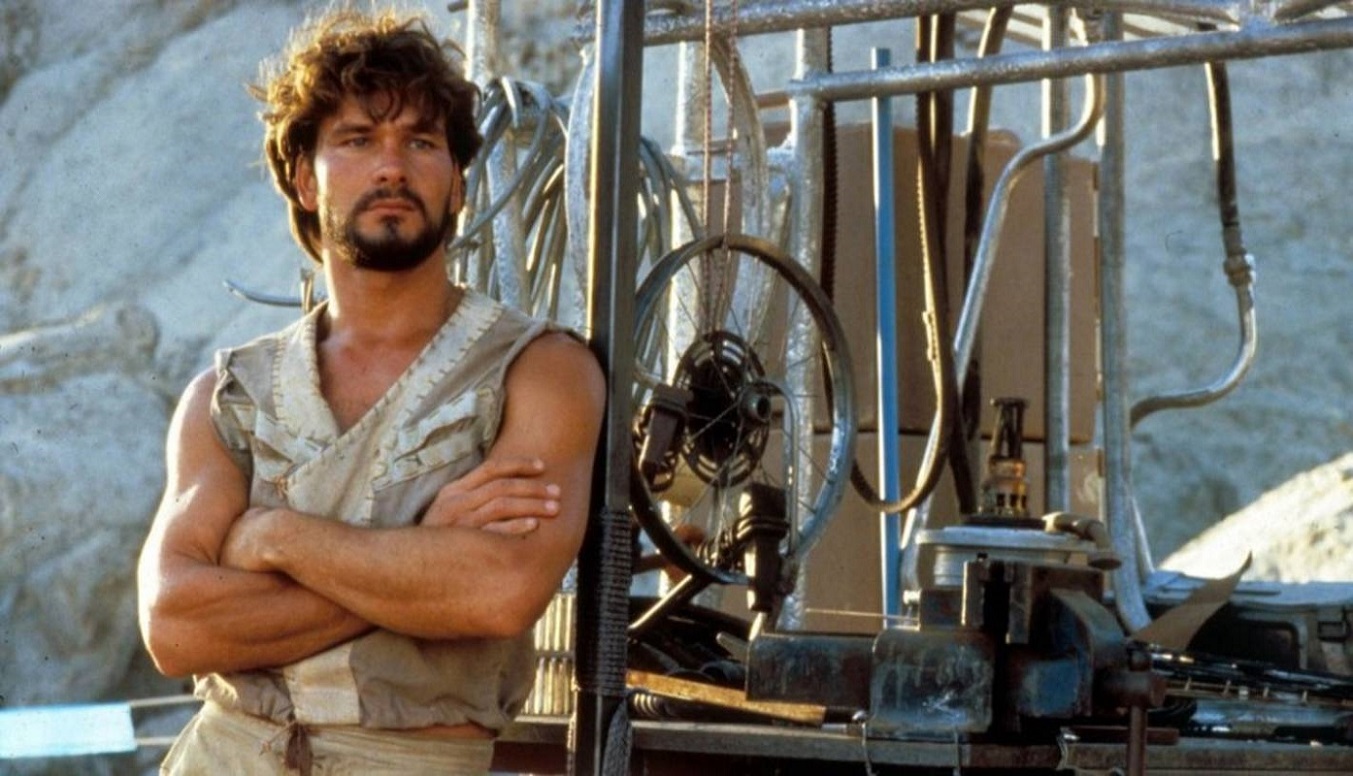 Steel Dawn has attained some incredibly bad reviews, although it is not entirely bad. It lets the clichés recur with an undemanding familiarity. Though the fight scenes are somewhat overdone, they do contain a sufficiently meaty punch. Steel Dawn was shot on location in Namibia. The most striking thing about the film are the beautiful desert sunsets and sand formations and the evocative post-holocaust images – of ships stranded in the desert and long trails of abandoned railway crossbars that run to the horizon.
Patrick Swayze's silent mien and limited expressiveness is passably well suited to the literally Man with No Name persona as perfected by Clint Eastwood. Anthony Zerbe and Christopher Neame do adequately in one-dimensional villain roles. Lisa Niemi, the love interest of the film, was Patrick Swayze's wife in real life. One can also spot Arnold Vosloo of The Mummy (1999) fame in a minor role as a thug.
Steel Dawn director Lance Hool is better known as a producer. He first appeared as producer of various Charles Bronson vehicles – 10 to Midnight (1983) and The Evil That Men Do (1984) – and Chuck Norris's Missing in Action (1984), before making his directorial debut with Missing in Action 2: The Beginning (1985). Lance Hool would only make three films as director and subsequently went onto produce films like The Air Up There (1994), Gunmen (1994), Flipper (1996), Crocodile Dundee in Los Angeles (2001) and Man on Fire (2004).
---
Trailer here
---