---
Crew
Director – Dan Bush, Screenplay – Dan Bush & Conal Byrne, Producers – Dan Bush, Conal Byrne & Josh Wilcox, Photography – Victoria K. Warren, Music – Ben Lovett, Visual Effects – Chris Nalesnik, Special Effects – Jessee J. Clarkson, Makeup Effects – Jessee J. Clarkson & Matt Green, Production Design – Jessica Joan Pinkstone. Production Company – Hivemind Media.
Cast
April Billingsley (Sybil Warren), Kelsey Scott (Dr Deluce), Conal Byrne (David Holyfield), John Curran (David Holyfield), Rhoda Griffis (Rose Holyfield), Jill Jane Clements (Katherine Warren), Bernard Setaro Clark (Dr Morales), Clementine June Sengstack (Young Sibyl), Blair Hillman (Girl in the Purple Coat)
---
Plot
Dr Deluce interviews Sybil Warren, a patient in the psychiatric institution where she works. Sybil insists there is nothing wrong with her and that her baby has been snatched by a secret society. Deluce listens as Sybil tells the story of how she was abandoned as an infant but was taken in and raised by social worker Katherine Warren. After Katherine's death, Sibyl met David Holyfield at the funeral and slept with him. This unexpectedly turned into a relationship and Sibyl then found she was pregnant. Sybil also told David that she could read people's thoughts and demonstrated her ability to him. He was reluctant to take her to meet his parents but eventually did. However, once there, Sibyl was drugged by them and her baby surgically removed. Dr Deluce persists with an alternate story – that Sibyl's child died in childbirth and that there is no evidence of the existence of David or his family.
---
Dan Bush is a director who may not instantly come to the tip of the tongue. A few years earlier, Bush was one of the three directors who made the fine mass insanity outbreak film The Signal (2007). Bush also contributed to the multi-director Fight Fuck Pray (2008) and solo directed the SF film The Resurrection of William Zero (2014) and The Vault (2017) about bank robbers discovering something supernatural in the midst of a bank robbery. Bush co-writes and produces the film with Conal Byrne who plays the role of the David Holyfield, the man who seduces April Billingsley during the course of the show.
The Dark Red starts off extremely well. There is April Billingsley who is an inmate in an asylum and Kelsey Scott is the psychiatrist sent to assess her. The film becomes captivating in the contrast between Kelsey Scott's patient but detached professionalism and April Billingsley's insistence that there is nothing wrong with her and that her baby has been snatched. Billingsley is a strong and intelligent performer. You are drawn to her in just the way she carefully phrases things and the dance of words between her and the doctor.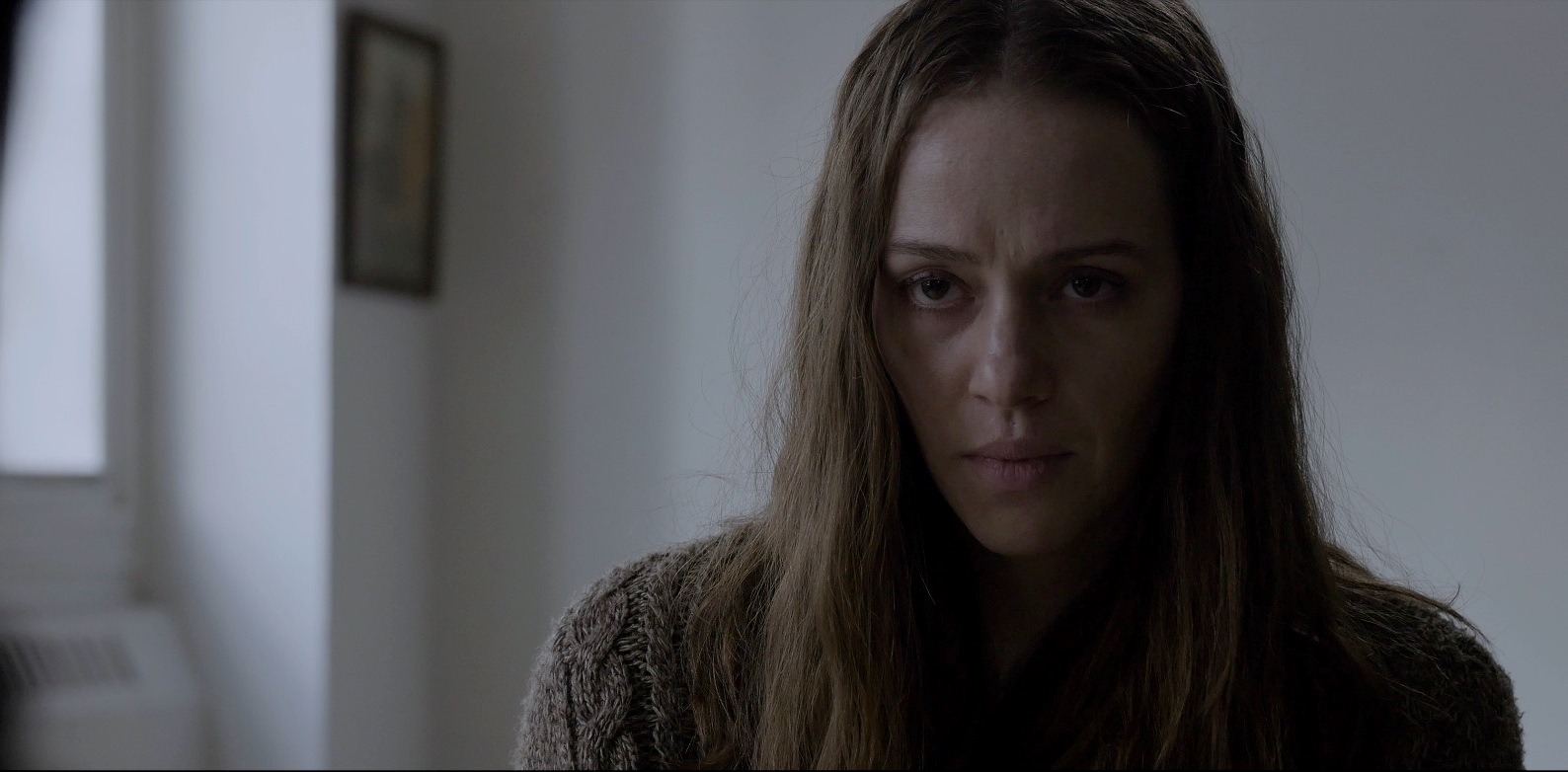 This continues as the film moves into the flashbacks. April Billingsley's performance gives a great intimacy to the scenes between her and Conal Byrne as we watch the two of them get together and this seguing into a relationship. Then comes the intriguing scene – some way into the film – where she starts talking about having powers and demonstrates this by reading the mind of a girl on the train (Blair Hillman), finding she is pregnant but unsure which man is the father. The girl's uncomfortable response when Conal Byrne approaches her says all there needs to be in confirmation. We are intrigued as up to that point the film had seemed to be a straight story that hung around the question of whether April was a paranoid delusional or was sane whereas this psychic powers element takes things off at a completely different tangent.
On the basis of these scenes, I was expecting The Dark Red to go in amazing places. However, from about the point of the flashback where April Billingsley's baby is forcibly removed, the film loses its impetus. These sections are taken up by long scenes with April escaping from confinement and plotting her revenge. These scenes are okay in themselves but they take away the one thing that the film does extremely well – namely, allowing April Billingsley to act. These are action/thriller oriented scenes where she is merely reacting rather than performing. These scenes are okay but they lack the great sense of ambiguity and mystery that the initial scenes did. Even the intriguing psychic powers angle ends up being underplayed.
---
---