(La Mort en Direct)
---
France/West Germany. 1980.
Crew
Director – Bertrand Tavernier, Screenplay – Bertrand Tavernier & David Rayfiel, Based on the Novel The Continuous Katherine Mortenhoe/The Unsleeping Eye by D.G. Compton, Producers – Bertrand Tavernier, Gabriel Boustari & Janine Ruberz, Photography – Pierre-William Glenn, Music – Antoine Duhamel, Production Design – Tony Pratt. Production Company – Setta Films/Little Bear/Antenne 2/Sara Films/Gaumont/SFP-TV13
Cast
Romy Schneider (Katherine Mortenhoe), Harvey Keitel (Roddy), Harry Dean Stanton (Vincent Ferriman), Max Von Sydow (Gerald Mortenhoe), Therese Liotard (Tracey)
---
Plot
In a future where all illness has been abolished, Katherine Mortenhoe, an author of computer-written romantic novels, is diagnosed with a terminally incurable illness. She immediately becomes the subject of curiosity with all the television networks wanting to buy the exclusive rights to her death. Running away from the cameras and curiosity seekers, she heads to a remote area of countryside. She is helped by Roddy, a man she meets, and comes to fall in love with him. Unbeknown to her, Roddy is really a tv reporter with cameras secretly built into his eyes, and her condition only a hoax created by the tv networks as a ratings gimmick.
---
Deathwatch comes from Bertrand Tavernier, the acclaimed French director who would later go onto arthouse hits likes of Sunday in the Country (1984), Round Midnight (1986), Daddie Nostalgie (1990) and Capitaine Conan (1996). Tavernier takes the film from the novel The Continuous Katherine Mortenhoe (1974) by British science-fiction author D.G. Compton, himself an equally quiet and understated writer.
The film concerns itself with television and media sensationalism and eventually becomes a haunting meditation on the voyeurism of the medium. It is an all-too-rare example of screen science-fiction as introspective drama rather intergalactic action adventure. There are great images in the film that Tavernier derives from character affect rather than hardware – like the moment where Harvey Keitel damages his camera eyes and goes blind and Romy Schneider realises the truth of the situation, or her haunting death scenes. Tavernier crafts some beautifully poetic character touches – Romy Schneider and her striking little fairy-tales, Harvey Keitel who can only see beauty in the things he has photographed, and an appropriately gracious Max Von Sydow sitting in cultured comfort in his garden retreat.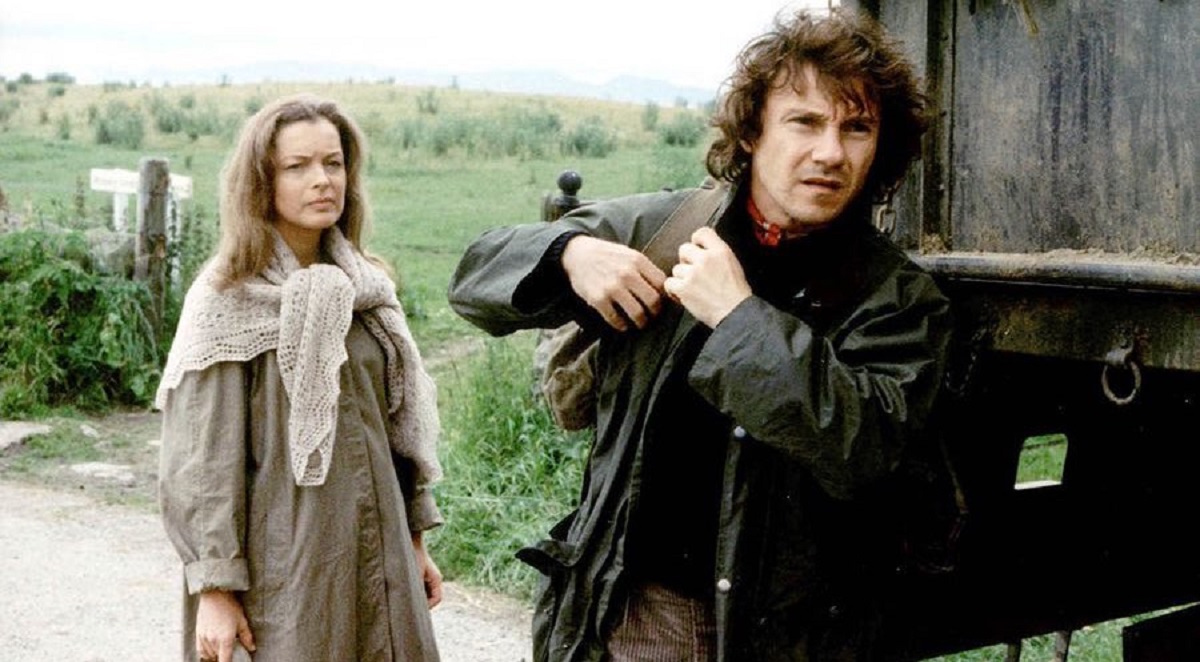 At other times though, Deathwatch remains frustratingly mundane, dogged as it is simply by its Frenchness. In French cinema, there exists an annoying pseudo-intellectualism, of characters as philosophical mouthpieces, a love of junk culture trivia and of casual inconsequential character colloquy – and Tavernier is as guilty as any of his countrymen. The initial zing of the story peters out amid much in the way of rambling mundanities in the latter half. One sneakingly suspects that had the film had an English-language director much of this would have trimmed and tightened for the better.
The film was shot in Glasgow. The photography has been deliberately washed-out with the intent of achieving the drabbest colour toning possible and nothing has been done to identify the surroundings as anything other contemporary. It is an interesting example of minimalist science-fiction. Indeed, the themes the film raises are ones that have only become more potent since it was released. Many of the film's ideas were later borrowed by The Truman Show (1998).
---
---