(Les Maitres du Temps)
---
France/West Germany/Switzerland/UK. 1982.
Crew
Director – Rene Laloux, Screenplay – Rene Laloux & Moebius, Dialogue – Jean-Patrick Manchette, Based on the Novel The Orphans of Perdide by Stefan Wul, Producers – Jacques Dercourt & Roland Gritti, Music – Jean-Pierre Bourtayre, Pierre Tardy & Christian Zanesi, Animation Director – Tibor Hernadi, Visual Designs – Moebius. Production Company – Telecip/TFI Films Production/Westdeutscher Rundfunk/Sudwestfunk/Radio Television Suisse Romande/British Broadcasting Corporation/Pannonia Filmstudio/Hungarofilm.
---
Plot
Claude and his young son Piel have crashlanded on the planet Perdide, during which Claude's wife was killed. Claude is in the process of placing a distress call to ask his friend the space captain Jaffar for help when their surface transport crashes. Before he dies, Claude gives Piel the communicator, telling him it will be his friend Mike. As Piel travels across the alien terrain, the call is answered by Jaffar. Jaffar is currently transporting Matton, a prince who has absconded with his planet's treasure seeking to finance a revolution, and Matton's sister Belle. Jaffar diverts to Perdide, staying in communication with Piel via Mike to guide him and make sure he does not fall into trouble. The journey to Perdide will take a month and requires them to first divert to take on board the old-timer Silbad, along with two telepathic alien stowaways. However, the journey there also places them through a series of perils that endanger the outcome.
---
French animator Rene Laloux (1929-2004) emerged in the 1960s with surreal shorts such as Les Temps Morts (Dead Times) (1964), a satire about death in culture, and Les Escargots (The Snails) (1965) about an invasion of giant snails. He gained a good deal of cult word of mouth with the surreal science-fiction film Fantastic Planet (1973).
Despite that film's success, Laloux's subsequent output was very sporadic. The Time Masters was only his second feature film and was not widely distributed – it did not appear to have any theatrical screenings in the US, for instance, and was not available in English language until dvd releases a good two decades later. Laloux would only go on to make one other film with Gandahar (1988), which was more successful, being taken over by Harvey Weinstein for a US release under the title Light Years with an English-language script by Isaac Asimov. Apart from two other short films in the 1980s, these three films were the sole creative output from Laloux during his lifetime.
Laloux has based The Time Masters on a 1958 novel by Stefan Wul, the French science-fiction author who also provided the book that was the basis of Fantastic Planet. The real artistic influence on The Time Masters though is Moebius, who co-writes the script with Laloux and provides the visual designs.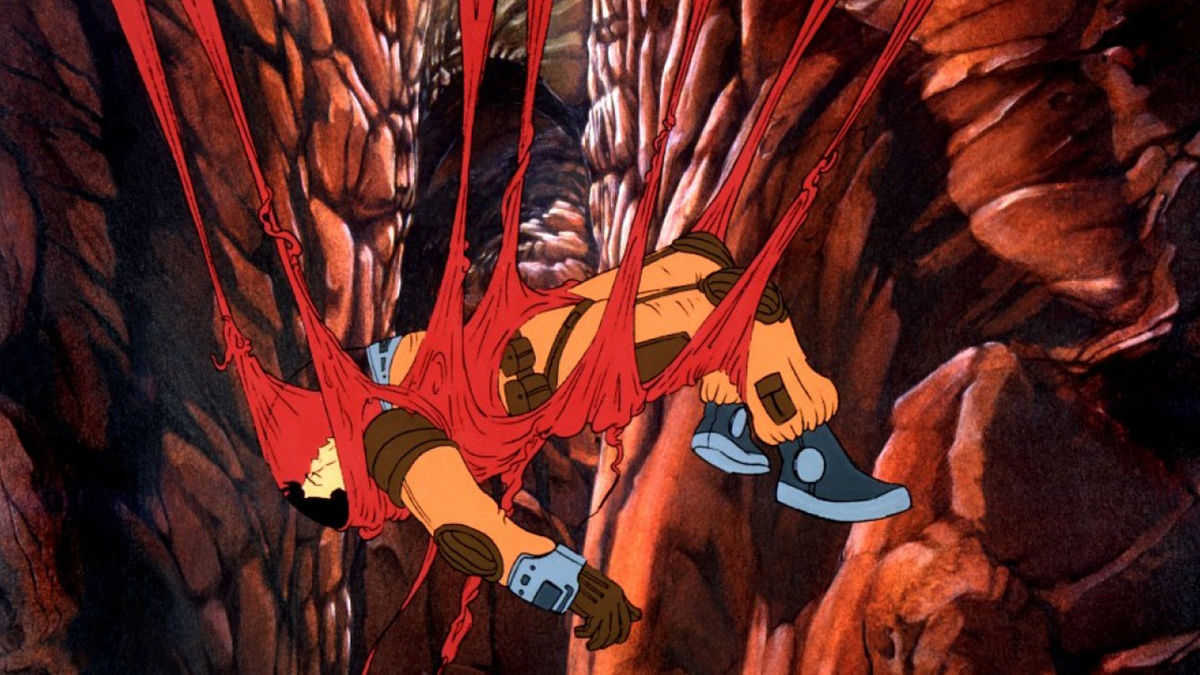 Moebius, or Jean Giraud (1938-2012) to give him his real name, was a French comic-book artist who developed a considerable cult following. Giraud is known as one of the co-creators of Metal Hurlant magazine in 1974, which was reprinted in English as Heavy Metal and inspired the film Heavy Metal (1981). At Metal Hurlant and later as an independent, Giraud produced famous works like Arzach and co-created The Incal with Alejandro Jodorowsky. His design work was employed on films such as Alien (1979), Tron (1982), Space Jam (1996) and The Fifth Element (1997), while he was also involved in Jodorowsky's famous aborted Dune project – see Jodorowsky's Dune (2013) for details – and wrote the story for the animated Little Nemo: Adventures in Slumberland (1989).
The presence of Moebius makes a very different film for Rene Laloux. Contrast the look of Fantastic Planet, which has been drawn from the surrealist short films that Laloux was making in the 1960s, and The Time Masters, where the clear influence is the trippy science-fictional vistas of Metal Hurlant and the artists that came out of that movement. Even more so, Fantastic Planet was a strange planetary fable, while The Time Masters far more confidently works as a space opera made with a full knowledge of science-fictional tropes, devices and designs.
Rene Laloux and Moebius working together results in a work of enormous visual pleasures. The film is filled with images like forests of giant lit bulbs; the travellers sitting on a balcony before an orange sunset to watch as giant lilies give birth to small creatures; the array of strange animals that inhabit Perdide, including a species of friendly camel-like creatures that adopt Piel and a bird/kangaroo creature that sits on Mike, believing it to be an egg; the visit to a gestalt planet where a giant alien brain controls an army that look like angels all in white but with faces that lack any features.
Some of Laloux's films have a tendency to work more as a rapturous display of visuals and less so when it comes to story. This is not the case here. The relationship between the spaceship crew and the young stranded boy, all conducted via the communicator named Mike, is an unexpectedly tender one (even when you are watching through the added layer of having to read everything in subtitles).It is also the supporting creatures that end up stealing the film – in particular, the two characters Jad and Yula, referred to as 'gnomes', who are able to read thoughts and are constantly trying to intervene to make the situation better usually with comically haphazard results.
The climax of the film goes in oddly different directions to what you expect. The build-up of the film is as a standard space opera/planetary adventure that you expect to end with the rescue of Piel but instead the film doglegs off into something left field and then an unexpected twist revelation. One of the things you anticipate with a title like The Time Masters is a film about time travel but this only occurs at the very end. Not nearly enough is done to explain who the titular Time Masters are to make the ending fully satisfactory in terms of dramatic closure but the space funeral the film goes out with is a tender one.
---
---