(Meandre)
---
Crew
Director/Screenplay – Mathieu Turi, Producers – Julien Deris, David Gauquie, Eric Gendarme, Sandra Karim, Thomas Lubeau, Marc Olla & Jordan Sarralie, Photography – Alain Duplantier, Music – Frederic Poirier, Visual Effects Supervisor – Laurens Ehrmann, Visual Effects – The Yard, Makeup Effects Supervisor – Jean-Christophe Spadaccini, Production Design – Thierry Jaulin. Production Company – Full Time Studio/Cinefrance Studios/Equitime/WTFilms/OCS/Alba Films/SG Image 2018/Cineaxe/Ynnis.
Cast
Gaia Weiss (Lisa), Peter Franzen (Adam), Romane Libert (Nina)
---
Plot
A driver on a lonely country road comes across a woman lying in the middle of the road. The woman Lisa accepts a lift but then realises that the man is a wanted killer the police are searching for. Lisa then comes around to find she is trapped inside a labyrinth of narrow tunnels that are so constricted they only permit her to crawl. A wristband counts down a brief interval of time she has to make it through each tunnel before it closes off or is scoured by flame jets or scythe blades. As she tries to make her way through the labyrinth and discover its purpose, Lisa must fight with another person trapped in there with her.
---
Meander was a complete unknown when I sat down to watch it. The capsule description made it seem like it was another copy of Saw (2004). The opening has Gaia Weiss lying on a road in the middle of nowhere – we never find out why she does this – and being picked up by a man that she realises is a wanted killer. When she wakes up the tunnel, it seems like what we are in for is a locked room thriller. However, that doesn't turn out to be the case at all and Meander proves to be a fascinating Labyrinth film that actually has more in common with a work like Cube (1997) or perhaps even more so the lesser-known Iron Doors (2010).
As soon as we get inside the labyrinth, Meander promptly develops an incredibly claustrophobic tension. The tunnels that Gaia Weiss makes her way through are incredibly oppressive – not tall enough for her to move in anything other than a crawl and with walls that constrict and force her to move through a small gap or between narrow grilles; where she is forced to take shelter in tiny cubicles from flame jets and scythe blades; pass through pits in the floor that lead down into water pools; or crawl over a pool of acid along narrow ledges on either side. The tension as she navigates her way through these is seat-edge. In fact, this may well be the most claustrophobic film that one has ever had the occasion to see.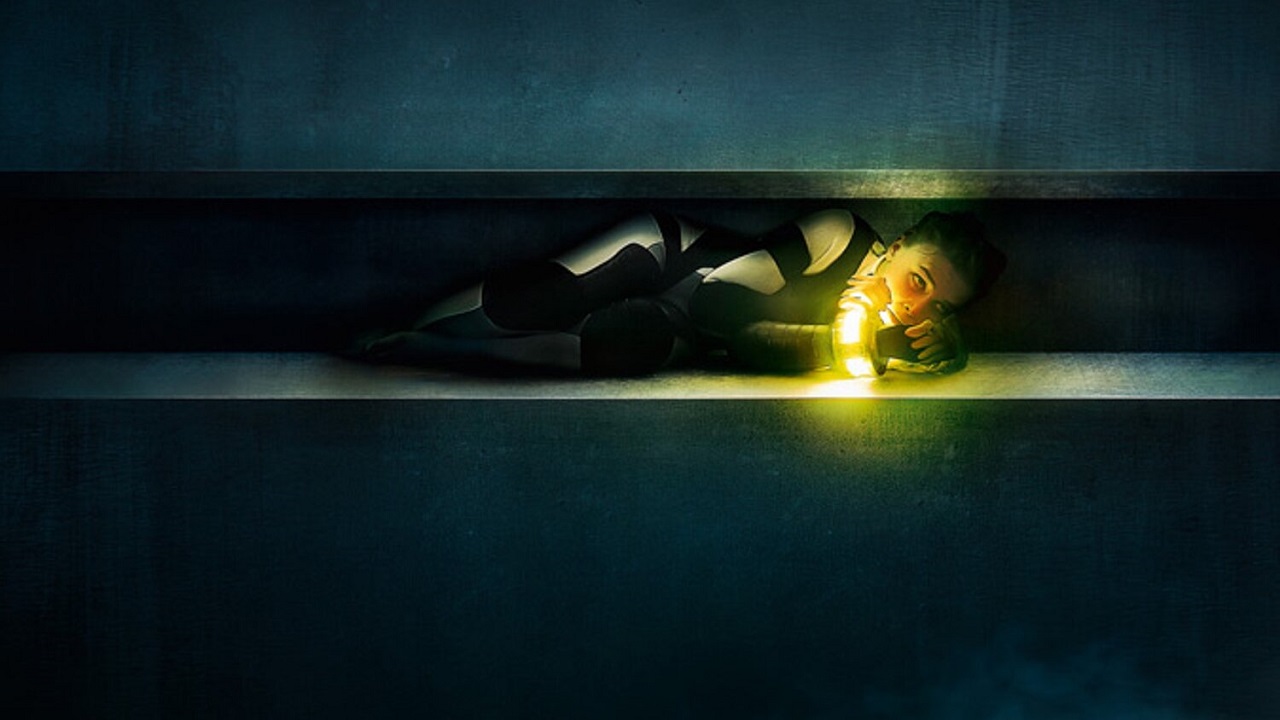 The latter third of the film goes off at a different tangent and leaves behind the claustrophobic tension. Here we get a weird mix of alien tentacles/robot arms (?), an illusion of Gais Weiss's daughter, cryptic clues that lead to a map of the labyrinth and a journey through sphincter openings before the apparent arrival at an alien planet. What is going other perhaps that Gaia and the man in the car were abducted by aliens is not at all clear.
Meander was the second film for French director Mathieu Turi who had previously worked on assorted French-shot films as a second unit director. Turi had previously made the feature-length post-apocalyptic film Hostile (2017).
---
Trailer here
---