---
Crew
Director – Darin Scott, Screenplay – Erik Patterson, Hans Rodionoff & Jessica Scott, Story – Hans Rodionoff, Producer – Tom Siergrist, Photography – Thomas L. Callaway, Music – Sean Murray, Visual Effects – Blackginger (Supervisors – Marc Bloch & Marco Raposo de Barbosa), Special Effects Supervisors – Jonathon Barrass & Max Poolman, Prosthetics – Rob Carlisle & Graham Press, Production Design – Franz Lewis. Production Company – Warner Bros. Home Entertainment.
Cast
Danielle Savre (Misty Calhoun), Michael Beach (Carl Durant), Rob Mayes (Trent Slater), Nathan Lynn (Aaron Ellroy), Jeremy Jess Boado (Daniel Kim), Kim Syster (Leslie Kim), Adrian Collins (Mike Shutello), Cameron Robertson (Josh Hooper), Darron Meyer (Craig Burns), Marc Hyland (Ryhengeri), Tamer Burjaq (Kwame)
---
Plot
Marine biologist and shark specialist Misty Calhoun is offered a great deal of money by pharmaceutical billionaire Carl Durant if she will come to the Akheilos Complex, a floating laboratory off the coast of South Africa, along with several other scientists. There Durant shows them how he has created a formula that can expand intelligence that he has been testing it on captive bull sharks. They are horrified at the thought. Durant has also been injecting himself with the formula, which is causing him to become unstable. As Misty predicts, one of the bull sharks is pregnant and gives birth. The other sharks then attack the complex, causing it to flood. During the chaos, the newborn baby sharks get inside the flooded halls and begin hunting the personnel.
---
Renny Harlin's Deep Blue Sea (1999) was essentially an attempt to rewrite the killer shark film in the aftermath of Jurassic Park (1993). It was a killer shark film that was entertaining in its absurdities. It can also be seen as the turning point when the Killer Shark Film moved from serious to taking itself considerably more tongue-in-cheek. Although there was no evidence that Deep Blue Sea was intended as tongue-in-cheek, a number of scenes emerge more entertainingly when appreciated in that vein. The surprise is that it has taken nearly two decades to make a sequel – if Deep Blue Sea were made today, we would be past the third and fourth sequels and onto the remake (which Deep Blue Sea 2 fairly much is) by now.
Unfortunately, Deep Blue Sea 2 has been churned out with minimal interest. It was afforded only a B-budget by Warner Brothers and filmed on the cheap in South Africa with a no-name cast and some real cut-price effects – so much so that we barely even get to see the sharks throughout, just baby sharks hunting the personnel through tight corridors.
The problem Deep Blue Sea 2 faces is that it has the misfortune to be made as a cheap B movie after the killer shark genre has become dominated by Sharknado (2013) and sequels and a host of other low-budget shark films that have planted their collective tongues in cheek and are determined to be as ridiculous as possible. Thus we get a host of scenes that you feel should be played as absurd before just realising they are badly made.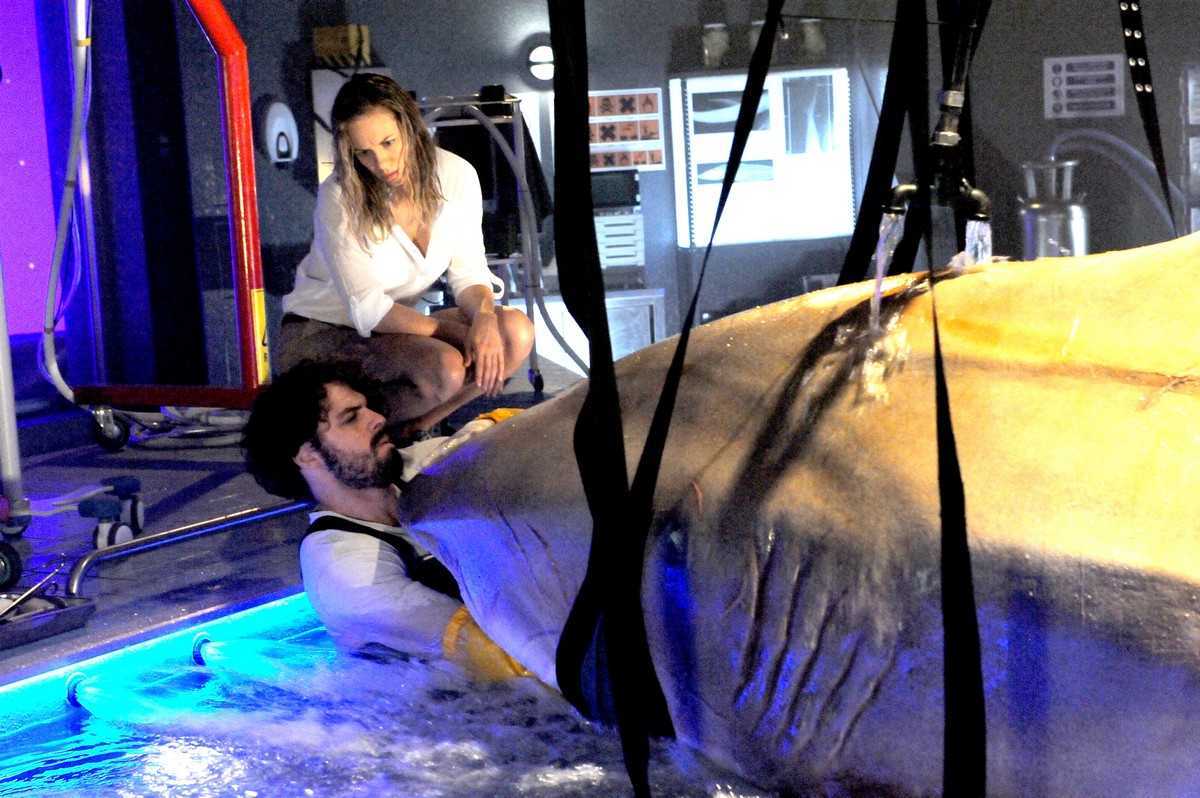 In one scene, Cameron Robertson goes "this shark can bite my ass" seconds before it jumps out of the pool and bites his head off – with a line like that nowadays, you fully expect the shark to leap up and sink its teeth into his butt. There are other inherently ridiculous scenes such as the images of people hanging from pipes on the ceiling as hordes of baby sharks jump out of the water snapping at them.
The film is undistinguished in all regards. Michael Beach, an actor who seems perpetually destined to be cast as the nice guy, seems out of his depth trying to play a generic villain role. Even then, the film has ridiculous touches like showing the screen overrun with scientific formulas and diagrams every time he takes a dose of the drugs.
This was followed by a further, much better sequel Deep Blue Sea 3 (2020).