---
Crew
Director – Bob Misiorowski, Screenplay – Scott Devine & William Hooke, Producer – Mandy Branch, Photography – Lawrence Sher, Music – Serge Colbert, Special Effects Supervisor – Gavin Meadon, Animatronic Sharks – AF Hydraulics (Supervisor – Anton Cronje), Production Design – David Varod. Production Company – Nu Image/Sharky Productions A.V.V.
Cast
Casper Van Dien (Steven McKray), Jennifer McShane (Corine Desantis), Bentley Mitchum (Dr Miles Craven), Ernie Hudson (Lawrence Rhodes), Toni Caprari (Mani), Anton Dekker (Jan), Mike Mvelase (Mabunda), Cordell McQueen (Mark Desantis), Chris Olley (Police Chief), Jacob Makooba (Machete Policeman), Dave Ridley (Hacker), Paul Ditchfield (Professor Bookman)
---
Plot
In Port Amanzi, Africa, marine biologist Mark Desantis is caught by two corrupt police officials who throw him overboard to be devoured by a shark. However, Desantis manages to partially send an email to his friend, fellow biologist Steven McKray in the US. Shocked to realise that the email demonstrates an alarmingly high number of shark attacks in the Port Amanzi area in the last few months, Steven flies there and meets up with Mark's sister Corine. Together they investigate the Koisi Lagoon, which is guarded by natives and find that the sharks are starting to venture into inland waters. In conducting an autopsy, they realise that the sharks have been fed hormones that increase their brain-size and ferocity. They discover that the experiments have been conducted by Steven's former colleague Miles Craven who is using a serum harvested from the sharks to affect remarkable cures for diseases. As they investigate further, Steven and Corine discover that Miles's serum is in fact killing his patients and that he does not care about this. Meanwhile, because of an oil field discovered offshore, a crooked local real estate developer is manipulating the shark menace to scare away locals and buy up their property.
---
Shark Attack comes from Nu Image, a company responsible for a number of B-budget action films, most notably the Project Shadowchaser, Operation Delta Force and Cyborg Cop series, among numerous others. Shark Attack was originally released as a cable tv movie in the US and to video outside the country.
Shark Attack is a strictly average entry in the late 90s/early 00s B-budget killer shark film, sitting amongst the likes of Shark Hunter (2001), Megalodon (2002), Dark Waters (2003), Red Water (2003), Shark Zone (2003), Blue Demon (2004), Hammerhead (2005), Raging Sharks (2005), Shark Swarm (2008) and Malibu Shark Attack (2009). This was before the genre took a turn for the entirely ridiculous and increasingly absurdly titled with the likes of Shark in Venice (2008), Mega Shark vs Giant Octopus (2009) and sequels, Dinoshark (2010), Sharktopus (2010), Shark Night 3D (2011), Snow Shark: Ancient Snow Beast (2011), Swamp Shark (2011), Bait (2012), Jersey Shore Shark Attack (2012), Jurassic Shark (2012), Sand Sharks (2012), Shark Week (2012), 2-Headed Shark Attack (2012), Avalanche Sharks (2013), Sharknado (2013), 90210 Shark Attack (2014), Raiders of the Lost Shark (2015), Roboshark (2015), Shark Exorcist (2015), Zombie Shark (2015), Atomic Shark (2016), Ice Sharks (2016), Ozark Sharks (2016), Piranha Sharks (2016), Planet of the Sharks (2016), Sharkansas Women's Prison Massacre (2016), Sharkenstein (2016), House Shark (2017), Trailer Park Shark (2017), Post Apocalyptic Commando Shark (2018), Santa Jaws (2018), Ouija Shark (2020), Sky Sharks (2020), Noah's Shark (2021), Sharks of the Corn (2021), Virus Shark (2021) and Shark Side of the Moon (2022).
Indeed, there are a great many similarities between Shark Attack and another shark movie that came out the same year – Deep Blue Sea (1999), which was no more than a B-budget monster movie conducted on an A-budget. Both films draw on the granddaddy of all shark films – Jaws (1975) – and feature sharks with genetically modified brains on the rampage, while offering up a surprisingly similar raison d'etre about needing to enlarge the sharks' brains to harvest them for a miracle disease cure. Shark Attack also draws upon the Jaws cliche of the evil businessman – although this film has the far more improbable notion that the evil businessman is deliberately drawing the sharks to the town to drive people out and property prices down so that he can buy up and make a killing when an oil company moves in.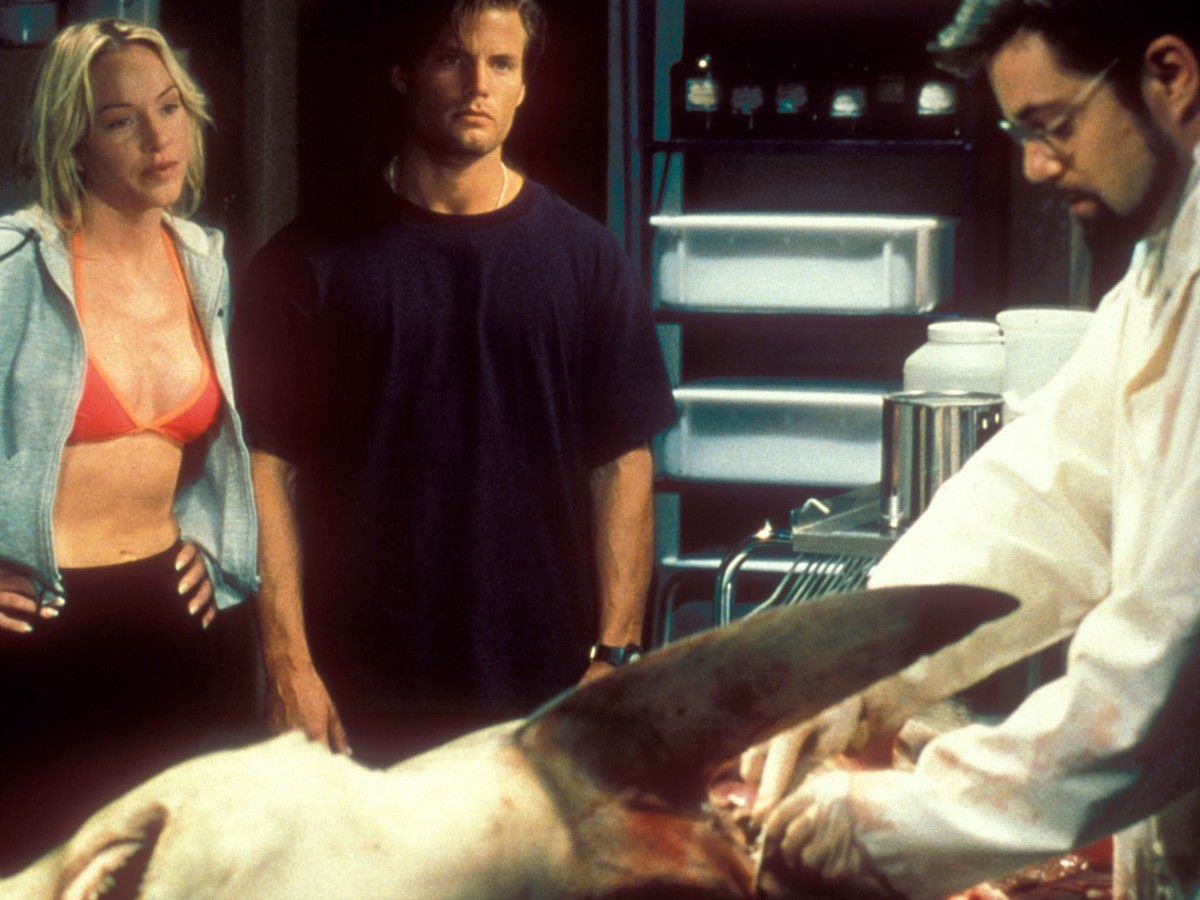 The shark scenes look reasonably convincing to the extent it is hard to tell which scenes involve animatronics and which are the real thing. Director Bob Misiorowski sets up some good suspense – Casper Van Dien fleeing from a shark underwater but becoming caught in a fishing net and then losing his oxygen tank; the scenes where he and Jennifer McShane are abandoned in a shark cage that is cut from the tether to the boat above and starts sinking as the sharks close in. Misiorowski's failing might be that these scenes often seem hurried in the shooting and editing as though his budget did not stretch to any underwater reshoots.
On the whole, Shark Attack moves reasonably competently in terms of being a B killer shark movie. It plays out as exactly what one expects of it – that is until about the last 30 minutes. After this point, it moves away from the focus on sharks and into formula action movie and thriller elements. Bob Misiorowski offers up generic car chases, abduction plots, an evil medical conspiracy and a big climactic speedboat chase with numerous explosions. Here the film becomes particularly improbable in terms of the plot twists that keep being piled on. Bentley Mitchum is revealed to be a villain who has genetically modified the sharks to harvest their brains for a miracle drug and is continuing to do so knowing that it is killing the patients. However, it is then revealed that the real villain of the show is Ernie Hudson's rich property developer who has used thumpers to draw the sharks to the area to drive down property prices. What is even more absurd is how the film then turns around and forgives Bentley Mitchum for his unethical experiments, murder of patients and abduction of the heroine – he is shot and goes out with the pained eulogy "I'm not such a bad guy," as Casper Van Dien stands over nodding sympathetically "I know … I know." While Shark Attack did okay as a generic killer shark movie during its first two-thirds, these ridiculous contrivations and the insertion of boiler-plate action scenes push it over into schlock territory.
The only recognisable names in the film are Casper Van Dien, who was hailed as a new star for all of about five minutes in 1997 and has spent his time subsequently languishing in B movie parts like this, and Ernie Hudson who always seemed an actor worthy of more substantial parts than he ever received. The film was shot on location in Port Alfred, South Africa and these locations are often nicely photographed.
This was followed by two sequels with Shark Attack 2 (2001) and Shark Attack 3: Megalodon (2002), which featured a return appearance from Jennifer McShane but as a different character, while much stock footage was also rehashed in the similar but unrelated Shark Zone (2003).
Bob Misiorowski's other films include First Light/Blink of an Eye (1992), In Too Deep/Point of No Impact (1993), Beyond Forgiveness/Blood of the Innocent (1994), On the Border (1998), Panic (2001) and Derailed (2002), almost all of these being made for Nu World/Nu Image.
---
---