---
Crew
Director – Jean-Pierre Jeunet, Screenplay – Joss Whedon, Producers – Bill Badalato, Gordon Carroll, David Giler & Walter Hill, Photography – Darius Khondji, Music – John C. Frizzell, Visual Effects Supervisors – Erik Henry & Pitof, Digital Visual Effects – Duboi, Computer Generated Aliens – Blue Sky Studios (Supervisor – Richard E. Hollander), Miniature Effects Supervisor – Celia Hallquist, Special Effects – All Effects Co Ltd (Supervisor – Eric Allard), Alien Effects – Amalgamated Dynamics (Supervisors – Alec Gillis & Tom Woodruff Jr), Production Design – Nigel Phelps. Production Company – Brandywine Productions/20th Century Fox.
Cast
Sigourney Weaver (Ellen Ripley), Winona Ryder (Annalee Call), Ron Perlman (Johner), Dominique Pinon (Vreiss), J.E. Freeman (Dr Wren), Gary Dourdan (Christie), Michael Wincott (Elgyn), Dan Hedaya (General Perez), Brad Dourif (Dr Gediman), Raymond Cruz (DiStephano), Leland Orser (Purvis), Kim Flowers (Hilliard)
---
Plot
Two hundred years after her death, a clone of Ellen Ripley is brought to life about the United Systems Military scientific research ship Auriga, although the embryo alien is first removed from inside her. Defying expectation, Ripley proves to be not only capable of speech and thought but to have the memories of her predecessor. It is not known what to do with her. When Ripley learns that the military intend to tame the alien for use as a weapon, she laughs at them. As the crew of the privateer Betty come aboard the Auriga to deliver a cargo, the aliens gets loose from the laboratory and begin slaughtering everybody. Ripley's melding with the alien queen has left her with unusual powers and biochemistry, which become an aid as she leads the survivors across the ship to escape.
---
The fans of the Alien series may debate the merits of which is the superior of Alien (1979) or Aliens (1986), but whatever the case few will deny that they are modern genre classics. Fans of the series heavily slammed Alien3 (1992) for its bleaker tone. While not clearly in the league of the other two, it is an entry worth re-evaluation in this author's opinion. However, it would take a very adventuresome fan to try to argue Alien: Resurrection as being the best of the series. It is not entirely a bad entry but it is never more than a routine one either. And that was before the subsequent entries AVP: Alien vs. Predator (2004) and AVPR: Aliens vs Predator Requiem (2007), which crossed over with the Predator series, while there was also Prometheus (2012) and Alien: Covenant (2017), which are prequels to the original.
Alien: Resurrection's failures come not from want of trying. Much has been put into the film. The sets and effects look expensive and there is some lovely washed-out photography from the great Darius Khondji that emphasises the slickly gleaming sheen of the aliens. The script comes from no less than Joss Whedon, who was then riding on the back of Buffy the Vampire Slayer (1992) and Toy Story (1995) and had not yet created the Buffy tv series, let alone Firefly (2002-3). Joss Whedon's script overflows with a profusion of ideas – about cloning, the scientists trying to tame the aliens, the aliens demonstrating a heretofore-unseen level of intelligence, android spies, a creature that is a human/alien hybrid.
Unfortunately these potential ideas vie with ideas that are either frankly unbelievable or left as loose ends. It seems implausible, for instance, that scientists could clone and bring Ripley back to life, let alone cut her open to remove an embryo alien, without seeming to notice that she has part alien DNA or that she could maintain a bloodstream that is acidic enough to melt through metal. Or that scientists would recreate the aliens for use as weapons without taking basic precautions against them or think twice about doing eminently stupid things like walking straight into a cell that the aliens have just broken out of. One may be prepared to buy the unscientific notion that depressurisation in space will be enough to splatter human beings but the idea that depressurisation through a small hole in a window would be enough to not only splatter an alien but to reduce an armoured carapace to red jelly as well is preposterous (what would happen would be that the alien would simply patch the hole back up with its body). The script throws in the idea of an android spy and even creates a potentially intriguing friendship between she and Ripley but glaringly neglects the most important aspect – why the android spy is there in the first place.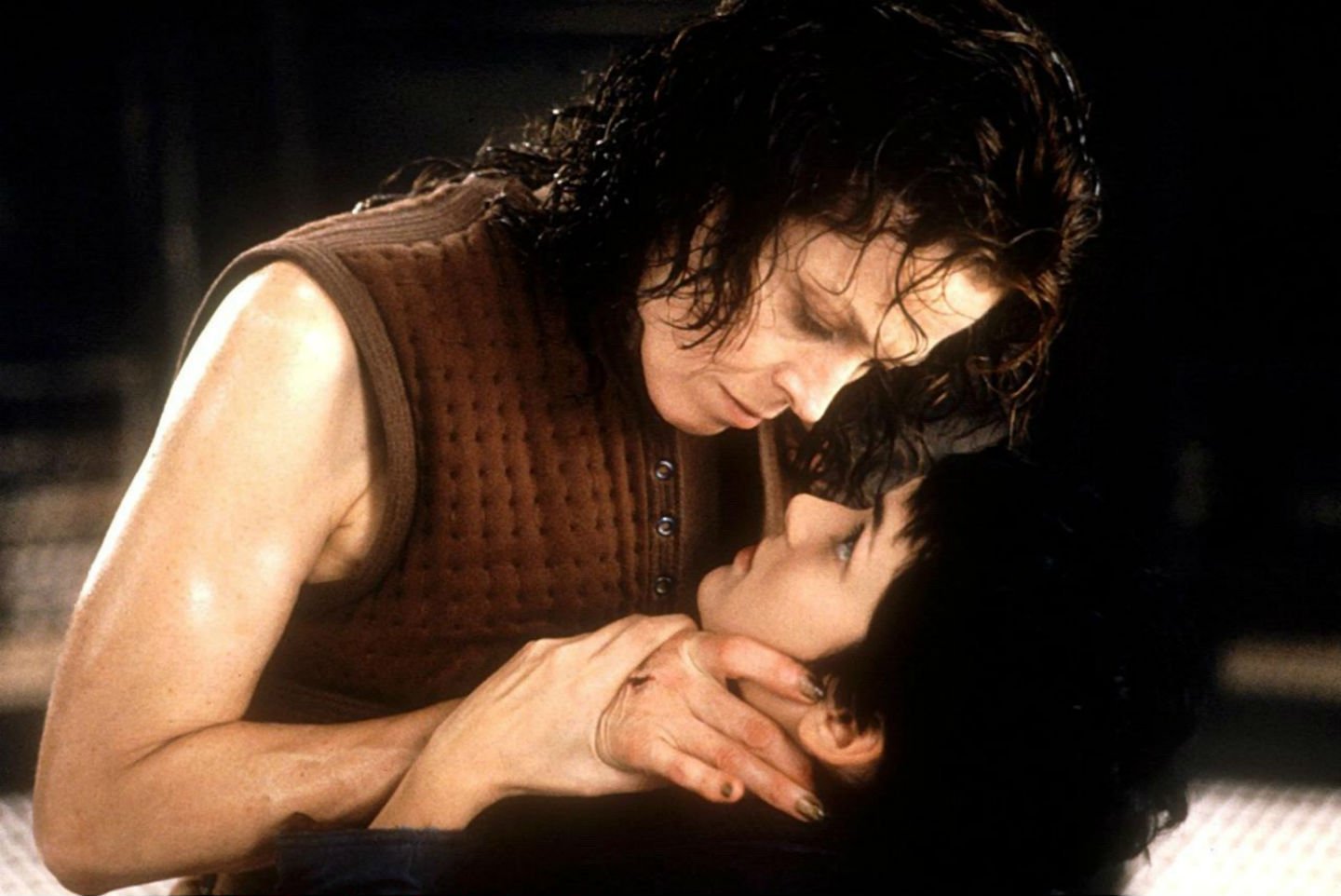 However, whether Joss Whedon provides worthwhile or daft ideas is not that important – you get the impression that these are regarded as just window dressing, the same way that the James Bond series retains the same formula and just varies the locales, the action sequences and the women. Very quickly, Alien: Resurrection trots out the usual business of the series – the aliens pursuing a small group of people through a series of corridors, people who are ruthless to an almost cliched degree trying to do silly things to exploit the alien as a weapon, a race against the clock to escape before the self-destruct goes off and so on.
Sigourney Weaver apparently dictated that she be killed at the end of Alien3. The original idea with Alien: Resurrection had been to carry the series on with the character of Newt from Aliens but the decision was made that they needed to bring Ripley back and so Sigourney Weaver was lured back to the role with the offer of an $11 million salary. Attempts were made to procure Danny Boyle then hot from Trainspotting (1996) as director and then purportedly Bryan Singer just after the success of The Usual Suspects (1995), before the assignment went to French director Jean-Pierre Jeunet.
Jean-Pierre Jeunet was certainly a highly unusual choice as director. Jeunet's previous directorial outings, along with co-director Marc Caro, were the almost unclassifiably wacky comedies Delicatessen (1991) and The City of Lost Children (1995) and Alien: Resurrection was followed by the enormous international hit of the quasi-fantastical Amelie (2001), as well as A Very Long Engagement (2004), Micmacs (2009), The Young and Prodigious T.S. Spivet (2013) and the A.I. rebellion comedy BigBug (2022). These are films that create worlds of self-contained artifice. They are comedic whimsies that come with a peculiarly bizarre and surreal deadpan tone – where Jeunet creates worlds that seem caught somewhere between David Lynch, Jacques Tati and the hermetically designed detail of the period drama. Not on the face of it a style that seems to readily lend itself to the hard-edged science-fiction style of the Alien series.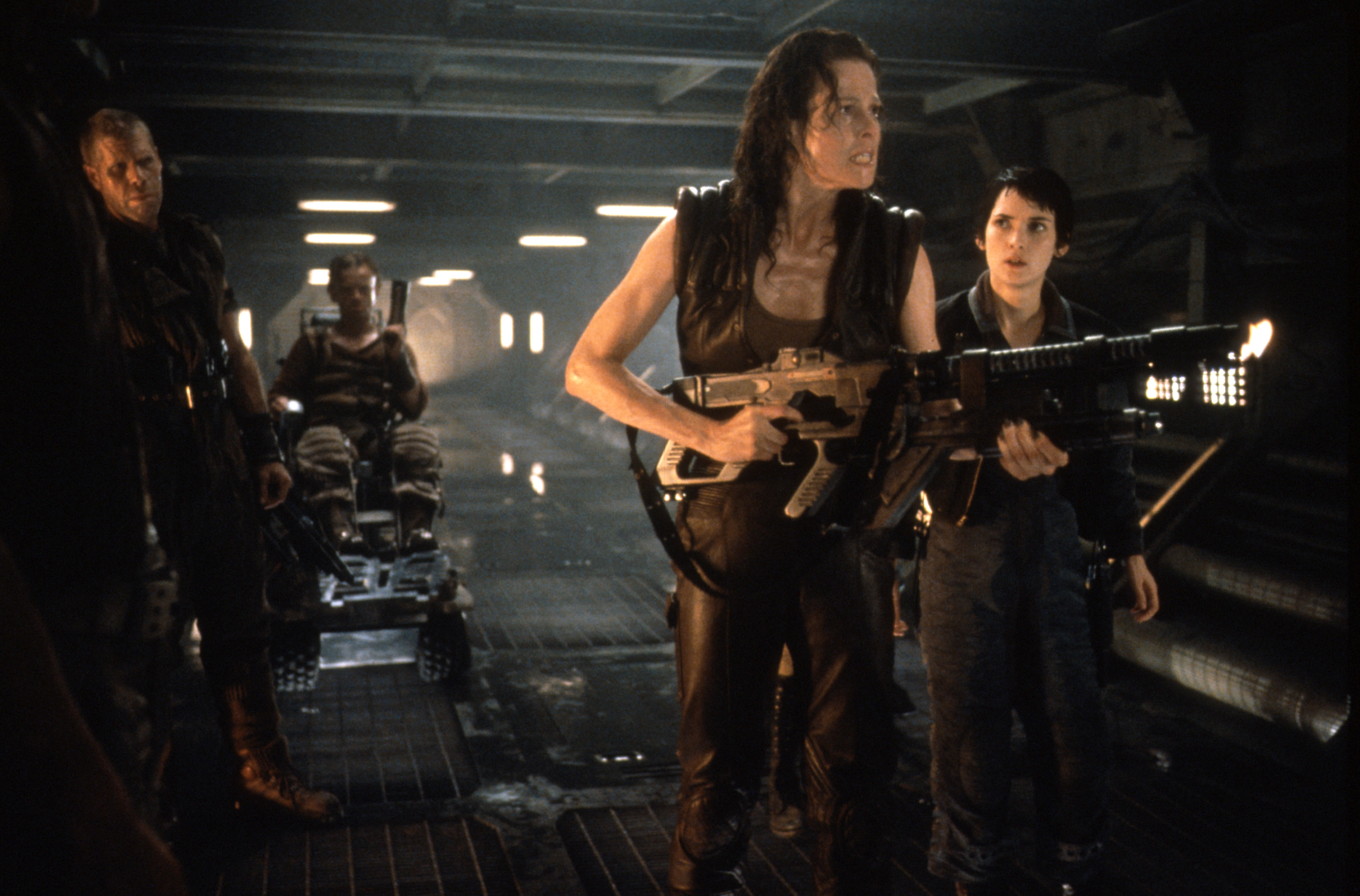 Certainly, Jeunet (operating without co-director Marc Caro for the first time) submerges his style into the American big-budget mainstream with little effort. He has a good eye for wonderful little throwaway Cyberpunk bits – sachet whiskey, id keypads that read someone's breath, electronic Bibles and intergalactic infomercials – but mostly this is a film that could have been turned out by any commercial director. Indeed, it is hard to work out why Jean-Pierre Jeunet was employed at all, as there seems so little of the quirkiness of his French language efforts present here. About the only thing in common with Jeunet's other films is the employment of a couple of actors – Dominique Pinon who has worked on all of Jeunet's films and Ron Perlman from The City of Lost Children.
The previous Alien films all adopted a grim, hard edge – in each film, there is a sense of realism such that you could feel the sweat on the brows of characters. However, with Alien: Resurrection, Jeunet abandons the hard-bitten grimness for an action stylism. Instead of the sweat on the brow, Jeunet poses his cast in triumphal action movie poses. Instead of people battling for their lives against an incredible menace, you have a film with gun-toting cowboys taking on the menace with yee-hahs and kicking its butt with snappy one-liners. Much of the film feels like it should be told more in comic-book panels. There are silly scenes with Sigourney Weaver popping basketball hoops over her back, the mercenaries shooting others with bullets targeted to hit people by ricocheting off the ceiling, soldiers being blasted by freezing agents and shattering, Ron Perlman swinging upside down off a ladder to blast at an alien with a gun in either hand. It is an approach that grates badly with the realism of the rest of the Alien series.
Certainly, individual scenes are good – a well-sustained sequence where the party must swim underwater through the kitchens pursued by aliens, while one or two of the moments with scientist Brad Dourif trying to train the alien have an eerie fascination – but other than that, remarkably little of Alien: Resurrection stands out. Compare the chestburster sequence in Alien with the one here – the original was shocking because it took place in a naturalistic setting, the one here has absolutely no effect because it is shot with handheld camera and a deliberate emphasis on schlock effect – the victim staggering about bashing in a mercenary's head, the camera even diving down the victim's throat to observe the embryo and the chestburster bursting through not only the victim's chest but the head of the person being held in front – that reduces it to a silly pop-up effect.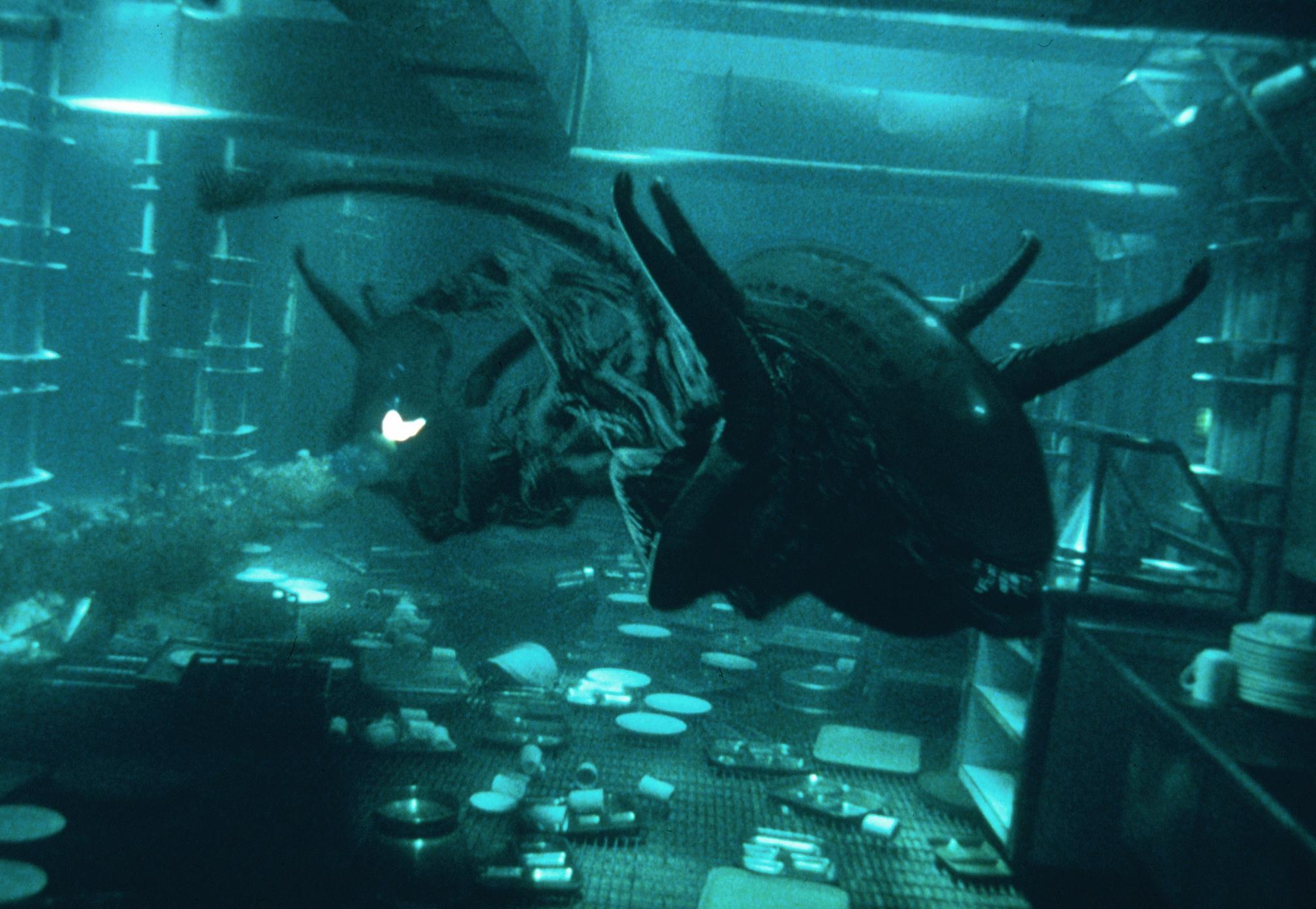 Jean-Pierre Jeunet assembles an interesting cast, including Gary Dourdan a few years before his recurring role on CSI: Crime Scene Investigation (2000-15) cast here as a dreadlocked mercenary. Amid the cast, Winona Ryder looks badly out of place. An actress of yet-to-be-proven talent, she has been best cast as a Gen Xer or an awkward modern waif but seems out of her depth in a film like this. Rather than an android spy, all that Ryder gives us is another of her awkward orphan girl-women.
The making of Alien: Resurrection is discussed in The Alien Saga (2002), a documentary about the film series.
Joss Whedon's other genre works are:– the screenplays for Buffy the Vampire Slayer (1992), Toy Story (1995), Titan A.E. (2000) and Atlantis: The Lost Empire (2001). He subsequently produced the fandom documentary Comic-Con Episode IV: A Fan's Hope (2011), wrote/produced the horror film The Cabin in the Woods (2012), directed and wrote the Marvel Comics adaptation The Avengers (2012) and its sequel Avengers: Age of Ultron (2015); directed/wrote a modernised film version of Shakespeare's Much Ado About Nothing (2013), wrote/produced In Your Eyes (2014) about a psychic connection and wrote and performed uncredited directing duties on Justice League (2017). Whedon has become a cult figure on television, where he has created/written Buffy the Vampire Slayer (1997-2003), its spinoff Angel (1999-2004), the space opera series Firefly (2002-3) and wrote/directed its film spinoff Serenity (2005), and the tv series Dollhouse (2009-10) about people with programmable memories and Agents of S.H.I.E.L.D. (2013-20), as well as directed/wrote/produced the web series Dr Horrible's Sing-a-Long Blog (2008), a musical spoof of mad scientists, and created The Nevers (2021- ).
(Nominee for Best Makeup Effects and Best Production Design at this site's Best of 1997 Awards).
---
---