USA. 2018.
Crew
Director – Ben Young, Screenplay – Spenser Cohen & Brad Caleb Kane, Story – Spenser Cohen, Producers – David Hoberman & Tod Lieberman, Photography – Pedro Luque Briozzo, Music – The Newton Brothers, Visual Effects – Digital District (Supervisor – Emilien Lazaron), Special Effects Supervisor – Muhammad M'Barak-Toske, Shadows Designed and Created by Pierre Bohanna, Production Design – Alan Gilmore. Production Company – Netflix/Good Universe/Mandeville Films.
Cast
Michael Peña (Peter), Lizzy Caplan (Alice), Amelia Crouch (Hannah), Erica Tremblay (Lucy), Israel Broussard (Miles), Mike Colter (David), Alexander Shrapnel (Ray), Emma Booth (Samantha)
---
Plot
Peter lives a happy life with his wife Alice and two daughters Hannah and Lucy. However, he is increasingly troubled by visions of ships arriving from space and massacring people en masse and of he, Alice and others caught in the midst of the conflict. Alice suggests he seek help. As they hold a party with neighbours, ships arrive and begin attacking just as Peter saw in his visions. As they flee the burning apartment to take refuge at Peter's workplace, he undergoes experiences that teach him who he truly is.
---
Extinction was the second film from Ben Young, a former Australian tv director who made his feature debut with the abduction and imprisonment film Hounds of Love (2016), which gained some reasonable acclaim and international play. The script for Extinction apparently sat on the Hollywood Black List and was at one point to be directed by Joe Johnston of Honey, I Shrunk the Kids (1989) and Jurassic Park III (2001) fame. Extinction was initially intended to go for theatrical release but Universal later changed its mind and dumped it to Netflix.
As Extinction starts in, it seems to be no more than a run of the mill alien invasion tale. None of it seems to be doing anything remarkable. The set-up involving the invasion occurring during a party and of the people trapped in an apartment building kept reminding me of Skyline (2010) – but that had far better effects. The ones here seem adequate but as though they are produced by a cut-price visual effects house with orders to make them look like top-drawer studio ones. Ben Young's direction of action scenes and attempts to create suspense out of the various perils the family must go through is utterly unremarkable. Even Michael Peña seems ill-suited as the hero type – he's the actor suited to being cast as a best friend/sidekick and here only shouts out that the film couldn't afford their A-list casting choices.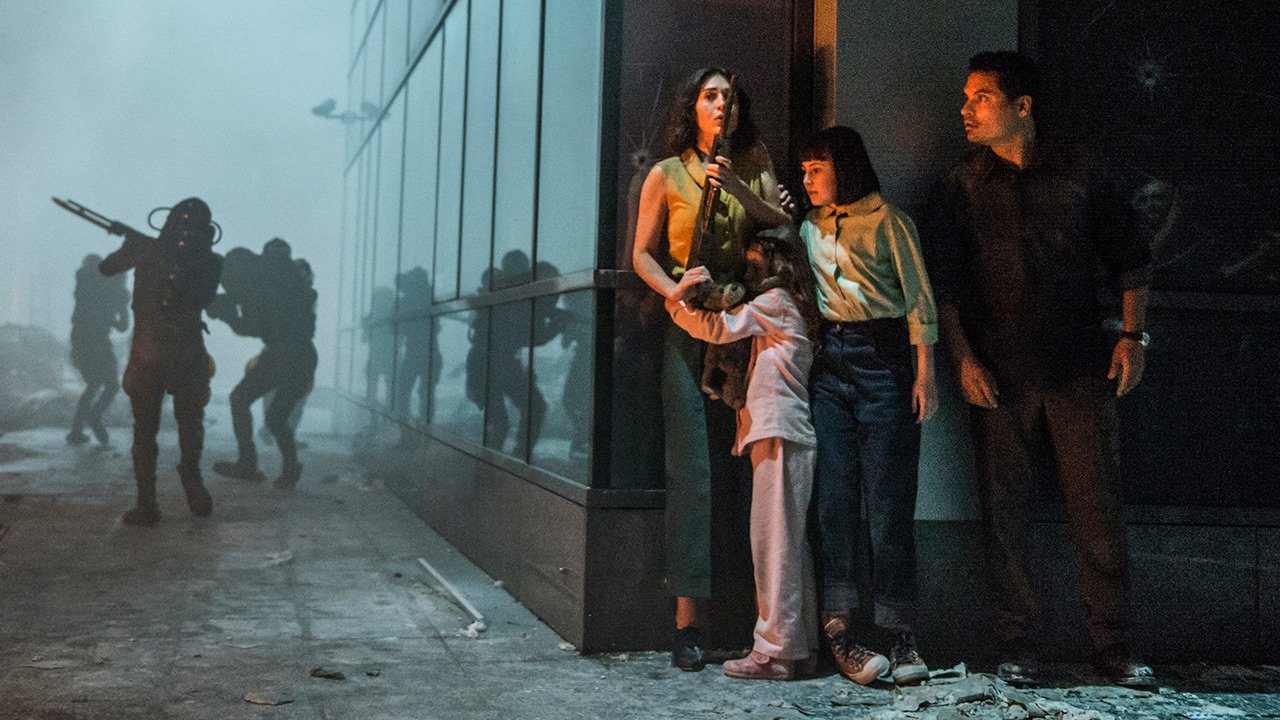 Where the film suddenly gets you is the abrupt mid-film twist revelation [PLOT SPOILERS] where Lizzy Caplan is dying and captured invader Israel Broussard says he can save her whereupon he abruptly tears open her wounded chest to reveal circuitry and then tells Michael Peña to cut himself open with a scalpel, which he does to reveal machine parts inside himself too. It's a classic Philip K. Dick-ian moment – the same sort of twist we had in films like Suspect Device (1995) and Impostor (2002).
It is a twist that jolts you with the good WTF shakeup as you realise you have had to reconceive everything that you believed was going on. On the other hand, the rest of the film follows through on this in a wholly unimaginative way. It dutifully offers several flashbacks that show how this world came to be but these only cause the script to feel even more contrived, put together for its surprise value rather than anything to do with how machines would credibly operate. The flashback scenes with Michael Peña and Lzzy Caplan being attracted then finding two children only draw on sentimental cues. As you contemplate the logical set-up of the society, you are still left wondering what possible sense it would make for a machine race to erase all memory of their origins, which would work until precisely the point one of them needed repairs or accidentally cut themselves open.
Extinction should not to be confused with several other films with the same title that have come out in the last few years including the monster movie Extinction (2014) and the Spanish horror film Extinction (2015).
---
---