aka Android
---
Crew
Director – Matthew Leutwyler, Screenplay – Shahin Chandrasoma, Producers – Nora Bafus, Shahin Chandrasoma, Gabriel Geer & Sam Sarna, Photography – Ross Richardson, Music – Craig Richey, Visual Effects – Ember Lab (Supervisor – Mike Grier), Makeup Effects – Jason Hamer, Production Design – Eddie Matazzoni. Production Company –Emergent Behavior/Accelerated Matter/Ambush Entertainment.
Cast
Mark Webber (David Kressen), David Clayton Rogers (Adam Kressen), Lucy Griffiths (Joy Andrews), Rainn Wilson (Simon Castle)
---
Plot
Tech journalist Joy Andrews is sent to interview David Kressen, a genius designer in the field of robotics. David gets Joy to interview his assistant Adam before revealing that Adam is an android. Joy agrees to spend seven days with them writing her article. David reveals to Joy that she was chosen for the assignment because of her unpublished thesis on robotics. However, as Joy becomes attracted to David, Adam starts to become obsessive in his attentions towards her.
---
Uncanny/Android was the seventh film for director Matthew Leutwyler. Leutwyler began directing with the non-genre Road Kill (1999) and in between various other works has made genre items such as Dead & Breakfast (2004), Unearthed (2007) and Swipe (2016). Leutwyler has also acted as a producer on other films with James Gunn's Super (2010) and Hellbenders (2012), among others.
Uncanny was made before Ex Machina (2015), although ended up not being released until several months after the other film whereupon it was retitled Android – not to be confused with the earlier modest B-budget film Android (1982). It joins a bunch of other films that have come out in recent years on the subject of Artificial Intelligence, including The Machine (2013), Automata (2014), Chappie (2015), A.I. Rising (2018), Morgan (2016), Tau (2018), Zoe (2018), Archive (2020), After Yang (2021), Finch (2021), Outside the Wire (2021). The Artifice Girl (2022), M3gan (2022) and The Creator (2023), as well as tv's Westworld (2016-22). We even had A.I. comedies with Jexi (2019), Superintelligence (2020) and BigBug (2022), as well as Life Like (2019), which has a surprisingly similar twist to this film, that felt like it should have been a comedy. (For a more detailed overview of the genre see Films About Artificial Intelligence).
Uncanny/Android is undeniably reminiscent of the plot of Ex Machina in which a journalist is invited to the inner sanctum of a reclusive artificial intelligence researcher and asked to assess the android he has developed. In both cases, there is an attraction between human interviewer and the machine. To its credit, Uncanny takes things even further than Ex Machina did, having the journalist as a woman and making both creator and machine male and her developing an attraction to the creator whereupon the machine starts getting all stalky.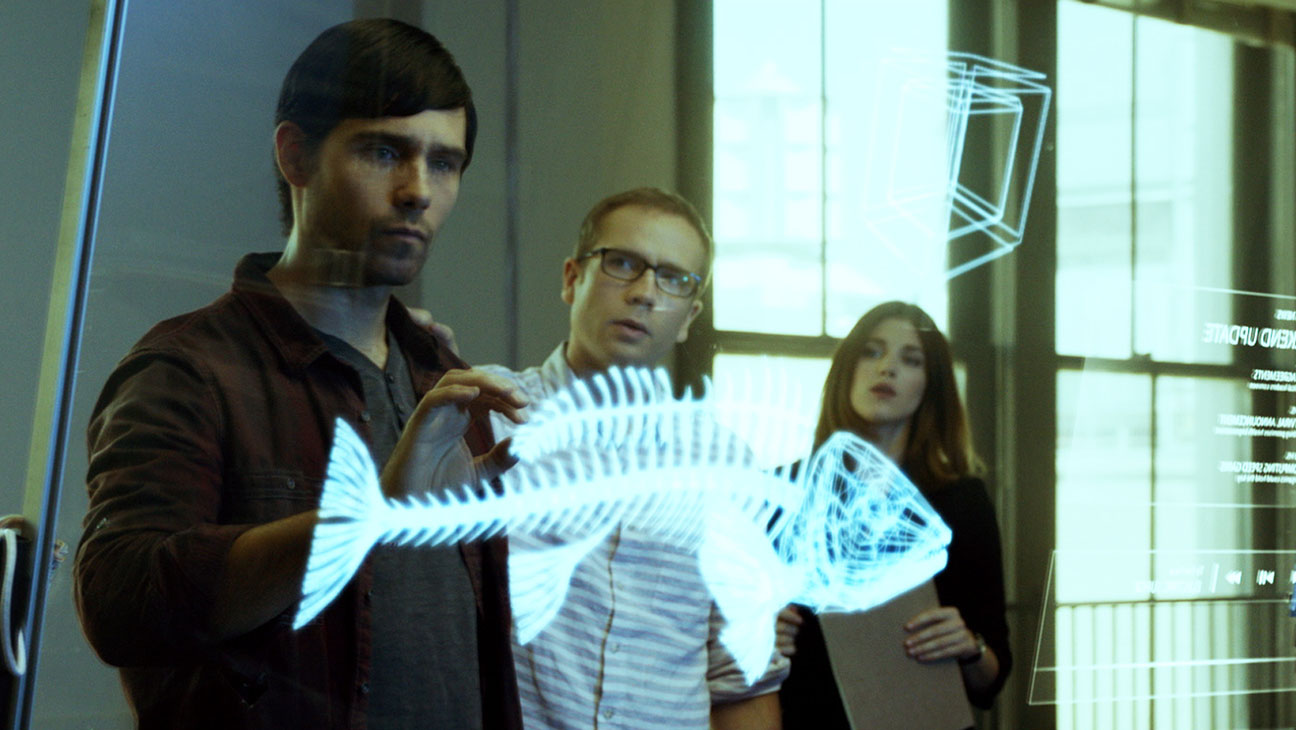 On the other hand, I don't think Matthew Leutwyler does a very good job of developing the plot. The opening certainly had me hooked – where Lucy Griffiths meets reclusive genius Mark Webber and is then directed to talk to his lab assistant David Clayton Rogers before being informed that the person she was talking to all along was the android. However, the film drops the ball thereafter. A film like this is one where you want to be engaged in a debate over what is human and what is machine but all it does is have David Clayton Rogers develop very un-machine-like obsessions with Lucy Griffiths after very limited contact with her. In fact, you could take the A.I. element out of the film and simply have it be about her dating a guy with a roommate who has low social skills.
What killed Uncanny/Android for me was the big twist in the tale that comes towards the end of the film [PLOT SPOILERS] where we discover that it was reclusive, socially awkward genius Mark Webber who was the android all along and that the apparent David Clayton Rogers is the real creator and was pretending to be the android. Moreover, we realise that what we took for stalking behaviour on his part was actually him developing feelings for her. This twist makes the film's whole structure absurd. It is never credibly explained what possible benefit would be gained from man and machine agreeing to such subterfuge. Moreover, the script avoids asking how Lucy Griffiths would be unable to tell the difference like after about the point that she seduced and slept with the android. The final post-credits coda where she unveils a pregnancy kit and realises she has been knocked up by the android is absurd.
---
---