---
Crew
Director/Screenplay – Justin McConnell, Story/Producers – Kevin Hutchinson & Justin McConnell, Photography – Pasha Patriki, Music – Rob Kleiner, Visual Effects Supervisor – Nick Flook, Special Effects Supervisor – Geoff Hill, Makeup Effects – Carlos Henriques, Kevin Hutchinson, Monique Knisley & Emily Skoggard, Production Design – Kevin Hutchinson. Production Company – Unstable Ground Pictures/Raven Banner Entertainment.
Cast
John Fantasia (Scott Weaver), Steve Vieira (Aaron Weaver), Lisa Moule (Emily Weaver), Anna Ross (Rebecca Weaver), Vincent Thomas (John), Stefano Gallo (Phil)
---
Plot
Something has caused the collapse of civilisation. Scott Weaver, his wife Emily and two children Aaron and Rebecca make their way out of the city. They decide it would be best to join their other son but this entails a journey across country. Their journey is threatened by rampaging marauders with guns. At the same time, a mysterious presence begins killing members of the group.
---
The Collapsed was the second film for Justin McConnell, a director based in Ontario, Canada. McConnell had previously made Check Mate (2002) about which I cannot find any details. Subsequently McConnell went on to make the thriller Broken Mile (2016), the wraparound for the anthology Galaxy of Horrors (2017) and the surprisingly good bodyswap horror film Lifechanger (2018). The Collapsed played some minor festivals without attracting much attention.
I was not sure what to expect of The Collapsed as I began watching. We are introduced to the family of four in the midst of a mysterious catastrophe. Of this, we only get the tiniest of glimpses and almost no details about what has happened – the exact nature of what happened is never explained until right at the end. What we have is in effect an existential survival tale – one where the family are trying to survive and get to safety despite threatening marauders, possible predators and social collapse around them but where the essential nature of the event has been left unsaid.
It feels like an episode of The Walking Dead (2010– ) with the same harsh struggle for survival but no zombies. In actuality, The Collapsed is not a terribly interesting survival story. The family pass through an empty city. The only other people we see until the end are the marauders at the gas station from which the family flee. Even then the threat of the pursuing marauders is one that exists more in the characters' minds than it does in anything we see – there is only a single scene where we get a glimpse in long shot of the two men getting out of a vehicle.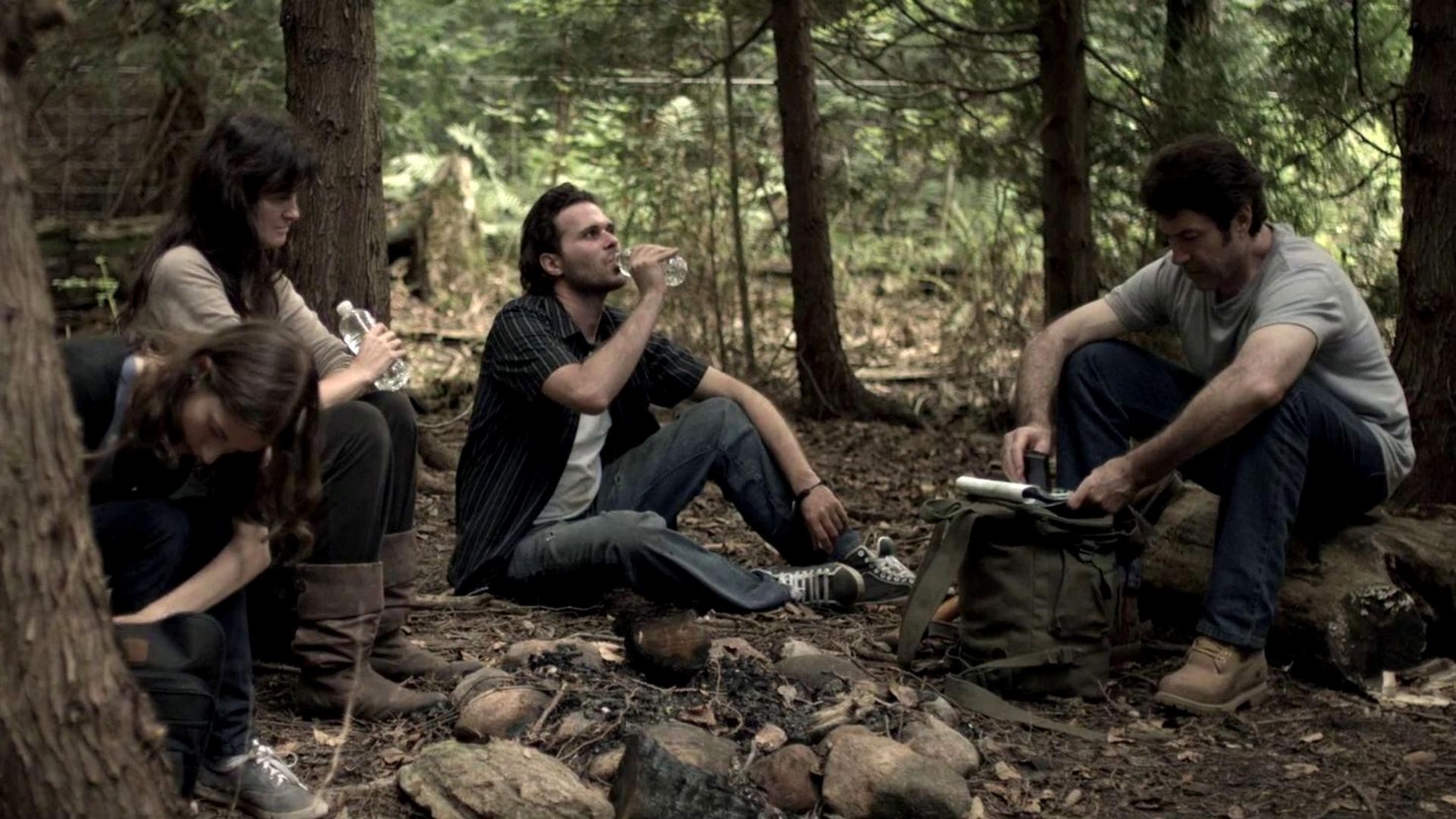 The upshot of this is that we have a post-civilised collapse survivalist tale where what has happened is unclear and the family are trying to survive against something but we never see what. To put it another way, we have a survival tale where there is no clear nemesis or threat, just a bunch of people walking through the woods. Nothing much happens throughout. You feel like a better director might have been able to make more out of the film – other works like The Survivalist (2015) and Here Alone (2016) have done remarkable things with even less characters on screen or showing as many details. As it is, scenes like where various family members are killed come with an astonishing lack of affect – you would expect most people to be traumatised by grief and upset, instead the characters are just urged to move on and thereafter seem to forget about the dead.
To its credit, the film does offer an explanation. Here it goes for an M. Night Shyamalan-type twist and [PLOT SPOILERS] reveals that this is part of an alien invasion where people are infected with a virus that makes them kill close ones and then forget everything about it. We realise it was father John Fantasia who killed the rest of his family. It a mildly interesting twist but one that you feel like the film should have spent a whole lot more time making sound credible so that such was a jaw-dropping twist. As it is it comes across a sort of interesting but one that you can shrug and go "meh".
---
---