---
Crew
Director – Niels Arden Oplev, Screenplay – Ben Ripley, Based on the 1990 Film Written by Peter Filardi, Producers – Michael Douglas, Laurence Mark & Peter Safran, Photography – Eric Kress, Music – Nathan Barr, Visual Effects – Spin VFX (Supervisor – Wes Sewell), Special Effects Supervisor – Kaz Kobielski, Makeup Effects – Steve Newburn, Production Design – Miels Sejer. Production Company – Laurence Marks/Furthur Films/Safran Company.
Cast
Ellen Page (Courtney Holmes), James Norton (Jamie), Diego Luna (Ray), Kiersey Clemons (Sophia Minney), Nina Dobrev (Marlo), Kiefer Sutherland (Dr Barry Wolfson), Madison Brydges (Tessa Holmes), Jenny Raven (Irina Wong), Anna Arden (Alicia)
---
Plot
Courtney Holmes, a med student at Trinity Immanuel Medical Center, persuades several of her fellow students to aid her in an experiment. She wants to stop her heart for nearly a minute so that she can record what the brain experiences as it starts to die. She undergoes the experiment and is successfully revived. Afterwards, she finds herself reinvigorated, possessing skills and remembering things she had long forgotten. The others queue up to try the experiment and report similar results upon their return. However, Courtney then discovers that each of them has brought something back with them and they are now being haunted by guilts from their past.
---
Flatliners (1990) was one among a spate of afterlife films that came out in 1990, a year also dominated by films like Ghost (1990) and Jacob's Ladder (1990). The critical consensus on Flatliners was fairly middling overall. However, aided by the presence of hot young stars of the day such as Julia Roberts and Kiefer Sutherland, it earned a then by no means modest $61 million.
Flatliners 2017 emerges as yet another remake that we never asked for to a film that I doubt that many people regard as a classic work. Audiences thought the same and failed to turn out in droves with the film earning a mere $16 million total in domestic theatrical release (about half of what it cost to produce). A similar fate befell the remake of Jacob's Ladder (2019) a couple of years later.
The remake comes from Danish director Niels Arden Oplev who made a big international splash a few years earlier with the original version of The Girl with the Dragon Tattoo (2009). The script is from Ben Ripley who wrote Source Code (2011) and a couple of Species sequels.
There was some kerfuffle going around beforehand with the casting of Kiefer Sutherland who erroneously stated that he would be playing the same role he did in the original, leading people out there to question whether Flatliners 2017 was going to be a sequel or a remake. The studio insisted it was a reboot, a term that has become so overused – to the point every time an ongoing series changes its lead actor – as to be meaningless.
The truth is that the Flatliners remakers seemed only to be bandying around such vague buzzwords to disguise the lack of any originality that has gone into their version. It is essentially the same plot. We get some very minor changes – the experiment is now about measuring the brain patterns at the time of death and involves an MRI machine; the biggest change involves the death of a central character in mid-film. However, what we essentially have is exactly the same script as the 1990 film with nothing significantly new added to the mix.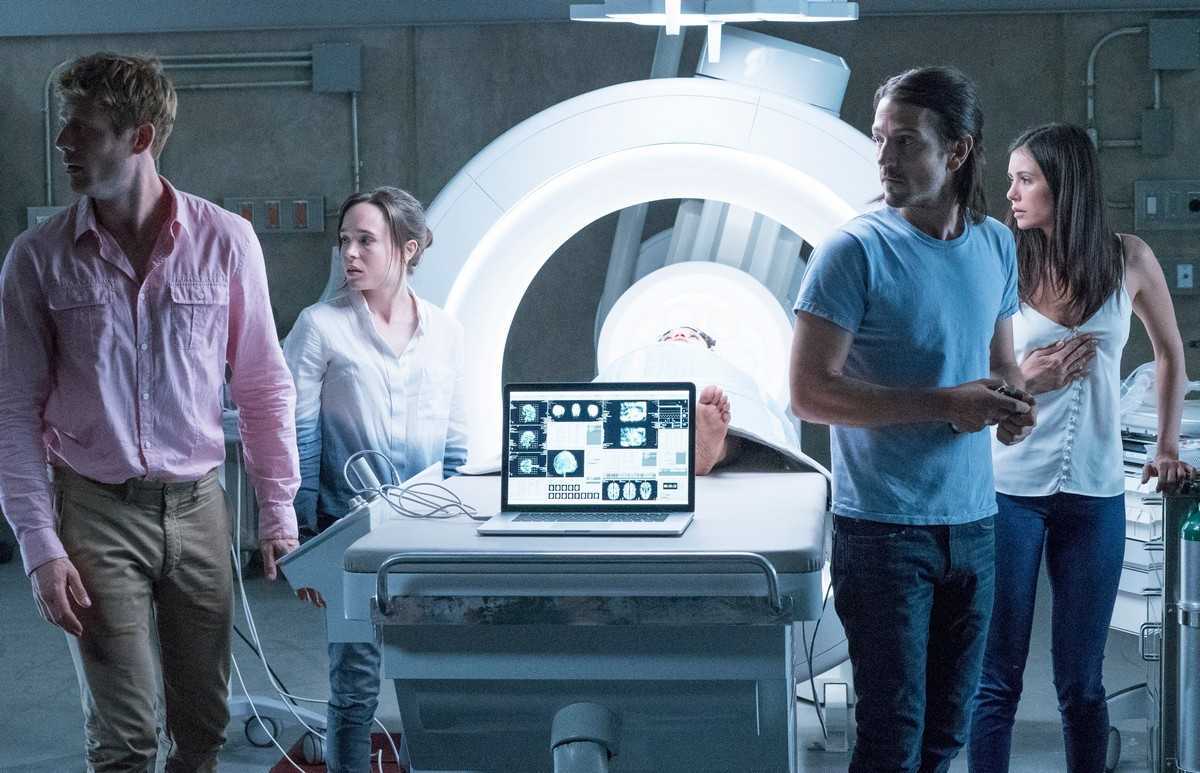 You also notice what is missing. Flatliners 2017 has had 27 years since the original – the entire CGI revolution – to make improvements and give us a more wowtastic venture into the afterlife. Niels Arden Oplev merely has to compete with Joel Schumacher, one of the worst directors in the world, so his simply signing on is almost guaranteed an improvement.
Despite all of this, Flatliners 2017 still manages to be uninteresting and dull. Niels Arden Oplev displays almost no interest in the afterlife scenes. There are one or two out of body scenes but almost everything here is mundanely takes place in the real world and is centred around the individual's past and their guilt issues. There are no amazing journeys into the afterlife – the nearest we get is a scene of Ellen Page on a bridge all lit up in fairy lights. Oplev places more focus on the haunting scenes but does so in such a workmanlike way that he fails to deliver a single scene that makes you tense up.
Schumacher even manages to trump Oplev when it comes to pure style – the ornate cathedral-like basement of the original and the suffused lighting scheme is replaced here by ordinary basements and apartments where at most we get a couple of pretty shots of the hospital building.
---
---