---
UK/USA. 2014.
Crew
Director – Mat Whitecross, Teleplay – John Brownlow & Don MacPherson, Created by John Brownlow, Producer – Sarah Curtis, Photography – Ed Wild, Music – Ilan Eshkeri & Tim Wheeler, Visual Effects – The Brewery (Supervisor – Marc Knapton), Special Effects Supervisors – Richard Conway & Gabor Kiszelly, Production Design – Sophie Becher. Production Company – Ecosse Films/BBC America.
Cast
Dominic Cooper (Ian Fleming), Lara Pulver (Ann O'Neill), Samuel West (Rear Admiral John Godfrey), Anna Chancellor (Second Officer Monday), Annabelle Wallis (Muriel Wright), Lesley Manville (Evelyn Fleming), Rupert Evans (Peter Fleming), Pip Torrens (Esmond Rothmere), Dean Lennox Kelly (Sergeant Dixon), Camilla Rutherford (Loelia, Duchess of Westminster), Michael Maloney (Rear Admiral Rushbrooke), Wolf Kahler (Admiral Brandel)
---
Plot
It is 1939. Ian Fleming lives in the shadow of his brother Peter, a celebrated travel writer. Ian is unsuccessfully trying to make it in the world of banking while spending most of his time womanising. His anti-authoritarian attitude catches the attention of Rear Admiral John Godfrey, the director of Naval Intelligence, who takes Fleming on as his personal assistant. At the same time, Fleming is involved with military despatch rider Muriel Wright and begins an affair with the married Ann O'Neill. In Naval Intelligence, he takes risks, most notably in creating 30 Assault, a special commando unit of tough anti-authoritarian men designated to head to British assets ahead of the Nazi advance and secure vital documents. As Fleming insists on taking a hands-on field involvement in Wartime operations, often defying Godfrey, his love affair with Ann becomes more intense, despite his mother's warnings to her that Fleming will never settle down and marry.
---
Ian Fleming (1908-64) is world famous as the creator of James Bond. The Bond books began with the publication of Casino Royale (1953). Fleming published ten other Bonds books (with The Man with the Golden Gun (1965) being posthumously completed by another author), two Bond short story collections and three non-Bond books. As the mini-series recounts, the character of Bond was based on Fleming's own experiences in Naval Intelligence during the War, during which he set up two highly successful commando units to conduct operations in occupied territory.
Fleming: The Man Who Would Be Bond is a tv mini-series based on Ian Fleming's life. Although the series is book-ended with the writing of Casino Royale, most of it concerns Fleming's early years during the War and not his life as a writer. In this regard, the mini-series falls into the realm of the fanciful fictions that have been derived out around writer's lives such as Agatha (1979), Time After Time (1979), Hammett (1983), Kafka (1991), Finding Neverland (2004), The Brothers Grimm (2005), Bram Stoker's Dracula's Guest (2008), The Raven (2012) and In the Heart of the Sea (2015), which all place the authors into fictional adventures or almost completely fictionalised versions of their own stories.
There had been two previous attempts to spin Fleming's biography out on film with Goldeneye: The Secret Life of Ian Fleming (1989) starring Charles Dance and Spymaker: The Secret Life of Ian Fleming (1990) featuring Sean Connery's son Jason as Fleming, which was even more of a complete fiction than this. He even appears as a spy during World War II in the time travel tv series Timeless (2016-8).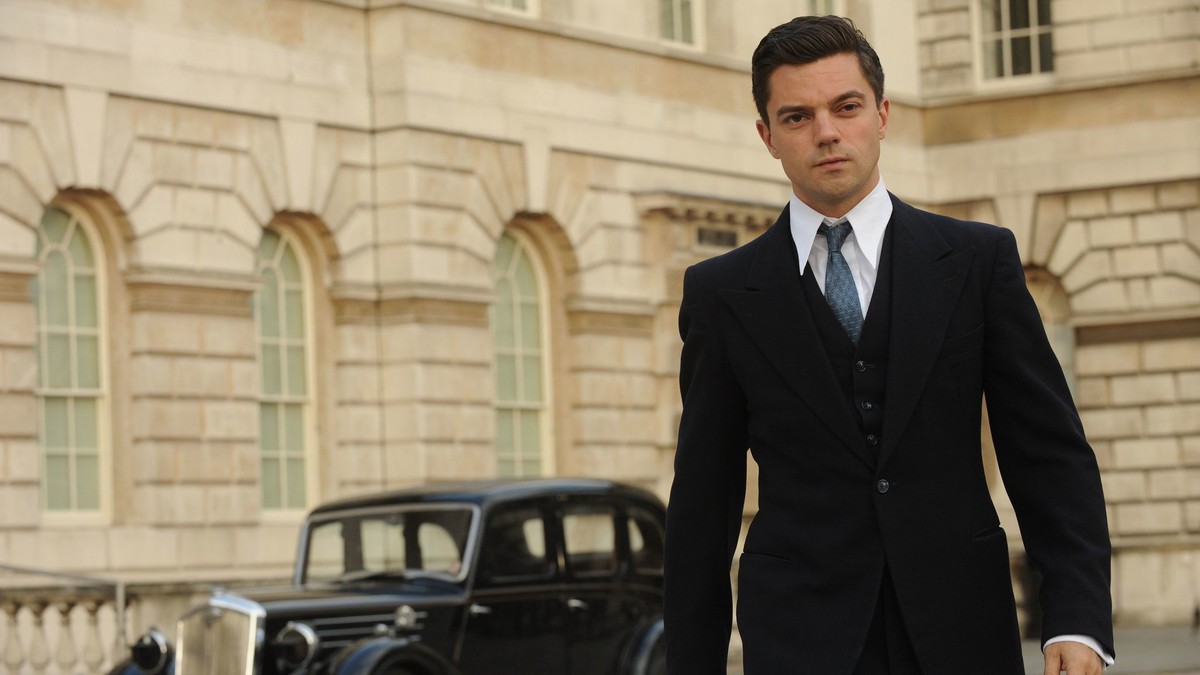 The mini-series pays lip service to Ian Fleming's biography. At least, what should be said is that there is some correspondence between the events in it and incidents from Fleming's life. However, the mini-series has often embellished these to create the story it wants to tell. Incidents that were of minor occurrence in reality are drawn out into major events – in real life, Fleming gave some assistance to the organisational blueprint for the American agency that later became the CIA whereas the mini-series has the US agents reading his notes and being inspired by them to create the CIA.
Among the many suggestions for spying operations that Fleming came up with was dropping a dead body with fake papers secreted on it to mislead the Nazis; the idea was never used but was later separately developed and used in 1943 – the mini-series acknowledges that but has Fleming advising the second operation. The film has Fleming actively involved in combat operations during the War, even single-handedly rescuing a German general from the Russian advance, when in fact his role was mostly from behind a desk or commanding troop operations.
The mini-series also tries to give us the sense that particular details of Fleming's biography led directly to aspects of the James Bond mythos. Samuel West's Rear Admiral Godfrey is meant to be the counterpart of M, while Anna Chancellor's Miss Monday is clearly intended to become Miss Moneypenny (even though Fleming drew the character of Moneypenny from several different sources).
There is a scene where Fleming tries to bankrupt the Germans in a casino, which resembles the major plot element of Casino Royale. The mini-series even tries to suggest that Fleming sought to introduce a series of Q gadgets to the British Secret Service. Perhaps the most fascinating suggestion is that Fleming had a preference for BDSM and rough sex, which, if there is any basis to such in truth, may give some kind of intriguing insight into what underlies Bond's constant seductions of women.
My main problem with Fleming: The Man Who Would Be Bond is the casting of Dominic Cooper. Cooper may be someone's idea of a new matinee idol; alas, for the mini-series, he fails in two crucial ways. Firstly, he does not in the slightest resemble Ian Fleming. He seems about a foot shorter while the real Fleming was around six feet. (If there is someone in the cast who does resemble Fleming somewhat, it is Rupert Evans who is cast as Fleming's brother, while Samuel West could with a pinch have been cast as a facsimile of the middle-aged Fleming). Secondly, Cooper plays the role with a boyish smirk as though he were doing a bad attempt to play the part of James Bond but realising that all he had to draw on in doing so was his handsome good looks. At most, he seems to find the sense of a louche lounge lizard charm but rarely the sense of a social sophisticate who was at ease in the upper echelons of British society that you get when you read about the real Fleming.
The James Bond films are:– Dr No (1962), From Russia with Love (non-genre, 1963), Goldfinger (1964), Thunderball (1965), You Only Live Twice (1967), On Her Majesty's Secret Service (1969), Diamonds Are Forever (1971), Live and Let Die (1973), The Man with the Golden Gun (1974), The Spy Who Loved Me (1977), Moonraker (1979), For Your Eyes Only (non-genre, 1981), Octopussy (1983), A View to a Kill (1985), The Living Daylights (non-genre, 1987), License to Kill (non-genre, 1989), GoldenEye (1995), Tomorrow Never Dies (1997), The World is Not Enough (1999), Die Another Day (2002), Casino Royale (non-genre, 2006), Quantum of Solace (non-genre, 2008), Skyfall (non-genre, 2012), Spectre (2015) and No Time to Die (2021). Casino Royale (1967) and Never Say Never Again (1983) are non-series Bond films. Everything or Nothing (2012) is a documentary about the Bond series.
---
---