---
India. 2012.
Crew
Director/Screenplay/Background Score/Lyrics – Shirish Kunder, Additional Screenplay – Vikram Gupta & Asjmith Kunder, Producers – Cape of Good Films Pvt. Ltd. & Farah Khan, Photography – Sudeep Chatterjee & Anay Goswami, Music Directors – Gaurav Dagaonkar & G.V. Prakash Kumar, Visual Effects – Prime Focus Ltd. (Supervisor – Reupel Nawal), Alien Prosthetics – Preetisheel G. Singh, Production Design – Samir Chanda & Shashank Tere, Choreography – Farah Khan. Production Company – Three's Company Productions Pvt Ltd.
Cast
Akshay Kumar (Agastya), Sonakshi Sinha (Diva), Shreyas (Babban), Darshan Jariwala (Baba), Minnisha Lamba (Anya), Alexx O'Nell (Simon Goeback), Pitobash Tripathy (Kachua), Asrani (Guruji), Sanjay Mishra (Rajaji), Govardhan Randell (Lord Fockland), Anjan Shrivastava (Prajasthan Minister), Avtar Gill (Uttam Pradesh Minister), Swatantra Bharat (Mukya Pradesh Minister)
---
Plot
Agastya is an Indian scientist developing a device for extraterrestrial communications. He is behind on his deadline and is given a month to complete it by his American backers. His girlfriend Diva then informs him that he has received a phone call saying that his father is dying. Agastya makes the decision to return to India. Diva insists on coming, curious because Agastya has always denied having a family. They travel to the remote village of Paglapar that exists on no map and which everybody in surrounding area is afraid of. The village was the site of an asylum where the inmates broke loose just as India was being partitioned and so exists as part of no territory. Agastya reunites with his father, only to find that his illness has been fabricated to lure Agastya back. The village, which has not modernised since 1947, is now dying because a new dam built nearby has diverted the water supply. Agastya attempts to talk to the ministers of the neighbouring provinces but is given the runaround. He tries to think of a gimmick to draw attention to Paglapar and is inspired to come up with the idea of fabricating a crop circle in the field. News crews from all around the world rush to the scene, before the truth is exposed by Agastya's American rival Simon. Agastya then comes up with the idea of faking the arrival of alien visitors.
---
Bollywood Cinema is a unique beast unto itself. Despite its larger-than-life nature, it is never something that has strayed into material that is reviewed on this site until fairly suddenly in the 2010s when it started to conduct some interesting, mostly bizarre experimental ventures into science-fiction with the likes of Action Replayy (2010), Enthiran the Robot (2010), Ra. One (2011) and PK (2014).
Joker was conceived by director/editor/musician Shirish Kunder who had previously directed Bollywood star Akshay Kumar in Jaan-E-Mann (Sweetheart) (2006), his first film, and had also produced Kumar's Tees Maar Khan (2010). Joker appeared to be a troubled production – it was originally announced in 3D but then had the plug pulled on this, while Akshay Kumar refused to participate in publicity and afterwards disparaged the film. Joker ended up being a box-office flop and received negative reviews.
The opening scenes telling the story of Paglapar seem to initially take Joker into the realm of Imaginary Lands comedies alongside works such as Passport to Pimlico (1949) and The Mouse That Roared (1959). The scenes with Ashkay Kumar returning to the village, which seems to have been stuck in a time warp since the Partition, make you think of a film like Good Bye Lenin! (2003). There is some satirical humour involved in the scenes playing off the different surrounding provinces and their disinterest/eagerness in helping the village, which seems to concern domestic Indian political issues far more so that I was able to understand. I think I was hoping during these scenes that Joker would develop as something as sublimely satirical as PK but the disappointment is that it doesn't.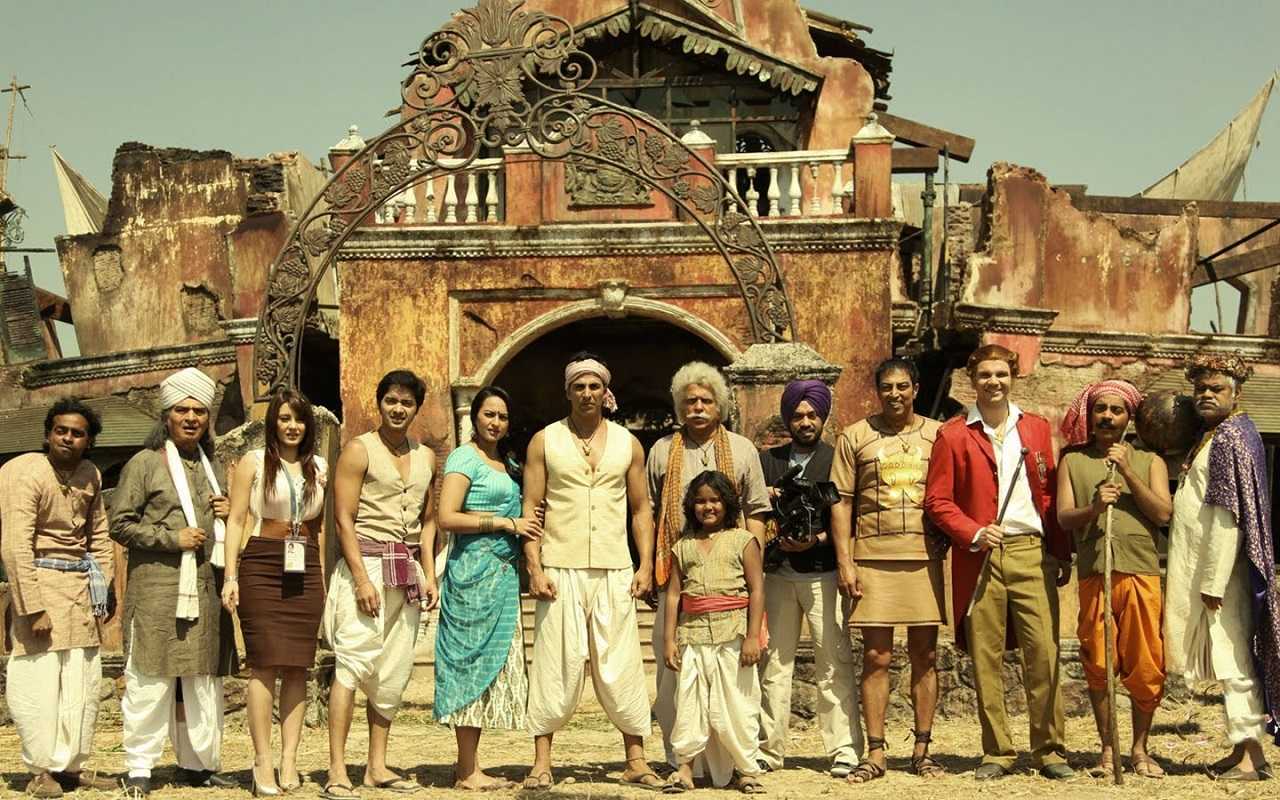 Most of Joker descends to the sappy comedy relief typical of Bollywood. Much of the film is dominated by either elaborately colourful song and dance numbers or silly comedy scenes. The musicals numbers are certainly listenable and watchable; unfortunately, it is this broad and never particularly inspired or funny comedy that kills the show off. The middle of the film is dragged out around the scenes of Akshay Kumar and Sonakshi Sinha returning to the village – and very silly these get especially in the scenes with the villagers attempting to rescue Akshay Kumar from the swamp.
The bizarreness of the film comes when it starts to reach genre territory. Some of the Bollywood science-fiction fusions have ended up with exceedingly strange results – Enthiran as a Terminator copy with songs and the robot engaged in a romance, for instance. However, your heads hurts trying to think about the idea of a Bollywood film about crop circles – imagine M. Night Shyamalan's Signs (2002) (sort of) played as a broad farce and with much singing and dancing added to the mix.
Unfortunately, the film ends up being far less interesting than the wackiness of its premise suggests and the latter half is taken up by the villagers under Akshay Kumar's direction fabricating evidence of crop circles and then aliens landing – a scheme that improbably involves them continuing to prance through the woods in their homemade costumes even though the US military is prone to start shooting everything up at a moment's notice (yet never consider anything like cordoning the area off). There is a predicable twist ending where the faked alien visitation is exposed and real aliens then turn up.
---
Trailer here
---