---
Crew
Director – Denis Henry Hennelly, Screenplay – Denis Henry Hennelly & Sarah Adina Smith, Producers – Mary Pat Bentel, Albertino Matalon, Guy Moshe, Sarah Adina Smith & Matthew G. Zamias, Photography – Jeff Bollman, Music – Eric D. Johnson, Visual Effects – Ingenuity Engine (Supervisors – David Lebensfeld & Grant Miller), Production Design – Katie Byron & Rachael Ferrara. Production Company – Gather Films/Picturesque Films.
Cast
Adrian Grenier (James Palmer), Kerry Bishé (Lily Palmer), Gaby Hoffmann (Laura Shepard), Caroline Dhavernas (Becky Snider), Ben McKenzie (Nick Randworth), Mark Webber (Benjamin Henry), Scott Mescudi (Lev Berkowitz), Remy Nozir (Ariel), McKenna Grace (Hannah Palmer), Linc Hand (Damon Mosley), Patrick Mapel (Kyle Oswald), Laura Kachergus (Trisha)
---
Plot
Everybody everywhere receives a text message saying 'Goodbye World', which quickly goes viral globally. This is followed by shutdown of all phone and power systems. James and Lily Palmer have a home out of the city where they are raising their daughter Hannah. At the same time as the text messages go out, Nick Randworth and his girlfriend Becky Snider come to stay. Nick was James's business partner but they parted acrimoniously over James not wanting to compromise ideals, while Nick and Lily used to be a couple. Several old friends also turn up, including Laura Shepard, an NSA aide who was publicly humiliated by the release of a tape of her having sex with a senator; Benji Henry who did jail time for revolutionary activities and now lectures on the subject, Ariel, one of the students he is having sex with; and the hacker Lev Berkowitz who may have been responsible for sending the 'Goodbye World' virus. James has a well-stocked house and they are not overly affected by the power outage. Their medical supplies are desired by neighbours but James is unwilling to share. However, two soldiers then move into the area, determined to confiscate their supplies by force.
---
The last few years have seen a mini-spate of End of the World films. These eschew big effects-driven depictions of the apocalypse for small human stories. Examples range all the way from The Divide (2011), 4:44 Last Day on Earth (2011), Melancholia (2011) to These Final Hours (2013) – we have even had an end of the world romantic comedy with Seeking a Friend for the End of the World (2012). Notable among these have been a spate of films featuring people at siege inside their homes as the disaster occurs outside the doors with It's a Disaster (2012), Into the Forest (2015) and Silent Night (2021), while it was played for comedy in This is The End (2013).
Goodbye World is not dissimilar to It's a Disaster in featuring a group of middle-class friends sitting down at a dinnertable as the catastrophe happens. The characters are the improbable cross-section that would only turn up in a film like this – a former political activist who did jail time, a couple who believe in self-sufficiency and living off the land, a card-carrying Republican, a member of the NSA and a hacker who may or may not have been responsible for triggering the collapse of the world, all of whom have complicated shared pasts. You do get the sense that the script is often pushing and challenging its characters' liberal instincts beyond just being talk – there are several sections of dialogue that dig beneath everybody's motivations with lacerating effect. Indeed, Goodbye World is very much a vision of social collapse that seems caught up in political idealism, featuring debates about social revolution and in particular interpretation of the constitution.
Many of the scenes have an improvisational looseness – and, unfortunately far too much of the film seems caught up in stoned dinner table conversations, everybody giving talent recitals, stoned scenes in a hot tub debating about male and female waxing. It often feels less like we are in for a vision of the collapse of society than a variation on The Big Chill (1983).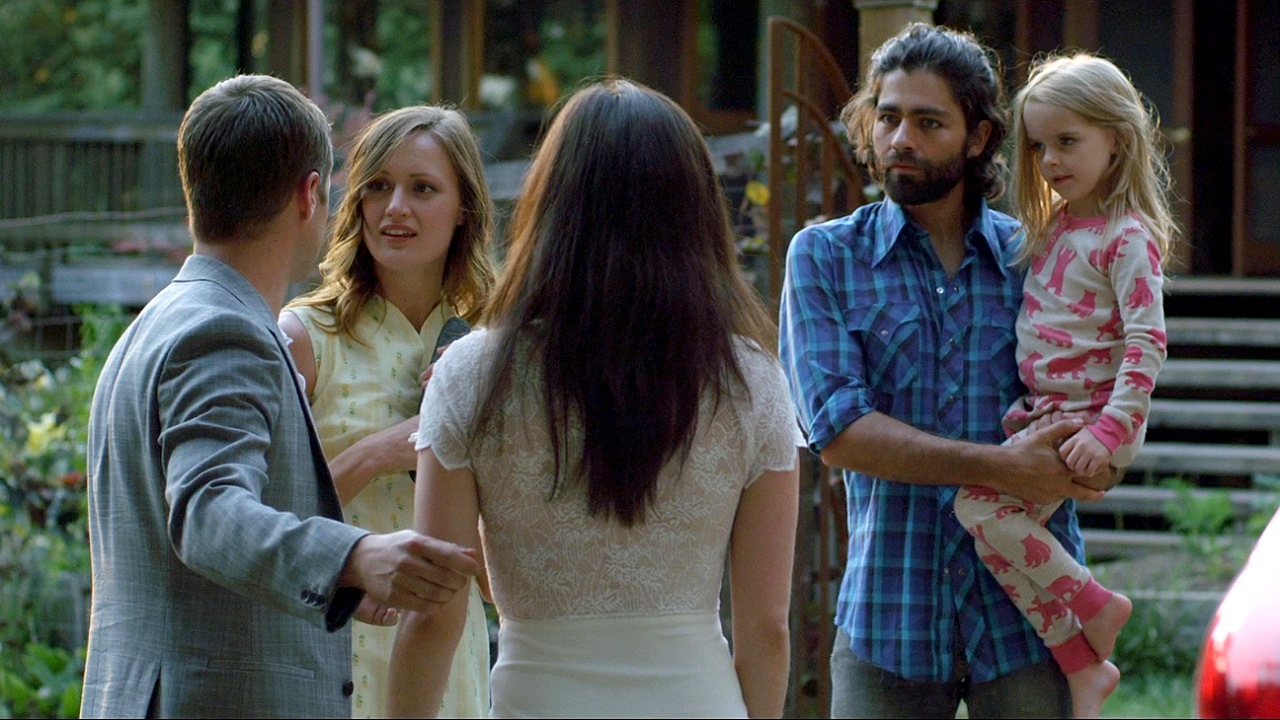 The point that the film starts to move out of its looseness is with the introduction of the soldiers who introduce some much needed threat and dramatic tension into the show. The most gripping scenes are when the soldiers arrive and commandeer the supplies – the film needed much more of this uncomfortable tautness. Even then much of the film feels as though it has been set up to make ideological points in big declamatory speeches – about whether the soldiers' actions are legal according to the constitution, while the climax has been wound around so that Gaby Hoffmann can save the day by standing up and giving her George Washington speech promulgating the ideals of a good society.
Everything eventually arrives at a happy upbeat ending where people resolve their issues, reconcile or leave and the local community settles down in mutual peace. It does feel a little too utopian in its harmonious contentment. After all, as Mark Webber and Caroline Dhavernas set off on his motorcycle (notedly with no supplies), you cannot help but wonder whether the world they are going to find out there is any better a one. It seems more an uplift due to the writers' feelgood wishes than the probable likelihood that the rest of society will not have fallen into anarchy.
For a far less rose-tinted and brutally harsh view of the collapse of society, you might contrast this to John Varley's brilliant book Slow Apocalypse (2012), which deals with the harshly unromanticised desperation that sets in in a world that suddenly reaches the end of gasoline. (A film version of that would be awe-inspiring). Mindedly, Goodbye World also seems naive in the nature of its catastrophe – it is hard to see how systems on different types of computers, that are designed for different operating systems or written in different code could all be affected by the same virus. While all interconnected systems may have been affected by the virus, you are left wondering why people simply do not conduct an offline reboot and system restore.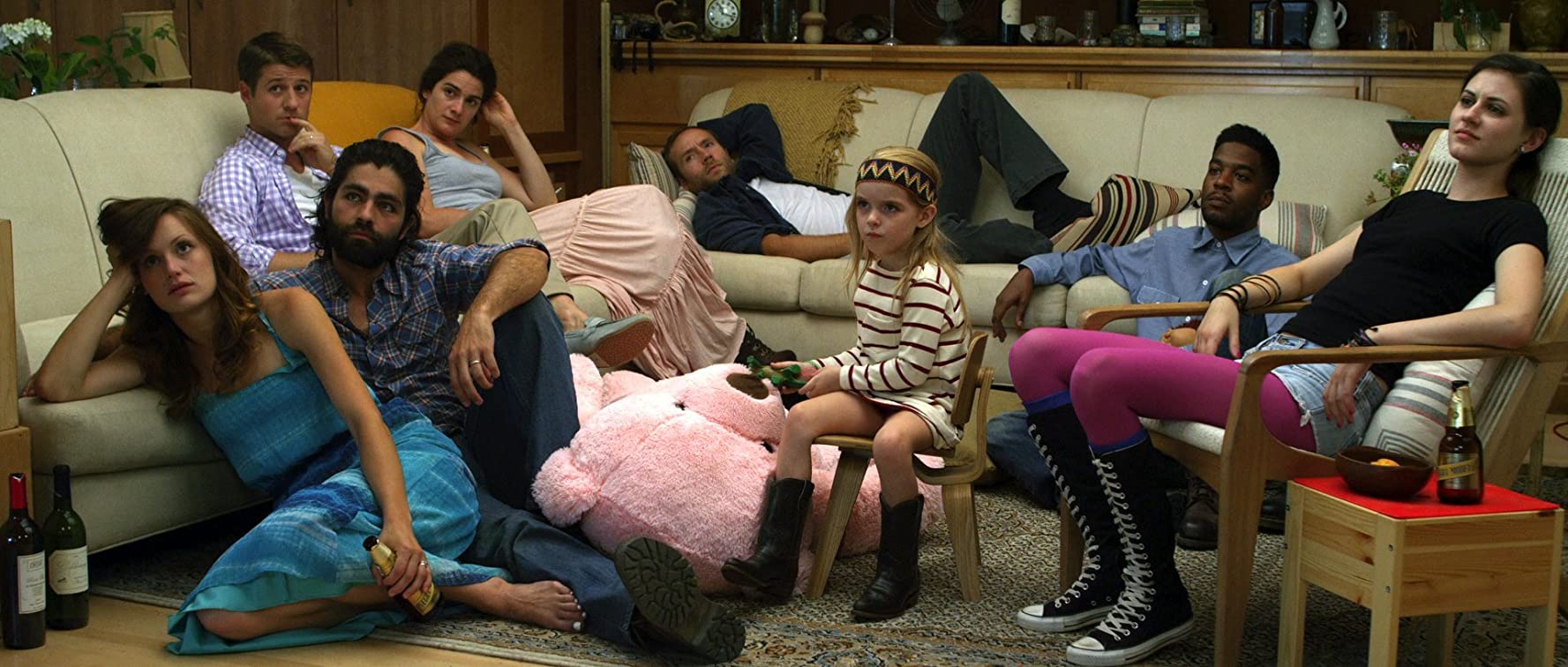 Goodbye World works as a well-oiled ensemble drama. In this regard, it is largely the women who own the show. Canadian actress Caroline Dhavernas, currently known for her regular role on tv's compulsively watchable Hannibal (2013-5), plays much bitchier and more unfriendly than the character roles we have seen her in so far. Kerry Bishé, an actress new to me but clearly one to keep an eye on, proves an incredible scene stealer and projects a natural liveliness and freshness in every scene that she turns up in. Gaby Hoffmann, who I only remember as a child actress in Field of Dreams (1989), plays a grown-up role where she is made down plain and ordinary but gives an intelligent no-nonsense performance.
Goodbye World was the third film for director and co-writer Denis Henry Hennelly who had previously made Rock the Bells (2006), a documentary about the Wu Tang Clan; Bold Native (2010), a work of fiction about a radical animal liberation activist wanted by the FBI not dissimilar to the radical character played by Mark Webber here; and The Animal People (2019), a documentary about activists.
(Nominee for Best Supporting Actress (Kerry Bishé) at this site's Best of 2013 Awards).
---
---