---
Crew
Director/Screenplay – Takashi Doscher, Producers – Gabrielle Pickle & Eyal Rimmon, Photography – Sean Stiegemeier, Music – Josh Kaefer & Michael Dean Parsons, Visual Effects Supervisor – Ben Nichols, Special Effects Supervisor – Wayne Beauchamp, Production Design – Erik Louis Robert. Production Company – Tadmor/Astrakan Film AB.
Cast
Freida Pinto (Eva), Leslie Odom, Jr. (Will), Jayson Warner Smith (Arthur), Chandler Riggs (Casey)
---
Plot
In the aftermath of Comet Covino, there has been a worldwide cloud of ash that has caused all women to become infected and die. The infection is carried by contact with men. Eva is one woman who still remains alive while her husband Will does everything he can to quarantine their apartment and disinfect everything he brings in, while avoiding touching her. The two leave to go camping in the wilderness. This necessitates keeping Eva's looks disguised as they encounter others. However, with a two million dollar bounty out for any women still found alive, this brings people determined to capture her.
---
Only was the third film from Takashi Doscher. Prior to this, Doscher had made Still (2018) about a mysterious farm in the Appalachian backwoods that reveals fantastical secrets. Doscher followed this up with Hear Me (2018), a documentary about novice classical musicians. Only ended up being his most high-profile film to date after premiering at the Tribeca Film Festival.
There are a surprising number of similarities between Only and Casey Affleck's Light of My Life (2019), which came out two months earlier the same year. Both films are set in its aftermath of a virus that has killed off all the women in the world. Both films follow a man and what could quite possibly be the last woman left alive as they go on a journey during which she must disguise herself as a man and they are hunted by others after her identity is discovered. The two films could almost be sequel/prequel – Only is set during and the immediate aftermath of the outbreak, while Light of My Life is set following the collapse of society.
The idea of the comet passby causing a worldwide catastrophe is taken from John Wyndham's The Day of the Triffids (1951) – a plague of blindness for Wyndham, the death of all women here. The script is a little vague on the details – it is not exactly made clear, for instance, how we go from debris left by a comet to a worldwide plague that is transmitted by men. The sciency nitpicker in one also tends to think that the amount of ash we see coming down would leave such an amount of particulate matter in the atmosphere that it would have much more serious environmental consequences akin to the oft-theorised nuclear winter.
If anything, the film's real source of inspiration would appear to be tv's The Walking Dead (2010-22) with it featuring no less than three actors who have appeared in the series, most prominently Chandler Riggs who had played the regular role of Carl Grimes, as well as Jayson Warner Smith and Joshua Mikel who had played supporting roles.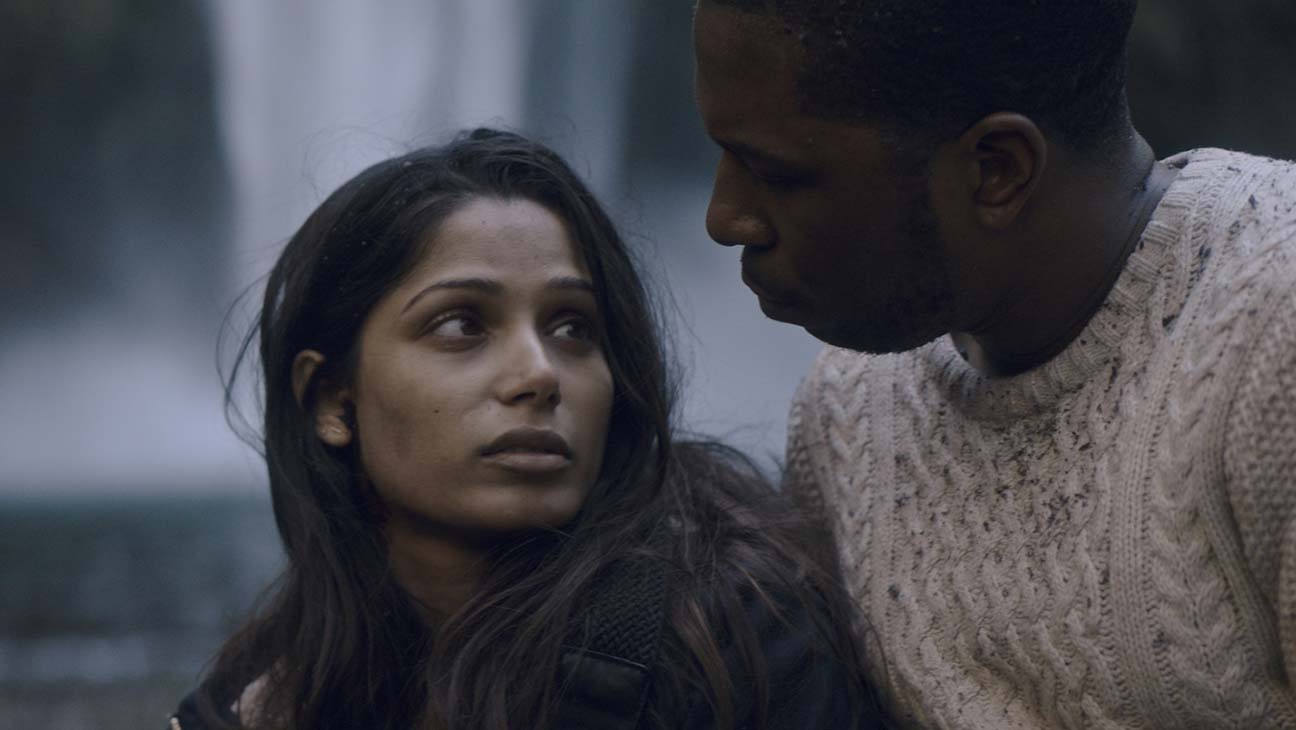 Only premiered in April 2019 and was released to digital platforms in March 2020. Seeing the film about a year after it first came out in the first week of April 2020 and right at the peak of the Coronavirus lockdown across most of the world, there seems something uncannily predictive to it. Although the film didn't know about any of this when it was made, its images of empty streets and parking lots, or of people scouring bare supermarket shelves for supplies could almost be taken from tv news footage after the outbreak of Corona. Not to mention the scenes of Fredia Pinto and Leslie Odom, Jr. in a state of quarantine in their apartment, reduced to eating canned and packaged food, wearing face masks and hazmat suits, with plastic sheeting over the door and everything from outside having to be disinfected, while socially distancing themselves from one another.
Takashi Doscher seems to have primarily wanted to make a film about the relationship between two people who connect despite not being able to touch. For the most part, Only takes place in a series of intimate and often beautifully filmed vignettes. The downside is that these come as glimpses and images more than they do pieces of drama that we are engaged in. The film is also hindered by being shot in non-linear order with scenes cutting back and forward between the quarantined apartment and the journey to go camping in the woods without you being sure in what order things are meant to happen.
On the other hand, the scenes that you most remember are less the series of images than those where the film does engage on a dramatic level – the opening scene with a squad in riot gear breaking into search the apartment while Freida Pinto is secreted in the hidey-hole beneath the bed; the scene with her fearful of discovery while disguised as a man in a diner; and the climactic scenes where their woodland idyll is interrupted by two men with guns come to capture her.
---
---