---
USA. 1989.
Crew
Director – Joe Johnston, Screenplay – Stuart Gordon, Ed Naha, Tim Schulman & Brian Yuzna, Story – Stuart Gordon, Ed Naha & Brian Yuzna, Producer – Penny Finkleman Cox, Photography – Hiro Narita, Music – James Horner, Visual Effects – Industrial Light and Magic (Supervisor – Michael Muscal), Creature/Miniature Supervisor – David Sosalla, Visual Effects Animation – Peter Kuran, Scorpion Sequence Supervisor – Phil Tippett, Ant Stop Motion Animation – David Allen, Mattes – Illusion Arts (Syd Dutton & Mark Whitlock), Practical Effects/Creature Mechanics – Image Engineering (Supervisor – Peter M. Chesney), Production Design – Gregg Fonseca. Production Company – Disney/Doric Productions.
Cast
Rick Moranis (Professor Wayne Szalinski), Thomas Brown (Russ Thompson Jr), Amy O'Neill (Amy Szalinski), Jared Rushton (Ron Thompson), Robert Oliveri (Nick Szalinski), Matt Frewer (Russ Thompson), Marcia Strassman (Diane Szalinski), Kristine Sutherland (Mae Thompson)
---
Plot
Professor Wayne Szalinski has invented a device that can shrink matter. When the neighbouring Thompson children hit a baseball through the attic window, they accidentally activate the machine. When they and the Szalinski children venture up to retrieve the ball, they are shrunken to miniature size and unwittingly swept up and thrown out in the trash by Wayne. Trying to trek back to the house through the backyard, they find themselves in a world where insects and lawnmowers have become giant life-threatening menaces.
---
Around 1978-9, in the immediate post-Star Wars (1977) science-fiction boom, there were two planned projects announced, one to have been adapted from Lindsay Gutteridge's novel Cold War in a Country Garden (1971) and an original work from former James Bond producer Harry Saltzman entitled The Micronauts. Both of these were adventure films that featured people miniaturised and forced to survive in a backyard that had now been rendered giant-size. Neither of these fascinating seeming projects ever emerged as far as a production slate (although would still make for great films if someone ever revived them).
Honey, I Shrunk the Kids was one version of the idea that we did eventually end up with. It originally began life as a project entitled The Teenie-Weenies, begun by Stuart Gordon, director of the cult splatter film Re-Animator (1985). However, Stuart Gordon ended up being fired by Disney and the project was handed over to Joe Johnston. Joe Johnston had worked as a visual effects production designer at Industrial Light and Magic on all the Star Wars and Indiana Jones films and was given the opportunity to make his directorial debut with Honey, I Shrunk the Kids.
The results are delightful. The effects are top quality – stop-motion animated bees, ants, scorpions. These are flawlessly matched with the excellent giant-sized backyard jungle sets. However, Honey, I Shrunk the Kids is not merely an effects showcase. In coming from an effects background, Joe Johnston understands that effects must always be tied to strong drama. He creates a series of immensely exciting set-pieces with the kids about to swept up into the blade of a lawnmower, fleeing giant water drops from a sprinkler, in one exhilarating sequence Robert Oliveri flying on the back of a bee and, in one inspired moment, the group about to be devoured unnoticed in Rick Moranis's breakfast cereal.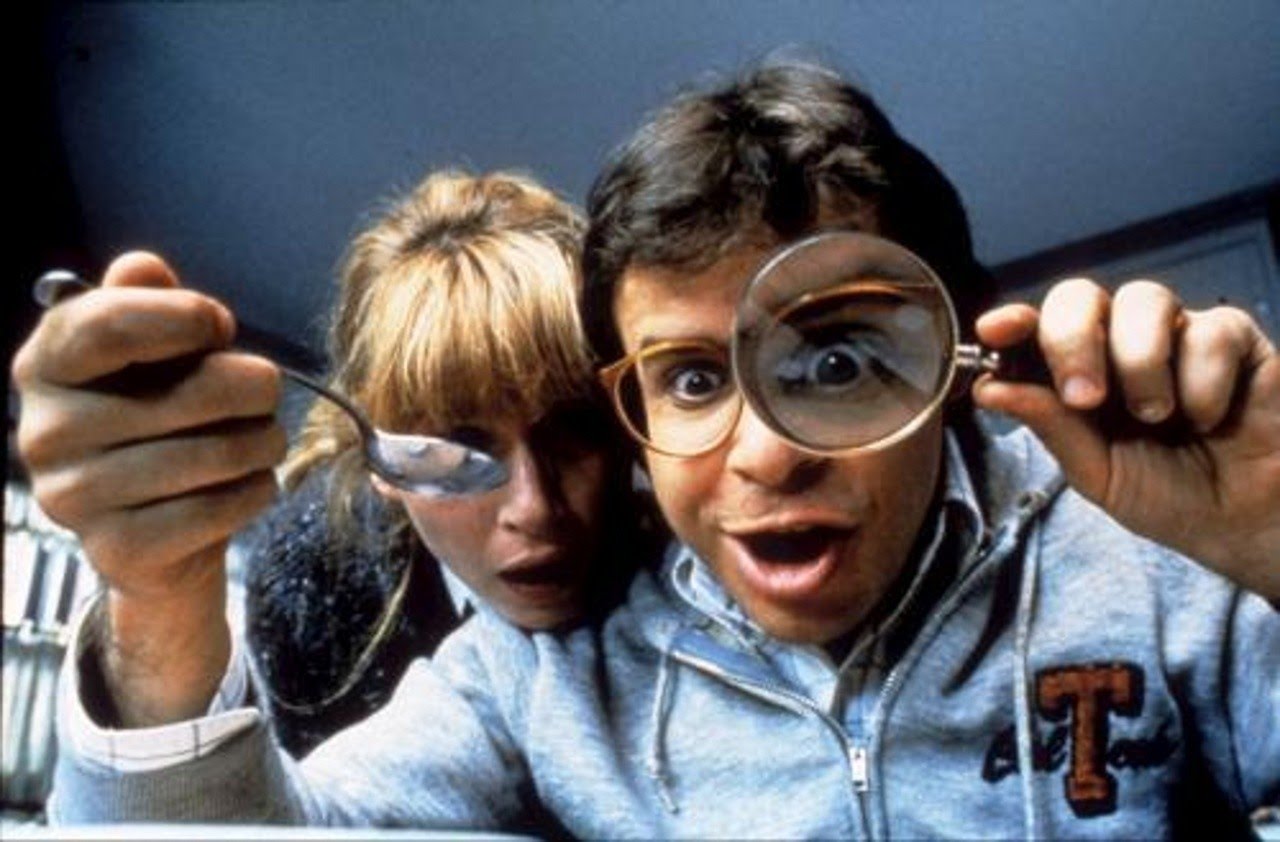 Joe Johnston also does the feelgood thing with both humour and poignance. The film is underlined with a number of worthwhile characterisations – the sense that the adventure functions to bring out warmer changes in the two families is particularly well conveyed. The drama cuts back and forward to Rick Moranis's search, which is played in a light comedy vein with Moranis doing another variation on his cuddly likable nerd persona, with the always reliable Matt Frewer as the straight-man. The only excessively cutsie touch remains the necessity to have to anthropomorphise an ant, turning it into a sort of insectoid dog, behaviour that is implausible for such a creature.
The notable difference between Honey, I Shrunk the Kids and the other abovementioned giant-sized backyard adventure projects is that here the idea has been cast with kids and played for light fantasy. This brings it more in line with films of the 1980s such as Back to the Future (1985), Fright Night (1985) and Explorers (1985), which tamed science-fiction/fantasy themes for the Me Generation.
Honey, I Shrunk the Kids is less a survivalist adventure as the abovementioned backyard adventures were intended, than it is one pitched to suburban middle-class kids of the Baby Boomer generation. There is a certain narcissism of these adventures, which are capable of stretching out through the universe, history and the afterlife, yet invariably end up returning to suburbia and junk culture. As one of the kids here comments in regard to the urgency of their plight: "I've got six hours to get home and get to the mall."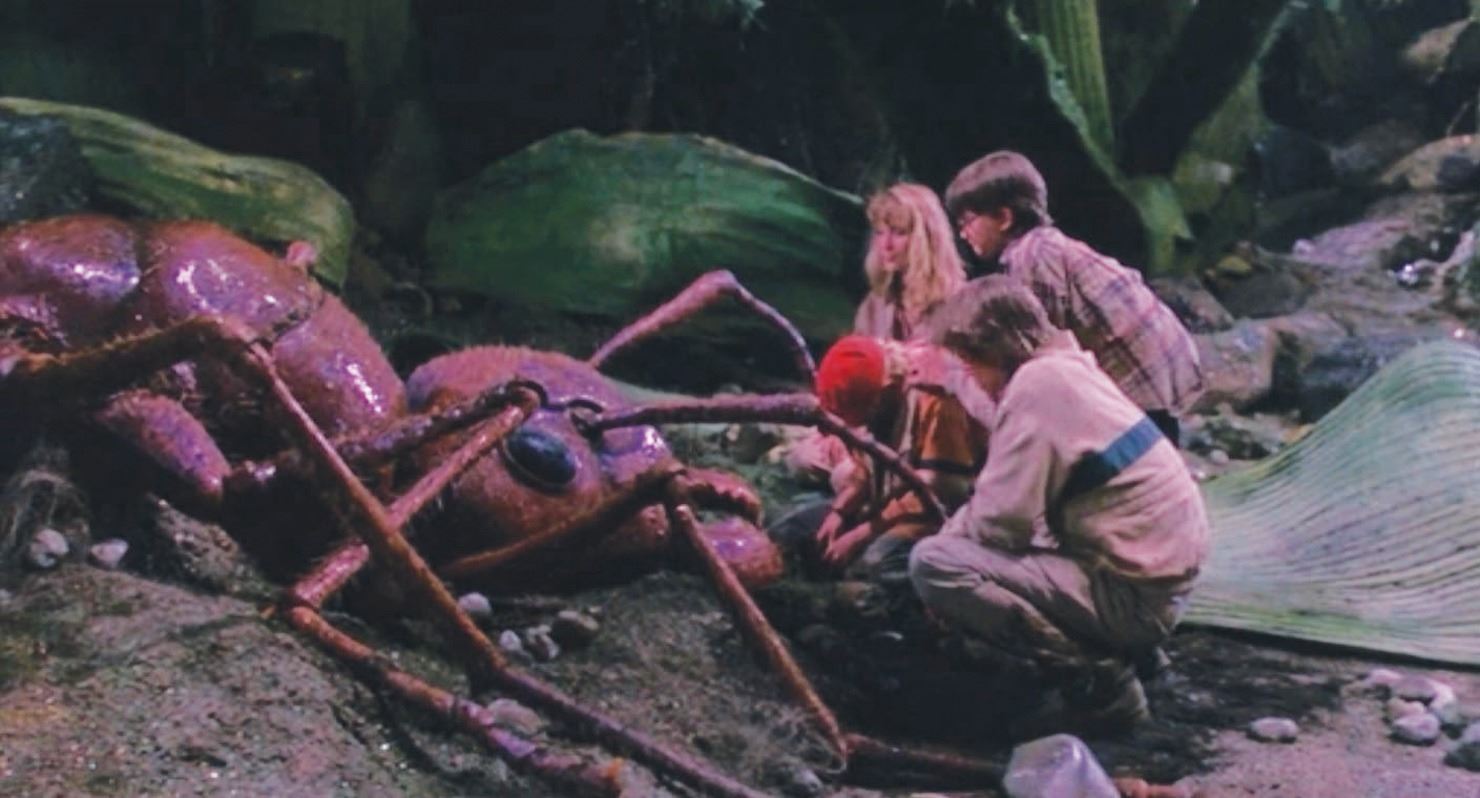 There were two inferior sequels Honey I Blew Up the Kid (1992) and Honey, We Shrunk Ourselves! (1997), both featuring Rick Moranis. These was followed by a terrible tv series Honey I Shrunk the Kids (1997).
Joe Johnston went onto a strong career as a genre director, directing the rocket-backpack superhero film Rocketeer (1991), the live-action sequences on The Pagemaster (1994), the children's film Jumanji (1995), Jurassic Park III (2001), the remake of The Wolfman (2010), the Marvel Comics adaptation Captain America: The First Avenger (2011) and The Nutcracker and the Four Realms (2018). All of Johnston's films have a strong effects focus. His non-genre films to date are October Sky (1999), Hidalgo (2004) and Not Safe for Work (2014).
---
Trailer here
---