---
Crew
Director – Robert Zemeckis, Screenplay – Bob Gale & Robert Zemeckis, Producers – Neil Canton & Bob Gale, Photography – Dean Cundey, Music – Alan Silvestri, Visual Effects – Industrial Light and Magic, Special Effects Supervisor – Kevin Pike, Makeup – Ken Chase, Production Design – Lawrence G. Paull, Car Design – Andy Probert. Production Company – Amblin/Universal.
Cast
Michael J. Fox (Marty McFly), Christopher Lloyd (Emmett 'Doc' Brown), Lea Thompson (Lorraine Bates McFly), Crispin Glover (George McFly), Thomas F. Wilson (Biff Tannen)
---
Plot
Inventor Emmett 'Doc' Brown demonstrates his latest invention to his teenage assistant Marty McFly – a time machine built inside a DeLorean car. During the demonstration, Doc successfully sends his dog Einstein one minute into the future. Immediately after, Doc is shot by Iranian terrorists whose stolen plutonium he has appropriated to fuel the car. Marty uses the DeLorean to escape the terrorists and ends up driving back through time to 1955. However, once there, Marty finds that he is unable to return because he is out of plutnomium fuel. He meets up with the younger Doc and they devise a plan of powering the car by harnessing a lightning bolt that Marty knows will hit the town clocktower at a certain time in a few days. Marty is then run hit a car and found by his teenage mother who becomes hopelessly infatuated with him. In a photo of his family, Marty's brothers and sisters start fading out and Marty realizes he must get his mother and complete wimp of a father interested in one another before his own existence is affected too.
---
This production from the Spielberg stables was a runaway success that became the No.1 box-office hit of 1985. It announced the entrance at the Hollywood forefront of director Robert Zemeckis. Prior to Back to the Future, Robert Zemeckis had directed a couple of forgettable light comedies I Wanna Hold Your Hand (1978) and Used Cars (1980) for Spielberg and provided the story for Spielberg's flop screwball comedy 1941 (1979), before breaking out with the amiable adventure comedy Romancing the Stone (1984). Back to the Future proved a film of immense directorial confidence that heralded Robert Zemeckis as a major new talent. (See below for Robert Zemeckis's other genre films).
For literary science-fiction readers, particularly fans of Robert Heinlein and his preoccupation with contorted cross-temporal Oedipal relationships, Back to the Future treads familiar ground. However, Robert Zemeckis and co-writer Bob Gale succeed in serving up all the time travel twists so that they seem fresh – and everyone was so dazzled by the sheer exuberance and energy of Back to the Future that they thought Zemeckis and Gale had created something new and the script even received an Oscar nomination.
Back to the Future is a commercially calculated film – one can see it moving its plot contrivances into place at times. However, it is not an unentertaining one – it is the exhilarating lightness of touch and dexterity with which Zemeckis keeps everything moving that makes the film. Played straight and with a more pedestrian director, one suspects it would read as a good deal more routine. However, there is a tremendous degree of visual invention upon Zemeckis's part – like the impromptu skateboard chase over and around a 1950s convertible or the completely over-the-top rendition of Johnny B. Goode by Michael J. Fox that ends with an aside where a Black musician picks up the phone, "Hello, Chuck, this is your cousin Melvin Berry – you know that new sound you were looking for …". Michael J. Fox turns the bizarre mugging and series of double takes he lets pass as acting towards some often spot-on culture comment gags. Christopher Lloyd manages to turn a potentially whacked-out mad scientist part into a nicely warm performance.
The success of Back to the Future and The Terminator (1984), which came out only a few months earlier, gave a major boost to time-travel movies throughout the 1980s and 1990s. There was suddenly a host of new films and tv series, all eager to explore some of the more challenging themes of time travel such as time paradox, alternate history, parallel timelines and timeloops. Prior to this, bar a mere handful of exceptions, time-travel movies had been little more than glorified space exploration movies. In the likes of Captive Woman (1952), World Without End (1956), Beyond the Time Barrier (1960), even well-respected works such as The Time Machine (1960) and Planet of the Apes (1968), the time machine had existed as little more than another planet had for astronauts – an exotic locale (usually a post-holocaust setting) for two-fisted adventurers – and time-travel scenarios had not developed much sophistication beyond there-and-back adventures or of culture clash stories about visitors from one era arriving in another. After Back to the Future and The Terminator, time-travel lost its linearity, time became fluid with the past, the present and future a malleable whole that could be endlessly rearranged and fought for the better.
Back to the Future (and its sequels)'s particular spin on time-travel themes was an aggressive assault on the past by junk culture savvy – something that was taken to an even greater extreme by the Back to the Future-inspired Bill and Ted's Excellent Adventure (1989). The film is filled with a relentless barrage of pop-culture references – from Star Trek (1966-9) to Star Wars (1977). It seems caught up with the appealingly utopian baby-boomer optimism of mid-1980s films like E.T. – The Extra-Terrestrial (1982), Starman (1984) and My Stepmother is an Alien (1988) that junk culture Americana would conquer and tame the rest of the universe. The three films of the Back to the Future trilogy depict a past, present and future being innocently colonized and won over by contemporary junk culture – from the media-saturated landscape to skateboarding and rock'n'roll. Back to the Future does after all end with what must be every baby-boomer's dream – that of revisiting the past and loosening up one's parents and transforming one's father from a nerd to winner.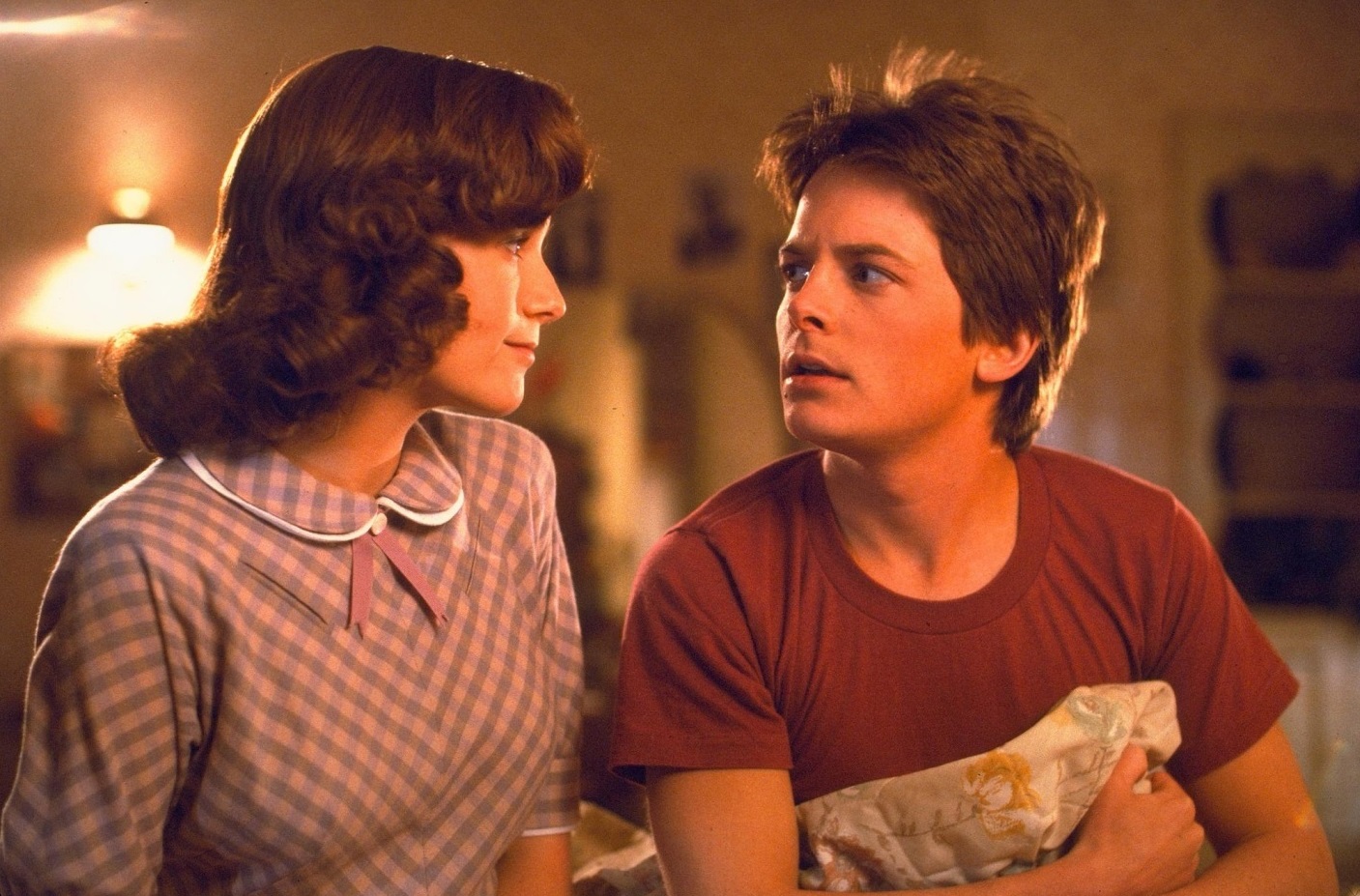 Robert Zemeckis and Bob Gale made two highly entertaining sequels – Back to the Future Part II (1989) and Back to the Future Part III (1990). Both were shot back-to-back and do an excellent job of expanding and echoing the original, particularly Part II. There was also a short-lived animated series Back to the Future (1991), featuring live-action science lecture inserts from Christopher Lloyd. Back to the Future has become an undisputable 80s pop-culture icon and is referenced in numerous other films including Donnie Darko (2001), Summer Time Machine Blues (2005), Minutemen (2008), Hot Tub Time Machine (2010), Sharknado 5: Global Swarming (2017), Ready Player One (2018), Avengers: Endgame (2019) and tv series such as The Simpsons (1989– ), South Park (1997– ) and Lost (2004-10). The basic plot was substantially stolen in the Bollywood film Action Replayy (2010). Back in Time (2015) is a documentary about the making of the Back to the Future series and its cultural influence. The DeLorean also made a cameo appearance in Steven Spielberg's Ready Player One (2018).
Robert Zemeckis has since gone onto direct other films such as Who Framed Roger Rabbit? (1988), Death Becomes Her (1992), Forrest Gump (1994), Contact (1997), What Lies Beneath (2000), Cast Away (2000), The Polar Express (2004), Beowulf (2007), A Christmas Carol (2009), Flight (2012), The Walk (2015), Allied (2016), Welcome to Marwen (2018), The Witches (2020) and Pinocchio (2022). Zemeckis has also produced a large number of other genre films including the Tales from the Crypt (1989-96) cable tv horror anthology series, the two film spinoffs Tales from the Crypt Presents Demon Knight (1995) and Tales from the Crypt Presents Bordello of Blood (1996), Peter Jackson's The Frighteners (1996), the voodoo film Ritual (2002), the animated Monster House (2006), Mars Needs Moms (2011), Real Steel (2011), the tv series' Manifest (2018-22) about a planeload of temporally displaced passengers and Project Blue Book (2019-20) about the US Air Force's true life UFO investigation department and the robot film Finch (2021). Zemeckis is also one of the producing partners in Dark Castle Entertainment and under their banner has produced House on Haunted Hill (1999), Thir13een Ghosts (2001), Ghost Ship (2002), Gothika (2003), House of Wax (2005) and The Reaping (2007).
---
---