---
Crew
Director – Joe Johnston, Screenplay – Jonathan Hensleigh, Story – Jim Strain, Greg Taylor & Chris Van Allsburg, Based on the Novel by Chris Van Allsburg, Producers – Scott Kroopf & William Teitler, Photography – Thomas Ackerman, Music – James Horner, Visual Effects – Industrial light and Magic (Supervisors – Stephen L. Pierce & Ken Ralston), Animatronics – Amalgamated Dynamics (Supervisors – Alec Gillis & Toom Woodruff Jr), Production Design – James Bissell. Production Company – Interscope Communications/Teitler Film.
Cast
Robin Williams (Alan Parrish), Bonnie Hunt (Sarah Whittle), Kirsten Dunst (Judy), Bradley Pierce (Peter), David Alan Grier (Officer Carl Bentley), Adam Hann-Byrd (Young Alan), Jonathan Hyde (Van Pelt/Sam Parrish), Bebe Neuwirth (Aunt Nora), Laura Bell-Bundy (Young Sarah)
---
Plot
In 1969, young Alan Parrish and Sarah Whittle unearth a box that they find contains a board game Jumanji. That night they play the game and are startled when the dice start to move of their own accord. Alan then throws a move that causes him to be transported into the crystal at the centre of the game where he must remain until somebody throws either a five or an eight. 26 years later, the house is bought by Nora and she moves in with her niece and nephew Judy and Peter whose parents have died in a skiing accident. Judy and Peter discover the Jumanji game and start playing. They are startled when it materializes swarms of monkeys, mosquitoes and a lion. Upon throwing a five, they bring the now adult Alan back out of the game. As the game materializes big game hunters, tropical weather and jungle wildlife that stampedes through the house and the rest of the town, Alan realizes they must complete the game to stop the chaos, and that to do so he has to find and convince the now adult Sarah to come back and play.
---
Jumanji is based on an acclaimed and award-winning 1981 children's book, illustrated and written by Chris Van Allsburg. The film version was directed by Joe Johnston who first appeared with Honey, I Shrunk the Kids (1989).
The film takes considerable liberties with the book – the two lead characters played by Robin Williams and Bonnie Hunt do not even appear in the book, for instance. The results emerge as something akin to Hellraiser (1987) – albeit a family-friendly version without the Cenobites and a jungle theme.
Indeed, Jumanji taps into the secret wish-fulfillment fantasy that runs through many children's stories – a desire to see the adult world of rules and orders overthrown by chaos and anarchy. The film takes extraordinary delight in the smashing up a huge house, of letting jungle creatures loose through the main street of a small town, of unleashing a great deal of mayhem in a department store and the progressive comedic trashing of David Alan Grier's cop car. The film is one giant orgy of gleeful destruction. To such extent, Joe Johnston arranges an impressive array of CGI and animatronic effects. Ultimately, Jumanji fails to satisfy. It is a cute idea but there is never anything more to the film than a gleeful spree of vandalism.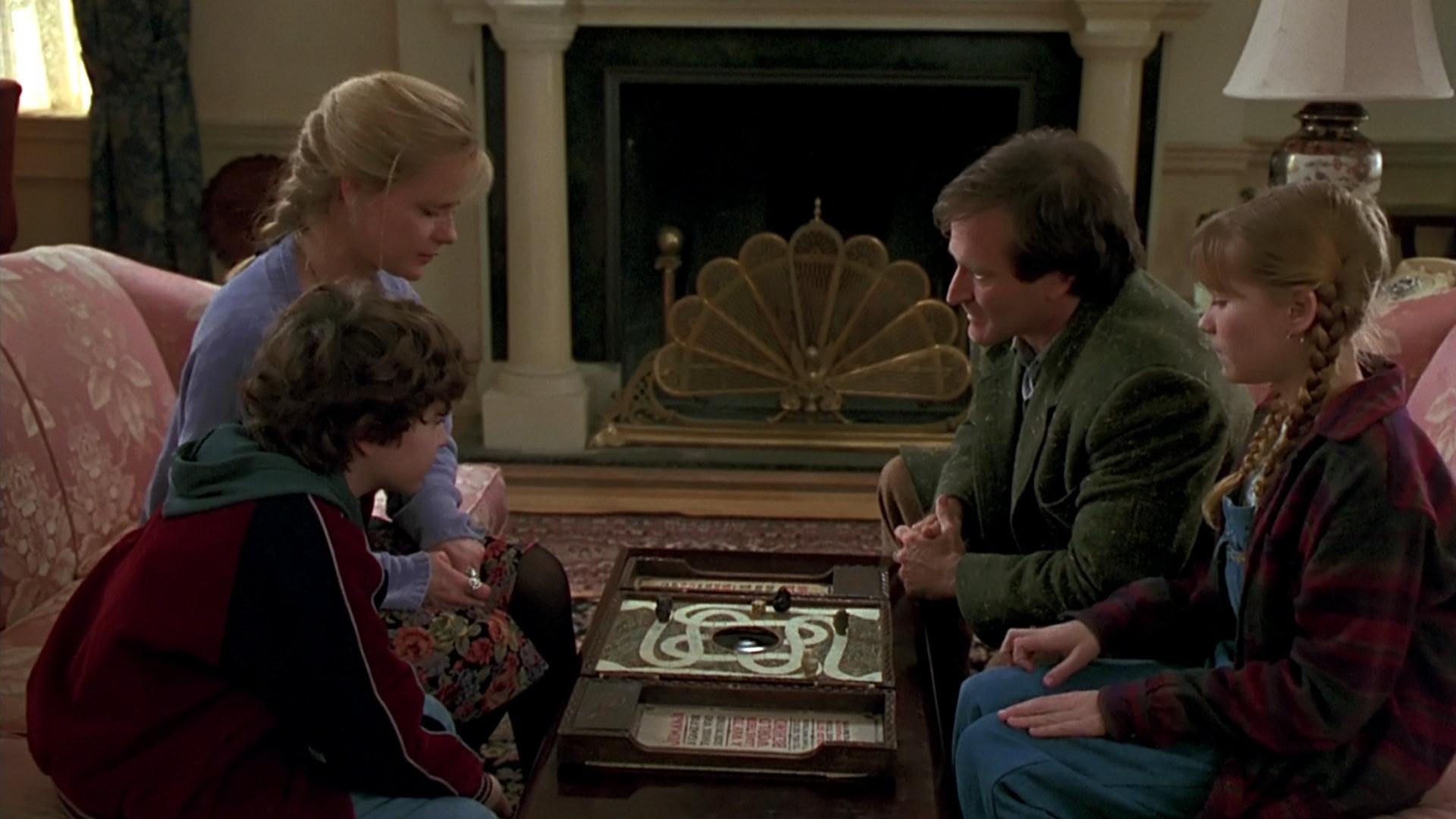 What is unique about Jumanji is the ultimate safeness of its fantasy. Most children's stories that allow anarchy loose wrap it up with a restoration of the adult status quo ie. the anarchy is never allowed to supersede the reinstatement of law and order. However, Jumanji goes way beyond even that kind of conservative retraction – not only is all the anarchy safely wrapped up again and the chaos repaired but the ending even winds the clock back to 1969, giving Robin Williams his childhood back, allowing him to get his cold and authoritarian father to discover his feelings and for him to win the girl he always loved, plus a coda in the present day where Williams and Bonnie Hunt are now married, have managed to save the mill from closing and his father from a premature death of heartbreak and where Kirsten Dunst and Bradley Pierce's parents are prevented from being killed in a skiing accident. A safer fantasy of ameliorating hurt one would have to go some length to find.
Robin Williams is reasonably restrained. Once the comic wild man of the entertainment industry, capable of a machine-gun barrage of off-the-cuff one-liners, Williams started to soften as he entered middle-age. Most of his work in the 1990s/2000s was children's films – Hook (1991), Aladdin (1992), Ferngully: The Last Rainforest (1992), Flubber (1997), Robots (2005), Happy Feet (2006), Night at the Museum (2006) – middlebrow comedy – Mrs Doubtfire (1993), Nine Months (1995), RV (2006) – and shameless schmaltz – Patch Adams (1998), Jakob the Liar (1999) and the appalling Bicentennial Man (1999). Here Williams seems restrained to the point that one wonders why they cast him at all – almost any actor could have done the job. Apart from some uninhibited moments when he emerges as the wild man, he remains passively restrained throughout.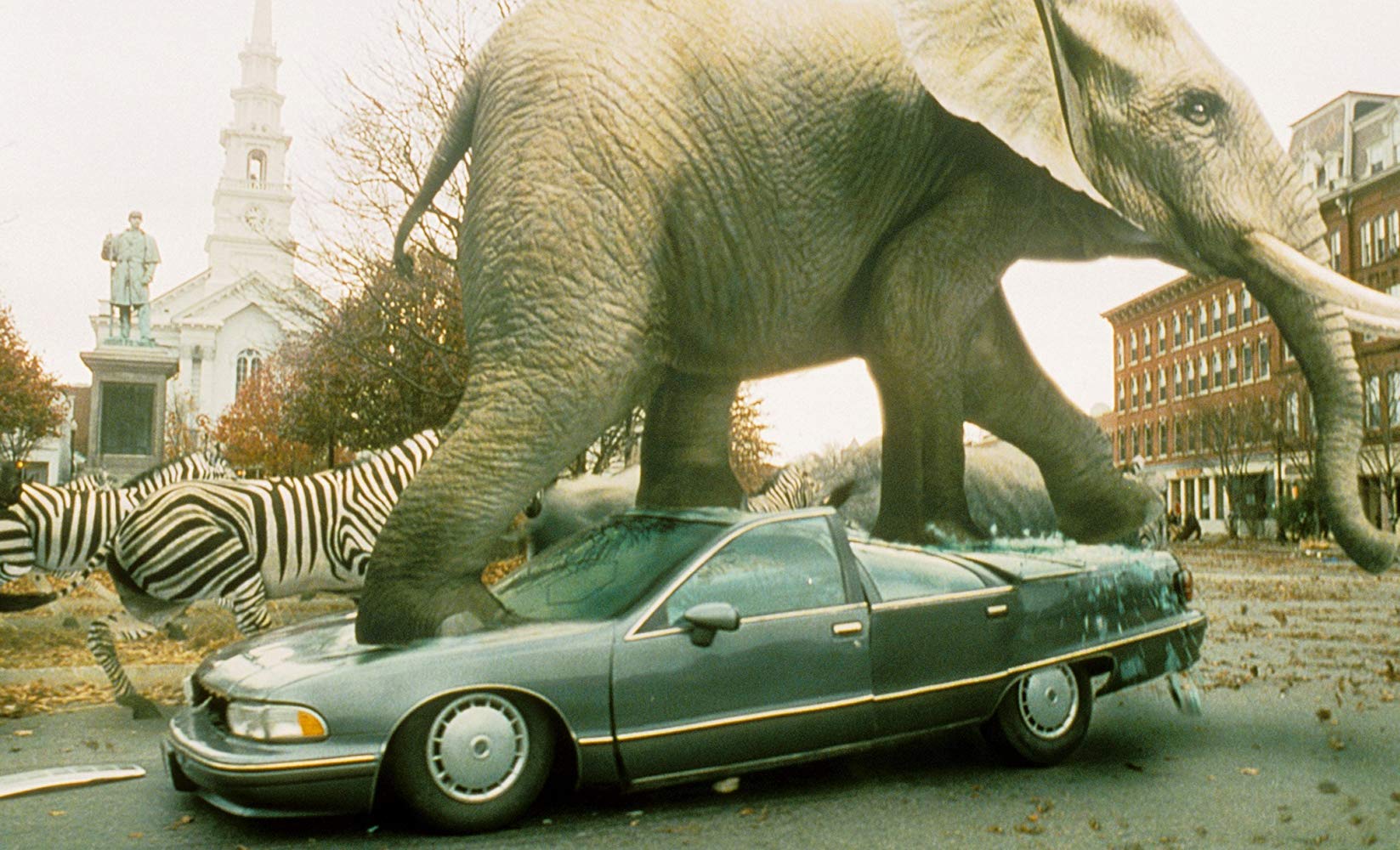 Jumanji: Welcome to the Jungle (2017) is a remake, which produced a sequel with Jumanji: The Next Level (2019). The idea was later spun out as an animated tv series, Jumanji (1996-9), even though this is not a concept that easily lend itself to a tv series. A live-action sequel was promised for several years but never emerged. This finally merged into the film Zathura: A Space Adventure (2005), which is not a sequel, but is based on Chris Van Allsburg book sequel to Jumanji and concerns a different boardgame that transports two children into a space opera setting. Chris Van Allsburg's books were also filmed as The Polar Express (2004).
Joe Johnston was a former Industrial Light and Magic effects art director who became a director with the Disney hit Honey, I Shrunk the Kids (1989). Johnston subsequently made the likes of rocket-backpack superhero film Rocketeer (1991), the live-action sequences on The Pagemaster (1994), Jurassic Park III (2001), the remake of The Wolfman (2010), the Marvel Comics adaptation Captain America: The First Avenger (2011) and The Nutcracker and the Four Realms (2018). All of Johnston's films have a strong effects focus. His non-genre films to date are October Sky (1999), Hidalgo (2004) and Not Safe for Work (2014).
(Nominee for Best Special Effects at this site's Best of 1995 Awards).
---
---