---
Crew
Director – Mathew Cullen, Screenplay – Martin Amis & Roberta Hanley, Based on the Novel by Martin Amis, Producers – Jordan Gertner, Chris Hanley & Geyer Kosinski, Photography – Guillermo Navarro, Music – Adam Barber, Benson Taylor & Toydrum, Visual Effects – Galatea Studios LLC, Halo Visual Effects & Lipsync Post (Supervisor – Leo Neelands), Special Effects Supervisor – Mark Meddings, Production Design – Jeremy Reed. Production Company – Muse/Media Talent Group/Miranda Studio/Demarest Films/Lipsync Productions/Head Gear Films/Blazepoint Limited/Curiously Bright Entertainment/Periscope Entertainment/Arrival Entertainment/Vedette Finance/Living the Dream Films, Inc.
Cast
Billy Bob Thornton (Samson Young), Amber Heard (Nicola Six), Jim Sturgess (Keith Talent), Theo James (Guy Clinch), Jason Isaacs (Mark Asprey), [uncredited] Johnny Depp (Chick Purchase), Jaimie Alexander (Hope Clinch), Cara Delevingne (Kath Talent), Obi Abili (Thelonious)
---
Plot
American author Samson Young has arranged a house swap with British author Mark Asprey who has taken over his apartment in New York City while he takes Mark's apartment in London. Samson arrives in London as unrest and social chaos engulfs the city. In a bar, he meets his stunning neighbour Nicola Six and observes as local rough Keith Talent falls in lust with her. Samson befriends Nicola who confesses to him how men are drawn to her and she always proves their fatal flaw. She also tells him of a precognitive dream she has of how she will be killed in a car. She agrees to let Samson write her story. Eavesdropping with a listening device, Samson is witness as she manipulates both Keith and the wealthy married Guy Clinch, appearing as seductive or innocent to either to get them to do what she wants. Somewhere among these will be the man who kills her.
---
London Fields (1989) was a novel from British author Martin Amis, who himself is the son of the celebrated writer Kingsley Amis. Martin has published a series of novels since 1973 and these have gained a great deal of acclaim, including having Amis twice shortlisted for the Booker Prize. Amis's books have been adapted to the screen several times with The Rachel Papers (1989), Dead Babies (2000), Out of Blue (2018) and the tv mini-series Money (2010). Amis also wrote the screenplay for the SF film Saturn 3 (1980) and wrote a book that fictionalised the experience with Money (1984).
Amis wrote the London Fields novel in the late 1980s at the height of Thatcherite England. It won much acclaim and is regarded as one of his best works. The film version has long been touted and was at one point during the early 2000s announced to be directed by David Cronenberg. The finished film is a directorial debut for Mathew Cullen who gained a great deal of acclaim as a music video director including clips for Katy Perry, Taylor Swift, Adele and Pink, among others. The film was apparently shot in 2013, has a 2015 copyright date but was not given a release until 2018 to universally negative reviews.
At the centre of the film, Amber Heard has been incarnated an avatar of impossible desirability. The costumiers outfit her in a luscious array of heels, stockings and the like, while she does things to a red dress that leave your tongue dragging the floor. Mathew Cullen gives us shots of her getting out of the bath clad only in a towel or wearing nothing except an unbuttoned shirt. There is a voyeuristic element to the film with Billy Bob Thornton in the apartment below eavesdropping on her with various guys. The whole film feels like it is placing her beauty on a pedestal and bowing in worship. Heard quite goes to town on the role and ends up owning the film. The dialogue makes a token nod in the direction of Billy Bob Thornton anguishing over writing a stereotype of desirability but that is exactly what the film has created.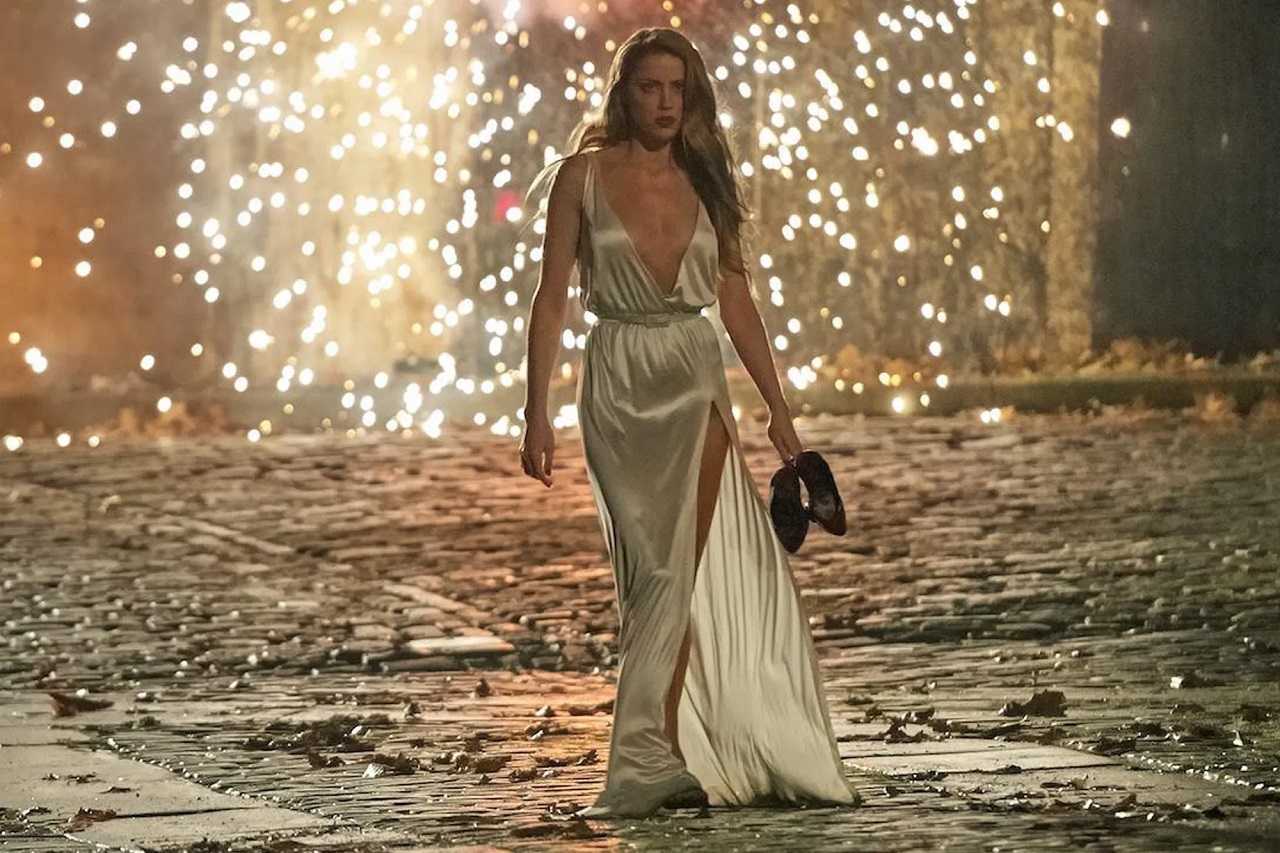 The central drama of the story has Amber Heard winding two guys at opposite ends of the social spectrum – rough and thuggish Jim Sturgess (in a badly over-the-top performance) and nice, married rich guy Theo James – around her finger in a scheme whose purpose eluded me. Amber's real-life husband at the time Johnny Depp turns up in a couple of uncredited scenes as a gangland mobster. (Their relationship ended messily in 2016 with Heard accusing Depp of domestic abuse with evidence suggesting these claims were fabricated and both filing legal charges against the other, which may well have contributed to the film's delays).
Quite when the film is set is a scratch of the head. Although there is nothing in the script that comes out and states it, the background suggests a near future setting. As Billy Bob Thornton arrives in London, the city seems to be engulfed in riots, although over exactly what is never specified. The apartment Billy Bob moves into appears to have some kind of holographic answerphone, suggesting a future with advanced tech. Nothing is ever made of this any more than that, making it a puzzle as to why such elements were included.
There is also an element of clairvoyance with Amber Heard talking about having a vision of her own death where the film tries to make a big mystery out of which of the men surrounding her will be the one that kills her. This never amounts to much, least of all in terms of giving the individual who is revealed as the killer any motivation for doing so.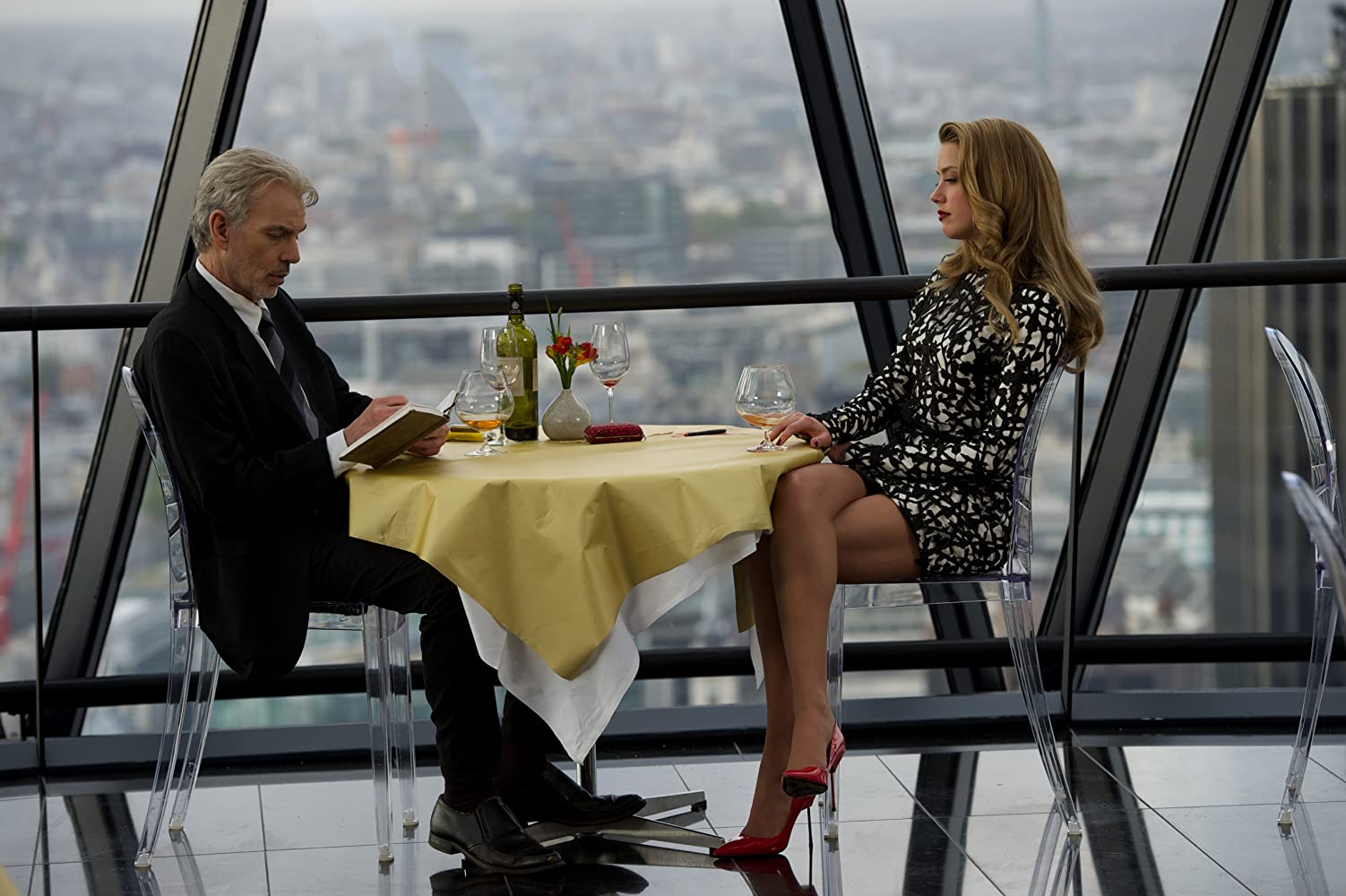 I began to like London Fields from its opening moments. The suggestion of London as some kind of decaying great city suggests a futuristic noir – something like Lars von Trier's The Element of Crime (1984) almost. This carries over in a dazzling scene where Billy Bob Thornton visits the pub at the same time as Amber Heard turns up and Billy Bob's voiceover analyses every move she makes, suggesting a sophistication and danger.
The main problem with London Fields is that after such a captivating opening, it never does anything else that comes anywhere near that. There is the allure of Amber Heard that carries the film much of the way through. However, there comes a point when you realise that all that it transpires to is an ordinary femme fatale plot about watching Amber manipulate two men and that the film has nothing else up its sleeve.
---
---