---
Crew
Director/Screenplay – David A. Prior, Created by Thomas Baldwin, Producer – Kimberley Casey, Photography – Andy Parke, Music – Tim James, Mark Mancina & Steve McClintock, Computer Graphics – Ann Monn, Special Effects Supervisor – Chuck Whitton. Production Company – Action International Pictures.
Cast
David Carradine (John Tucker), Anna Rapagna (Marion Simms), William Zipp (Jason Adams), Robert Tessier (Becker), D.C. Douglas (Billy), Patrick Culliton (Grimes), Dawn Wildsmith (Roxanne), Kimberley Casey (Alicia Williams)
---
Plot
In 1991, the USA has responded to rising crime rates by abolishing all police departments. In their places have been installed C.O.P.S. (Citizen Owned Police Systems) – private bounty hunters that apprehend or eliminate wanted criminals. John Tucker is one of the top C.O.P.S. in his Los Angeles precinct. TV news reporter Marion Simms is about to air a tv special that provides damning evidence about the corrupt practices of C.O.P.S. head Jason Adams. Adams responds by listing Marion on the C.O.P.S. bounty board as wanted for treason and sentenced to death. Tucker is the first to apprehend Marion but faces furious competition as all the other bounty hunters come wanting to claim her. As the two flee, Adams responds by listing a bounty on Tucker too.
---
The late 1980s and in particular the 1990s saw a whole heap of low-budget SF/action hybrids made for the newly emerged VHS market. Indeed, David Carradine fairly much maintained his career in that field during this period. These films drew on works like Blade Runner (1982) and The Terminator (1984) and the martial arts/kickboxing film, creating a dark rundown future inhabited by killer robots, kickboxing cyborg heroes and time-travellers fighting to save the future. (See Action Films). The other major influence on these was RoboCop (1987) after which we saw a host of films about cyborg/android cops either as heroes or going amok. Future Force is not quite a cyborg cop film but David Carradine does into action wielding an all-purpose claw arm that emits power blasts and offers enhanced strength.
The other thing that RoboCop popularised was the notion that urban crime had become so violent that extreme militarised measures were called for. Future Force picks up the idea and proposes a highly improbable Near Future scenario where the public have voted to abolish the police and replace them with bounty hunters. We see a group of grizzled hard men in jeans, tattoos, beards and toting heavy weaponry as the replacement – the station headquarters looks like some bar for either bikers and/or militia groups where the bounty hunters sit around the squad room drinking hard liquor from the bottle.
Personally, I would be highly concerned for my safety if these people were responsible for law enforcement anywhere I lived – if you think police shootings are endemic in the US, this is surely a solution that would make them go through the roof. Not to mention the question of how exactly law enforcement works in the absence of any detectives or people who investigate a crime scene to determine guilt – it appears that hunting and being licensed to shoot people who are already deemed criminals by the court is the only option in this future.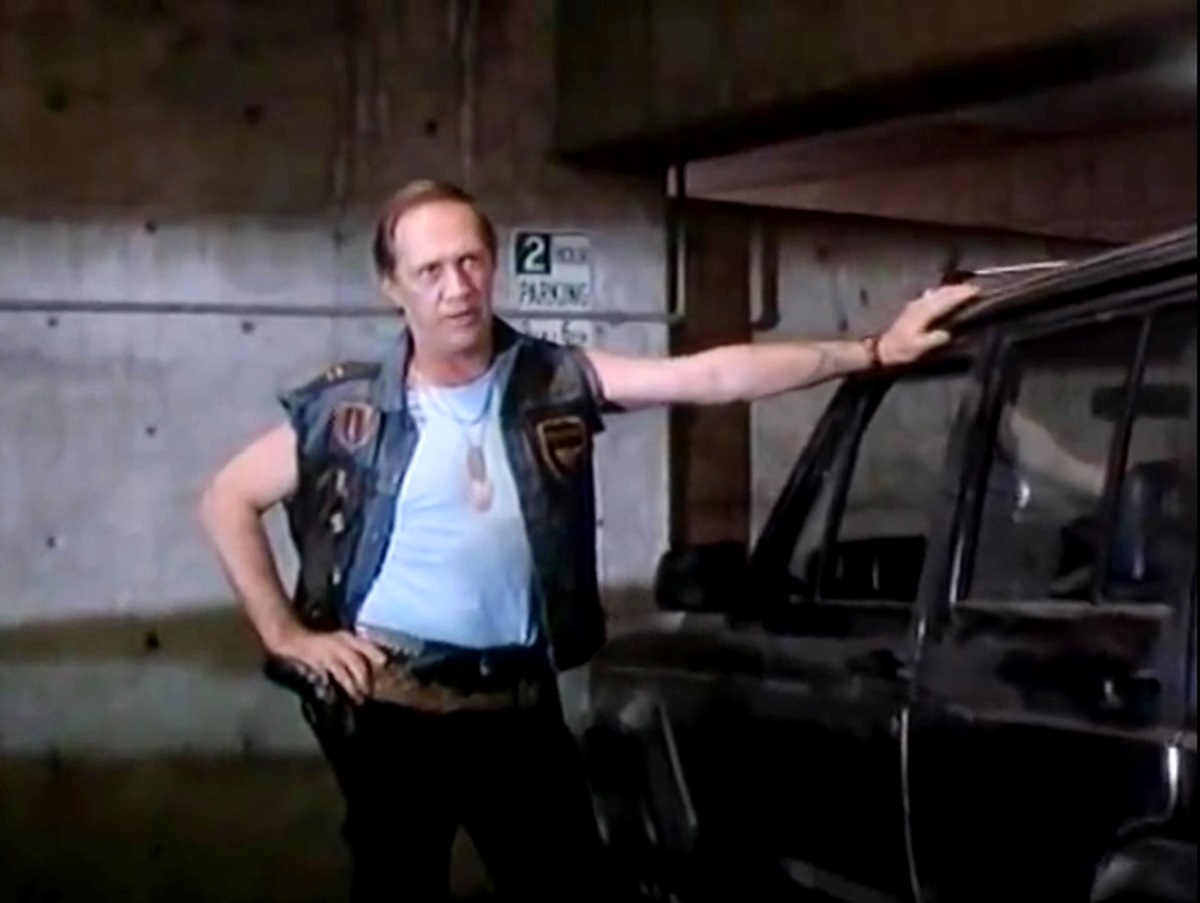 In actuality, Future Force has no real interest in being a science-fiction film. It is an action film with minimal SF elements – a preposterous future law enforcement scenario, David Carradine's cyborg glove. The rest of the film is no more than an action film standard about a bounty hunter/cop bringing in the cute arrestee/witness – about the only thing we don't get is the two hooking up (although this is implied) – and being pursued by their authorities and colleagues. The same plot fairly much served as the basis of Sylvester Stallone's Cobra (1986).
Future Zone (1990) was a sequel featuring a return appearance from David Carrdine and this time a time travel plot.
Director David A. Prior has made an lot of action films, some thirty-five at current count, usually of a paramilitary bent. His other genre films are Killer Workout (1986), Deadly Prey (1987), The Lost Platoon (1989), Future Zone (1990), Mardi Gras for the Devil (1993), Mutant Species (1995), Hostile Environment (2000), Lost at War (2007), Zombie Wars (2007) and Night Claws (2013). All have been released directly to video.
---
Trailer here
---