---
Crew
Director – Steven S. DeKnight, Screenplay – Emily Carmichael, Steven S. DeKnight, T.S. Nowlin & Kira Snyder, Producers – John Boyega, Cale Boyter, Guillermo Del Toro, John Jashni, Femi Oguns, Mary Parent & Thomas Tull, Photography (3D) – Dan Mindel, Music – Lorne Balfe, Visual Effects Supervisor – Peter Chiang, Visual Effects/Animation – Atomic Fiction (Supervisors – Wayne Brinton & Ryan Tudhope), Double Negative (Supervisor – Peter Bebb), Special Effects Supervisor – Dan Oliver, Specialty Costumes – Legacy Effects (Supervisors – Marilyn Chaney, Dave Merritt & John Rosengrant), Production Design – Stefan Dechant. Production Company – Legendary Pictures/DDY/Khorgos Shanwei Film Co., Ltd.
Cast
John Boyega (Jake Pentecost), Scott Eastwood (Nathan Lambert), Cailee Spaeny (Amara Namani), Burn Gorman (Hermann Gottlieb), Charlie Day (Dr Newton Geiszler), Jing Tian (Shao Liwen), Adria Arjona (Jules Reyes), Rinko Kikuchi (Mako Mori), Ivanna Sakhno (Cadet Viktoria), Max Zhang (Marshal Quan), Karan Brar (Cadet Suresh), Wesley Wong (Cadet Jinhai), Mackenyu (Cadet Ryoichi), Lily Ji (Cadet Meilin), Shyrley Rodriguez (Cadet Renata), Rahart Adams (Cadet Tahima), Levi Meaden (Cadet Ilya), Dustin Clare (Joseph Burke), Nick E. Tarabay (Sonny)
---
Plot
It is ten years after the battle in which Stacker Pentecost died closing the breach in the Pacific Ocean to drive the kaiju back to their own realm. Pentecost's son Jake ekes out a living raiding decommissioned Jaegers junkyards for spare parts to resell. During one sortie, he encounters teenager Amari Namani who gets away with a valuable power core. In pursuing her, he discovers that she has built a Jaeger out of junk parts. They attempt to get away in it as the Pan Pacific Defense Corps come after them but are apprehended. Instead of being sentenced, Jake is assigned to train the cadet Jaeger pilots at Shatterdome Base in China, while Amari is placed in cadet training. Jake soon comes into conflict with his superior, former comrade Nathan Lambert. The Shao Corporation is trying to persuade the Defense Corps to abandon Jaeger pilots in favour of drones built using Kaiju bio-technology. At a conference is Sydney, Australia, the cadet crew is forced into action to battle a rogue Jaeger of unknown origin. Jake and Lambert eventually track the rogue Jaeger down as something created by the Shao Corporation, only to then discover that a rogue Shao operative is attempting to reopen the breach.
---
Guillermo Del Toro's Pacific Rim (2013) was a fun film. It felt like an attempt to create a tribute to Japanese popular culture, imagining giant mecha robots that populate assorted anime and throwing them together with kaiju, the Japanese penchant for monster movies, and it all having been given a multi-million budget. The critical response to Pacific Rim was mixed and the domestic box-office ho-hum – it did top the $100 million mark but then it had had a $190 million budget. However, added worldwide gross topped a more than reasonable $400 million.
A sequel was announced almost immediately after Pacific Rim came out and then floated around for the next few years in various stages of development. Guillermo Del Toro was originally attached to direct but then stepped back to a producing role. The director's chair was inherited by Steven S. DeKnight who had previously worked in television as a story editor on Buffy the Vampire Slayer (1996-2003) and as a producer and occasional writer on Angel (1999-2004), Smallville (2001-11), Dollhouse (2009-10), Spartacus: Blood and Sand (2010-15), which he also created, Daredevil (2015-8) and created Jupiter's Legacy (2021- ). DeKnight has directed several episodes of these shows but makes his feature film debut here.
Pacific Rim wasn't Guillermo Del Toro's greatest film but it was a lot of fun. By contrast, Pacific Rim: Uprising drags the same elements out to make a generic sequel. Pacific Rim was carried by an original idea – or at least an original presentation of a familiar idea – but without such originality or anything new the sequel is simply by the numbers. Where Pacific Rim felt like Del Toro was trying to recreate a big screen version of a 1980s mecha cartoon like Gigantor (1963-6), Mobile Suit Gundam (1979-80) or Super Dimension Fortress Macross/Robotech (1982-3), Pacific Rim: Uprising feels exactly like one of Michael Bay's Transformers films – construed as a colossal display of mechanised mass destruction put out for our delectation.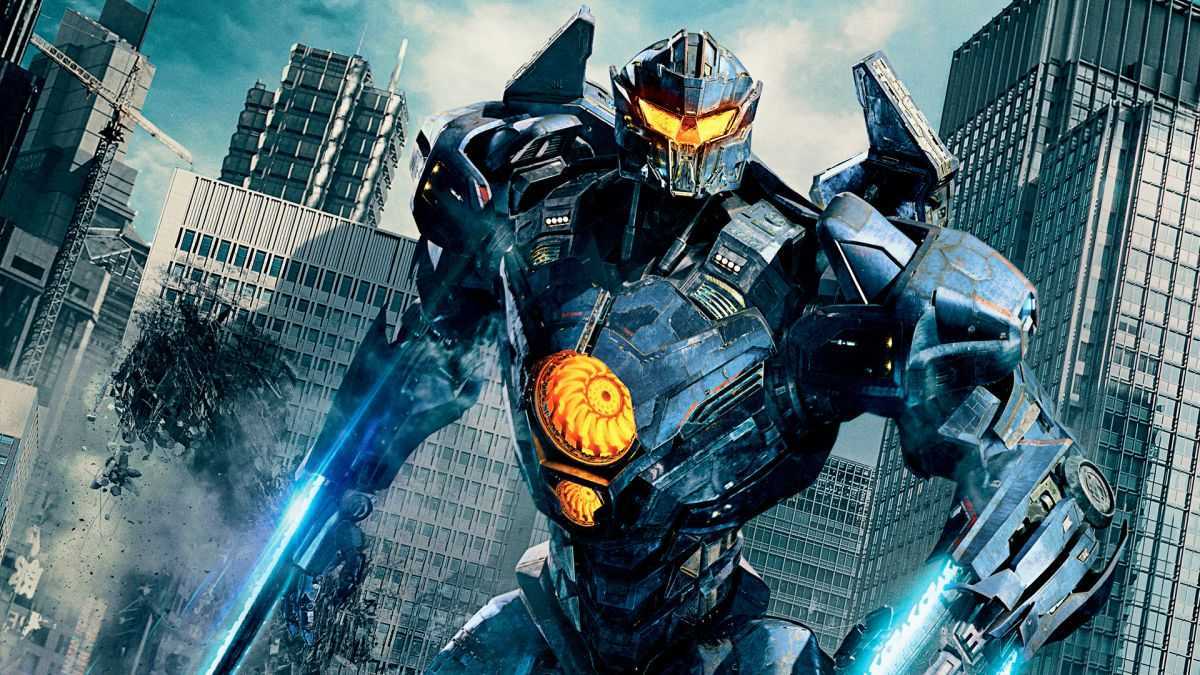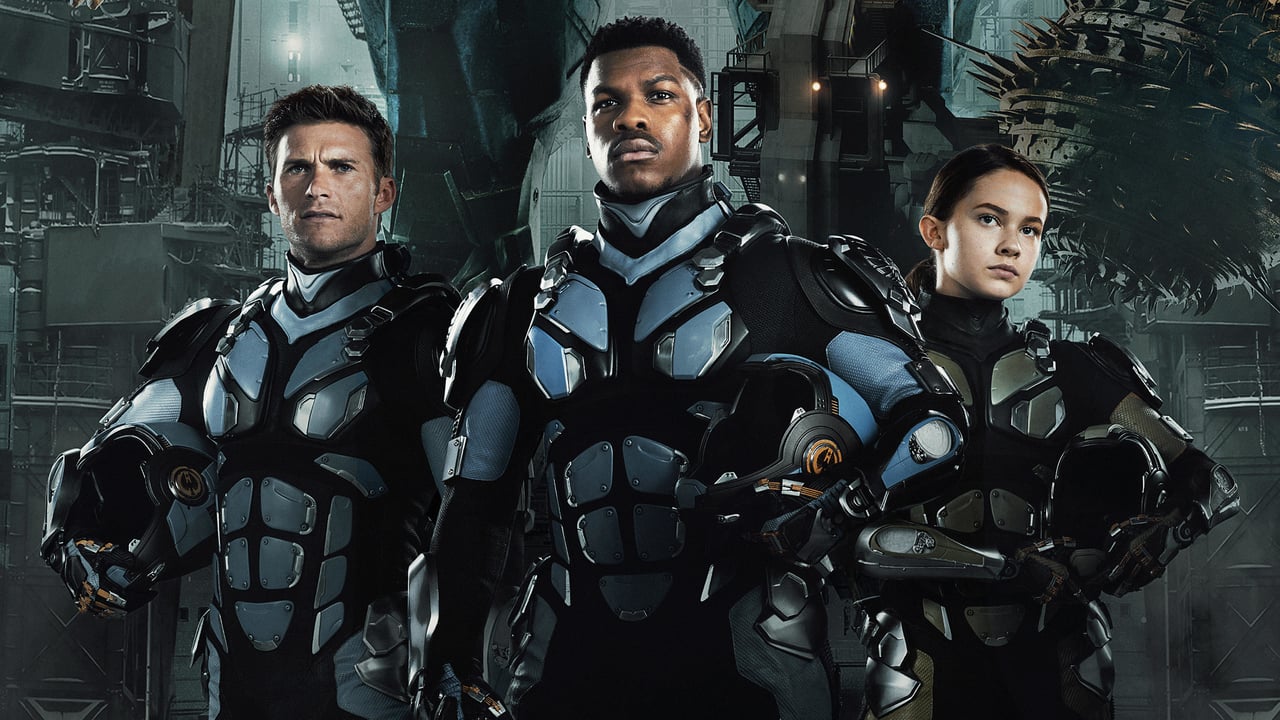 Dramatically, the film feels like a series of special effects scenes in search of a plot. You are left puzzling at the end trying to remember why they had to go to Sydney or Russia – the battles so overtake everything that the minimal connecting plotlines are brushed to an irrelevant side. Likewise, the villain's scheme to reopen the breach leaves you scratching your head afterwards and trying to figure out what purpose doing so actually served.
Certainly, you have to commend the assorted effects teams as they put on an epically pornographic display of mass destruction with Jaegers beating each other to scrap metal. They're clearly competing with Michael Bay, even if this comes out as slightly less spectacular. There is fun to watching the battle through the streets of Sydney; the battle in the snowy Russian wastes; and the climactic efforts to bring down the Super-Kaiju. But for anything beyond that, Pacific Rim: Uprising feels one-dimensional. The cadets in training scenes; the heroic sacrifices, the sparring jibes between rivals that you know are going to become friends are all written to cliche, while the emergence of the villain of the show and their scheme is something that belongs more in a comic-book.
In recent years, the Chinese market has become an all-important one to break in terms of any aspiring international blockbuster. A number of films have sought to play to this either with the addition of scenes shot in China as in Iron Man Three (2013), Transformers: Age of Extinction (2014) and Now You See Me 2 (2016), or in the writing in of Chinese characters as in Independence Day: Resurgence (2016), Rogue One (2016) and xXx: Return of Xander Cage (2017). While one celebrates the idea of diversity, some of these efforts also seem forced in their need to do so – Pacific Rim: Uprising not only shoots in China but is also co-produced by China and includes four major Chinese speaking roles.
---
---