---
Crew
Director/Screenplay – Drew Pearce, Producers – Simon Cornwell, Stephen Cornwell, Marc Platt & Adam Siegel, Photography – Chung-Hoon Chung, Music – Cliff Martinez, Visual Effects Supervisor – Vent Hristova, Visual Effects – Cantina Creative, Special Effects Supervisor – James Lorimer, Production Design – Ramsey Avery. Production Company – Marc Platt Productions/The Ink Factory.
Cast
Jodie Foster (The Nurse), Sterling K. Brown (Waikiki), Sofia Boutella (Nice), Dave Bautista (Everest), Jeff Goldblum (Niagara), Charlie Day (Acapulco), Brian Tyree Henry (Honolulu), Zachary Quinto (Crosby Franklin), Jenny Slate (Morgan), Kenneth Choi (Buke)
---
Plot
Los Angeles, 2028. The city is in the middle of riots after one of the corporations has shut off water supplies. The Nurse, a disgraced medic, runs Hotel Artemis, a secret hospital set up off the books to offer medical aid to any criminals who pay a membership fee. She runs the hospital according to strict rules – complete secrecy, no weapons allowed inside and nobody admitted who is not a member, while all patients are treated as anonymous and nicknamed after a place. Several people arrive, including Waikiki who flees from a bank robbery gone wrong with the wounded Honolulu, and Nice who has signed in after having wounded herself so that she can assassinate a target. At the same time, problems are presented by two new arrivals – The Nurse agreeing to aid Morgan, an injured cop that she knows from her past but is not a member, and the arrival of her backer, the crime kingpin Niagara.
---
Hotel Artemis was a full-length directorial debut for Drew Pearce. Pearce had worked various roles around Hollywood, including creating a short-lived superhero tv series No Heroics (2008-9) that few appear to have seen and then writing the scripts for Iron Man Three (2013), Mission: Impossible – Rogue Nation (2015) and Fast & The Furious Presents: Hobbs & Shaw (2019). He had previously directed several music videos and All Hail the King (2014), a short film to accompany the dvd release of Iron Man Three featuring Ben Kingsley's Mandarin.
The film brings together an impressive cast line-up, including Jodie Foster in her first screen role in five years. The supporting cast is filled out with names like Jeff Goldblum, Zachary Quinto, Sofia Boutella, Sterling K. Brown, Dave Bautista in a surprising non-comedic role, and Josh Tillman aka Father John Misty somewhere in there as well. Despite the film receiving a wide release and opening in 2000 theatres, it only earned a miserable $6.47 million domestically.
I wanted to like Hotel Artemis because I thought it had a solid premise – a near-future socially collapsing Los Angeles where Jodie Foster operates an underground hospital for exclusive criminal clients. Jodie gets into the role with determination, made down in an entirely unglamorous way – showing all of her 55 years and by the look of it, her character having spent most of them smoking and sleeping in the clothes she wears. Directorially, Drew Pearce aims for a film noir vibe. I kept being reminded of Wim Wenders' The Million Dollar Hotel (2000), which had a not dissimilar near-future setting, albeit taking place in a hotel for the socially dissolute.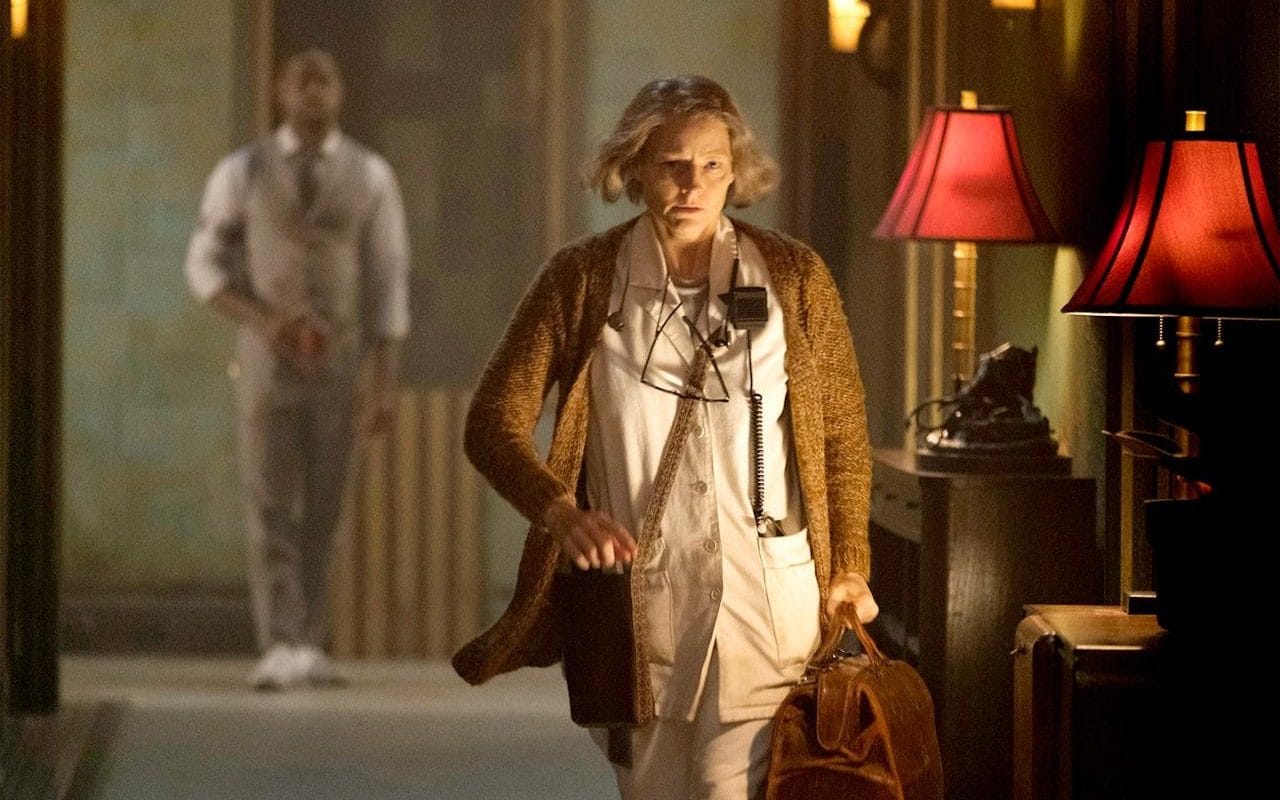 Only, Hotel Artemis never really comes together. There are intersecting plots – the bank robbers on the run unaware they have stolen a major stash; the assassin waiting for her target; the arrival of big name gangster (Jeff Goldblum); Jodie divided in her loyalties in granting aid to a cop she knows personally even though it violates the strict code she operates by.
All of these are well set up and play off one another – but never go anywhere. Drew Pearce builds to a shootout climax in the hotel but this feels flat. The film never much engages us in its storylines – it does on paper sort of but it crucially fails to ever do so on a dramatic level. Even the near future setting and the often well-designed tech around the hospital fails to amount to anything of significance.
Where the film might have worked a whole lot better is if it had been given a much more noir-styled look. I kept thinking how much better each of the intersecting storylines would have worked if they had been shot in something like the hyper-stylised look of Sin City (2005) and Sin City: A Dame to Kill For (2014) accompanied by Frank Miller's snub-nosed dialogue. You feel like giving the concept over to Miller and Robert Rodriguez to play with would have made for a film where each of the stories burned with the taste of cigarettes and cold coffee that way they should in the noirish mood that Pearce aims for.
---
---