---
Crew
Director – D.J. Caruso, Screenplay – John Glenn, Dan McDermott, Hillary Seitz & Travis Adam Wright, Story – Dan McDermott, Producers – Pat Crowley, Alex Kurtzman, Edward McDonnell & Roberto Orci, Photography – Dariusz Wolski, Music – Brian Tyler, Visual Effects Supervisor – Jim Rygiel, Visual Effects – Imageworks India, Pacific Title and Digital (Supervisor – David Sosalla) & Sony Pictures Imageworks (Supervisor – Jim Berney), Special Effects Supervisor – Peter Chesney, Production Design – Tom Sanders. Production Company – K-O Productions/KMP Film Invest GmbH.
Cast
Shia LaBeouf (Jerry Shaw/Ethan Shaw), Michelle Monaghan (Rachel Holloman), Billy Bob Thornton (Agent Thomas Morgan), Rosario Dawson (Zoe Perez), Michael Chiklis (Secretary Callister), Anthony Mackie (Major William Bowman), Cameron Boyce (Sam Holloman), Ethan Embry (Agent Toby Grant), Anthony Azizi (Ranim Khalid), Lynn Cohen (Mrs Wierzbowski), William Sadler (Jerry's Father)
---
Plot
Jerry Shaw is an ordinary clerk at a photocopying firm in Chicago. Returning home from his twin brother Ethan's funeral, he finds his apartment filled with explosives and weapons and then an anonymous voice calling him on his cellphone telling him that he has 30 seconds to get out before the FBI arrive. He fails to heed the warning and is arrested as a terrorist. Meanwhile, the same anonymous voice tells solo mother Rachel Holloman that if she does not follow instructions then the train that her son is in will crash. The voice arranges for a crane to smash into the FBI offices so that Jerry can escape. It sends messages via other people's cellphones and display screens across the city to direct him onto a train and to rendezvous with Rachel. It then arranges traffic lights, takes over the car's cruise control and uses automated cranes to demolish police cars to help them avoid capture during a massive pursuit. With them listed as wanted fugitives, the anonymous voice guides them to Washington D.C.. They and the pursuing FBI find that all of this is being arranged by AURA, the government super-computer designed to build profiles on the nation from electronic data traces and closed circuit tv monitoring. Having decided that the government is flawed, AURA has now taken it upon itself to remove them by assassination – and Jerry is a vital part of its plan.
---
I admired greatly D.J. Caruso's first film – the stylish thriller The Salton Sea (2002), which alas was not a great commercial success. However, Caruso's films since then have been disappointingly routine, including the completely unconvincing serial killer thriller Taking Lives (2004), the dull sports betting film Two for the Money (2005), the previous Shia LaBeouf vehicle Disturbia (2007) and the subsequent alien teenager film I Am Number Four (2011), the haunted house film The Disappointments Room (2016), xXx: Return of Xander Cage (2017) and the imprisonment thriller Shut In (2022).
Disappointingly, most of D.J. Caruso's films cycle through cliche plot mechanics, which he churns out with no seeming care for originality or depth. Increasingly, Caruso's films blatantly draw themselves from other people's films – Disturbia so unoriginal it was sued for plagiarism by the author of Alfred Hitchcock's Rear Window (1954), here there is a climactic scene that is directly copied from Hitchcock's The Man Who Knew Too Much (1956) as well as a variant on the crop duster chase from North By Northwest (1958). In his favour, Caruso has managed to get Steven Spielberg to sign on as an executive producer for both Disturbia and Eagle Eye.
Eagle Eye is little more than a paranoia thriller about the dangers of the interconnected and/or surveillance society that we have seen in others films like The Conversation (1974), The Net (1995), Enemy of the State (1998), Live Free or Die Hard/Die Hard 4.0 (2007) and Untraceable (2008). Although, if anything, Eagle Eye reads like an updated and more serious version of The President's Analyst (1967), or perhaps even more so the forgotten 80s thriller Access Code (1984) and WarGames: The Dead Code (2008), which came out a few months earlier. Most of these failed to conduct their theme with any great effect and even less in the way of technical credibility – needless to say, Eagle Eye fails to improve any. (Like Live Free or Die Hard, Eagle Eye counts as science-fiction if for dint of no other reason that it features fantasy versions of contemporary technology. It at least also features a 2009 future setting date and a malevolent A.I.).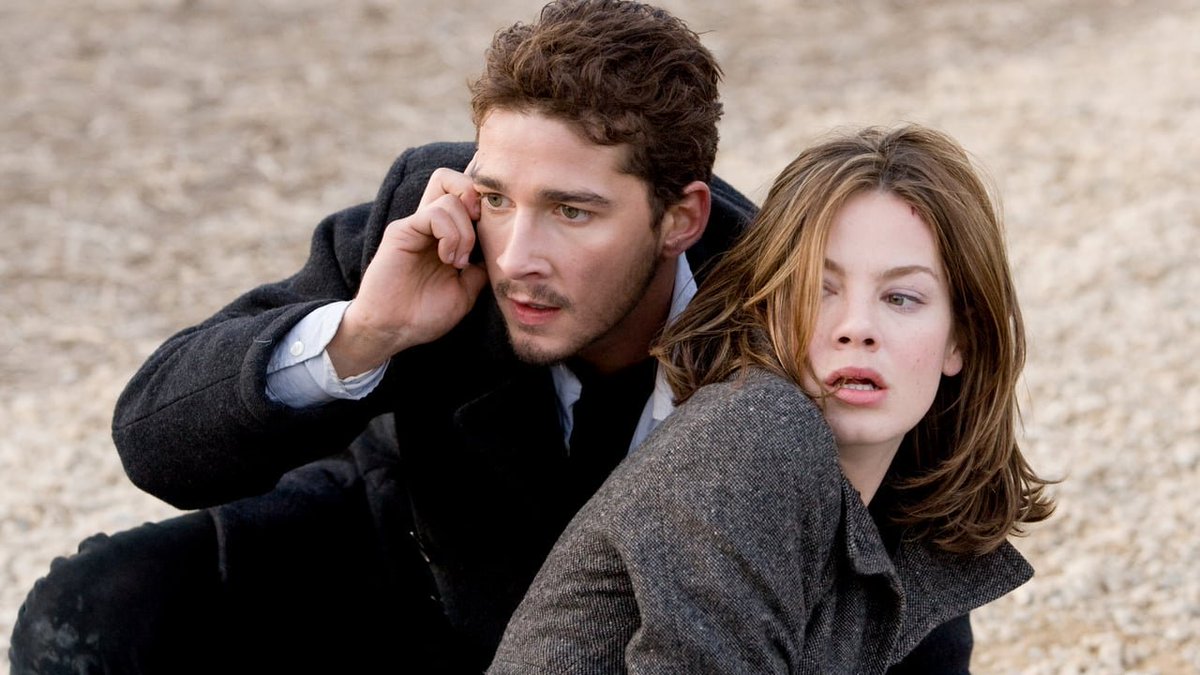 Unfortunately, the only thing that propels Eagle Eye as a thriller is not its theme – which is handled in the most banal ways – but a series of moderately spectacular but mindless action sequences every few minutes – numerous mass destruction vehicle chases, shootouts, fights etc. The film holds a big mid-story twist science-fiction revelation – that everything is being manipulated to a far-fetched purpose by an evil A.I.
Again there is nothing here that is any different from the various evil A.I.'s who think they know better than humanity that we have seen in the likes of 2001: A Space Odyssey (1968), Colossus: The Forbin Project (1968), Demon Seed (1977) etc. There is also a number of credibility issues you keep asking – like how a computer with no external digits could get all the weaponry into Shia LaBeouf's apartment, let alone unnoticed, or how a machine that is supposed to think in a logical line could create such a convoluted plan that is dependent on so many random elements working in its favour.
In the end, all that we have is a film that has been put together to appeal to modern fears about surveillance and data mining and the misuses this can be put to. There is certainly much to say about these issues but Eagle Eye conducts it in a way that never goes beyond the surface flash and glitter of thriller mechanics. There is no attempt to make any argument for or against the necessity of such surveillance, or discuss whether private companies or governments should have the right to do so. Indeed, it is impossible throughout to tell whether the film's position is for or against such data collation. In the end, Eagle Eye reaches a standard soft libertarian point-of-view "sometimes the steps we put in place to protect liberty become a threat to liberty itself," although beyond this vague declaration fails to offer any practical suggestions as to how to remedy the situation.
Shia LaBeouf, who has been much touted as a rising young star in the past year, certainly shows he has the charisma and ability to hold the show together. Most of the other characters in the film are little more than cogs in the machine. Michelle Monaghan does little opposite Shia LaBeouf. The supporting cast is filled out with a number of decent performers, although it is only Billy Bob Thornton who holds the show up with a flinty charm and ease. Both Rosario Dawson and Michael Chiklis who have been fine elsewhere are given little to do.
---
---