---
Crew
Director/Story – James Mangold, Screenplay – Scott Frank, Michael Green & James Mangold, Producers – Simon Kinberg, Hutch Parker & Lauren Shuler Donner, Photography (3D) – John Mathieson, Music – Marco Beltrani, Visual Effects Supervisor – Chas Jarrett, Visual Effects – Halon Entertainment LLC, Image Engine (Supervisor – Martyn Culpitt), Rising Sun Pictures (Supervisors – Dennis Jones & Anthony Smith), Soho VFX (Supervisors – Berj Bannayan & Keith Sellers), Special Effects Supervisor – Garry Elmendorff, Production Design – Francois Audouy. Production Company – Marvel Entertainment/TSG Entertainment/Kinberg Genre/The Donners Company.
Cast
Hugh Jackman (Logan/Wolverine), Patrick Stewart (Professor Charles Xavier), Dafne Keen (Laura), Stephen Merchant (Caliban), Boyd Holdbrook (Donald Pierce), Richard E. Grant (Dr Zander Rice), Elizabeth Rodriguez (Gabriela Lopez), Eriq La Salle (Will Munson), Quincy Fouse (Nate Munson), Elise Neal (Kathryn Munson), Ryan Reynolds (Deadpool)
---
Plot
It is the year 2029. No mutants have been born for many years. Logan is now working in El Paso as a limo driver but the adamantium in his body is making him ill and he is finding it increasingly harder to regenerate from damage and extend his claws. He and Caliban are tending the now nonagenarian Charles Xavier in a hideout across the Mexican border. Charles is suffering from dementia and has to be kept medicated lest he lose control of his psychic abilities with catastrophic effect on everybody in the near vicinity. Logan is then approached by Gabriela, a former nurse for the Transigen biotech company, who offers a good deal of money if he will transport her and the eleven-year-old Laura to Eden in North Dakota that is supposed to be a haven for mutants. However, heavily armed Transigen security come after them, killing Gabriela. During the melee, Logan is shocked to see Laura sprout adamantium claws and realises that she is his daughter. Fleeing with Laura and the ailing Charles, they set off on a cross country journey to Eden, which Logan is certain is only the creation of a comic-book writer. All the while, they are pursued by Transigen security who are determined to recapture Laura.
---
Logan was the tenth film adapted from Marvel Comics X-Men series. The series started with X-Men (2000), which served to make a star out of a then-unknown Hugh Jackman, and was followed by the likes of X2 (2003) and X-Men: The Last Stand (2006). At that point, the series and the stars, many of whom had been propelled to A-list names in the interim, was beginning to seem too unwieldly and so the producers tried going sideways with spinoffs like X-Men Origins: Wolverine (2009) and then the prequel series X: First Class (2011), X-Men: Days of Future Past (2014), X-Men: Apocalypse (2016), X-Men: Dark Phoenix (2019) and The New Mutants (2020) recasting the parts with younger actors. In the interim, director James Mangold spun Hugh Jackman off in the standalone The Wolverine (2013), while there was also the highly successful Deadpool (2016) and Deadpool 2 (2018) with Ryan Reynolds. Subsequent to this, various X-Men characters were spun off with the tv series Legion (2017-9) and The Gifted (2017-9).
Hugh Jackman stated that he wanted Logan to be his final outing as Wolverine because he was feeling too old for the role, had had health concerns due to skin cancer treatments in recent years and because he wanted to bow out of the series properly. Similarly, Patrick Stewart, who previously tried to rid himself of the character of Professor Xavier once before in X-Men: The Last Stand, would appear to have approached the film as the opportunity to bow out.
Logan was the second entry in the X-Men franchise for director James Mangold, also known for films such as Cop Land (1997), Girl, Interrupted (1999), the time travel romantic comedy Kate & Leopold (2001) with Hugh Jackman, the reality-bending psycho-thriller Identity (2003), Walk the Line (2005), 3:10 to Yuma (2007), Knight and Day (2010), Ford v Ferrari (2019) and Indiana Jones and the Dial of Destiny (2023). He is the only other director after Bryan Singer to make a repeat offering in the series.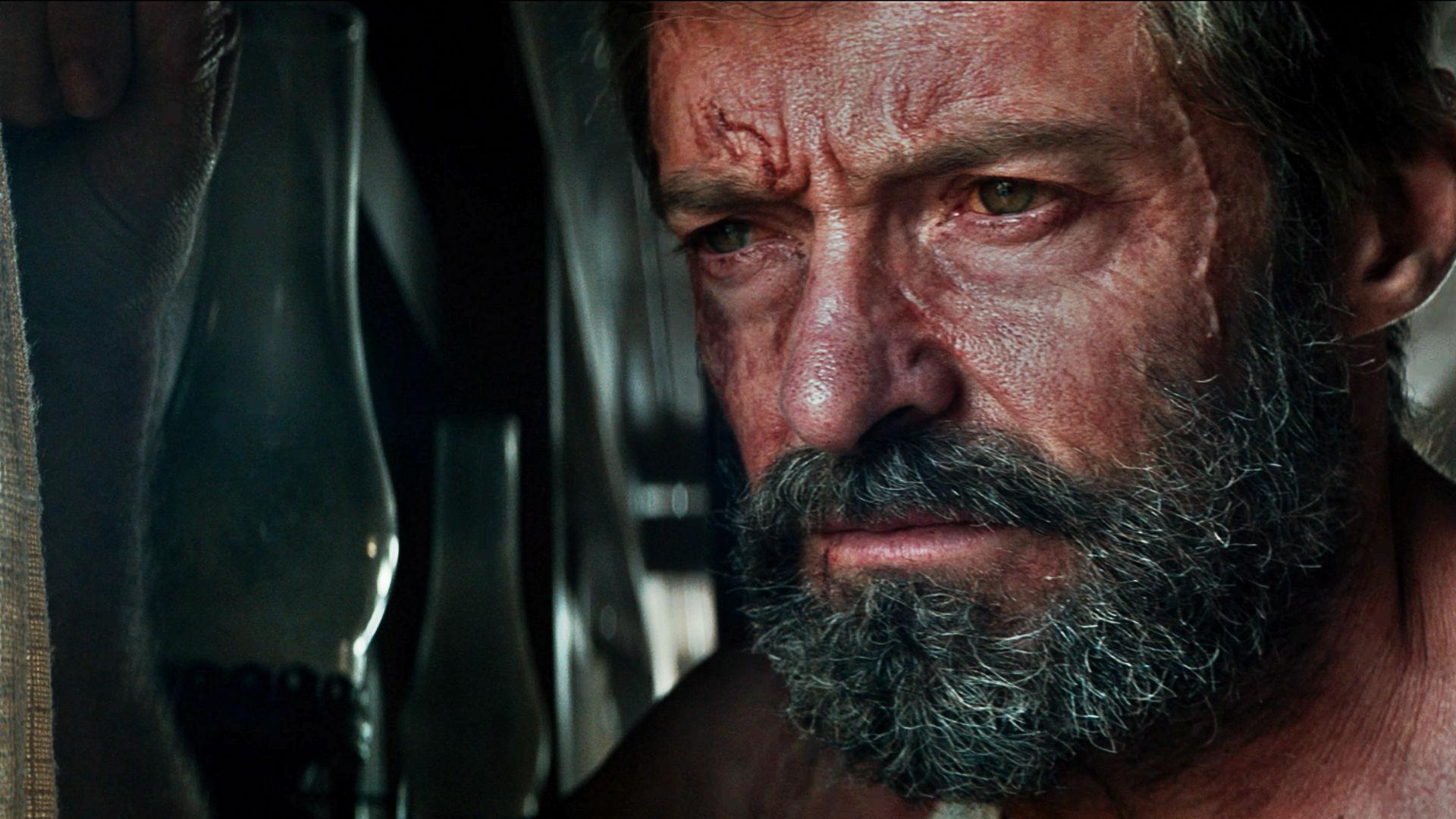 That said, Mangold and Singer could not operate more at opposing extremes. Singer has an enormous confidence when it comes to the effects scenes and delivers them in ways that frequently amaze. By contrast, Mangold goes the other way and seems to avoid effects scenes and superheroics to a large degree. It could be said that Mangold prefers to not so much make superhero films as he does ordinary films that happen to feature superhero characters. The Wolverine failed at this in my opinion – it was more of a Yakuza film that an X-Men film. By a similar token, Logan plays out more as a road movie standard about a son and his cantankerous father and the feisty daughter he never knew he had slowly warming to one another throughout the course of the journey.
What James Mangold was aiming for in The Wolverine – an ordinary story that just happens to feature superheroes – works far more successfully here. This is a film stripped of superheroics. Well not entirely – Hugh Jackman has several fight scenes and the film arrives at a reasonable climactic scene with Jackman and the children taking on the soldiers in the woods – but compared to say The Avengers films or Captain America: Civil War (2016), the superheroics here are slight.
This allows a greater focus on the characters arcs, which are particularly well written – Wolverine has become an old man where too many fights and the adamantium in his skeleton is making him ill, unable to regenerate as easily as he once could, while he now seems weary of life and carries an adamantium bullet so that he can kill himself. Meanwhile, Charles Xavier has become an octogenarian (nonagenarian he later corrects) who is suffering dementia and has to be kept medicated lest his psychic powers erupt and cause devastation to everybody in the near vicinity.
Added to the mix is the new character of Laura played by Dafne Keen who is revealed to be Logan's daughter (who the mother is or if she was cloned is never made clear in the script). Keen gives an almost entirely silent performance denoted by the sternness of her glare but you can't help but end up cheering her on when she starts sprouting her own claws and wading in with fierce regard to attack people twice her size.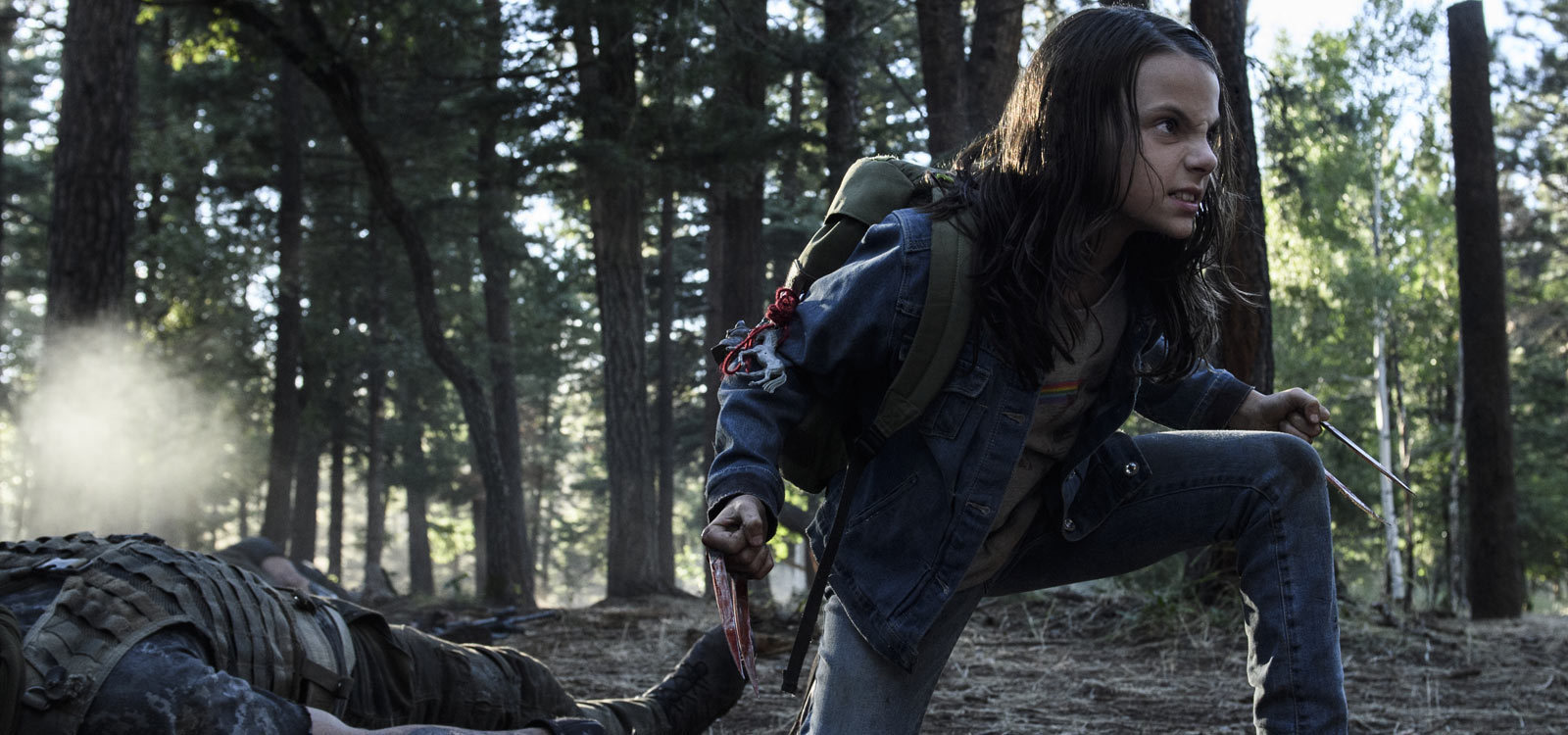 Logan works surprisingly well. It is a character driven work with well written arcs that allow both Hugh Jackman and Patrick Stewart to send off their characters off with a moving regard. Indeed, one would have to say that both actors end up with their best written airings of their roles and give the best performances since they were first introduced. Some of the quiet scenes when we get to the farmhouse reveal a human warmth and ordinariness that seems wholly missing from the other X-Men films and their focus on big effects sequences. The film received a great deal of critical and audience acclaim, with some going to call it "the best superhero film ever made", a plaudit that seems to be wheeled out every couple of years and also in recent memory has been applied to the likes of The Dark Knight (2008), The Avengers (2012), Deadpool and Captain America: Civil War.
The film comes not with a post-credits coda but a pre-credits teaser featuring an appearance from Ryan Reynolds as Deadpool. It's cute, although probably unnecessary. It comes in the same jokey tone as Deadpool with Reynolds making wisecracks and breaking the fourth wall to talk to the audience direct. If nothing else, it serves to demonstrate just what a game changer Deadpool was in the oversaturated domain of the modern superhero film. It is the X-Men series wanting to capitalise on that success for all it can, even though Deadpool's jokey, fourth-wall breaking humour sits at odds with the serious tone that Logan takes the rest of the time. It is also evident in the fact that Logan now has a far greater freedom to be a R-rated film, something that would have been unthinkable if it came out before Deadpool, with James Mangold including some very brief toplessness and a moderate level of violence when it comes to showing Hugh Jackman slashing throats and impaling people with his claws.
---
---