(San Shao Ye De Jian)
---
Crew
Director – Derek Yee, Screenplay – Chun Tin Nam, Tsui Hark & Derek Yee, Based on the Film Death Duel and the Novel by Gu Long, Producer – Tsui Hark, Photography (3D) – Chan Ch Ying & Chan Wai Lin, Music – Peter Kam, Visual Effects – Dexter Digital (Supervisors – Hwon Park, Ilsuk Yang, Jaewook Jun & Junghoon Kim) & Mofac & Alfred (Supervisor – Park June Young). Production Company – Bona Film Group/Wanda Pictures/ Film Unlimited.
Cast
Lin Gengxin (Ah Chi), Peter Ho (Yen Shih-San), Jiang Yiyan (Mu-yung Chiu-ti), Jiang Mengie (Hsiao Li), Norman Chiu (Lord Hsieh), Edward Gu (Chu Ye-ching), Tian Miao (Madam Han), Pau Meiching (Hsaio Li's Mother), Ma Jingjing (Miao Tzu), Henry Fong (Big Boss), Lai Jialong (Nameless)
---
Plot
The assassin Yen Shih-San declines a contract offered by Mu-yung Chiu-ti to eliminate his rival The Third Master, Hsiao Shao-Feng, for reneging on a promise of marriage to her. Yen is then distraught to learn that Hsiao Shao-Feng has died without the two being able to have a duel. Meanwhile, a filthy fool spends five days in a brothel. With no money to pay for it, he is forced to work there as a scuttlebutt to pay off his debt where he is given the derisive name Ah Chi. He stands up to protect the prostitute Hsiao Li from unruly patrons and is given a home by her family. The brothel's owner The Big Boss orders his men to bring Hsiao Li back. This occurs just as Yen arrives in the town and stands up to defeat The Big Boss's men. He is immediately regarded as a champion by the townspeople. Yen makes the decision to use his skills for good and to teach Ah Chi to become a swordsman. Chiu-ti's warriors then arrive in the village and discover that Ah Chi is Hsiao Shao-Feng and has faked his death. Chiu-ti's determination to make Hsiao Shao-Feng marry her sets the various clans at war.
---
Wu Xia was a genre created in Hong Kong in the 1960s and popularised during the 1980s with wildly fantastical films such as Zu: Warriors from the Magic Mountain (1983), Mr Vampire (1985) and A Chinese Ghost Story (1987). Traditional Wu Xia died away at the end of the 1990s with the handover of Hong Kong back to China only to undergo a lush, dynamic revival a few years later with Chinese-backed works like Crouching Tiger, Hidden Dragon (2000) and Zhang Yimou's Hero (2002) and House of Flying Daggers (2004). This saw a body of new imitators such as The Banquet/Legend of the Black Scorpion (2006), Detective Dee and the Mystery of the Phantom Flame (2010) and sequels, Flying Swords of Dragon Gate (2011), The Monkey King (2014) and sequels, Zhongkui: Snow Girl and the Dark Crystal (2015), League of Gods (2016) and others, which reimagined the older films on epic budgets that made a virtue of lush cinematography, costuming and set dressings, while reworking the flying wirework with CGI. (For more detail see Wu Xia Cinema).
Sword Master is a remake of Death Duel (1977), a Shaw Brothers film that had originally starred Derek Yee. Yee had been an actor ever since appearing in various Shaw Brothers films in the late 1970s. He has also made a number of films as director, the most well-known of which are Full Throttle (1995), One Night in Mongkok (2004), Shinjuku Incident (2009) and one previous genre entry with The Great Magician (2011).
The film comes produced by Tsui Hark, the legendary Hong Kong director who made Zu: Warriors from the Magic Mountain, which is widely misidentified as the first Wu Xia film. (See below for Tsui Hark's other films). Sword Master was given lavish treatment – it was released in 3D for one. There is the balance of artfully stylised poses, mid-air acrobatics, comedy relief and an impassioned love story that plays out with a tragic arc.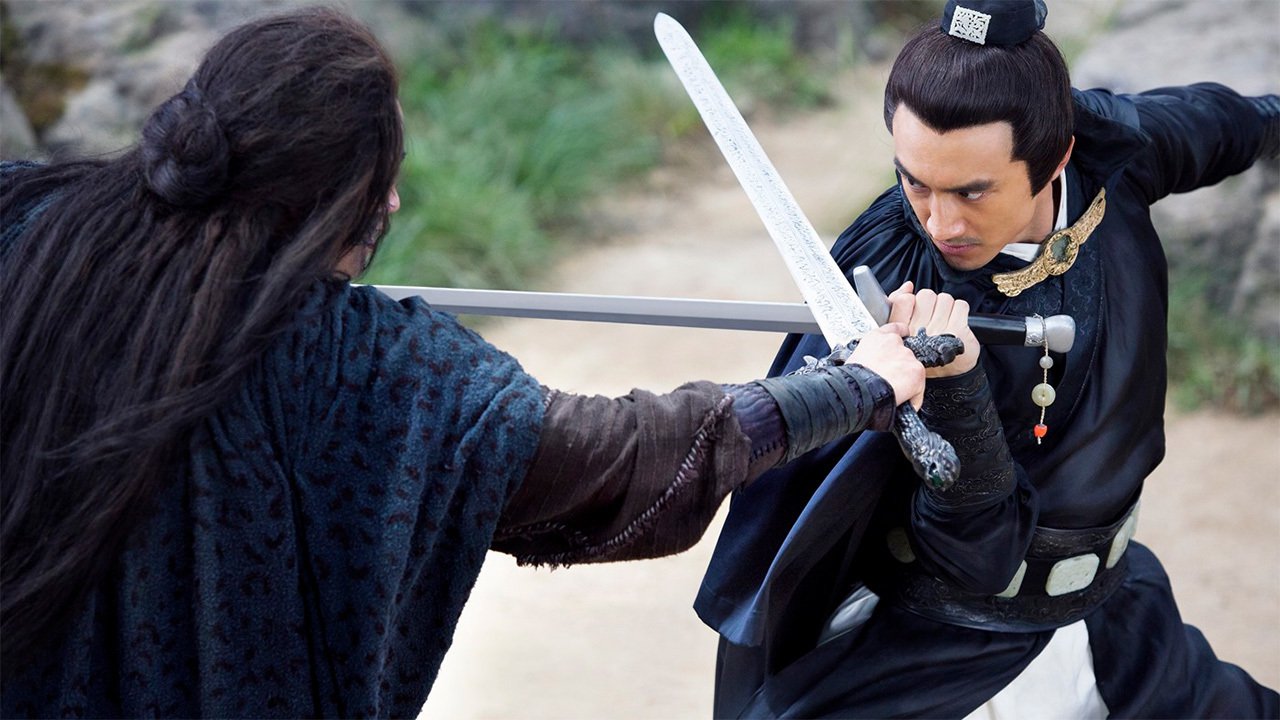 Derek Yee makes a very enjoyable variant on the modern Wu Xia film. For all that, it is not one that I would place up among the classics of the genre – there are, for example, never any major sequences that have you cheering for joy at their exuberance or visual outlandishness as you get in other examples as listed above. Yee keeps the film mostly grounded but there is plenty of mid-air combat and physics-defying moves, even several scenes where various of the swordsmen fight black spirit wraiths (whose purpose I was never entirely clear about).
The plot is certainly far more than you get in the usual Wu Xia film, particularly the 1980s classics – Tsui's Zu: Warriors from the Magic Mountain is a particularly incoherent example. All of the characters have complex backstories and involvements with one another. And there are multiple factions, each with different agendas (that are often quite confusing trying to follow). It is certainly one of the most substantially scripted of all Wu Xia films.
Tsui Hark's other genre films as director are:- The Butterfly Murders (1979), We're Going to Eat You (1980), Zu: Warriors from the Magic Mountain (1983), Aces Go Places III: Our Man from Bond Street/Mad Mission III: Our Man from Bond Street (1984), Green Snake (1993), Butterfly Lovers (1994), Zu Warriors/The Legend of Zu (2001), Black Mask 2: City of Masks (2002), Missing (2008), Detective Dee and the Mystery of the Phantom Flame (2010), Flying Swords of Dragon Gate (2011), Young Detective Dee: Rise of the Sea Dragon (2013), Journey to the West: Demon Chapter (2017) and Detective Dee: The Four Heavenly Kings (2018). Tsui Hark has also produced A Chinese Ghost Story (1987), The Laser Man (1988), Roboforce/I Love Maria (1988), A Chinese Ghost Story II (1990), Swordsman (1990), A Terracotta Warrior (1990), A Chinese Ghost Story III (1991), The King of Chess (1991), New Dragon Gate Inn/Dragon Inn (1992), Swordsman II (1992), Iron Monkey (1993), The Magic Crane (1993), Swordsman III: The East is Red (1993), Wicked City (1993), Burning Hell in Paradise (1994), Black Mask (1996), A Chinese Ghost Story: A Tsui Hark Animation (1997), Master Q (2001), Vampire Hunters/The Era of Vampires (2002) and The Thousand Faces of Dunjia (2017).
---